It's year 2021 already. Life hasn't been kind to us because of COVID-19 pandemic, work from home and many other obstacles.
Regardless, there is a heavy cloud of despair and confusion all around us which demotivates us even further. We have a solution for you, if you have a sound mind that craves inspiration, and that comes in the form of the best TED Talks we have come across on the internet.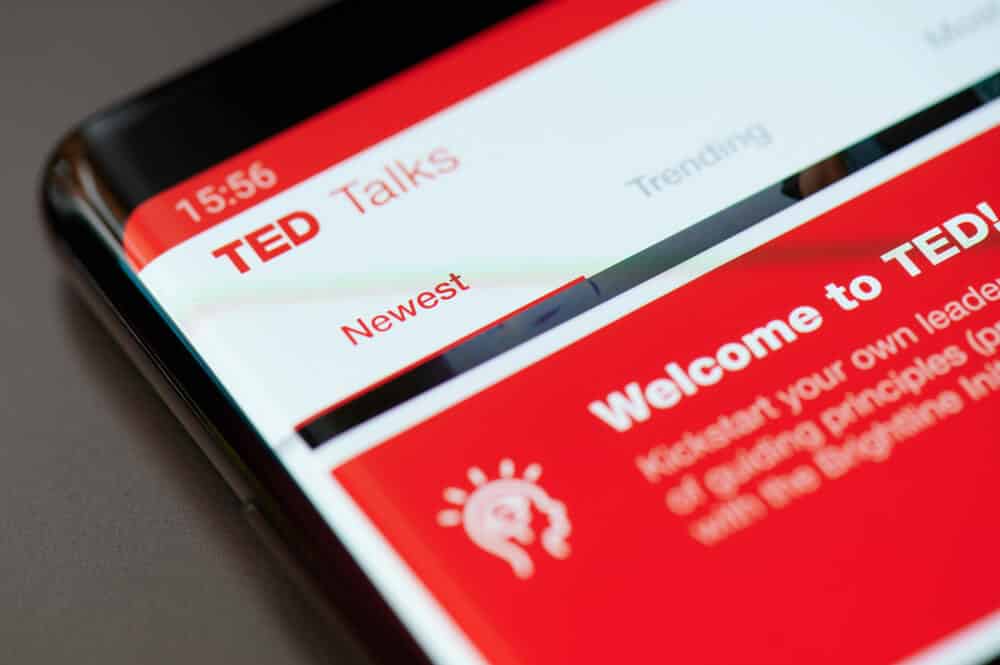 If I can be so bold, our mornings nowadays suck. We sleep at night with the hope that everything will get better in the morning, but we wake up disappointed and even more frustrated than the day before.
So, if you want that little extra inspiration juice that will add some extra oomph to your day, check out these 10 amazing TED Talks that we have compiled for you. Let's take a look.
Top 10 Best TED Talks to Inspire You
1. "Your Elusive Creative Genius"
This TED talk was presented by one of the most amazing American Writers of our time named Elizabeth Gilbert. She is more commonly known for her best-selling memoir which came out in 2006 named 'Eat, Pray, Love'.
Elizabeth is an incredible advocate and spokesperson of the mental health problems that writers have been facing for quite some time now.
The most noteworthy issue in this category is that writers associate their creative work with their mental state and think that the work they are doing right now or will do in the future, is not going to be as successful as the work they have done before.
This problem has been deeply rooted in writers for quite some time now and this association of creativity with mental health was the prime cause of depression and suicides among the writers in the 20th century.
Elizabeth has suffered from this problem herself, after her memoir 'Eat, Pray, Love' became a huge success all over the world.
She believed that she won't be able to write something of this caliber ever again, but she bounced back with a strategy in mind which was that her work and her anxiety should have a solid mental wall between them which would stop both of them to ever mingle and trouble her in the future.
2.

"Body Language"
There have been many studies conducted on how humans interact with each other based on each other's body language. These studies show that humans behave quite differently with their bodies, depending on the message they are trying to give.
But these researches were dwarfed by the study produced by Amy Cuddy who says that people are even influenced by their body language. Talk about being self-centered.
But all jokes aside, this research is quite fascinating because it shows how humans can make an incredible difference in their behavior and how they see things, by using different power poses and stances that can also help you relieve stress.
3. "The Orchestra in My Mouth"
If you are not familiar with Tom Thum, then you are missing out on some of the most amazing beats produced by a human mouth without the involvement of any instrument.
Tom Thum is a legend. Period.
This charismatic beatboxer has sounds residing in his throat from all over the musical spectrum like an orchestra, the bellowing of a techno DJ, a melodious jazz band, and many other exotic instruments that are found in all parts of the world.
All of this made him a very popular man when we all saw him showcasing his talent in a 15-minute video which incidentally is the highest viewed TEDx video of all time with more than 40 million views.
So, if you are one of those that think that not all humans are not capable of doing something incredible, you should check out his video and you'll see what you can achieve if you put your mind into it.
4. "The Surprising Science of Happiness"
You might have noticed on the internet or in real life that when you talk about happiness, it always feels like someone is talking about a lifelong quest that takes you above and beyond to find what you seek.
This feeling of happiness being a quest has festered a never-ending supply of ideas from people all over the world. But what if the answer isn't hiding in one of those ideas? What if the happiness we are trying to find lives within us and we are just naïve enough to never listen to our hearts?
In his TED talk 'The Surprising Science of Happiness', Dan Gilbert has given his views on the subject matter and divided the whole block of happiness into two parts.
The Happiness one finds in his life through experiences
The Happiness we create for ourselves
5. "The Power of Vulnerability"
A born-and-raised Texan, Brené Brown is anything but. An excellent vulnerability and sham expert, she studies the connections that we humans form amongst ourselves and how we shape them into something meaningful.
This study includes in-depth research about the human ability to empathize with other living things, how their sense of belonging to something works, and how they can love their fellow humans and others.
In her TED talk, which has been viewed over 6 million times mind you, she talks about her quest to find a deeper connection with herself and taking those findings to further understand humanity.
6. "Choice, Happiness & Spaghetti Sauce"
Well if you are talking about inspiration in a piece and you didn't include Malcolm Gladwell in it, then you suck.
One of the most inspirational authors of our time, Malcolm Gladwell talks about the man who refused to believe that a single spaghetti sauce is perfect for every different type of noodle.
In this research, he tells us about humanity's approach to choice and happiness, and how every choice might not bring the same happiness or emotion to every human being.
7. "Philosophy for a Happy Life"
This one is for the ages. Philosophy for a Happy Life is an amazingly heartfelt TED talk that the late Sam Berns presented. Based on his own life, this talk revolves around the story of a young boy that became the spokesperson of the disease Progeria a.k.a. 'Aging Disease'.
This disease is genetic and very tiring, but none of these things held Sam back. He broke all the limitations and restrictions that other people put on him, and proved them all wrong.
This is a truly heartfelt talk that will have you in tears when you'll realize the hardship that boy had to endure, but you'll also be tremendously inspired when you'll find out that all of these hardships never bothered Sam and he focussed on what made him happy and not on what made him different.
8. "A Kinder, Gentler Philosophy of Success"
A world-renowned author and psychologist Alian de Botton talks about the two different concepts of failure and success in this TED talk. Throughout the piece, he talks about these two concepts and all of the questions that encircle these two elements in a person's life.
These questions include queries like how any type of success is earned by a person in their lifetime and how they suffer failure. He then moves on to find a neutral path in which we can traverse in our quest to find satisfaction in our personal and work life without thinking about success or failure.
9. "What Does it Take to Change a Mind"
Ever wondered how hard it is to change a person's mind when you haven't convinced them during your heated debate? Ever wondered why that happens in literally any and every debate that has ever happened?
As a Face check editor, Lucinda Beaman has always been pondering on how humans interact with each other and how conflicts arise based on the facts and beliefs of the people involved in the argument.
10. "What Reality Are You"
In a twist similar to that of "Inception" (I pity your soul if you don't get that reference), Isaac Lidsky shares his amazing insights with us about reality and how we go about recognizing it.
In this talk, he tells us about his struggles regarding cognitive dissonance (having inconsistent thoughts and beliefs about something) and encourages us to let our guard down and accept whatever life throws at us, with open hours.