Websites are more of an essential ritual for companies these days. It is the 21st century, and even if a business is operating through a real-life brick n' mortar set up, they will always have an online presence. That's how the industry works now.
The problem with websites is that they are dependent on a hosting services provider – and with that hosting company, the experience can go two ways. Either it could be a disastrous nightmare or a long term relationship.
We are here to recommend top cloud hosting companies for your online and/or real-life business. Since the trend has shifted to maintaining a business presence through cloud-hosted apps, we felt that it would be better to do a round-up of the best cloud hosting companies and their services respectively.
Naturally, when your company's performance in the market is depending on your website's performance (*among many other things), you will need, and an overall smooth bug-free user experience. In that order, Cloud hosting services provide clients with limitless perks as compared to traditional web hosting packages. How so? Read on…
What is Cloud Hosting?
Cloud hosting, in simple terms, is the way your website is stored and maintained on multiple servers so that it could be retrieved instantly whenever a request is made by an online visitor. This process is like a metaphorical depiction of a storeroom where different boxes are maintained. Except that in the case of cloud hosting companies, these boxes, become data storage devices.
In worst-case scenario, if one box goes missing or out of service, the information can be retried from another box. As a result, the website continues to function regardless of the physical presence of the server.
How is it different from other web hosting environments?
Cloud hosting is an amazing solution for companies that want flexibility in their operations. This flexibility is appreciated when the website experiences a rise and dip in traffic. Regardless, the said website continues to perform flawlessly as the resources and speed are properly distributed among many terminals at the same time.
In standard web hosting, the data is stored in a standard server. If that particular server goes out of service, the website suffers for as long as the server remains offline. In the worst-case scenario, if that server is maintaining a shared hosting plan with a number of other websites, then it would raise a red flag for every webmaster on that server.
That's why cloud hosting companies are the future of online Webhosting. Your website size and traffic will determine which type of cloud hosting website server environment is required. There are four of them to be exact:
Shared
Dedicated
VPS
Managed
In the case of cloud hosting, you don't have to worry about any of the hurdles of choosing the server environment because it wraps itself around your operations, manages it accordingly, and charges you according to your usage.
There are countless cloud hosting providers but after careful research, we have narrowed that number down to the 5 Best cloud hosting websites working right now. Let's take a look…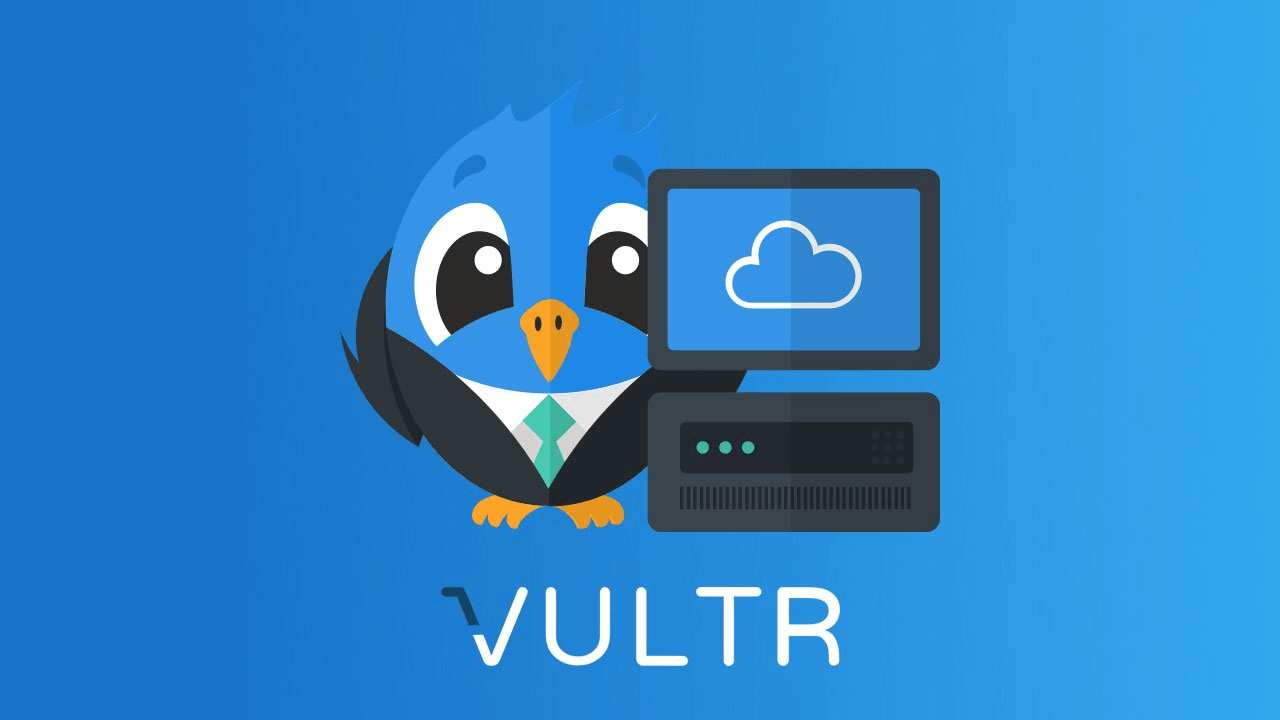 Vultr is an amazing web hosting service that uses SSD's to process your files on the servers. If you have any idea about SSD's, then you probably know how fast the information is retrieved with the minimal response time. It's like driving a Lamborghini from point A to point B.
Vultr started in 2014. Since then, the company has undergone several updates to introduce user-friendly cloud hosting packages. It is a go-to provider for cloud hosting if you want amazing speed for your websites in addition to flexible price plans.
We are also using Vultr to host ProductivityLand.com. Our experience has been remarkable so far. You can press the "Refresh" button to see how fast www.productivityland.com loads these days. Previously we were using Amazon Web Services. They weren't that bad, but the speed was awful sometimes.
Although Vultr's rates are low, they do charge additional in case you need services that are not part of the payment plan.
Key Features:
The features associated with this amazing cloud hosting service are as follows,
Vultr offers an amazing worldwide network that provides you the flexibility to easily deploy your website on a grand scale throughout the world, while you develop comfortably in a local environment.
The U.I they use is also a big plus point as it allows you to deploy powerful servers on the go. This interface is available for any kind of mobile device e.g. mobile, tablet or desktop.
Speaking of servers, yes, you can set up your own instance at Vultr – and that too without any hassle.
When using Vultr, you can select 16 cities near you or your customers in which you can add high-performance SSD VPS. These device configurations provide amazing speed for your websites wherever they are accessed.
You get great value for money when you sign up for Vultr services.
Another benefit of using Vultr is its Block Storage Option. It is not web hosting per se, rather it is a storage solution that is replicated a number of times to make sure that you never lose your precious data.
Pricing:
The pricing plans for various SSD cloud instances available on Vultr are:
| | | | |
| --- | --- | --- | --- |
| Storage (SSD) | CPU | Bandwidth | Price |
| 10 GB | 1 | 0.50 TB (IPv6) | $2.50/mo |
| 10 GB | 1 | 0.50 TB | $3.50/mo |
| 25 GB | 1 | 1 TB | $5/mo |
| 55 GB | 1 | 2 TB | $10/mo |
| 80 GB | 2 | 3 TB | $20/mo |
| 160 GB | 4 | 4 TB | $40/mo |
| 320 GB | 6 | 5 TB | $80/mo |
| 640 GB | 8 | 6 TB | $160/mo |
| 1280 GB | 16 | 10 TB | $320/mo |
| 1600 GB | 24 | 15 TB | $640/mo |
You can sign up for Vultr Cloud Hosting services here.
---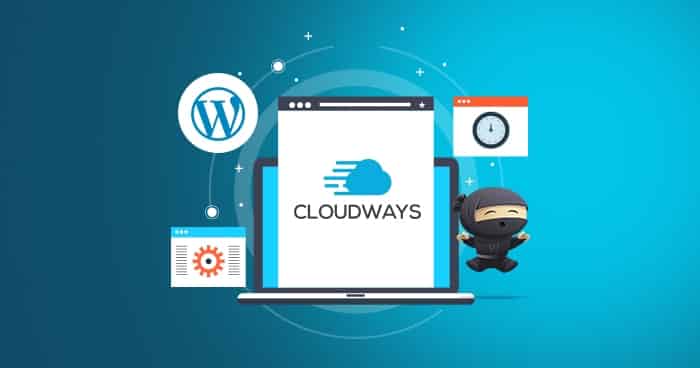 Cloudways is one of the best cloud hosting websites in the online market which actually means something since there are literally a million cloud hosting websites in the market today. They all claim to be "awesome", but the actual experience differs a lot.
Cloudways is one of the very few companies to offer an incredible balance between affordability and functionality when it comes to actual performance and day-to-day usage.
Its main crown jewel is its optimization with WordPress websites, which means fully managed hosting and faster loading speeds of the websites – especially WordPress websites.  Cloudways measures your site's requirements and grows alongside. They do not upgrade the package on their own but sneak in a few recommendations to users.
If you want to upgrade, that is up to you. CloudWays simply recommends several updates and additional services that are only suitable based on your website's actual performance metrics. Their amazing infrastructure is properly optimized for performance, security, and speed.
https://productivityland.com/best-resource-management-software/
Key Features:
Here are some of the key features of Cloudways that it performs to take care of your WordPress website easily,
Cloudways helps you to move hosts easily when you are ready to move to a new one.
Faster site speeds are a key feature of Cloudways CDN that improves server speed, which is amazingly beneficial for online stores.
Site crashes are greatly reduced because of Cloudways's auto-healing feature that resolves issues in real-time.
Two-factor authentication also offers an additional layer of security against potential hackers or attackers.
24/7 tech support is always a plus point.
Cloudways also provide one-click installation for apps.
Pricing:
| | | | |
| --- | --- | --- | --- |
| Storage (SSD) | CPU | Bandwidth | Price |
| 25 GB | 1 | 1 TB | $10/mo |
| 50 GB | 1 | 2 TB | $22/mo |
| 80 GB | 2 | 4 TB | $42/mo |
| 160 GB | 4 | 5 TB | $80/mo |
| 320 GB | 6 | 6 TB | $135/mo |
| 640 GB | 8 | 7 TB | $230/mo |
| 960 GB | 12 | 8 TB | $315/mo |
| 1280 GB | 16 | 9 TB | $395/mo |
| 1920 GB | 20 | 10 TB | $555/mo |
| 2560 GB | 24 | 11 TB | $715/mo |
| 3840 GB | 32 | 12 TB | $1,035/mo |
---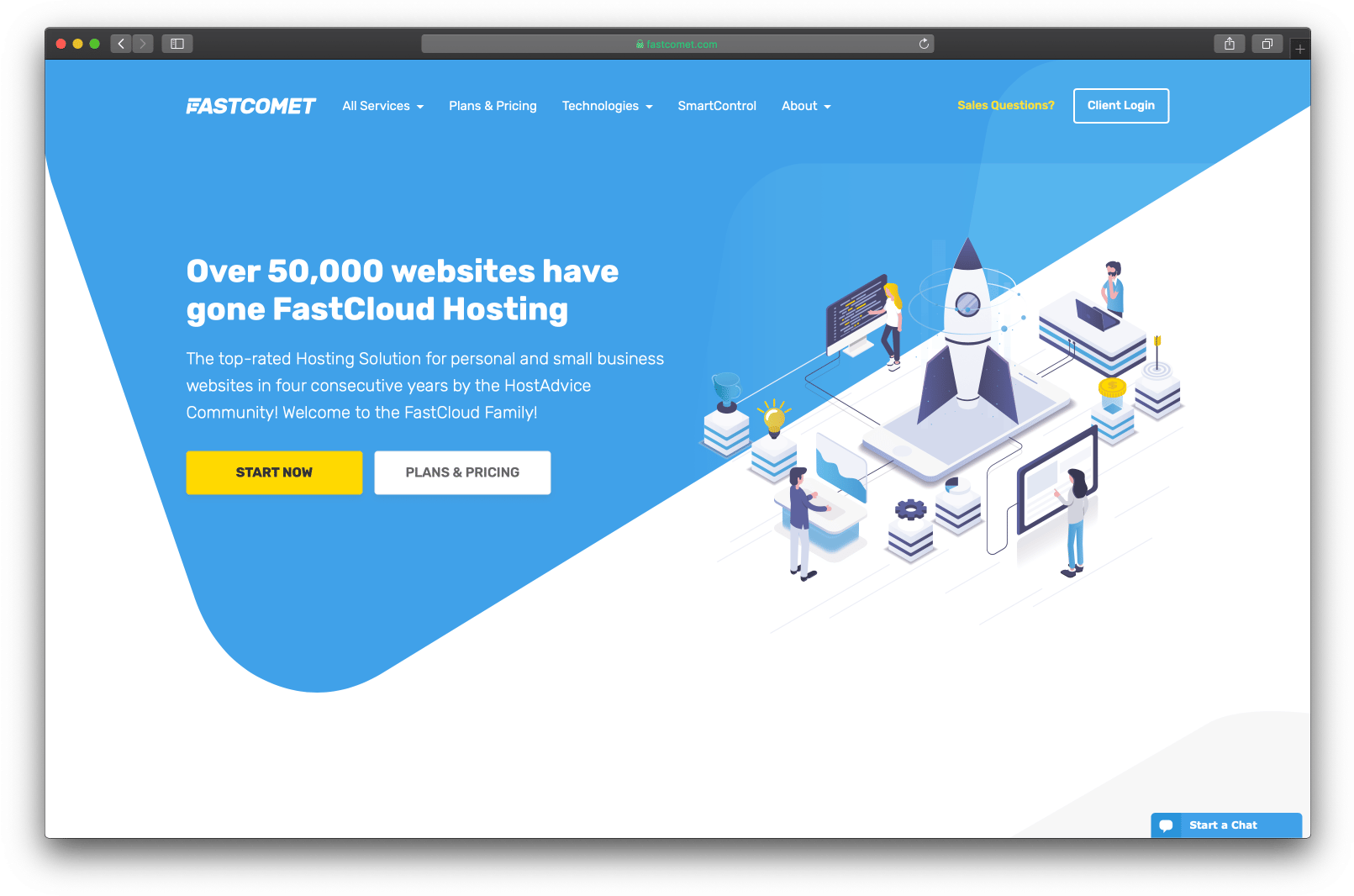 With eight data centers around three continents, FastComet is still an unknown player in the cloud hosting services market. That's a shame because, the more we read about their services, the more we grew to adore the company's work portfolio.
Right off the bat, FastComet provides a detailed information page that helps you to understand their services. Usually such information is available at every other hosting website. However, FastComet has given a lot of extra information that helps decision making a lot easier for end users.
Another player in the SSD web hosting game, FastComet generally tends to websites for corporate clients, private clients, and small business owners.
Key Features:
Some of the key features associated with FastComet are as follows,
Excellent Uptime: Website hosting at the very core of it makes the hosted website accessible from anywhere and anytime, and FastComet delivers immensely in this area. With a downtime of 15 minutes over six months, it is one of the most amazing web hosts available on the market right now.
Faster Speeds: FastComet is incredible when it comes to website speeds under pressure and provides faster Loading times and Response times.
Remarkable Customer Service: As the customer base is relatively small, FastComet provides amazing day-to-day tech support to its customers.
Dedicated Plan Resources: FastComet provides amazing account isolation and properly dedicated resources for each website.
Amazing Security: FastComet properly secures the websites that it hosts, because, security is an integral part of its services.
Pricing:
The pricing of cloud hosting instances available at FastComet website:
| | | | |
| --- | --- | --- | --- |
| Name | Storage (SSD) | CPU | Price |
| FastCloud | 15 GB | 2 | $9.95/mo |
| FastCloud Plus | 25 GB | 4 | $14.95/mo |
| FastCloud Extra | 35 GB | 6 | $19.95/mo |
---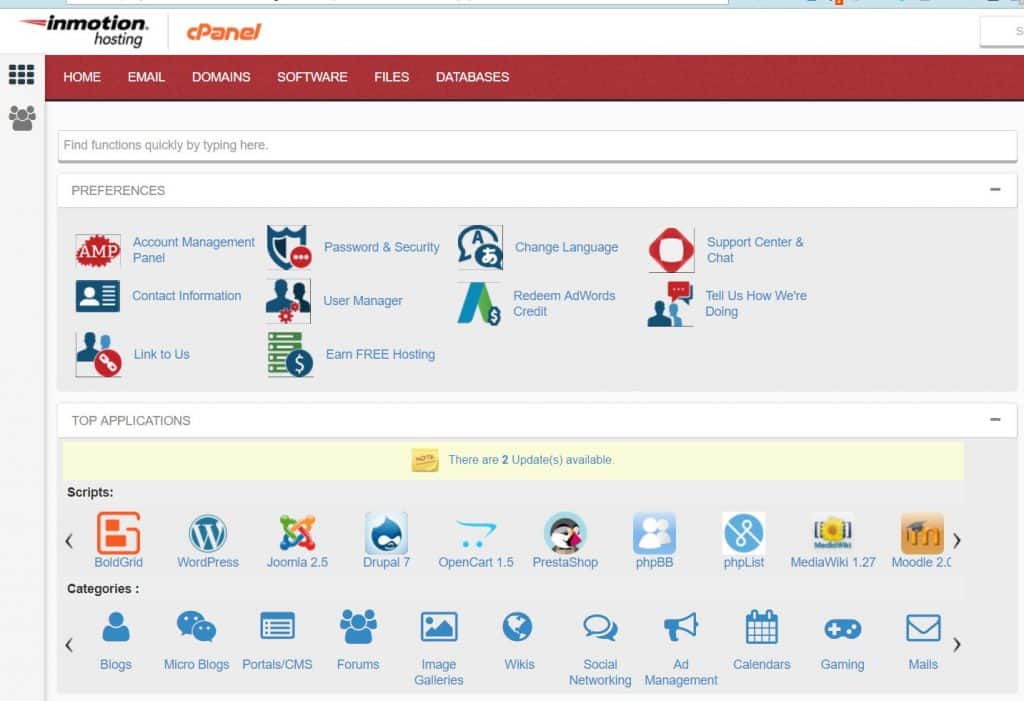 Inmotion hosting is a big player in the web hosting market as they have grown over 300,000 domains with two data centers located in LA and Virginia Beach. They also own Web Hosting Hub, which is popular among bloggers and beginners who are looking to create their own starter website on the internet.
The main features that they boast to retain their name in the market are fast data transfers, pristine customer support and industry guarantee.
Key Features:
Some key features of using Inmotion cloud hosting web services are appended below:
Average uptime is 99.95% which is way better than the industry average of 99.94%. That 0.007% makes a heck of a difference.
Faster server speeds to keep the websites operating well under immense pressure.
Incredible customer support to help you whenever you need them, day or night.
An Amazing 90-day money-back guarantee, which is an incredible 60 days more than the industry average 30 days.
Remarkable integration with apps and management systems like WordPress.
Free data backups.
Free site transfer to other hosts when you finally want to shift it.
Pricing:
The pricing of cloud hosting instances available at Inmotion website is appended below:
| | | |
| --- | --- | --- |
| Name | Storage (SSD) | Price |
| Launch | Unlimited | $4.99/mo |
| Power | Unlimited | $4.99/mo |
| Pro | Unlimited | $13.99/mo |
---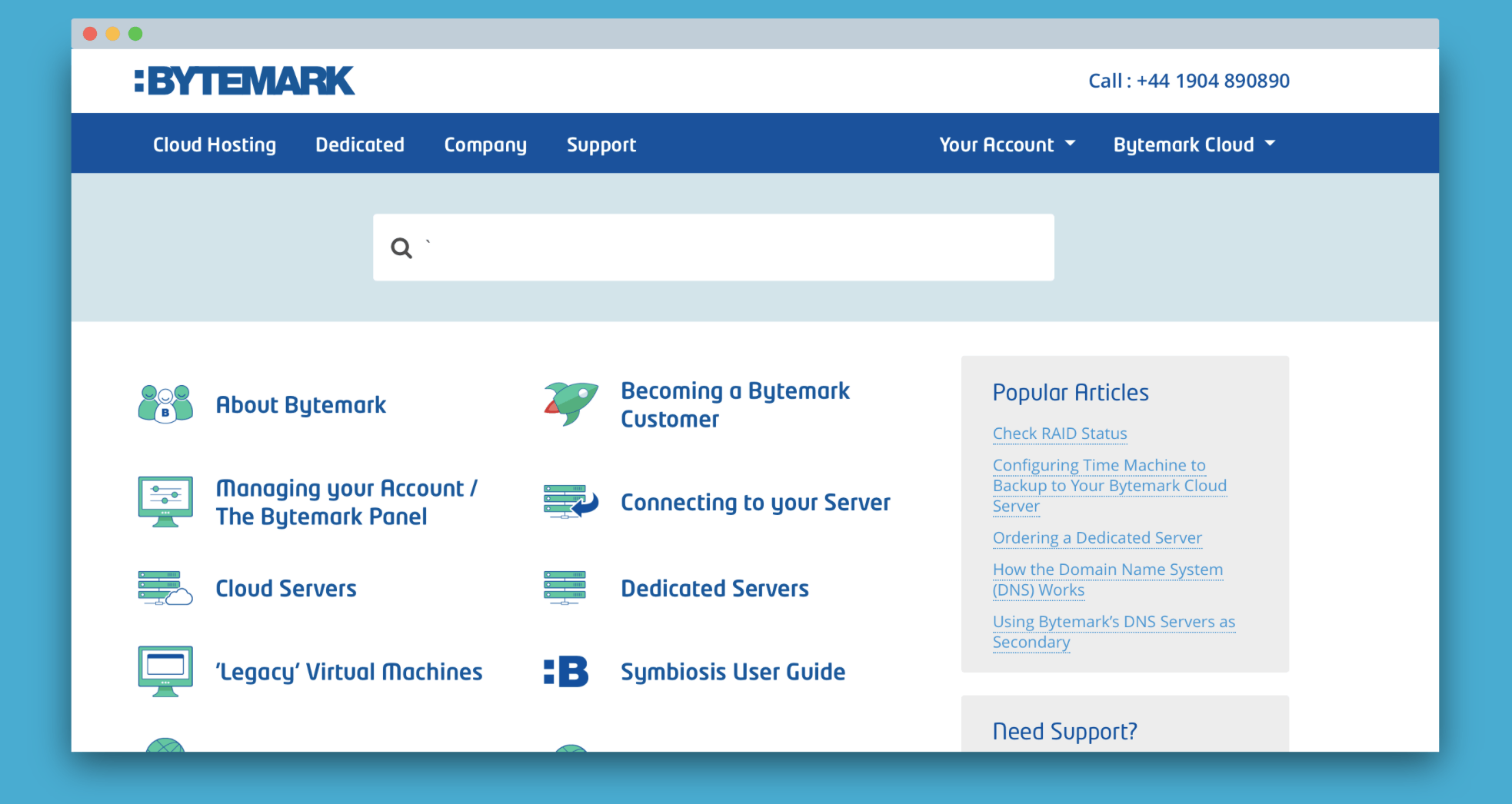 Bytemark is also a top tier service provider in our best cloud hosting list roundup. Their services are recognized for dual functionalities, such as, but not limited to; managed cloud hosts and dedicated server hosts situated at their own data centers.
Bytemark is ISO 27001 certified. That is not an easy task considering the size of their team. Let us take a deeper look into their features to determine how productive they are for today's market.
https://productivityland.com/best-seo-tools/
Key Features
The key features of Bytemark hosting are as followed:
The first main feature is their duality when it comes to web hosting environments (cloud or dedicated services).
They have an incredibly accreditation that is internationally-recognized, which helps them to offer their amazing services to U.K. government entities and healthcare facilities.
Their easy to use control panel is very intuitive which can easily help you to perform daily backups or schedule automatic daily backups.
Bytemark provides a complete 100% core network availability that helps in reducing downtime and providing you a 99% uptime guarantee.
They have amazing customer support and are quite transparent of any outages heading towards their customers.
Pricing:
The pricing of cloud hosting instance available on Bytemark is as follows,
| | | | |
| --- | --- | --- | --- |
| Name | Storage (SSD) | CPU | Price |
| Cloud Hosting | 25 GB | 1 | $12.73/mo |
The pricing of dedicated servers available on Bytemark are as follows,
| | | | |
| --- | --- | --- | --- |
| Name | Storage (SSD) | CPU | Price |
| Dual | 2 TB | 2 x 3.60GHz | $95.46/mo |
| Pro | 4 TB | 4 x 3.40GHz | $184.55/mo |
| Max | 4.5 TB | 4 x 3.40GHz | $227.83/mo |
So, there you have it. These top 5 cloud hosting companies are not the only ones out there. We will be updating this list with couple of more highly competitive service providers. In case, you'd like for us to mention a specific cloud hosting web Services Company, do share their name in the comments section below.
You can also write to us at steve@productivityland.com for a personalized response.