This is the golden age of technology where pen and paper have become so obsolete that we even have to put our thoughts into our mobile devices in addition to everything else in our life.
For the most part, this electronic note-taking is very useful, because you would never lose your notes from your mobile devices and they are always accessible to you whenever you want them. But how to choose where to put them and which application to trust that can fulfill all your needs.
Note-taking apps are notebooks inside our mobile devices and because they don't have a physical restraint, they can do so much for you than a simple piece of paper ever could.
First of all, note-taking apps have direct syncing capabilities regardless of the platform (iOS or Android). That means that you can have your notes wherever you are, and you are not bound by the mobile device, as long as you have internet connectivity, you will have your notes.
Secondly, the search capability is a Big-time saver if you take notes frequently and you can find your notes within seconds, even if they are years and years old.
There are many good qualities of note-taking apps: taking snapshots and save them as part of the notes to be shared with people if you want and even clip pages from the internet. But the most important and fundamental one is the ability to dictate your notes and no matter how expensive your paper notebook is, it won't dictate text.
So, what really makes a note-taking app amazing?
When you have so many options on the market, you really have to take a step back and look for individual features of the apps to make the final decision. All the apps that we'll tell you about later are handpicked because of their amazing functionalities and the company's legacy.
Some apps have affordable fee subscriptions, and some have better-syncing capabilities across all platforms. So, when you think of the best note-taking app for you, it really depends on which app you like according to their features and functionalities that fulfill your requirements.
Without further ado, these are some of the best note-taking apps on the market right now.
1.

Evernote
This is without question an amazing note-taking app and has been on top of the list for quite some time. With its ability to encapsulate a wide range of information to outstanding features of organizing your digital information, Evernote has always been very appealing to mobile note-takers all over the world.
The amazing thing about this application is that it gives you the freedom to take notes in any format you can think of digitally like text, pictures, video, and audio recordings, and even web page clippings to be used and shared later.
These notes can later be organized and structured into virtual notebooks which can later be browsed with the help of tags and shortcuts.
From checklists to adding external files into the library, anything can be a part of notes. You can even add reminders to notes, to read them on a specific time or to start typing again according to your schedule. The point is you can do whatever you like with your notes and share them with your friends and colleagues whenever you want.
Another amazing think about this app is that it can scan and digitize anything and everything from documents to business cards by taking a snap through your smartphone's camera.
And last but not least, Evernote will let you synchronize a wide array of information across multiple devices. This will allow you to access your material from any phone, PC or tablet.
These were all free features but if you want to take your note-taking game to the next level, Evernote will let you pay for other features like offline access to notebook/notes and also PDF annotations.
2.

OneNote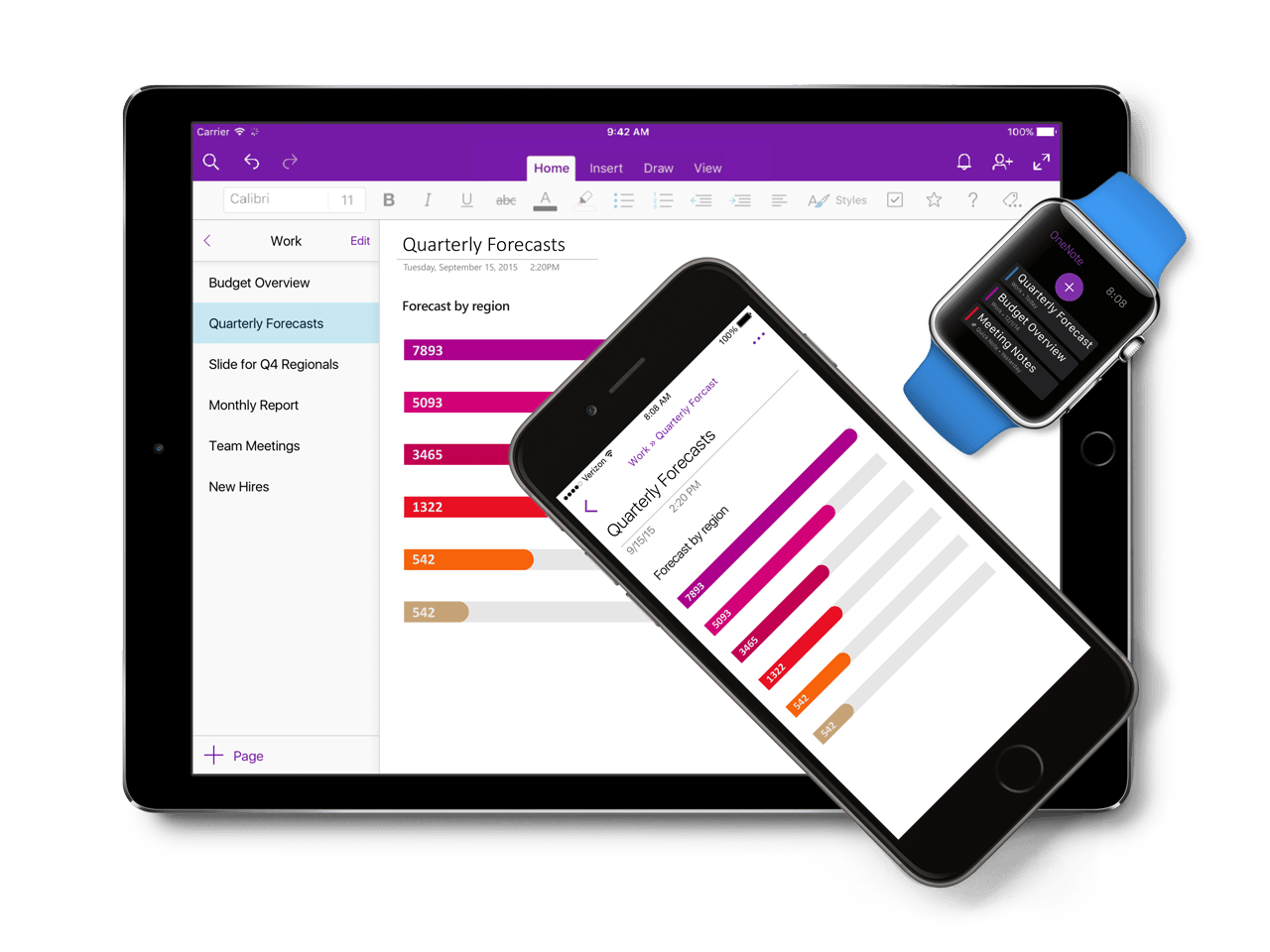 Microsoft has an amazing legacy in the tech market, whether it may be in the operating system department or giving productivity solutions to its users and OneNote is no exception. If you are looking for an app to take care of your writing needs with a huge array of features, OneNote is all you need.
Belonging to a huge family of free-form applications, OneNote will let you gather information in any format you like and place it anywhere on a huge canvas that has amazing flexibility to cater to your precise requirements.
You can input text through multiple options like typing or even writing by hand via a stylus. You can also scan different handwritten notes or pages to be shared digitally whenever and wherever you like.
To organize content, the app uses amazing virtual notebooks and has an interface similar to a physical three-ring binder which has an incredible sound effect with it.
You can even color-code different sections of your content for easy accessibility each time you access that information and each section can have several pages.
OneNote has an incredibly powerful search engine to keep all of your information only a few seconds away whether it is on the same page, same section or on a different notebook entirely. The notes that you take can be organized using custom labels and tags which can also be customized according to your taste. You can also revise your content with custom highlights and various ink annotations.
Since it's a family member of the amazing Microsoft Office suite clan, you can easily hook it up with their other applications like Word, Excel, and PowerPoint.
3.

Dropbox Paper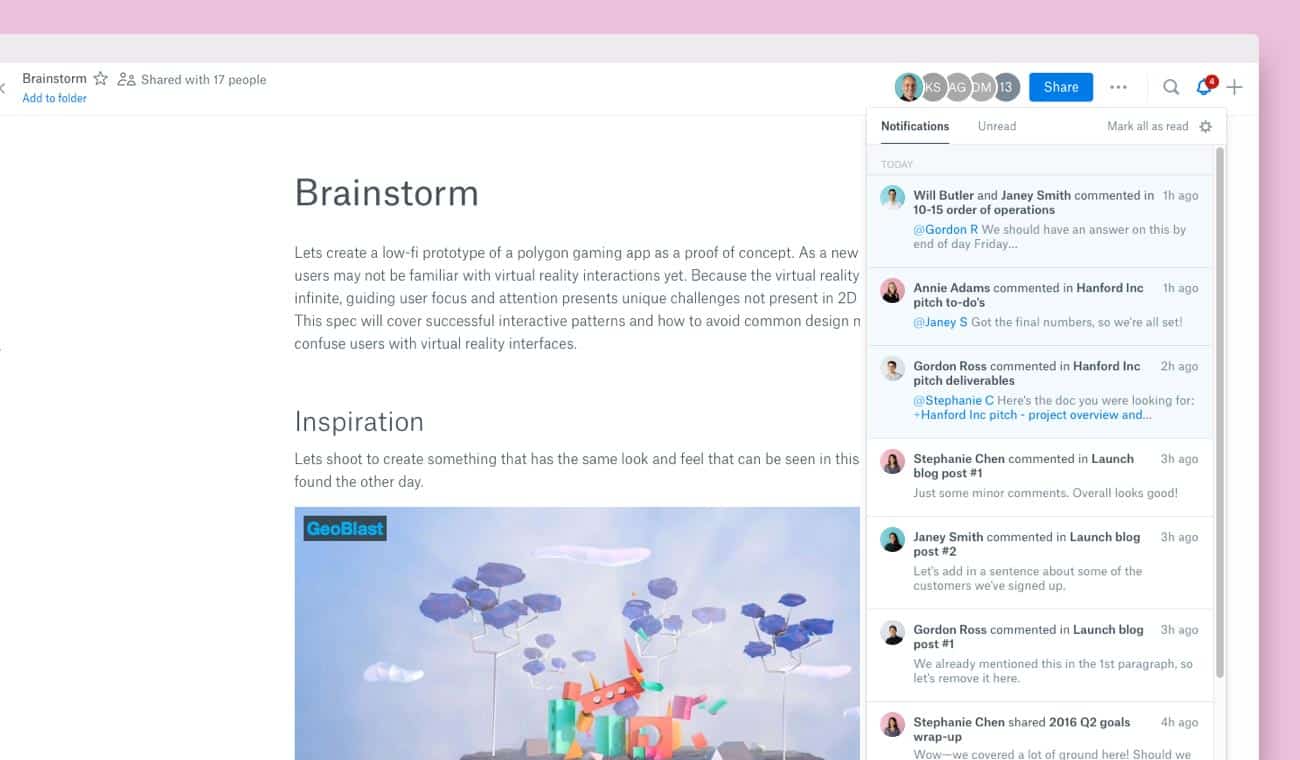 The world is full of communication apps that can help you stay connected with your friends and colleagues but when you want the best application for note-taking and then sharing your work with the people you like, only one name comes to mind and that is Dropbox Paper.
Dropbox Paper is an amazing application that offers you a shared workspace where you can not only take the traditional notes and edit them later but also brainstorm new ideas and review them, while also handle meetings with your team. 
It has an amazing task manager which lets you create custom to-do lists, add due dates to projects and also mention others straight from the document you are working on.
Connecting your calendar and other apps with Paper is very easy which helps you find appropriate content according to the meeting's agenda. As this is a Dropbox app, it integrates seamlessly with the cloud storage service too.
This app is available for both iOS and Android platforms and is even accessible through a browser.
4.

Simplenote
One of the simplest note taking apps on the market right now is Simplenote as the name suggests. It provides a very simplistic way of taking notes, maintain lists and nail down amazing ideas, all within the app.
The way to use is as simple as taking out a piece of paper from your pocket and writing stuff down. Just launch the app from your mobile device, take some notes and you are done. Nothing else is needed.
Once your notes are so many in number that you have to organize them, you can do it by putting pins and tags on them so you can find them later.
All you need to get started is to create a free a free account that will let you back your content to the cloud which will help you from wherever and whenever you want.
Simplenote seamlessly runs on every platform you can think of. It works on iOS, Android, macOS, Windows and Linux, and you can even access it from the web.
5.

Apple Notes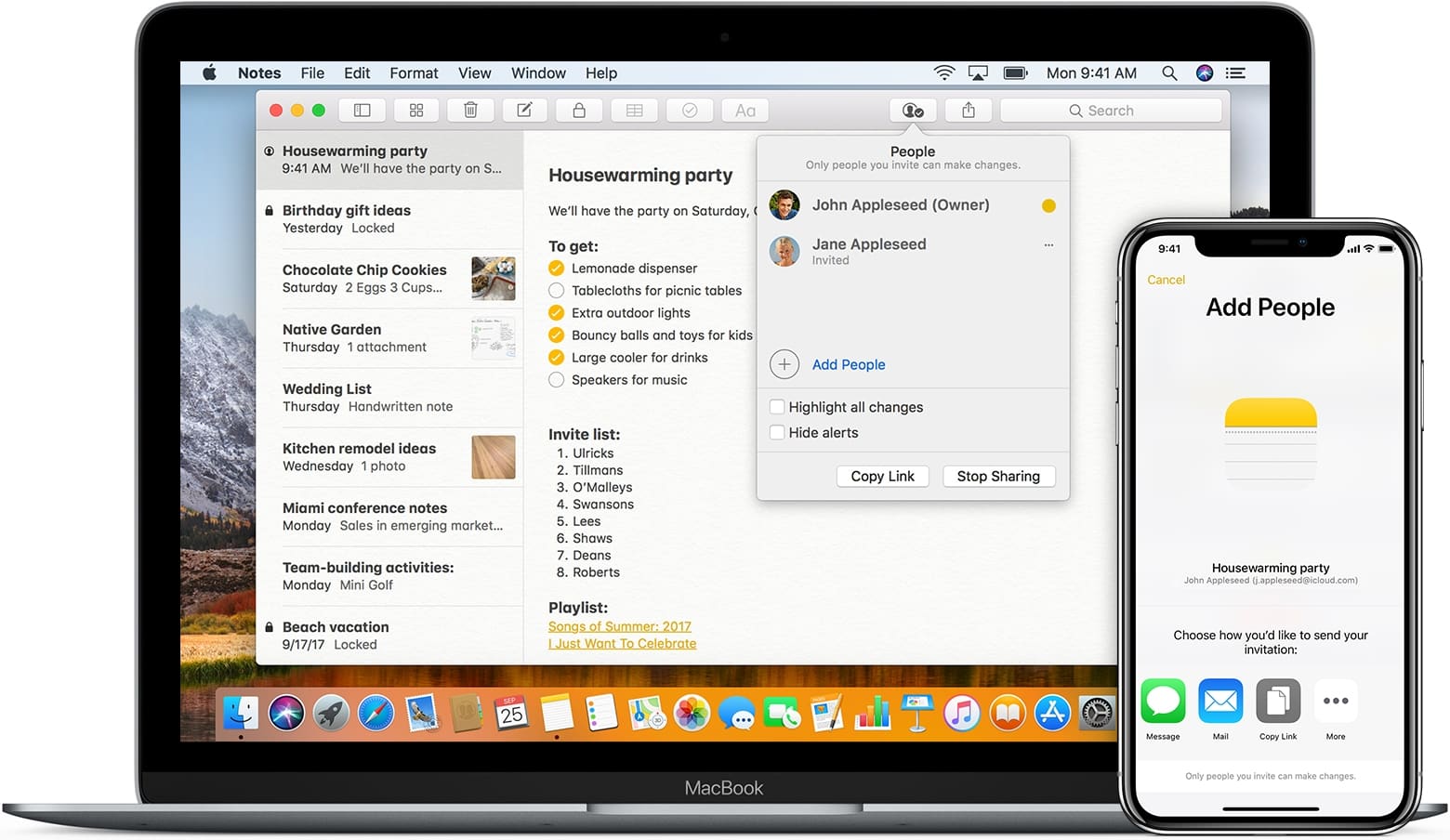 This application is the best app for taking notes on iOS and you won't ever need third party app to take notes. This is Apple's own app for taking notes and it comes embedded in the original firmware, which is more than enough for all your note-taking needs.
From long notes to short lists, you can do it all in this app. You are also able to add web links and scanned documents to your library. Heck, you can even add some beautiful sketches to your notes and share them through any service you want like email or WhatsApp.
To get started with this app, all you need to do is tap on the app icon and start typing. That's it. You can also dictate text on it and it being a part of the Apple family, you can use Siri to dictate everything. The app's camera functionality allows you to add pictures to your notes quickly and you can even scan your documents and digitize them to be shared almost instantaneously.
Apple Notes supports gesture writing so you can write with your finger and the app will seamlessly recognize the text and embed it digitally into its interface.
The best component of this app is that you can secure your notes and content by a pin code or a fingerprint, and not worry about it being seen by anyone other than the people you share it with.
6.

Google Keep
As Android's major developer, Google makes most of the amazing apps we see on the platform everyday and Google keep is no exception. It is best app for taking notes android by a long shot.
From traditional textual information to adding pictures in the note, Google keep can do it all. It also gives you the ability to dictate text and with Google assistant's seamless listening AI, you can even dictate a novel to the thing, and it won't break a sweat.
The notes can be digitally color coded like customizable sticky notes which helps in identifying them later on.
Google Keep supports gesture writing also and you can write down your thoughts and documents without a stylus or typing on the keyboard.
The app is amazing at making to-do lists which can rearranged as the user wants and later entries can also be re-organized as they are added. Google does a hell of a job in keeping all of your content organized.
Google Keep works on both iOS and Android and it can be accessed through a browser if you are a PC user.
7.

Zoho Notebook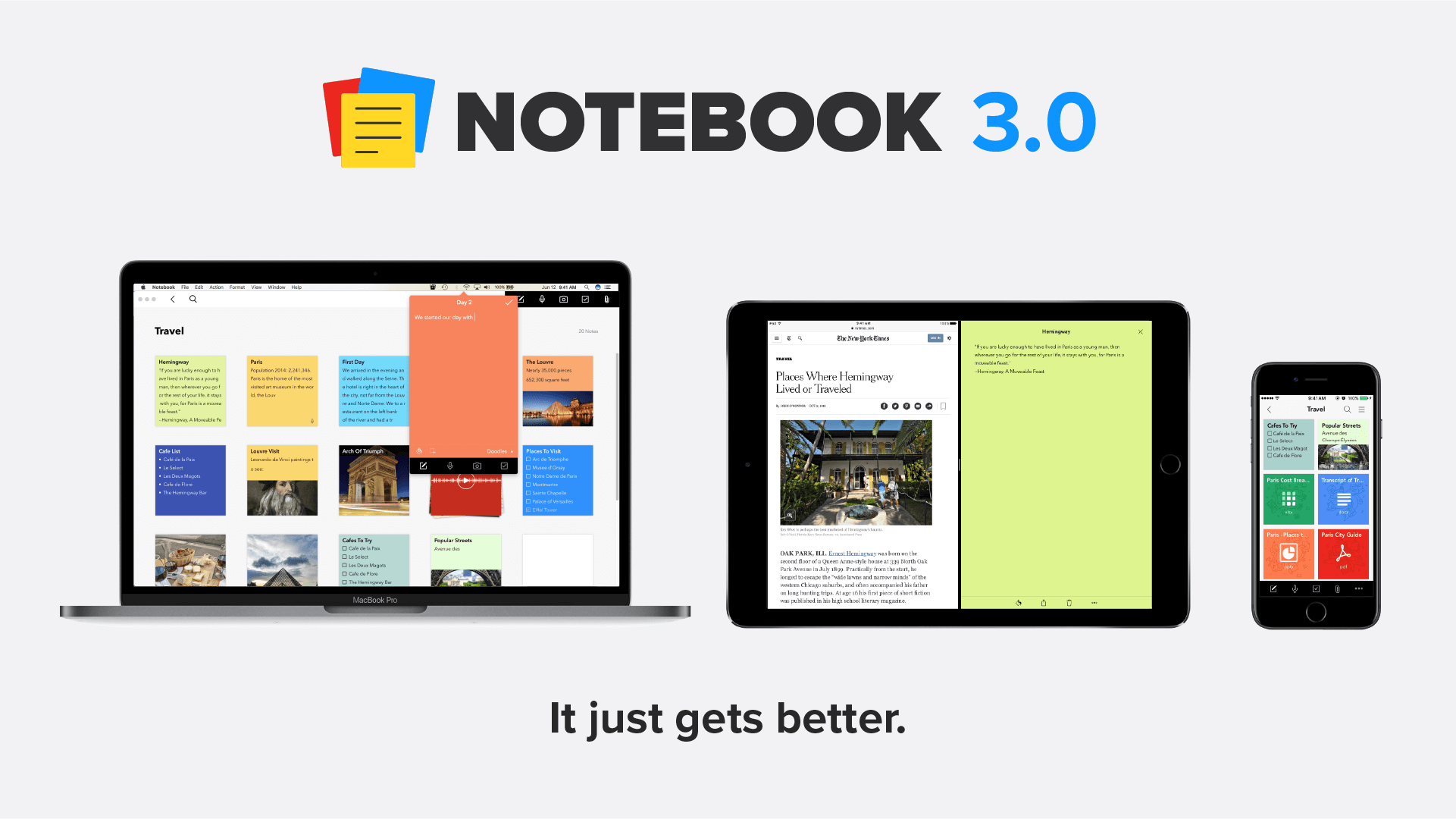 You have now seen different note taking apps and one thing that was similar in all of them was how they handle different types (formats) of information. This is where Zoho comes into its own.
Employing a different approach to each type of format, Zoho color codes unique types of information using several color options that lets you visually differentiate between different categories of information all thanks to an incredible card-based design.
There are some amazing gestures embedded in the app to browse and select information that you like. You have pinch to group notes into a tight stack and another gesture called flick that will help you find the note you are looking for.
Despite its amazing features, the app is totally free and runs on various platforms like Android, macOS, Web and iOS.
8.

Saferoom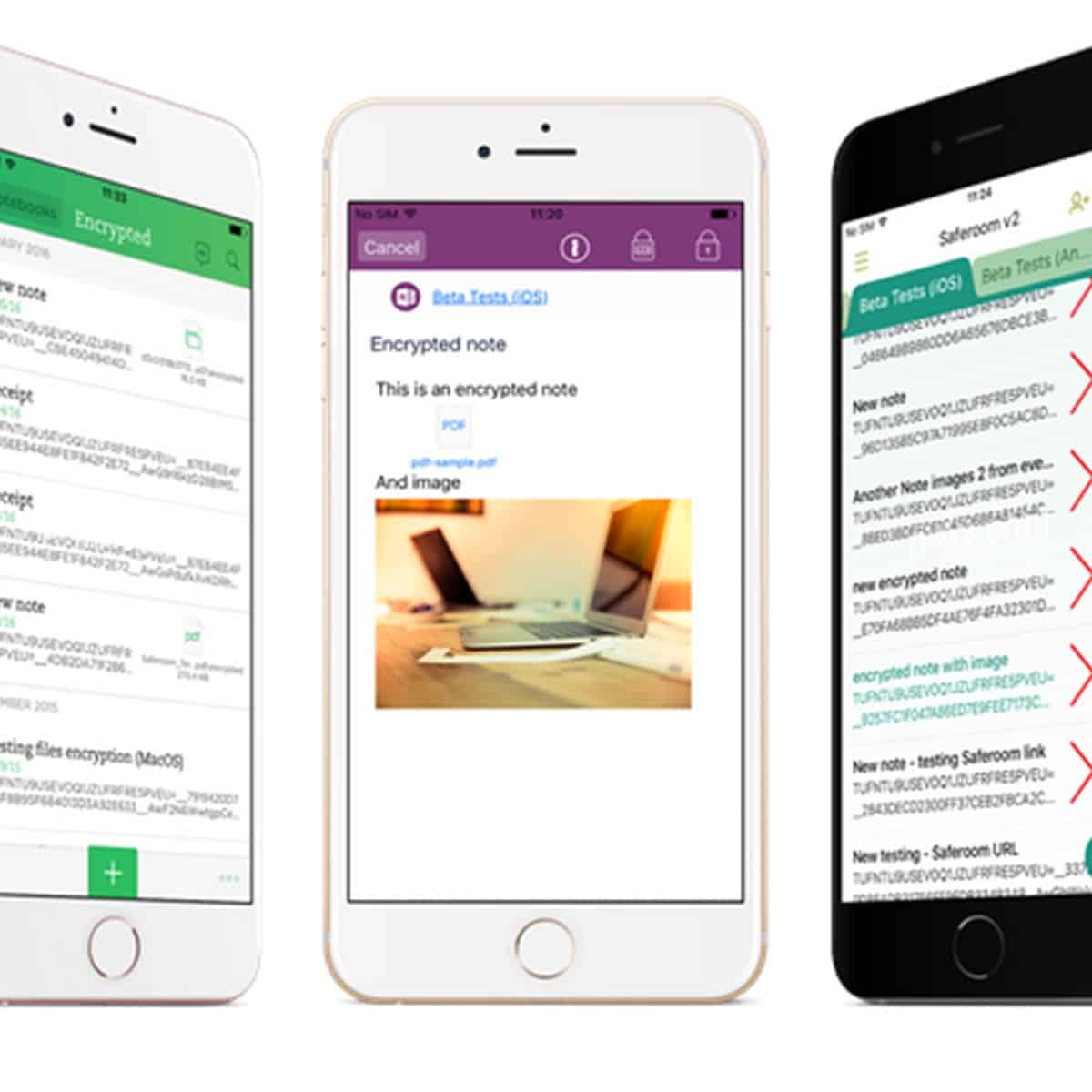 Some of the other apps that were discussed in the list above use a password or fingerprint protection approach to shield your information from potential attack but Saferoom goes two steps further.
This app is amazing at encrypting your information as soon as you type it which gives you an extra layer of protection.
Keep in mind, Saferoom doesn't have their own note taking feature and its just a hookup with other note taking apps to provide them with extra protection. It supports apps like Evernote, OneNote and Office 365 and it backs up your data to any cloud storage service you want.
The main thing about encrypting stuff is that sometimes it's not visible when you open it on other apps but Saferoom doesn't bother you with these issues and its encryption and visibility on other apps is seamless and without error.
Conclusion
Note taking apps are one to many in the market and they come in various shapes and sizes but the most important thing to remember is that you should always choose the one you are comfortable with and not the one which other people think is cool.
You should try them all because most of them offer free trials for a week or a month, so you have a better understanding about all the generic features that come embedded in note taking apps. Start Fishing.