At this point, it's safe to say all of us have heard the term Agile Project Management. But what exactly is Agile? And how do you adopt Agile best practices to become an Agile team?
I had all these questions too, back when I was only getting started and was keen on exploring different project management software and their online collaboration capabilities.
So, I decided to write an Agile beginner's guide myself, and explain to you how Agile project management works.
After reading through this guide, you should be able to:
Know where the term Agile originated from
Understand what Agile project management is
Understand the concepts behind going Agile
Have a grasp on some of Agile's key benefits
Let's get started.
What is Agile Project Management?
The term 'Agile' was first coined in early 2000's when 17 high-tech leaders from around the world gathered to share their ideas and theories of frameworks to help allay business frustration and meet the demands of the rising customer market.
The collection of approaches and principles of this meeting were penned in what came out as The Agile Manifesto.
Also check out:
http://productivityland.com/lists/best-scrum-tools/
Agile is a lean approach to project management, created as an all-encompassing solution to the traditional methods of product management as well as development.
Agile focuses on fast and efficient product delivery via a set of practices and techniques that bolster cross-functional collaboration and flexible adaptability in Agile Teams.
The aim of Agile is to induce congruence between product development and the business need of an organization.
A repetitive and incremental approach to product development not only ensures constant customer and client involvement but allows teams to continuously address any issues and errors that may arise during the testing phase of the development.
The Agile Manifesto stands on the foundation of four major principles that define the structure of each Agile Methodology:
Interactive Communication before tools and development
Working Software over heaps of technical documentation
Customer Involvement throughout the work process
Incorporate and respond to Change
The conception of Agile Manifesto led to the excavation of another development in the form of an Agile Alliance. The Agile Alliance works to explore emerging ideas and improvisations that can be added to the Agile Software Development with evolving time and business needs.
It also helps in curating new information and resources to assist companies and businesses adopt Agile practices to the best of their ability.
Hallmarks of Agile Project Management
The foundations of Agile and the workflow all Agile teams follow are uniform in all Agile project management methodologies.
These hallmarks determine the Agile Development Life Cycle, Agile Work Flow and Agile Process Flow.
Early and fast delivery of software or product as opposed to a fixed deadline.
Welcome Change as well as Change Management at any step of the development to endorse continuous improvement of the way work is done.
Repetitive working periods that last from 2-4 weeks maximum, to assist efficient management of large scaled complex products with uncompromised focus and detail.
Agile Teams work together with stakeholders and clients at every step of the process for successful completion of product as per requirements.
Working product is the main goal at the end of each release
Incorporates continuous adaptive planning that allows continuous improvement of the product
Encourages scope planning at any step of the project lifecycle instead of just the beginning.
Also check out:
http://productivityland.com/lists/best-kanban-apps/
Agile Software Development Life Cycle (SDLC)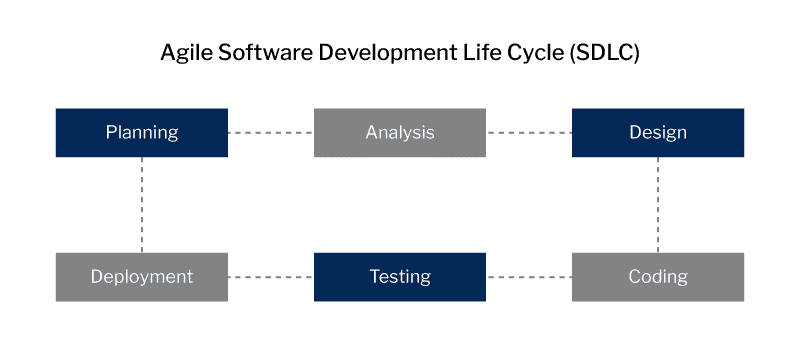 The Agile Software Development Life Cycle (SDLC) works on the mechanics of iterative development. A procedure in which each stage operates with flexibility and adaptability to external as well as internal changes.
It comprises of the following stages:
Planning: Once the larger picture for the scope of the project is finalized, the outline is broken down into smaller, easily achievable objectives. Each of these objectives are then assigned to iterations that have goals and features exclusive to themselves.
Analysis: In the analysis phase, the team comes together to outline the main requirements of the project. Meetings between stakeholders and managers are conducted to realize the purpose and demographics of the usage of the product.
Design: The team begins work on software design and the system design using the requirements established in the analysis phase.
Coding: This is the implementation phase where the development begins with the very first iteration. Features and aspects of the development are created and then tested for flawless functionality.
Testing: Once the coding and development is completed, it is then tested for business requirements and possible bugs. This phase is characterized by all kinds of testing that can improve product efficiency such as: unit testing, systems testing, integration testing and acceptance testing.
Deployment: This is the last phase of an iterative cycle in which the finished product is deployed to the customers. Customer feedback is obtained, and any likely changes or improvements needed to be made are then incorporated in the next iterative cycle.
Benefits of Agile Project Management
Created as an alternative to the rigid and linear Waterfall methodology of software development, Agile empowers teams to work and deliver the product in faster, more flexible and continuously improving mode.
In an HP survey of 600+ development and IT professionals, 54% of respondents stated that after adopting agile methodologies, they experienced enhanced collaboration between teams which did not exist otherwise. Whereas, 43% said the time taken to market was massively reduced.
Here are some of the worth-mentioning advantages of Agile practices:
Greater Customer Involvement
Enhanced cross-functional collaboration among various teams
Ability to change scope of the project
Testing and coding can be done synchronously
Reduced wastage of time and resources due to iterative workflow
Faster delivery of product
Breakdown of work into smaller iterations for easy management
Increased Product quality because of constant customer feedback
Change can be embraced that can help in performance and product quality
Businesses of all sizes can implement Agile practices.
Adopting Agile Project Management
For organizations that have instigated and subsisted on traditional methodologies like Waterfall, the transition to Agile is not an easy process. If implemented in the wrong way, Agile can jeopardize your work integrity than improving it. Which is why, there are certain key areas that must be delved into before taking the leap from older to Agile.
Some key areas to keep in mind and answer before deciding Agile is right for you and your business needs:
Does your team know about the switch to Agile?
Is your team familiar with Agile Project Management and best practices?
Can you provide Agile training to team members who are not cognizant with the mechanics of Agile?
Does your product rely on an incremental process of work or does it need a sequential manner of development?
Is there a change-accepting culture at your workplace?
Is the product of such nature that requires constant customer feedback?
Also check out:
http://productivityland.com/lists/best-project-management-software/
So, this was a brief introduction to Agile Project Management and some of its core concepts. I hope I made things clear for those of you who are just getting started with Agile. I will keep adding to this blog, and we will also write more about Agile methodologies in another blog post.
---
Check out these other useful articles