If you are interested in following up on the latest update that the best SaaS blog (s) have to offer, you are at the right place.
These blogs are informative and interesting. SaaS (Software as a service) is part of cloud computing where all the data is saved in the cloud. It makes information easily accessible to people from anywhere as long as they have an internet connection.
To gain a competitive advantage in today's fast-paced market, companies need SaaS-based solutions, processes, and analytics. Businesses that do not update may run into the risk of financial losses.
SaaS has a flexible service delivery infrastructure that lets companies meet their requirements. This implies that organizations may modify their demand to match customers' growing requirements. SaaS provides an easy IT experience to the users.
According to IDC Worldwide Semiannual Public Cloud Services Tracker, 2H19 "The global SaaS market generated 148.5 billion U.S. dollars revenue in 2019 – approximately two-thirds of the revenue from the entire public cloud services market". According to a blog called: "The State of SaaS in 2022: Growth Trends & Statistics," "SaaS is becoming increasingly popular in the online sector."
Furthermore, this article notes that "The SaaS market is currently growing by 18% each year. By the end of 2021, 99% of organizations will be using one or more SaaS solutions."
You don't need to spend thousands of dollars on a consultation. There are many SaaS blogs and resources that can help ease your decision-making. We have compiled 26 of the Best SaaS Blogs that will be helpful for those who want to learn more about what's going on in the world of SaaS. These blog posts cover everything from customer acquisition strategy, and company culture, to online marketing and startup life cycles.
26 Best SaaS Blogs To Bookmark In 2022
1. Saasmetrics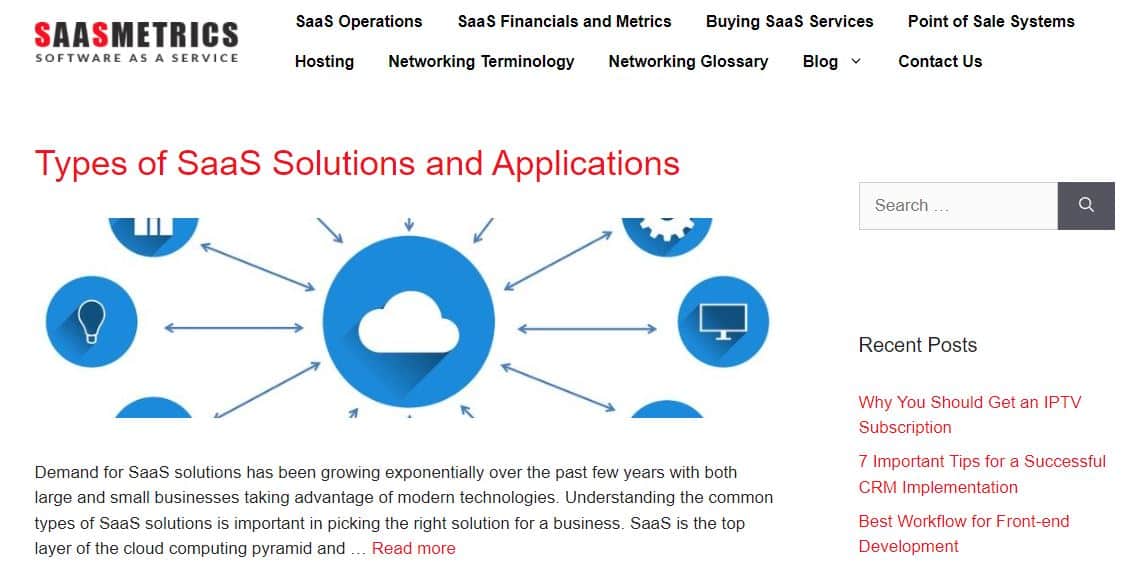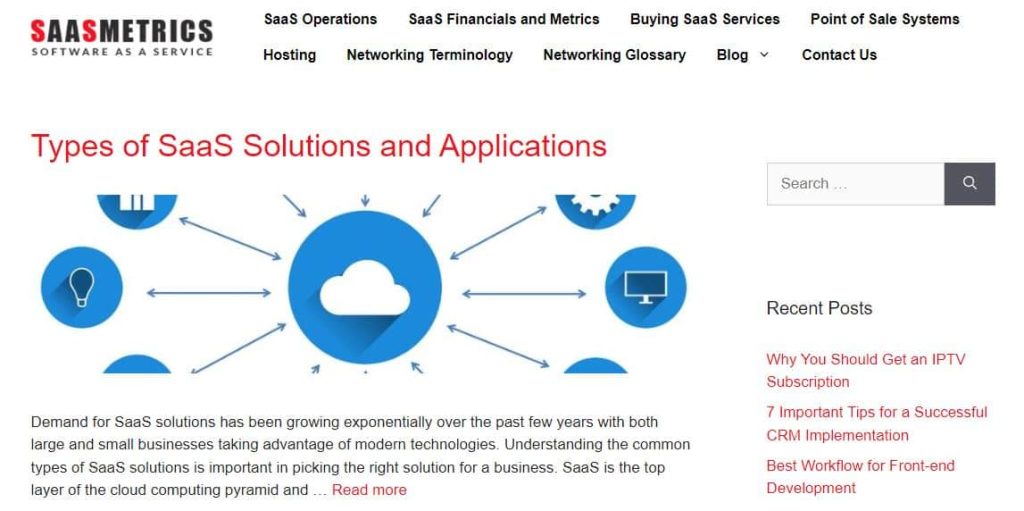 SaaSmetrics website is one place for you to keep track of all your subscription business metrics. This blogging website has been around for 11 years.
It has a vast amount of updated blogs for all the information you will need relating to SaaS Solutions, Applications, Terminology, and more. It aims to be a single source of truth for not just your metrics, but also, the correlations between them.
It will help you to make better decisions. SaaSmetrics land contains blogs related to SaaS Applications, SaaS Finance Terminologies, and SaaS Subscription business.
2. TOTANGO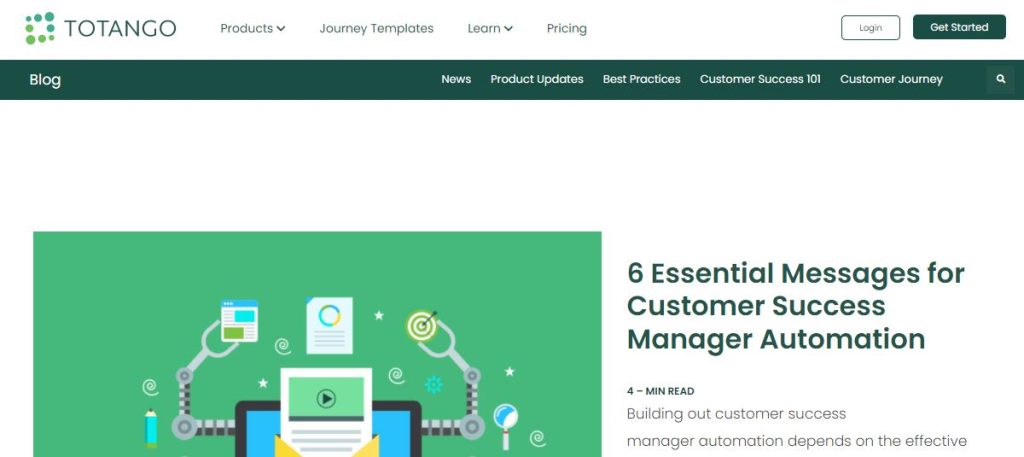 Totango website founded by Derek Johnson, CEO of Totango, is the only independent customer success platform to manage customer relationships with complex account hierarchies and multiple products.
Also, it is a great wealth of SaaS blogs that can add to your knowledge of SaaS Solutions. Totango contains blogs related to CS Software, SaaS, Product usage and adoption, and SaaS Freemium Model.
3. Crazy Egg


Crazy Egg's website started as a design agency and later re-launched as a SaaS product in 2006. The website was founded by Neil Patel and Hiten Shah.
Crazy Egg was one of the very first testing platforms to help businesses track, evaluate, and improve conversion rates. Crazy Egg contains blogs related to A/B test practices and SaaS analytics tools
4. Tomasz Tunguz 
Mr. Tomaz Tunguz is a general partner of Redpoint Ventures, a venture capital firm.
His blog concentrates on topics such as best practices for acquiring new customers, customer acquisition strategies, and scaling SaaS businesses with the use of financial modeling tools. This website has been running since 2008.
The blogs are up-to-date with the current trends and there are blogs as recent as Nov. 7, 2021. Tomasz Tunguz's blogs are related to SaaS startup channel strategies, Reseller channels in SaaS, SaaS acquisition channels, and performance pricing for SaaS companies.
5. For Entrepreneurs by David Skok 
David Skok is a venture capitalist at Matrix Partners and his blogs go into detail about best practices for acquiring new customers, customer acquisition strategies, and scaling SaaS businesses with the use of financial modeling tools.
His website has been running since 2011. For Entrepreneurs, blogs are related to SaaS surveys, metrics, sales compensation, funnel, and business models
6. Chaotic Flow by Joel York 
Mr. Joel York is a designer, developer, and startup advisor. His website Chaotic Flow was launched in 2013. He has been making and marketing B2B software for the last 20 years. His SaaS blogs are comprehensive that include: 
SaaS Customer Acquisition and Alignment, SaaS Growth strategy, SaaS Product-Market Fit, SaaS Product Marketing, Cloud Computing vs. SaaS | Mass Customization in the Cloud. 
Most importantly his blogs deal with the growing cloud computing industry.
7. Chargify
Chargify is a cloud-based software for businesses of all shapes and sizes.
Their blogs look into best practices for running your payment gateway, sales metrics, and marketing automation platforms across the board.
They have been blogging since 2010. Chargify blogs are related to SaaS pricing strategy, application, billing software, billing, and revenue forecasting, and expansion.
8. Close.io 
Close.io is a sales platform that brings everything into one place to find, qualify, and close more deals.
Their blogs look into best practices for running your payment gateway, sales metrics, marketing automation platforms across the board as well as content on closing those big deals from A to Z.
They offer a low-cost CRM (customer relation management) software as their main product. Close.io contains blogs related to SaaS sales methodology and calling tips for SaaS sales reps.
9. Inside Intercom: 
Inside Intercom is a blogging website that centers around customer communication, best practices for running your payment gateway, sales metrics, and marketing automation platforms across the board.
They have been blogging for the past 10 years. Inside Intercom contains blogs related to SaaS enterprise customer acquisition, scaling, SaaS related to Covid-19, customer retention, and SaaS marketing.
10. SaaS Genius 
Tom Gorski, the CEO of this website, has been in the SaaS industry for over a decade.
SaaS Genius has extensive and comprehensive blogs about the SaaS industry. The quality of their blogs is evident by noting that their blogs are featured in Forbes, ComputerWorld, CIO, PCWorld, and Bloomberg Business. This website is primarily a business software review blog site. Blogs look deeply into the current SaaS trends.
They published their recent blog on  November 5, 2021. SaaS Genius contains blogs related to SaaS content marketing, trends, corporate platforms, implementation, business growth strategy, and development.
11. SaaStr
SaaStr is a group or community of SaaS/B2B startups founded by entrepreneurs with data on startup financing, investments, worldwide conferences, and more.
Forbes has called SaaStr one of the Top 100 Blogs for Entrepreneurs, and Inc. Magazine has dubbed it one of the 50 Best Websites for Entrepreneurs, as well as, a Top Writer on Quora six times. Videos, articles, free audiobooks, e-books, and podcasts are the types of content you can expect from this website.
SaaStr contains blogs related to SaaS cancellation policy and acquisition.
12. Lincoln Murphy 
Mr. Lincoln Murphy, the author of this website, assists SaaS businesses in developing their business through retention and connection. His vast knowledge of SaaS firms and growth techniques has been beneficial to readers.
Productivity land contains blogs related to SaaS customer onboarding, churn rate, free trial conversion rate benchmarks, cancellation, startups, conversion rate, and free trial length.
13. HubSpot 
HubSpot is a blogging website about SaaS with a focus on marketing and content creation. Their main focus is on inbound marketing.
Their website is great for SaaS inbound marketers who can use content, SEO, and sales processes to improve customer experience. Besides Blogs, their contents also include e-books, free courses, and certifications.
Productivity land contains blogs related to SaaS ultimate guide, sales tips, customer support, customer lifecycle, customer acquisition, metrics, and product.
14. Rand Fishkin 
Rand Fishkin is the CEO and Co-Founder of SEOmoz. He is an innovator in the field of search engine optimization (SEO), assets, and local areas.
In 2009, he was named among the 30 Best Young Tech Entrepreneurs under the age of 30 by BusinessWeek. Also, he has been named in the Seattle Times, Newsweek, and the New York Times, among others. Also, he is an entrepreneur in the SaaS world. Fishkin blogs on his website 'Sparktoro' are audience intelligence tools.
15. Buffer
Buffer blog is all about SaaS sales and how to make the most of social media. He emphasizes that it is feasible to generate income by rationalizing social media and scheduling content effectively.
This is what buffer focuses on. The blog instructs readers how they may use social media and internet platforms to expand their reach and increase revenue.
16. Alex Turnbull 
Mr. Alex Turnbull, the CEO, runs Groove (customer service software).
His blog covers issues such as entrepreneurship, SaaS development, business difficulties, and start-up challenges. Alex writes about entrepreneurship. The blog also discusses various strategies for improving customer service.
Groove contains blogs related to SaaS refunds, churn rate, founders, success metrics, customer referral strategies, startup journey, beta users, and small business conversion survey.  
17. Skyword 
TrackMaven of Skyword is a content marketing tool that offers the most helpful content advice. Readers may find insight-backed marketing ideas and resources.
You can use this strategy to help you grow your inbound marketing efforts and develop sales leads over time.
18. Sales Hacker 
Sales Hacker blogs are split into sections that focus on different topics in the B2B space, such as innovation, technology, sales operations, and more.
The aim of the blog is to raise awareness of sales engagement, management, enablement, and funnel creation for big purchases. Sales experts may also use industry data while pitching prospects. Sales Hacker contains blogs related to SaaS channel partnerships, customer support, solutions, reducing churn rate, and close rates.
19. Inside Sales Experts
'Inside Sales Experts' website is to help B2B companies implement the finest sales tactics.
On their blogs, they provide information on sales metrics, models, and aspects that will contribute to expansion. They assist B2B firms in developing sales pipelines and sales deals, as well as, he assists to increase their businesses.
'Inside Sales Experts' contains blogs related to the SaaS labor market, metric reports, metrics, and research.
20. Process Street 
Process Street has been around for around 8 years now. The goal of Process Street is to assist companies in optimizing their digital strategy.
You'll be able to discover marketing tactics that will improve audience interaction and sales results.
Their main product is workflow management software. On this blogging website, recurring themes include SaaS advice, hacks, management techniques, human resources solutions, and product-led growth.
Process Street contains blogs related to SaaS social proof marketing, customer success vectors, renewal best practices, employee retention, price model, and product.
21. Neil Patel
Neil Patel is a leading expert in SEO and SaaS. Neil Patel's articles can help companies increase income and enhance their internet presence.
Also, he may make use of marketing solutions to their advantage and obtain crucial information from them. The blog helps beginners in understanding funnels and content marketing. 
22. First Round 
The goal of this website First Round is to provide advice for budding entrepreneurs. There are several articles on the website that teams may utilize to advance at a rapid pace. It helps in the development of content and inbound strategies by providing useful information.
23. SmartKarrot 
The author of SmartKarrot has invested a lot of time and effort into developing excellent customer success material for B2B SaaS firms.
Customer experience, product adoption, customer satisfaction, and product-led growth are all themes addressed in these blogs.
Productivity land contains blogs related to SaaS sales prospecting, churn rate guide, increasing sales, newsletter writing, integration, financial mode, and product design.
24. Predictable Revenue
B2B Outbound Sales are the focus of Predictable Revenue.
This top SaaS blog covers contemporary sales development and how new sales teams may be created without adding stress. You can use it to figure out how to enhance your sales staff, create and implement your own Bespoke Sales Book, and educate them. 
25. The Vorsight BP blogs
The B2B and B2G sales teams are the themes of Vorsight BP blogs. Vorsight is a SaaS sales blog that will assist in learning how to make sales confidently. Since 2005, Vorsight has organized over 35,000 meetings and earned approximately $80 million for its clients.
It's all about efficiently converting insights with Vorsight – a SaaS platform – to achieve results.
26. OnlySaaSFounders
OnlySaaSFounders is a blog exclusively created for the SaaS founders, by SaaS founders with over a decade of entrepreneurial experience.
They publish multiple articles weekly on various challenges from pricing your SaaS product to creating your first marketing strategy; in addition, you can find brand new exclusive content every week focused on trending topics. Especially if you're an early-stage SaaS founder, you can find a ton of value in OnlySaaSFounders' blog.
We hope these top 26 SaaS blogs will be helpful for you. We encourage you to read our blogs about marketing and sales for software as a service (SaaS). Our goal is to provide actionable tips that will help your company grow by growing your customer base or subscriber count on social media channels like Twitter and Facebook.
One way we do this is through content creation and blogging. Don't forget, if anyone has any question(s) to be answered in a future blog post, please let us know. You may contact us at hi@productivityland.com with your name and email address.
Other SaaS Blogs are available at Productivity Land.