Teaching is a very difficult job — even in the best of circumstances when the biggest worry in the world is whether it will rain outside, and did you bring an umbrella. But in a world where a quarter of the human population is under quarantine, that job becomes even more troublesome and gives an opportunity to utilize virtual classrooms.
Schools are closed, students are bored out of their minds and it's truly an unusual day when the students want to attend online classes just so that that they can have some sort of productive activity throughout their day. But how to make this virtual classroom experience the best that they ever had?
Long before the pandemic, countless online schools helped people get an education from the comfort of their home or somewhere they are more comfortable than a regular classroom. This is because over 15.7% of the students around the world rely exclusively on long-distance education.
To your benefit, you don't have to update all of the techs in your IT department to manage a simple batch of online classes for your students residing in their homes, you can use one of the software from the list of tools we have gathered for you.
Let's start at the very beginning.
What are Online or Virtual Classrooms and What is Their Purpose?
In this strange world where students are quarantined in their homes and have no way of being in a physical classroom, the educational society had to shift their activities from traditional classrooms to virtual ones as quickly as possible.
These online classes are online alternatives to physical or traditional classrooms. They are mostly operated by different Learning Management Systems depending on the region and the regulatory authority they fall under.
These classes essentially help the teachers and the students to have an authentic classroom experience through the internet, which greatly mimics the traditional classroom experience.
Many businesses in addition to schools are taking advantage of software, such as a virtual classroom or remote business management software because of the dramatic increase in the remote workforce caused by the pandemic. And now, most of the schools throughout the world will have to do the same.
These Cloud-Based Learning Management Systems are incredibly tailored algorithms that allow both the students and the teachers to work simultaneously in real-time with each other even though they are not present in one physical location.
But you have to remember one thing that for all of this to happen, both the parties have to make sure that they have a fast and stable internet connection wherever they are.
Some of the features that can you can get using incredible virtual classroom software are as follows:
Live communication between the two parties whether it's between a boss or employee, or teacher or student, etc.
Some elaborate text editing tools can help you get your word out in the way and shape that want it to be.
Virtual whiteboards so that the teachers can clearly describe what they are telling to the students, just like in a physical classroom.
Audio and Video editing tools to tailor the content of the interaction.
One other feature that you can get depending on the virtual classroom software that you choose is that you can upload all of your existing course material or work content that you want to share with the team directly into the software. You can even create new entries in it.
When the content has been uploaded and you have completed the classes, the next feature that you can perform is that you will be able to directly check the work submitted by the student, through the application, and depending on the metrics that the application provides, you can track their performance and grade their work.
Looking at all of these perks and features, you can see for yourself that the concept of virtual classrooms not only mirrors the concept of a traditional or physical classroom but in our opinion, improves upon them.
This is because these Learning Management systems automate the administrative tasks necessary to make classwork, but also seamlessly streamline the learning process. The following are some of the best virtual classroom software's on the market right now.
Let's take a look at them now.
5 Professional Business tools that can be Excellent Virtual Classrooms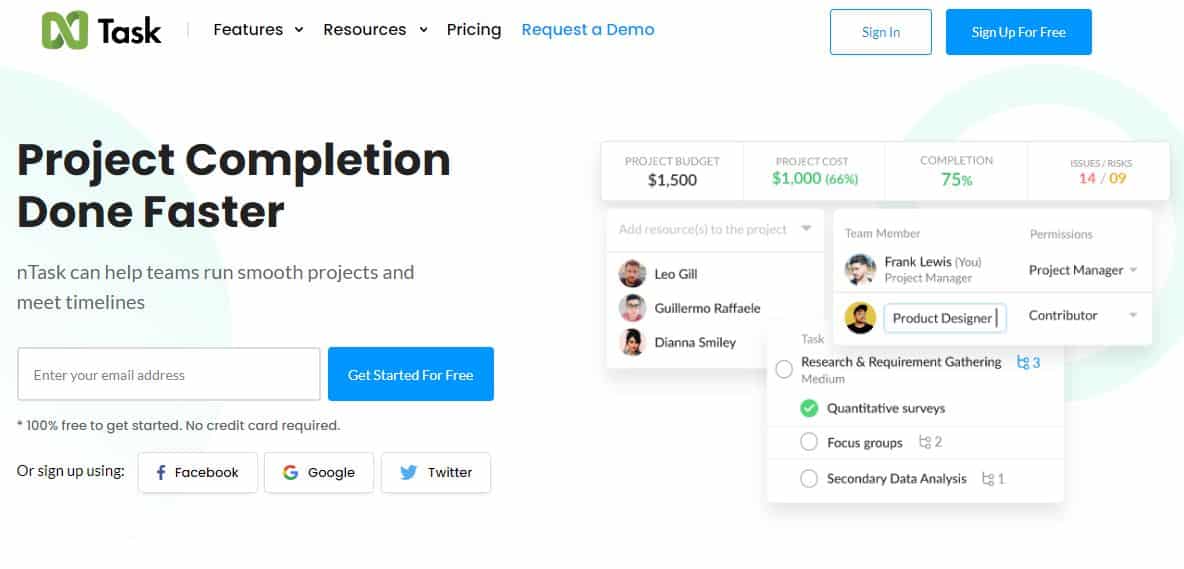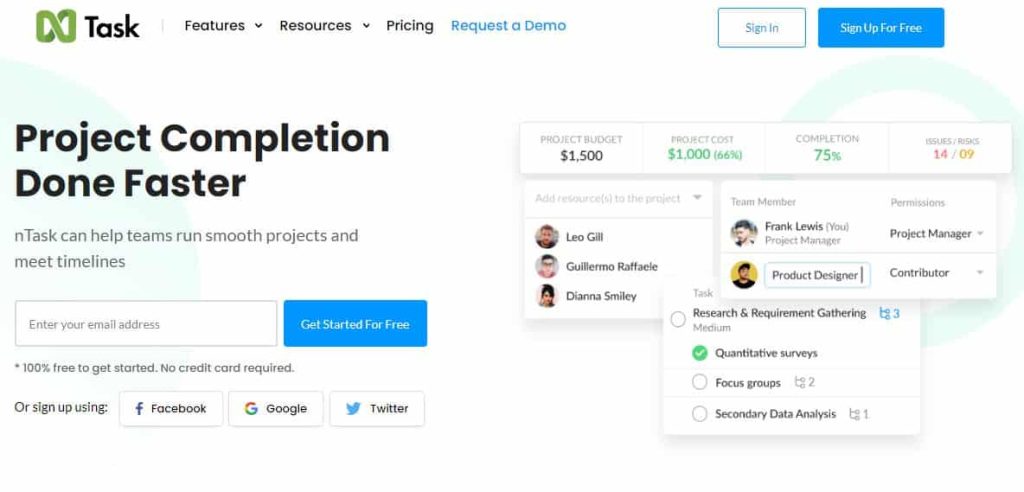 When looking for an application that can provide you with the best tracking and editing features for the teachers as well as the students to work on their content in real-time and get the full benefits of a professional project management software at the minimal cost possible, only one name comes to mind and that is nTask.
With its amazing scheduling features and tracking features students can provide the students with all the content they can. After that, they can check up on their performance through the amazing features that nTask provides for them and grade on that performance accordingly.
Some of the key features that the teachers and students can use to their benefit are as follows.
Key Features
Task management includes to-do lists, task creation, assignment, organization, prioritization, and sharing tasks with multiple statuses
Workspaces to manage and monitor multiple students, simultaneously
Powerful search and filter tools to search for tasks, projects, and classes, etc. Plus, make use of the filter option to save more frequent searches
Two-Factor Authentication for extensive security
Mobile apps for iOS and Android
Project management options including reports, timelines, Gantt charts, percent completion, the option to interchange tasks with the students and keep them in check. You can create projects and assign tasks or treat tasks independently
Meeting management module for setting up recurring or one-time classes, sending invites, adding agenda, post-class actions, and class minutes
Alerts, notifications, and reminders to keep students on track
Third-party access
Pricing
There is a free plan available if you want to check out the software before you choose to buy it
Premium: $3/ month/ user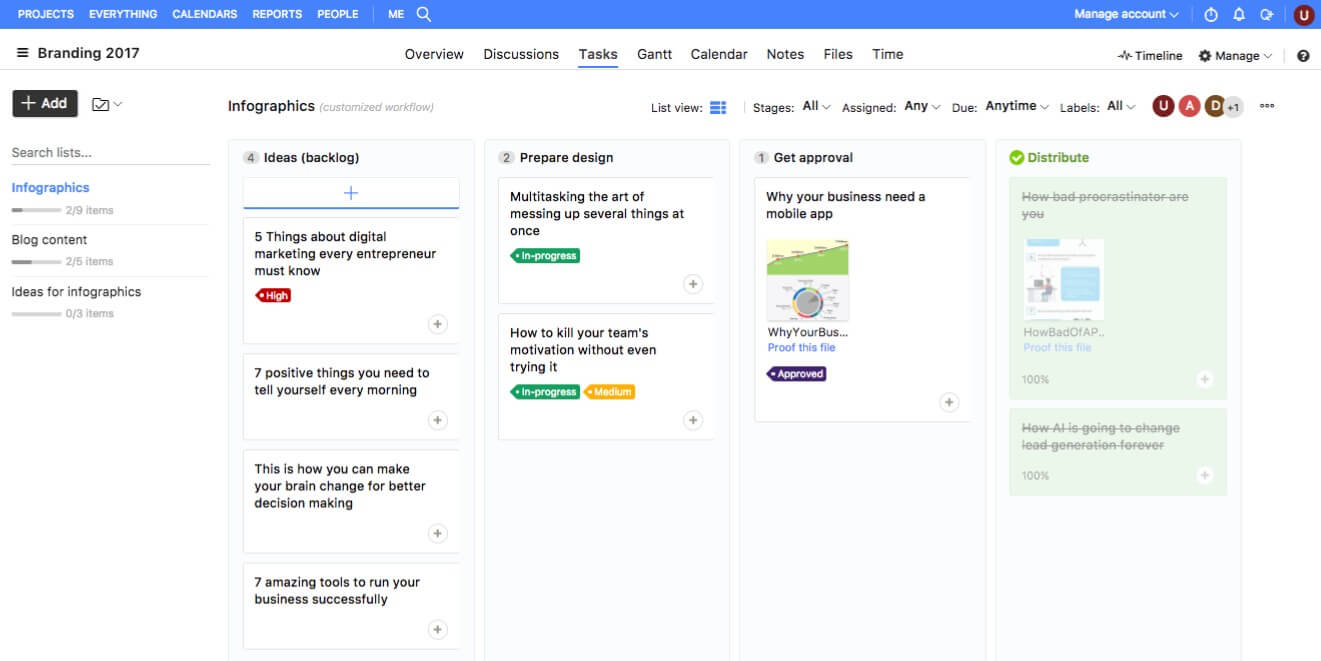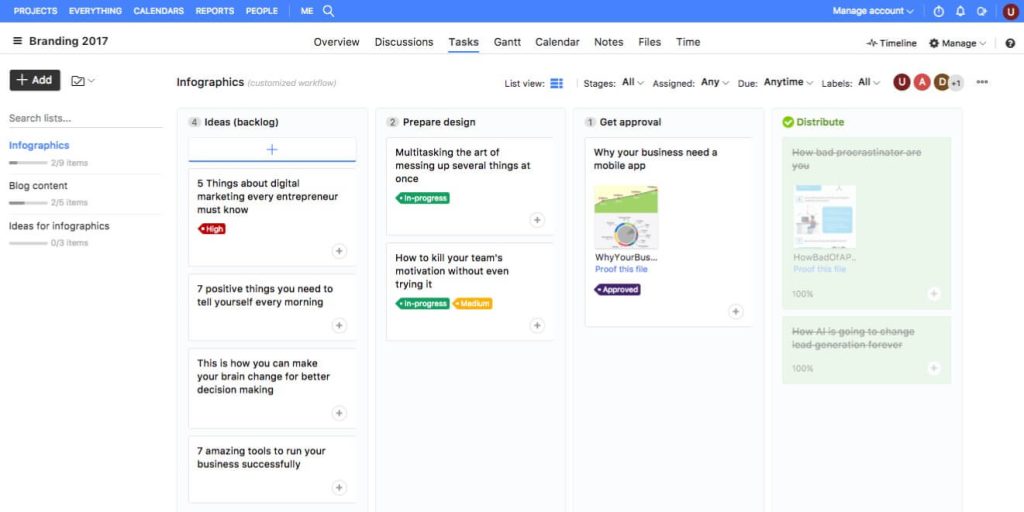 ProofHub is an amazing software that was designed for companies that wanted to enhance their project management activities and collaborative activities among their team members, which makes this application an amazing one to be used as a virtual classroom.
It has an incredibly easy interface that the students can associate themselves with. This eliminates the hours and hours they would waste to understand the application first and then get to work on their study material.
Regardless of the skills and knowledge of both the students and teachers about this particular application, all of them can be pro at using it in no time at all.
Some of the key features that this application provides are as follows:
Key Features
Schedule learning
See customized reports
Easily assign homework
Create agendas
Set automatic reminders
Keep an eye on students
Collaborate seamlessly
Pricing
The application provides an amazing free version and a free trial so that the customer can understand what they are buying.
Also, for the whole year of 2022, all schools can have the full version available to them for free, including all of the pro features that the application provides.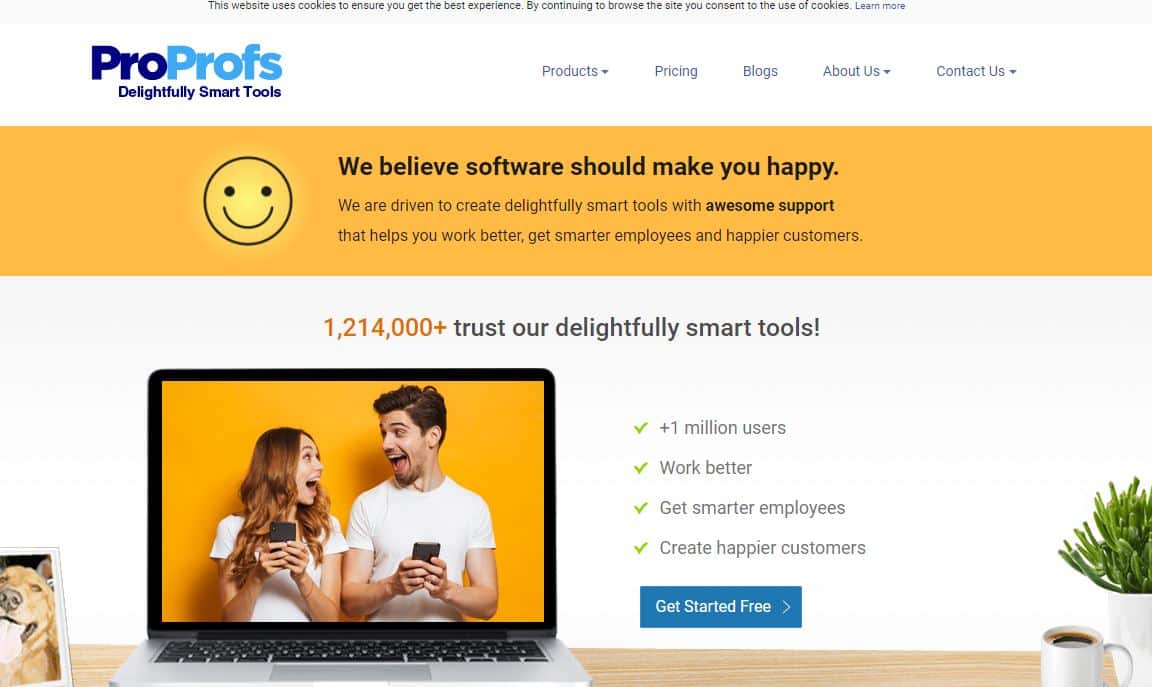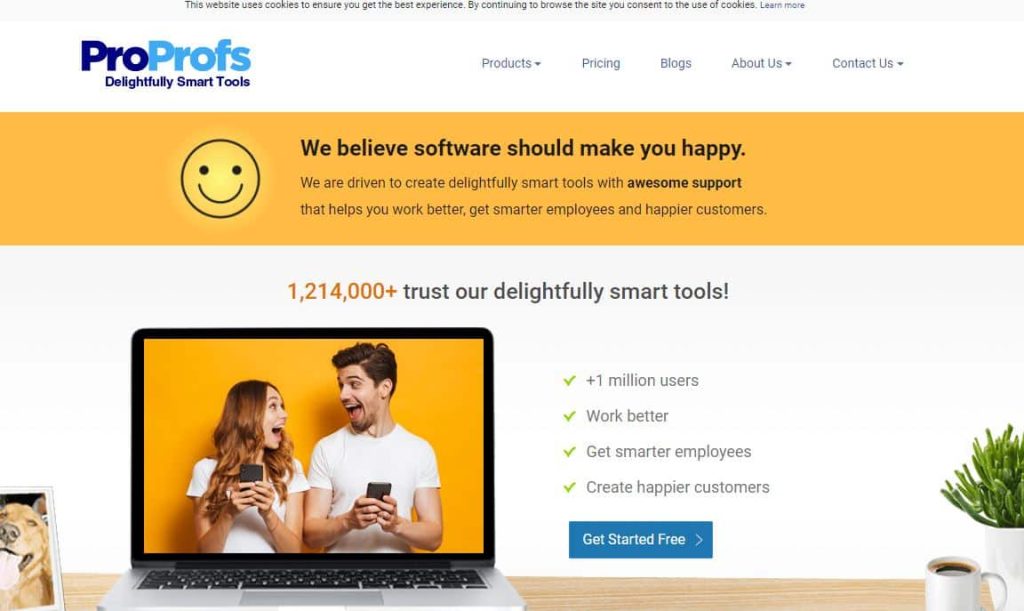 One of the most comprehensive Learning Management systems on the list, ProProfs can enable all of the teachers out there to create their custom virtual classroom in no time at all.
The application is incredibly scalable and can accommodate a vast number of students in a classroom. This feature is becoming more and more useful as the pandemic goes on and more and more schools all over the world are shifting their classroom activities to a more virtual alternative.
Some of the incredible features that the application provides are as follows.
Key Features
Develop your course materials
Embed the tests and quizzes into lessons
Create learning paths
Browse through their library and use pre-existing courses
Create assessment tests and quizzes
Upload videos, presentations, and documents
Track the performance of each student
Pricing
There is a Free Trial available where the customers can check out the application before they decide to buy the application.
The subscription for the application starts at $79/ month.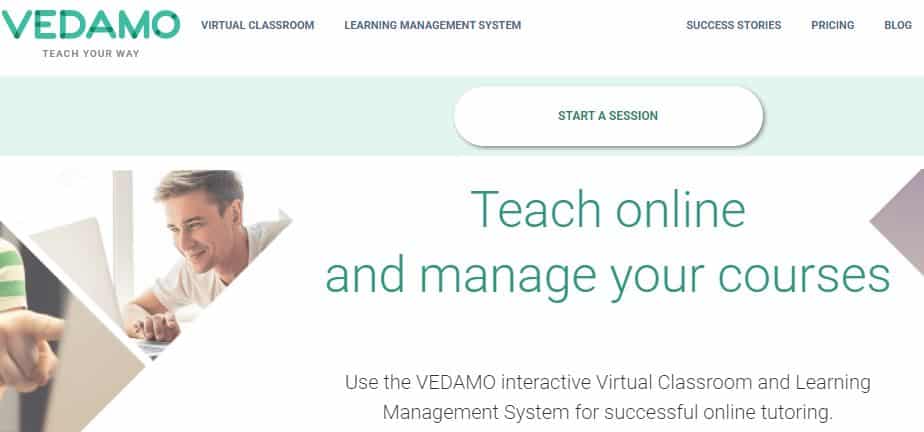 One of the applications on this list that was natively designed as a virtual classroom software is VEDAMO. It was created to accommodate educational institution activities but most businesses rely on its cloud-based Learning Management System to train their arsenal of employees.
The most astonishing factoid about this application is the vast scalability that it provides for its customers. The application can accommodate up to 10,000 new learners at a time, which makes it the ideal application to be used for larger schools right now that are trying to go remote in this time of the pandemic.
Some other important features that the application provides are as follows.
Key Features
Students Portal
Session Recording
Breakout Rooms
LMS Integration
Cloud Storage
Class Scheduling
Assignments
Virtual Whiteboard
Pricing
There is a Free Trial available where the customers can check out the application before they decide to buy the application.
The "Virtual Classroom" subscription of the application starts at $25/ month.
The "Learning Management System" subscription of the application starts at $43/month.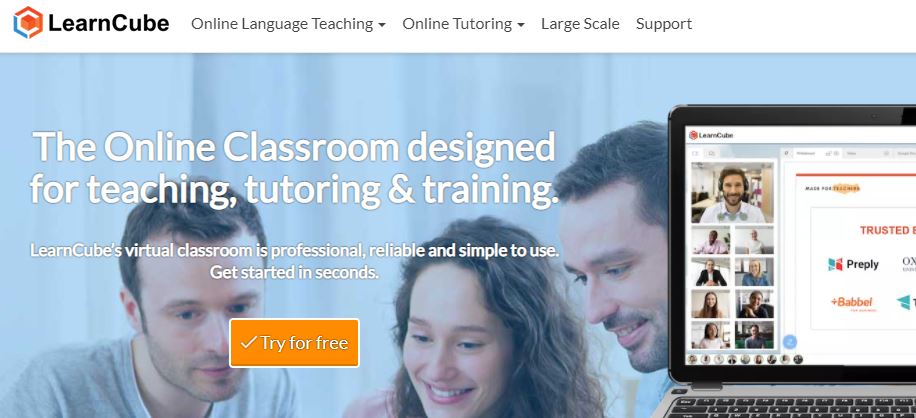 LearnCube is another application in this list that is all kinds of fun to use. This application is an amazing choice for learning institutions and it's an especially good choice for language schools.
This application even though it looks like a simple web-conferencing application, can be used to create quite a comprehensive virtual class that is incredibly engaging and educational.
Another important feature that this application boasts is that you can create an amazing virtual classroom that is so lenient and understanding in its approach to teaching the students, that it provides for the students the space they need to learn everything at their own pace and not rusk them for anything.
This ensures that the students that are present in the classroom are without a doubt, becoming an expert in everything that you teach them just because there is no pressure on them and they can learn everything on their terms.
One another thing to notice when using this application is how easy it is to use. This is because the application can be accessed through web browsers from every mobile device.
This helps in reducing the time students and teachers spend learning the application before starting their work activities on it.
Some important features that the application provides are as follows.
Key Features
Asynchronous Learning
Built-in Course Authoring
Gamification
Mobile Learning
Video Conferencing
eLearning Companies
Academic/Education
Blended Learning
Corporate/Business
Learner Portal
Synchronous Learning
eCommerce
Pricing
There is a Free Trial available where the customers can check out the application before they decide to buy the application.
The fee for the subscription for this application starts at $27/month.
Conclusion
These are our top entries of the software's schools and other learning institutions can use to their benefit in these strange times. These applications will enable schools all over the world to resume their educational activities for their students in a virtual world.
Granted that some of these applications take quite a while to be understood by the teachers and the students but when that learning procedure is completed, they can have the most amazing educational experience that in some cases triumphs the one they could have experienced in a physical classroom.
---
Check these articles: