When it comes to pure project management, I have not seen a project being managed without a Gantt chart software for progress visualization. I did a roundup for the best Gantt chart software of 2022 earlier and found out about GanttPRO, which made it to #5 on my list.
It incorporates some strong features and functionality along with a user-friendly design that easy to get along with. Today, I will be reviewing GanttPRO and looking at all that it has to offer for project scheduling and management.
Let's get started.
GanttPRO Pricing
GanttPRO comes with the following pricing plans:
Individual (single user plan) – at $15 per month, all of GanttPRO's features except team progress tracking
Team (5 users & up) – at $6.5 per month per user, all of GanttPRO's features
Enterprise – for 100+ users, contact sales for inquiry
Target Audience and Ideal Team Size
Ideal team size: 5-15 team members.
Target audience:
Project Managers – Coordinates 5-15 people, in the sphere of IT/Construction/Marketing, and many others
CXOs – C-level duties in the sphere of IT/Consulting/Manufacturing, and many others
What Makes GanttPRO Unique?
I asked this question from the marketing team at GanttPRO. Here's what they said:
Plan as easy as never before: The easiest PM tool based on Gantt charts out there! GanttPRO has beautiful and intuitive interface that is so simple to understand for everyone, young and old.
Templates: GanttPRO enables users to simplify planning with pre-configured templates for various spheres.
Flexibility & customer focused approach: We collect users' feedback and upgrade the system regularly by implementing new features upon requests. Our friendly and helpful support and account managers help to make user's experience smooth and efficient.
Have a single source of truth: Track all the changes in your project and have 24/7 seamless and immediate access to all the projects, from any place and any web browser.
Collaborate in real-time: it's easy to find all the necessary info right on the chart, including all the team's tasks, sequences, deadlines, and priorities. Leave comments, delegate tasks, plan duties, share files, and at the same time, keep all your projects under full control.
---
GanttPRO Review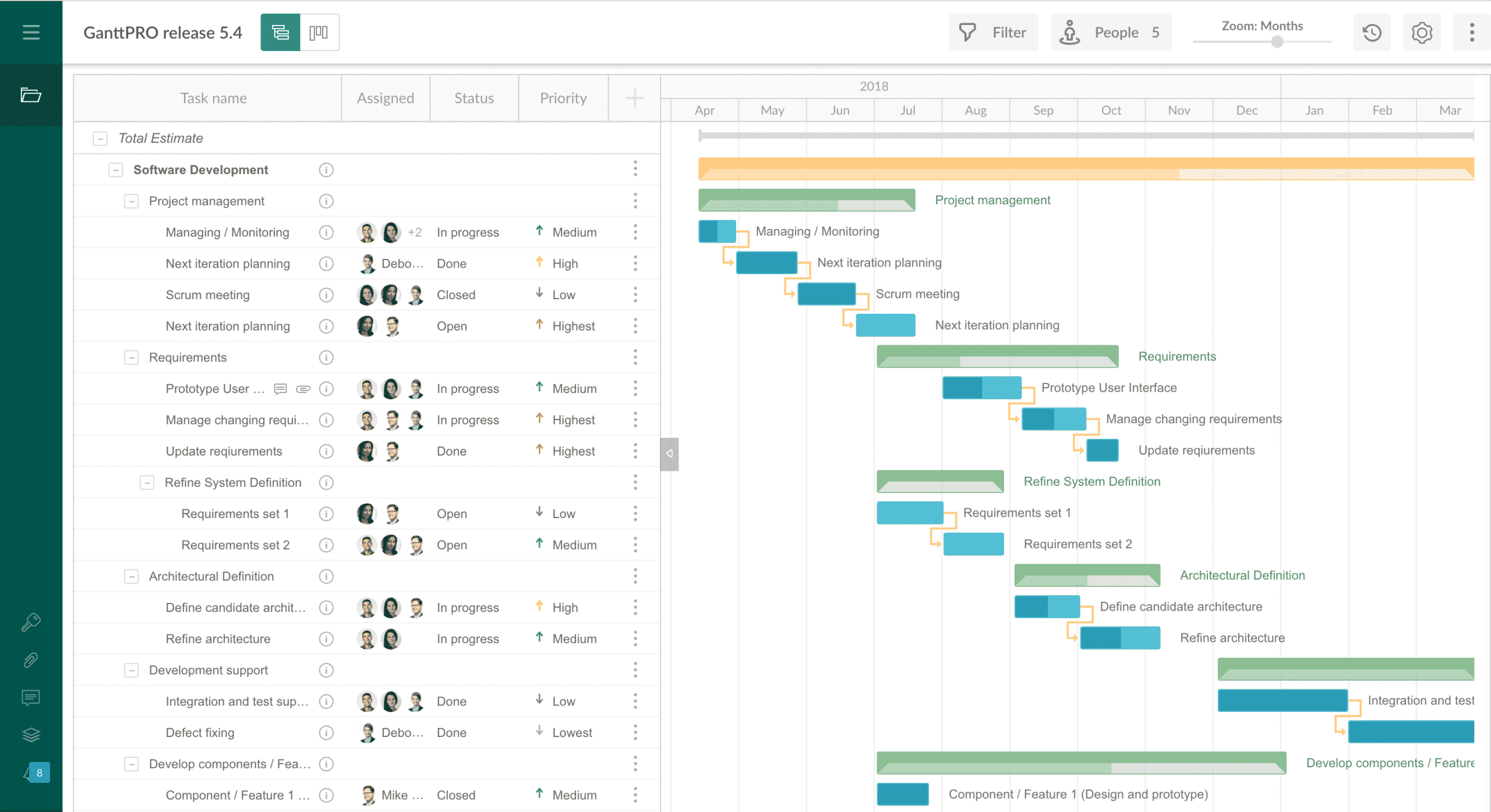 1. Design & Ease of Use – 8.0 out of 10
GanttPRO's onboarding is fairly straightforward. Just enter the email and you're taken to the onboarding screens in no time. No need to go through a tedious verification process. GanttPRO gives you the liberty to skip the verification process for later.
Once you're inside the application the first thing you need to do is create a project which is a standard for project management applications nowadays. Creating the project was quite easy and all I needed to do was give my project a name, choose the template and voila! a neatly designed Gantt chart with pre-configured tasks appeared right in front of me.
The templates would come in very handy for users who're trying Gantt for the first time and/or somewhat new to it. So great job on that!
Talking about my first impressions about the application, I did like the overall look and user interface, however, the Gantt parameters on the left panel did make me feel a bit nervous.
Having default values such as hours and costs shown at all times took my focus away from the Gantt itself but the good thing is you can easily hide these fields by simply clicking on the + icon.
According to GanttPRO customers, it normally takes about 7 minutes on average to be able to fully learn and start benefiting from its functionality. I advise, you give it a try and fully use it before making a decision as I found it to be a lot easier on the eye the second time.
If you've used a Gantt chart tool before, you'd know they can be tricky to handle. However, GanttPRO seems to have done a nice job in maintaining the simplicity in the design and yet being able to cater tons of necessary features required to provide a complete lifecycle of a project.
---
2. Features and Functionality – 8.2 out of 10
GanttPRO scores decently when it comes to the product's features and functionality. It is a complete and ready solution offering a range of features, from planning and visualization to task management, Kanban boards, resource management and more.
However, there are a few things that I found missing in GanttPRO. While the tool itself offers comprehensive task management for web, there are no mobile apps for you to take work with you on the go.
Another feature that I found missing in this team collaboration app is the team chat feature. You can comment on tasks and collaborate, but the team can't chat in individual channels or via DMs. And there are no third-party integrations that can make GanttPRO work seamlessly with another team chat tool for now.
Having said that, there are a lot of other features that make GanttPRO a decent project management software. Let's look at all that GanttPRO has to offer one by one.
2.1. Overall Hierarchy
You have a hierarchy of things with GanttPRO. Here's how it works:
Projects – projects are the initiatives that your team will be working on
Sub-projects – pools or groups of tasks inside a project, visualized on the Gantt chart
Teams – your team members
Tasks – stuff that needs to be done to push projects to completion
Subtasks – a breakdown of things into smaller, more manageable things to do
This is how things work in GanttPRO.
2.2. Project Templates
One thing that really impressed us about GanttPRO is that if offers tons of free templates to use and get started quickly. You can save your own project templates as well. Here are all the templates that are available to a new GanttPRO user: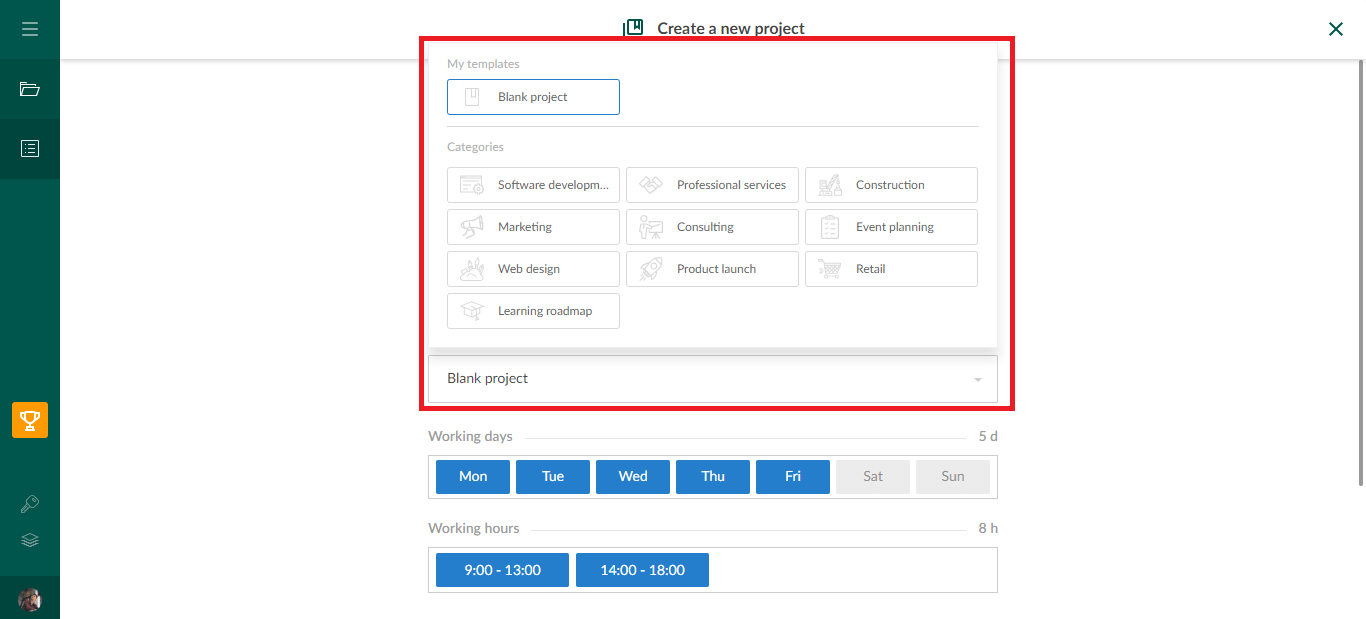 Templates in GanttPRO don't just stop there. You have subcategories for all these parent categories. So, if I choose the Marketing category, I get a huge list of over 50 subcategories to choose my project template from: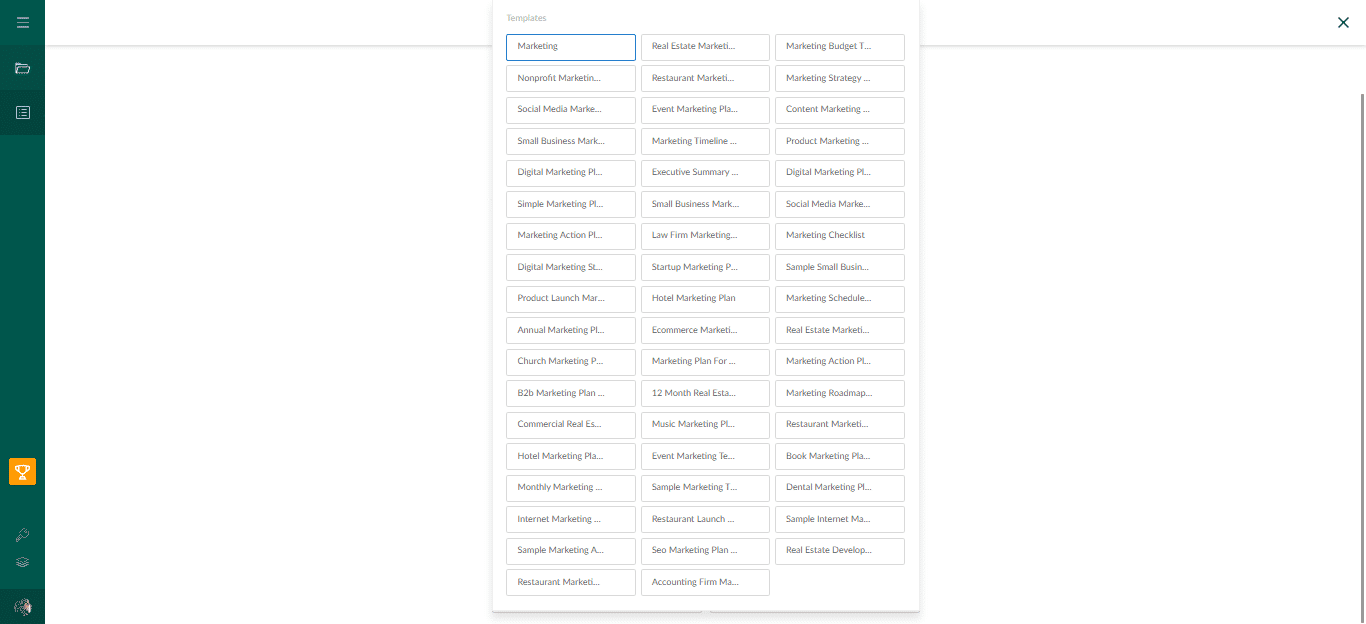 The list was too big, however, and missed a scrollbar. I had to minimize my browser's text size to fit it all in one screen.
2.3. Project Gantt View
This is the heart of everything you do in GanttPRO – the project Gantt view. Here, your project's progress is visualized, all your plans laid out, and where work happens.
Once you've signed up, created your first project, and chosen a project template, you will land at the project Gantt view.
Looking around, on the top of the screen, we have:
a switch view button for Gantt and Kanban (more info on Kanban in a bit),
a Filter button to filter out only relevant tasks to be shown,
a People button to add and manage project team members,
a Zoom lever to zoom in and out of the Gantt view,
an Activity History button that logs all activity made by any project team member,
Project Settings (more info on Project Settings in a bit),
an Ellipsis button, which has the following options:

Baselines
Export
Public URL
Save as Template
Archive Project
Delete Project
All your tasks will show up on the task grid panel on the left and a Gantt chart will preview on the right. You can minimize the task grid to get more real estate for the Gantt chart.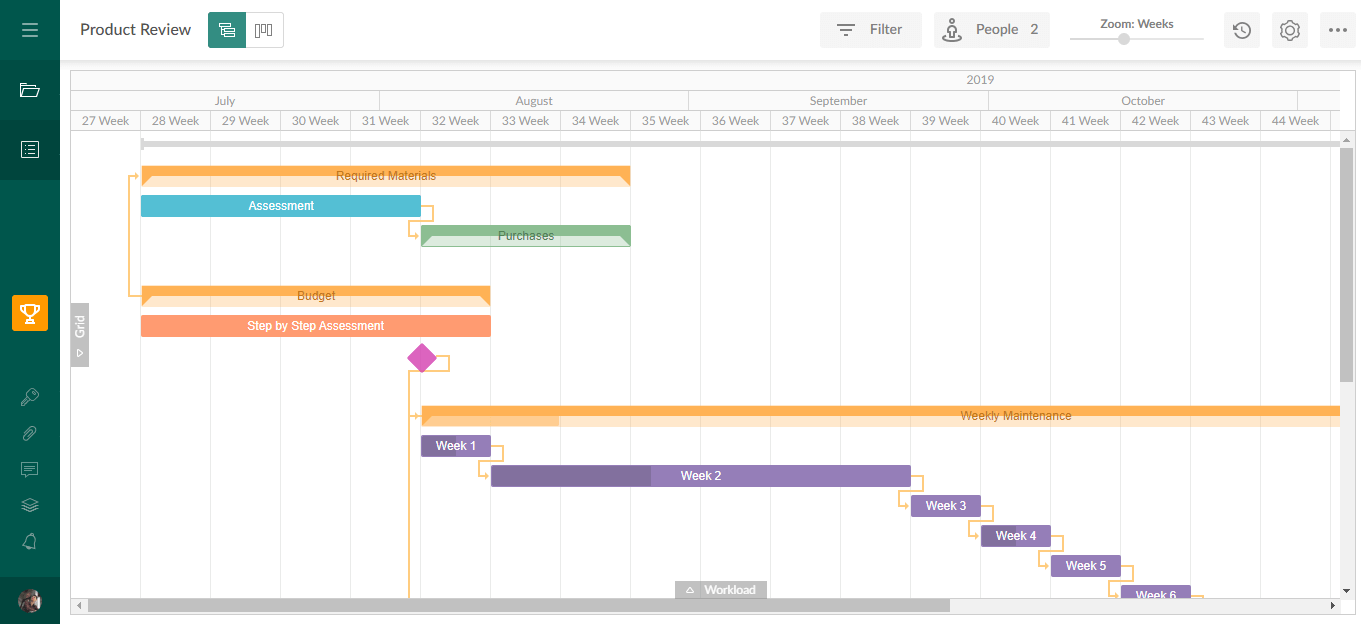 With the task grid minimized, you can enjoy an interactive Gantt experience in GanttPRO. Click and drag tasks from each end to change their start and due dates, use the progress pointer to update task progress, hover on tasks to define dependencies, and more.
Alternatively, more space can be consumed by the task grid – simply drag the divider to the right and expand your task grid as much as you'd like. You can add more columns to the grid view panel by pressing the + button to give your Gantt view more context.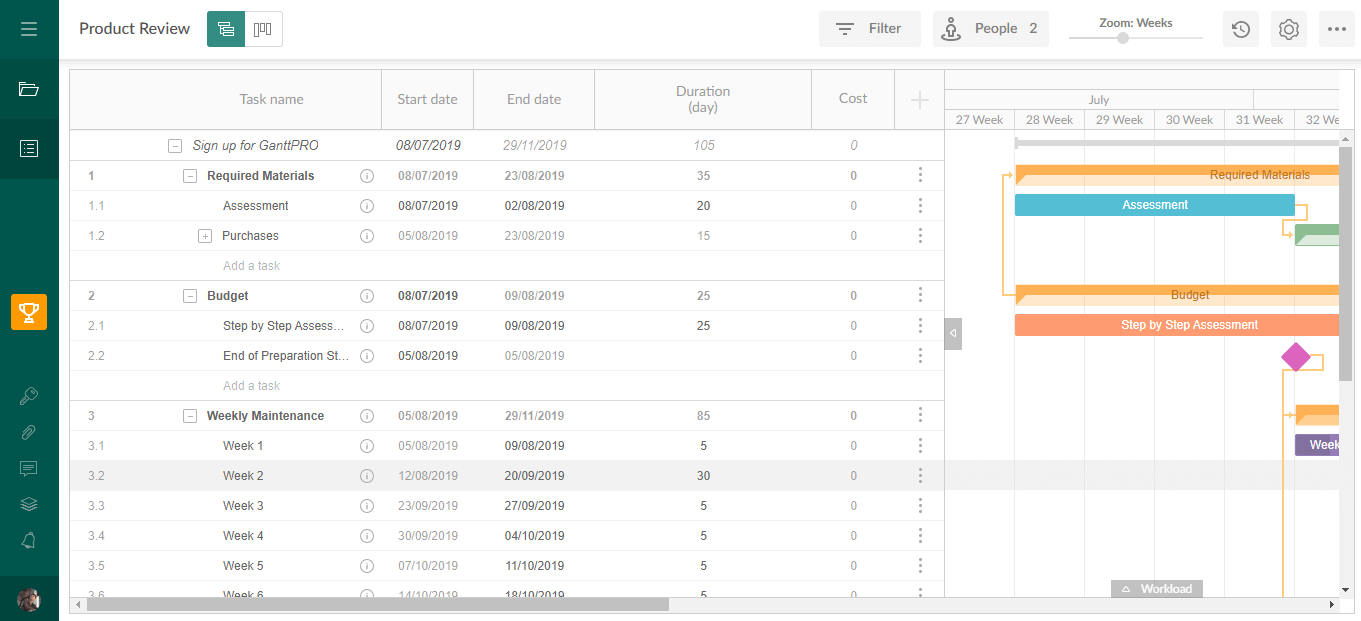 3.1. Task Grid
Essentially, your task grid is where you can create sub-projects, tasks, subtasks, sibling tasks, milestones, and more.
Right-click on a task from the task grid, and it will open a range of options to choose from:
Task Settings
Add a subtask
Add a sibling task
Add a child milestone
Add a sibling milestone
Indent
Outdent
Convert to task/milestone
Copy/Paste
Choose color
Delete task
3.2. Task Settings
First up, task settings. Clicking on the button opens up the task settings panel, where everything is laid out. Here, you can control all elements about your task. Here's a complete list of settings available inside the task settings panel:
Task name
Color code
Start and End date
Start and End time
Task assignees
Task status
Task priority
Task type
Duration
Task progress (%)
Number of hours completed
Number of hours remaining
Show deadline on the Gantt view
Task description (comes with a WYSIWYG editor)
Task attachments (drag-and-drop to upload or browse)
Task dependencies
Task comments (comes with a WYSIWYG editor)
All your activity is effortlessly saved as you update your task's settings without you having to press the save button.
3.3. Subtasks
Subtasks have the same settings as tasks. However, one thing was interesting to notice. I kept adding subtasks to each subtask and GanttPRO did not stop me. I went on to create up to 12 layers of subtasks inside each subtask, and I was not prompted of any subtask limits.
That is impressive work by GanttPRO and comes in handy when planning complex project workflows.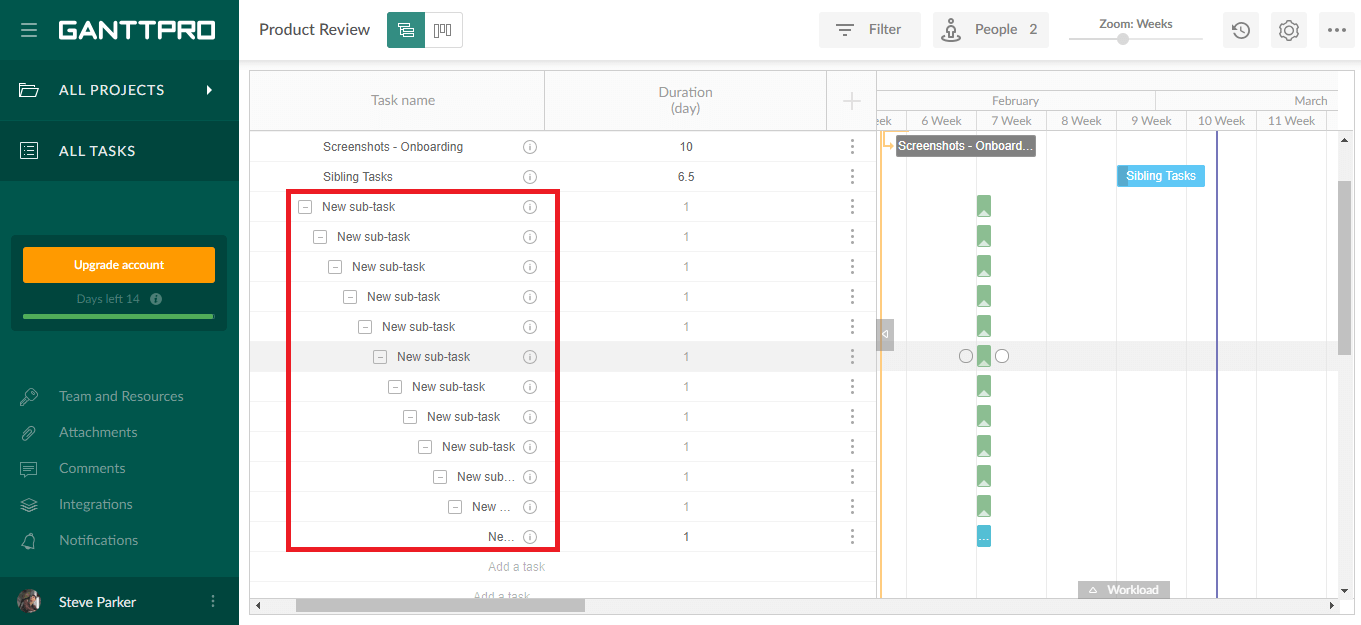 3.4. Project Milestones
Adding milestones to the project Gantt view is easy. From the task grid panel on the left, right-click a task and select Add a Child Milestone from the drop-down menu.
Or, if you've already created a task, head over to the task settings panel and select Milestone as a Type from the dropdown. You can also convert a task to a milestone by right-clicking the task on the grid.
Milestones show as a rhombus ◇ on the project Gantt view. You can add dependencies to them as you like.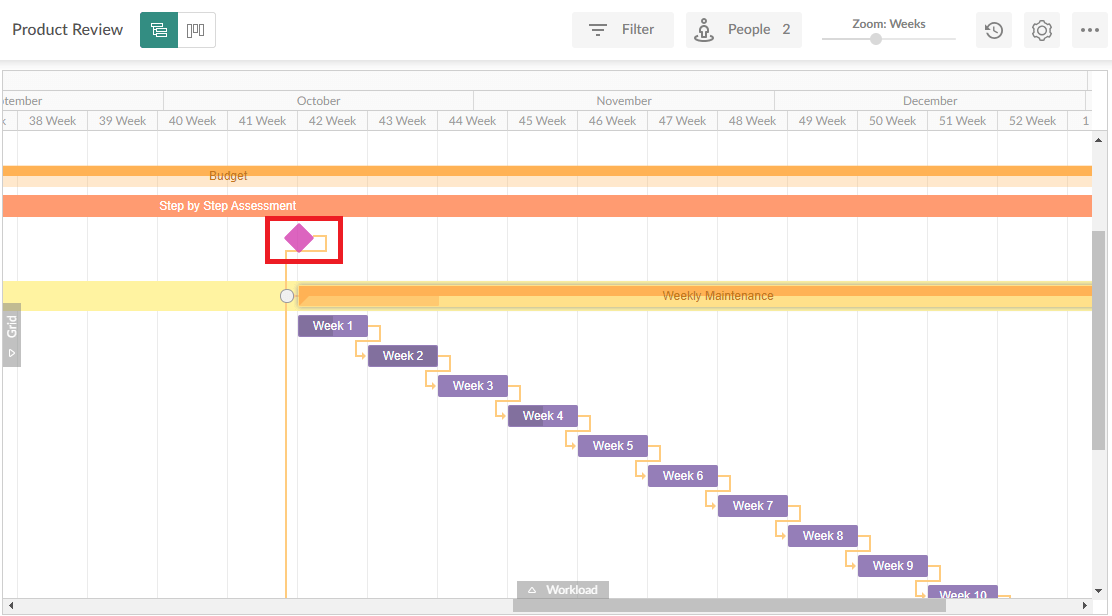 Sibling milestones have the same settings as project milestones.
3.5. Workload Management
Another useful feature that GanttPRO offers is its workload management capabilities. You can log the time effort needed for each task and it will show you workload stats on the Gantt view.
This is a table where all your team members, resources, and their workload will be shown after you add them to your project team and assign them tasks. You can view the workload in tasks per day or hours per day.
Just click on the small Workload button at the bottom of your screen and the Workload table will pop open.
2.4. Kanban View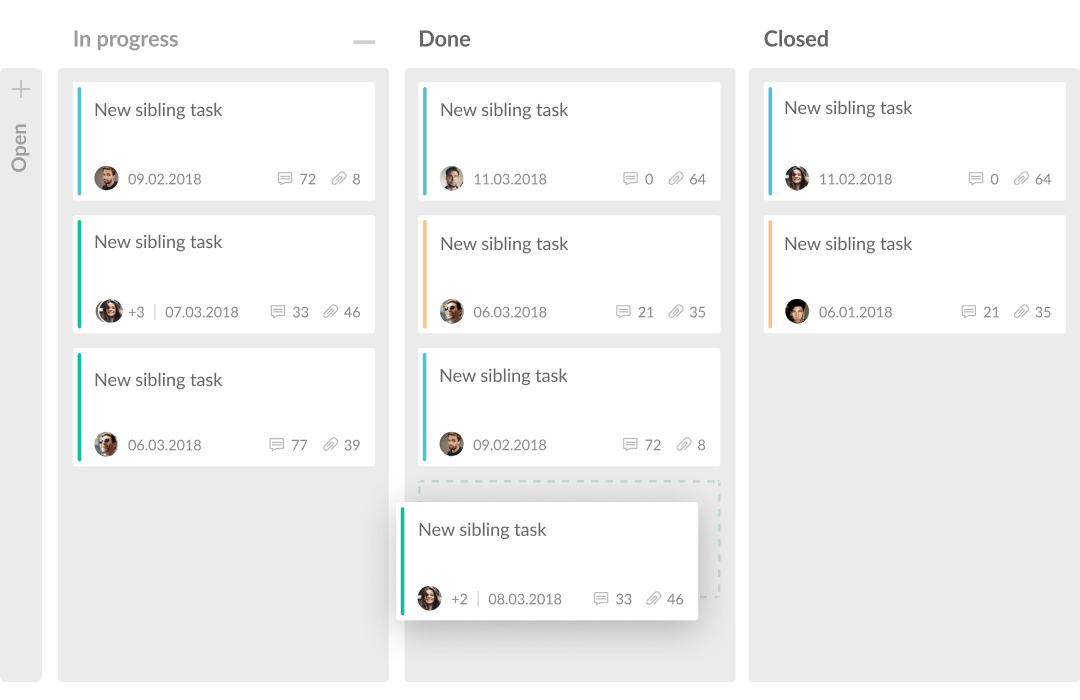 GanttPRO also offers a Kanban board view for your tasks which means you can also use it as a Kanban app to manage your backlog. Simply select the Kanban view from the view switch button at the top and you will land on your project's Kanban board.
While you won't be able to create or add new tasks or milestones here, the Kanban board is still useful to manage existing tasks and move them along the board as the near completion.
Nothing too fancy here – the Kanban board is just a view for all the tasks in your project. You can minimize columns from the Kanban board if you want to focus on a column, however.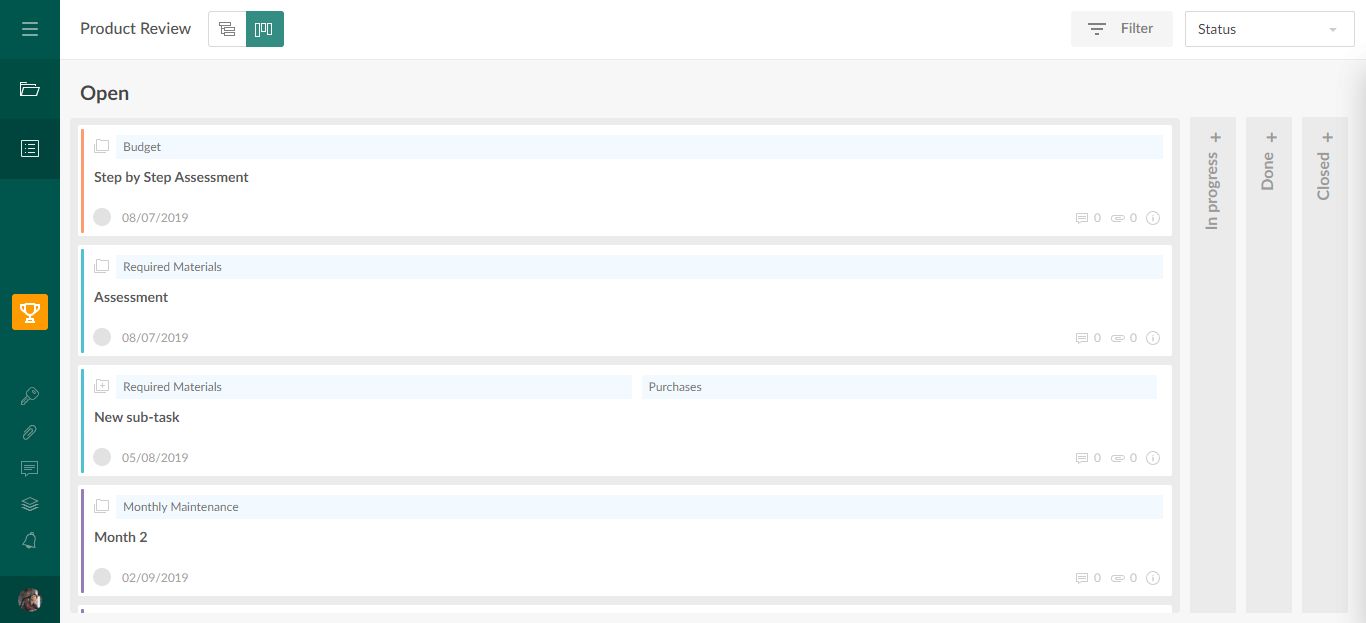 2.5. Task List
When you have a lot of tasks to juggle, a Gantt view with a grid might not be the best way to access them. Therefore, GanttPRO made a task list view which offers smart filters, so you can find exactly what you need faster. You can also access the task's settings from the list view.
However, there is no option to create a new task from the list view.
2.6. Attachments and Comments
Just like there is a standalone task list view to access all your tasks quicker, there are standalone modules for files and comments, so you can easily access them and keep track of conversations on various tasks of the project.
2.7. Notifications
With all the activity on all your tasks, comments from your team members, files being uploaded and downloaded, you need a notification center to keep track of what is happening. There is a standalone notification center in GanttPRO that shows you all unread notifications and updates soon as you log in.
I also heard a bell ring soon as I started my project in GanttPRO, which was the notification center telling me that my project has started. Brownie points to GanttPRO for adding sound notifications.
2.8. Project Settings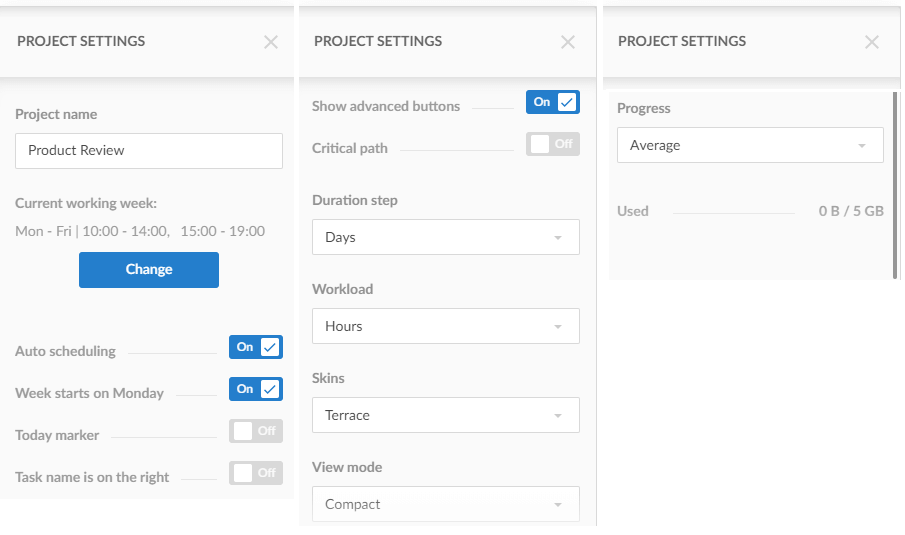 Clicking on the gear icon at the top of the screen will open the project settings panel on the right side. Here, you can control various elements about your project.
Important things such as first day of the week, working hours, critical paths, and measurement units are all determined here. You can also check out your project's storage space utilization (5 GB storage space available).
Then there are some personalization options – Skins and View modes. Here is a preview of all the 4 skins that are available with Gantt PRO.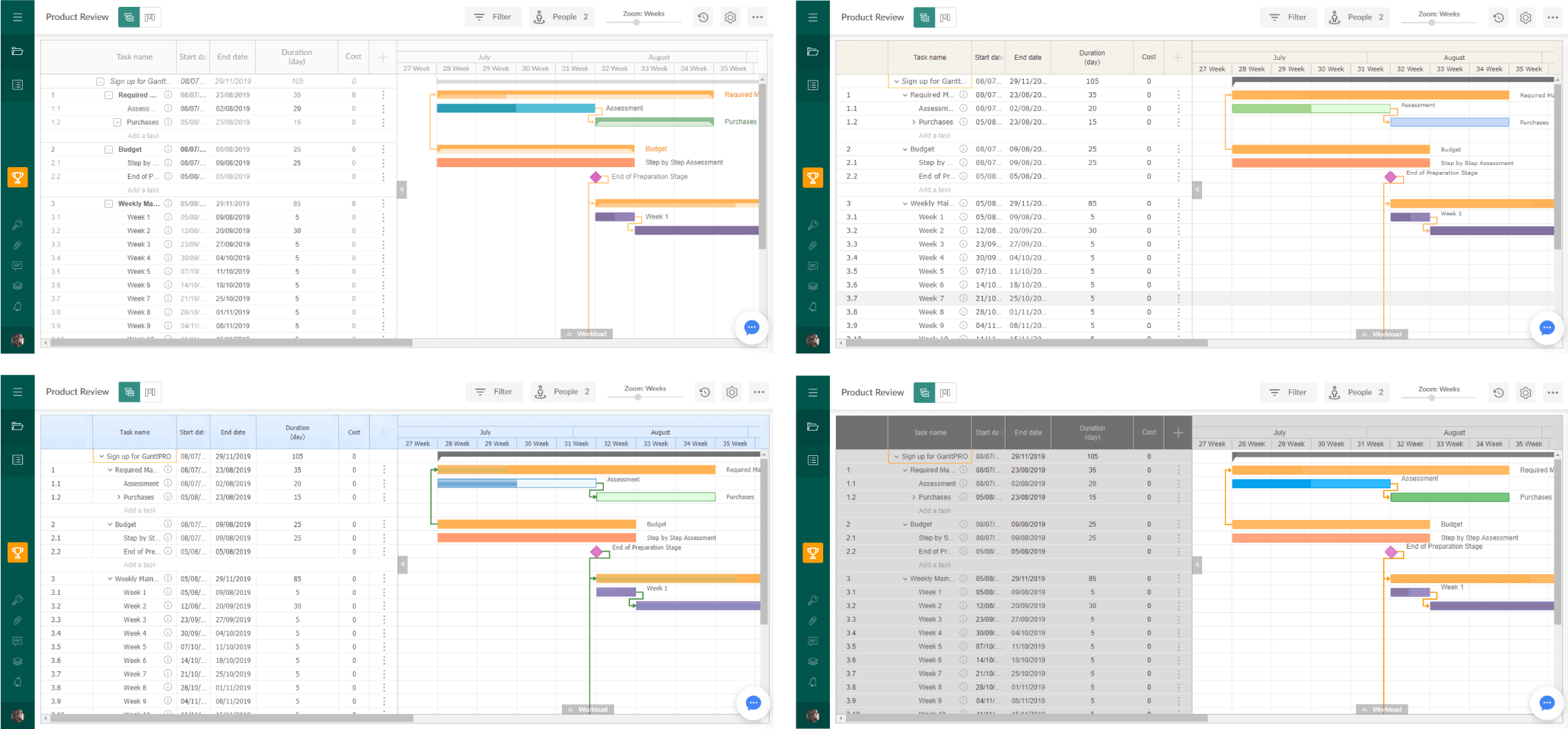 Three view modes are available – Auto (default), Compact (narrow-spaced items) and Touch (wide-spaced items).
2.9. Cost Estimations
Another important feature of GanttPRO is its ability to provide cost estimates and calculations. You can set up price per hour for each of your resources, per item or a fixed price for the project.
2.10. Baselines
GanttPRO also offers its users to create Baselines that show up on the Gantt view for a quick comparison of how a project is progressing vs. an earlier date. To create a Baseline, click on the ellipsis button on the top right corner of the screen and select Baselines.
All baselines saved in the past can also be accessed from here.
2.11. Export and Public URL
For reporting to outside parties, you can export your project's Gantt view to be shared as a printout, via email, etc. I really liked the export functionality in GanttPRO.
It offers a range of customizations before you export your project's Gantt view. Here's a preview of the export settings available with GanttPRO.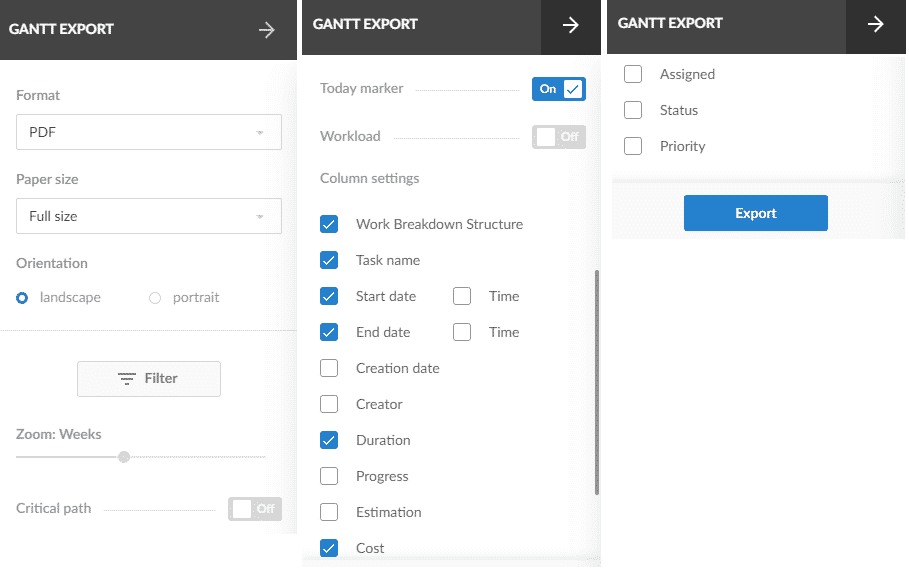 The following file types are available as export options:
PDF
PNG
XML
XLS (Excel file)
Gantt view can be exported optimized for the following paper sizes with GanttPRO:
Full size
Letter
Legal
Tabloid
Ledger
A4
A3
A2
A1
A0
Public URLs can also be generated for reporting purposes. They provide view-only access to outside parties and you can use custom filters and views to create a new public URL for your project's Gantt view. Here is a preview of the Public URL settings in GanttPRO: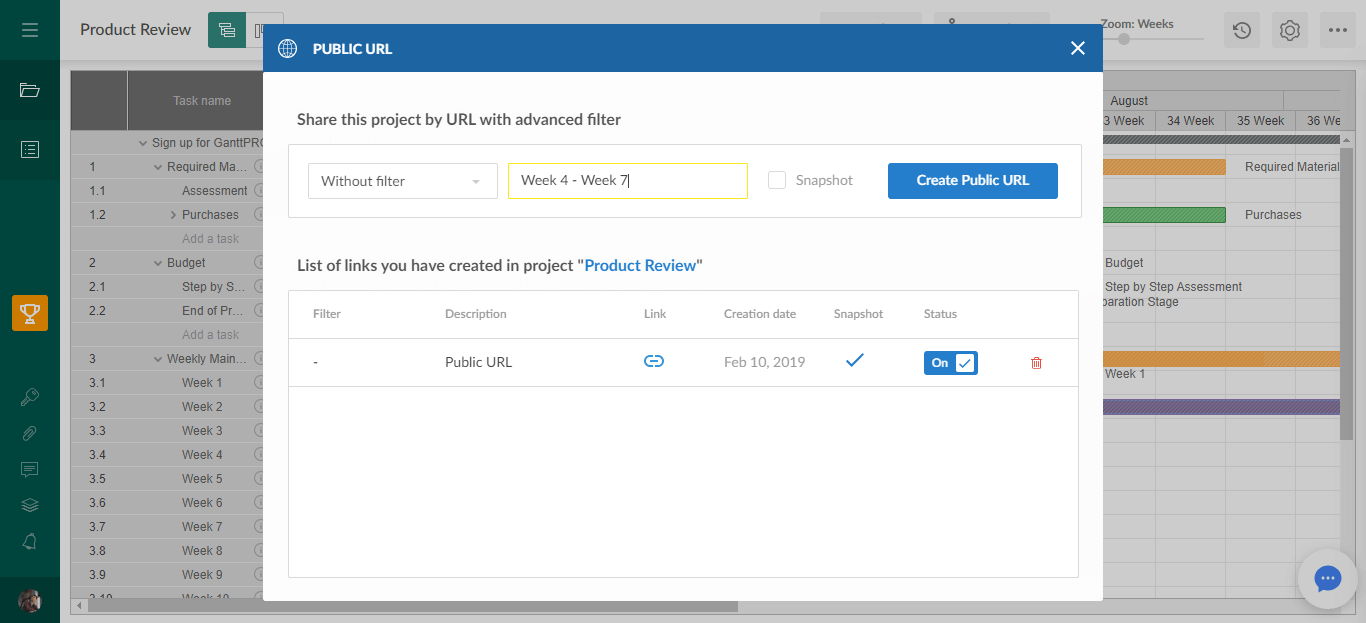 And here is how the public Gantt view looks like: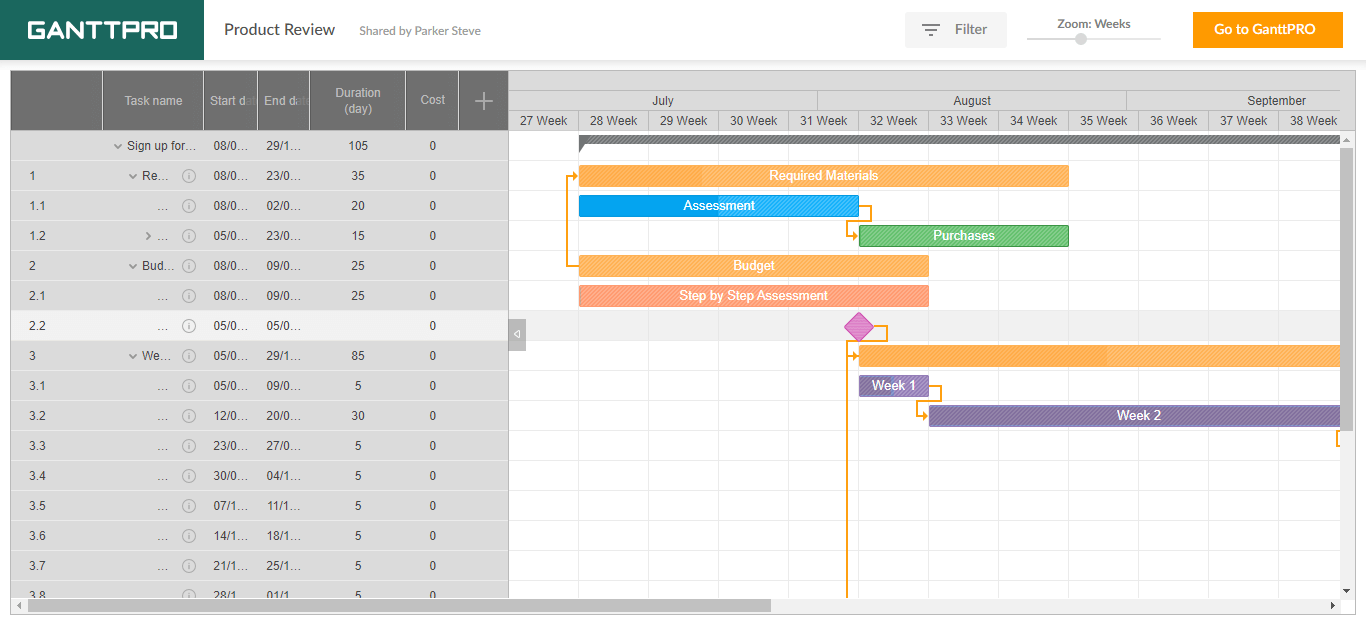 2.12. Integrations
GanttPRO only offers an integration with Jira at the moment. All other integrations are in the pipeline, and the Product team at GanttPRO seems to prioritize them based on user input. Here is a screenshot of the integrations panel in GanttPRO.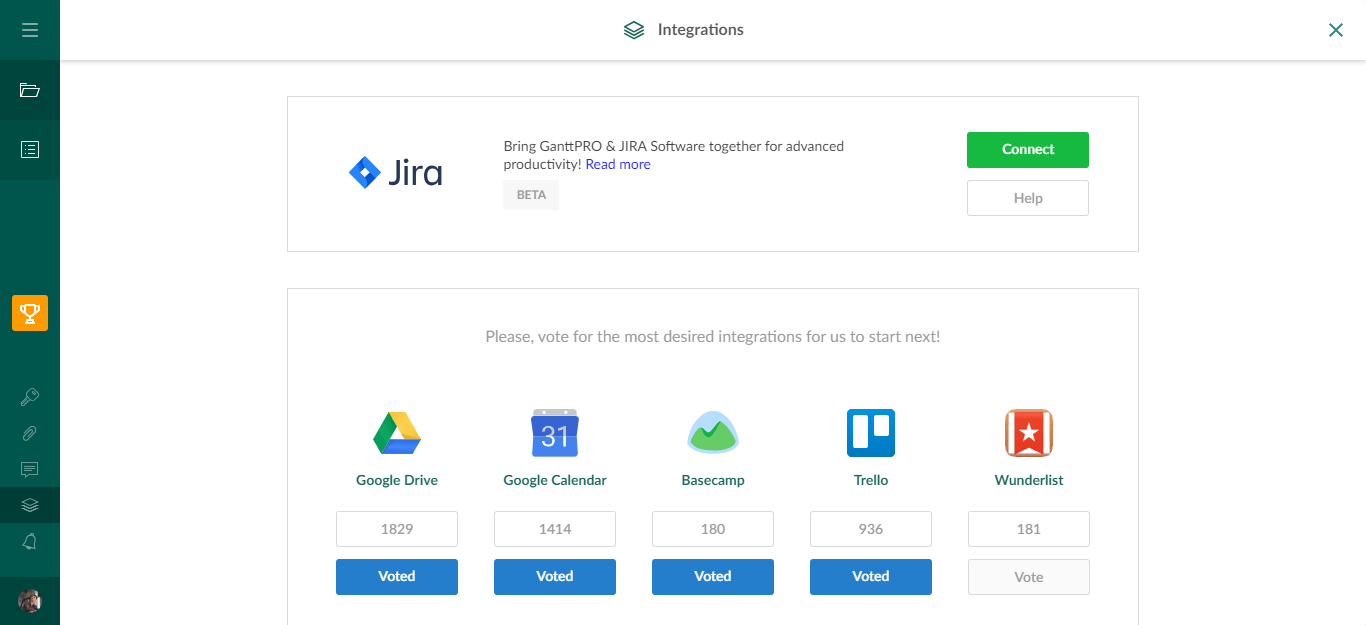 As you can see, you can vote for which integration(s) you'd like to see in GanttPRO. This is a good strategy by the GanttPRO team – letting the customers decide what's needed first.
The Jira integration for GanttPRO was recently introduced and is also in Beta at present. To know more about what the Jira integration for GanttPRO can do, please click here.
2.13. Profile Settings
Profile Settings are standard in GanttPRO. Nothing out of the ordinary here. Click on your profile display picture from the bottom of the panel on the left and select Profile Settings. There are general account details, the option to delete your account, some language and date and time format settings.
GanttPRO offers support for 3 languages at present – English, Spanish and Russian.
The second tab is for billing. All your billing details are laid here.
Lastly, there is the notifications tab to manage all your notification preferences for GanttPRO. You can control which notifications should be shown as push notifications and/or sent via email to your inbox.
---
3. Pricing – 8.0 out of 10
Well for some this might be a deal breaker as GanttPRO doesn't offer a free plan. However, it does come with a 14 day trial to test out the premium features which for most people is more than enough. GanttPRO has an interesting set of pricing plans. They have basically divided them into two categories i.e individual and teams. Here's more info on their pricing.
Individual – $15/user/month when billed annually – Ideal for personal needs. Includes customizable PDF, PNG and XLSX exports.
Team – Ideal for growing organizations and teams.
$7.90/user/month for up to 5 users when billed annually
$6.90/user/month for up to 10 users when billed annually
$5.90/user/month for up to 15 users when billed annually
Plan
Pricing
Features
Individual

All advanced functionality
Resource management
History tracking
Working hours & project cost estimation

Team

$7.90/user/month (5 users)
$6.90/user/month (10 users)
$5.90/user/month (15 users)

All features in Individual plan plus;

Assigning project roles
Team progress tracking
Team training sessions
GanttPRO also offers 50% discount to non-profits, students and educational institutions on both Individual and Team plans.
---
4. Security
GanttPRO takes necessary steps to ensure your data is safe and always available. Here are some of the key measures they take:
Data securely hosted on Microsoft Azure Cloud
Additional security layer in the form of dedicated VPN in the cloud to keep user data safe from cloud computing service provider as well as third-parties
Periodic review of code, people and infrastructure for privacy and security.
92% uptime ensuring data is always available
Compliance with General Data Protection Regulation (GDPR)
For more information on data security, please visit their security page.
---
5. Customer Support – 8.3 out of 10
Direct Customer Support: There's a built in bubble chat on the bottom right corner of the app, where you can write to support. This makes it really easy for users to talk to support for any inquiries or questions.
Email Support: support@ganttpro.com
Community Support: https://blog.ganttpro.com/en/faq-en-app/
Webinars & Demonstrations: GanttPRO's account managers and customer success team is always available to help users get on-board and guide them through the application via online demonstrations.
---
Customer Testimonials
GanttPro is really a treat. The drag-and-drop functionalities, the integrated dependencies and progress tracking, and the beautiful UI make it easy to work in. It handles projects and collaborators well, and it's all right there – not buried in unnecessary features.
One of my favorite features is how easy it is to export charts in a variety of formats. Oh, and it has notifications! Recommended. – Erin W. Digital Archivist Information Services
Elegant and easy to use tool which makes managing a complex project visually appealing and easier to manage tasks and interdependencies. Chat support and email support are very responsive. This tool is beautiful and offers excellent export options to PDF, Excel, PNG, etc. – Michael P. Global Sales Manager
---
Final Verdict
I enjoyed using GanttPRO. It does what it is supposed to do, it is simple and easy to get started with quickly, and offers some great customization options. Overall, it is a very decent timeline maker and gantt chart software that also offers task management, Kanban boards and some useful collaboration features.
What do you think about GanttPRO? Will you use it to manage tasks and projects? Let me know in the comments below. You can also use ratings to impact the overall score. So, do leave us your ratings.
What project management software would you like me to review next? Ping me at steve@productivityland.com with your ideas and suggestions.
---
Check out other reviews at Productivity Land