If you cannot capture your prospective client's attention in eight seconds, you will never get it. Why? That is nearly how short attention spans have become.
The importance of interactive marketing has never been so apparent. Dwindling consumer attention span and the number of options available for a single product or service necessitates a good marketing strategy. You cannot expect to have a large customer following without triggering their interests.
Interactive marketing is an advertising technique that uses various internet sales strategies to convert the audience from readers to buyers. These may include social media interactions, website design, or online stores.
93% of marketers consider interactive marketing as the boss when it comes to educating potential customers. Moreover, 88% of marketers agree that it helps them differentiate their business from competitors.
That is the reason interactive content is becoming more popular among marketers. It thoroughly engages your consumers, beating short attention spans. At the same time, it quickly generates conversions.
In this article, we will talk about five ways to engage your audience better using interactive marketing. These pointers will help you obtain a competitive advantage and boost your sales right away.
5 Ways to Engage Your Audience Better
1. Create quizzes and polls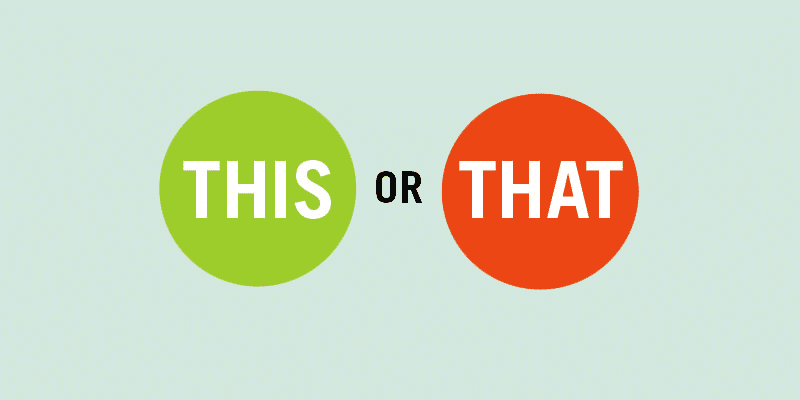 If you are struggling with creating engaging content for your target audience, you are not alone. In fact, 60% of marketers find it challenging to create marketing content that interests readers, boosts time on page, and generates more shares.
Quizzes and polls are a perfect form of interactive marketing strategy that lets you connect with your customers in a personalized manner. When you present them with a quiz or a poll, you move a step forward to educating them about your brand.
This kind of interaction offers several benefits.
Firstly, they allow you to acquire tremendous insights into your customers, which you can then use to approach them more effectively in the future. For instance, you can use the quiz results to send targeted emails thereby increasing your sales tremendously.
Secondly, it allows you to mold your marketing strategies to answer your customers' questions better. For example, a title like "How to increase your sales by automating your proposals?" persuades people to take the quiz. Based on the results, you can streamline your marketing towards accommodating their needs.
You have two options when creating quizzes and polls. You can either create questions that relate specifically to your brand, like what people like or dislike about it? Or you can create questions related to the niche your company works on.
Polls are generally easier to create, are less time taking, and fetch great results. They can be as simple as a 'this or that' question. Marketers usually use it to streamline the portrayal of their brand in ways that better appeal to the users.
2. Boost engagement using experiential marketing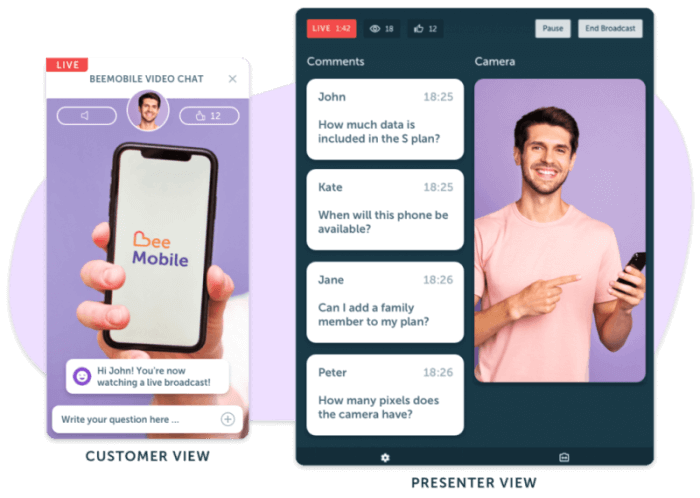 The interactive marketing definition suggests that it is a 'group activity' rather than a one-way approach. This indicates that you need to develop relationships with your consumers and ditch the conventional formal marketing strategies.
Experiential marketing does exactly that.
It is a marketing technique that immerses or thoroughly involves consumers in a product. In a nutshell, it allows them to not merely purchase, but also experience the brand.
Think of the number of advertisements you come across every day. Do you remember each one of them? Certainly not. You remember only those with which you felt a connection.
For example, in 2018 Coca Cola celebrated the FIFA World Cup using AR technology. People could play and click pictures with Switzerland's Xherdan Shaqiri. This enabled them to have a memorable interaction with the brand and build a stronger, emotional relationship with it.
People are curious about your product's capabilities. More significantly, the way your product makes people feel has a great impact on their decision-making capabilities. Experiential marketing amplifies the sentiments that people have when they utilize your service or product.
We all tend to share what we like. If people have a good experience with your brand, they will share it with others. When it comes to promoting your brand vision and garnering notoriety, establishing your organization as the originator of a wonderful experience is a win.
3. Take advantage of live broadcasting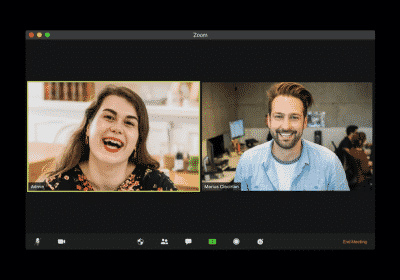 Live broadcasting enables your viewers to see the people and hear the voices behind a product in unfiltered media. This helps them to build a connection with the brand.
80% of consumers prefer watching a live video to going through a lengthy blog. Live broadcasting has the ability to turn a hundred-person event into a million-person event. It builds a sense of trust and draws more viewers (and buyers) with little to no investment.
Social media giants like Facebook and Instagram are among the most popular live-streaming apps. With features like live chat and detailed analytics, you can create an interactive atmosphere while also learning about the live stream's reach.
If you already have a strong presence on these channels, live streaming allows you to reach a huge audience quickly. If you don't have a large following, live broadcasting can help you expand your reach.
To make a decent live broadcast, you don't require expensive equipment. If you are broadcasting to Facebook or YouTube, all you need is a smartphone to make interesting content.
However, if you intend to produce something on a larger scale, you will need to consider purchasing the appropriate equipment. The laptop you use, lighting around you, camera quality, and microphones are primary factors to consider.
To reach a larger audience, you can add subtitles to videos. Subtitles ensure that you are heard and understood by audiences from a variety of backgrounds. Nearly 30 million adults in the United States are deaf or hard of hearing. Adding subtitles will assist you in reaching them as well.
4. Improve brand image through user-generated content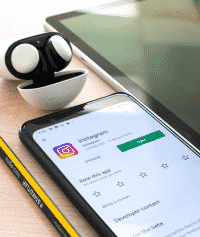 Reviews and ratings are a crucial part of interactive marketing. It gives customers an insight into unbiased opinions of people who have previously purchased your service or product. Customers' finest resource for assessing businesses and services is word-of-mouth. There's no reason why you shouldn't take advantage of this.
Additionally, allowing your audience to rate your content demonstrates that their opinion matters to you. It also shows that you are concerned about their experience. This adds credibility to your business and deepens your bond with your customers.
Another way to create user-generated content is by hosting contests and rewarding customers based on the results. This is an incredible way to gain followers without waiting around for people to talk about your brand.
Starbucks conducts its #RedCupContest every holiday season. Fans share customized cups on social media platforms and the best ones win Starbucks gift cards. It gives the coffee brand a competitive edge and raises its brand awareness.
5. Improve brand affinity using gamification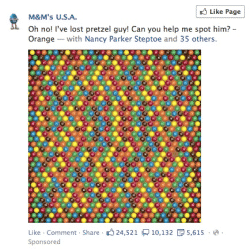 M&M's designed the eye spy internet game in 2010 to market their new pretzel-flavored candy. It was a simple game where you had to spot a pretzel in an image of M&M's. The campaign was highly successful. It received more than 10000 likes and 25000 shares on social media.
Sounds interesting, doesn't it?
As a marketer, you are well aware of the word 'gamification.' It taps into the basic playful human nature and uses it to create audience engagement and brand awareness.
A sales copy or static marketing strategy might make people ambivalent to engage with your brand.
However, games are not merely intended to boost sales. Therefore they allow businesses to have a more whimsical attitude. Moreover, interactive games that come with rewards in the form of discount coupons and free drinks, act as means of entertainment for people.
Gamification is unique in that it engages the brain and appeals to people's need for incentives, advancement, and competitiveness. It creates four times more brand appreciation than static marketing.
Wrapping up ways to engage your audience better
That's all for this article. Hopefully, these interactive marketing tips will help you better engage your audience. Remember, if you cannot spark your client's interest within eight seconds, you can never do it. So, it is essential to capture their attention at the first chance you get.
There are several ways to improve engagement with your brand, and this article covers only a tiny part of it. Ever since Covid-19 forced us indoors, these marketing techniques have gained a reputation for their ability to attract consumers without any physical interaction.
Social media platforms are a boon in the era of digital marketing. They help you promote your product without burning a hole in your pocket. Use them. Experiment. Host a hashtag contest. People love such content and you will be the talk of the town in no time.
---
More Resources: