Sacrificing time to write down ideas is a good way to remember them but sometimes just remembering them is not enough. You need to share and visualize ideas at times, and present them to others.
Writing out the entire thought process can be an overwhelming task. This is where digital mind mapping apps can offer you the flexibility that a piece of paper can't. They can organize, structure and visualize your thought process.
So, I decided to write about the best mind mapping software you can find out there on the internet today.
Let's get started.
1. Lucidchart – Best Mind Mapping Software of 2019
Supported Platforms: Web, Windows, macOS, iOS, Android, Linux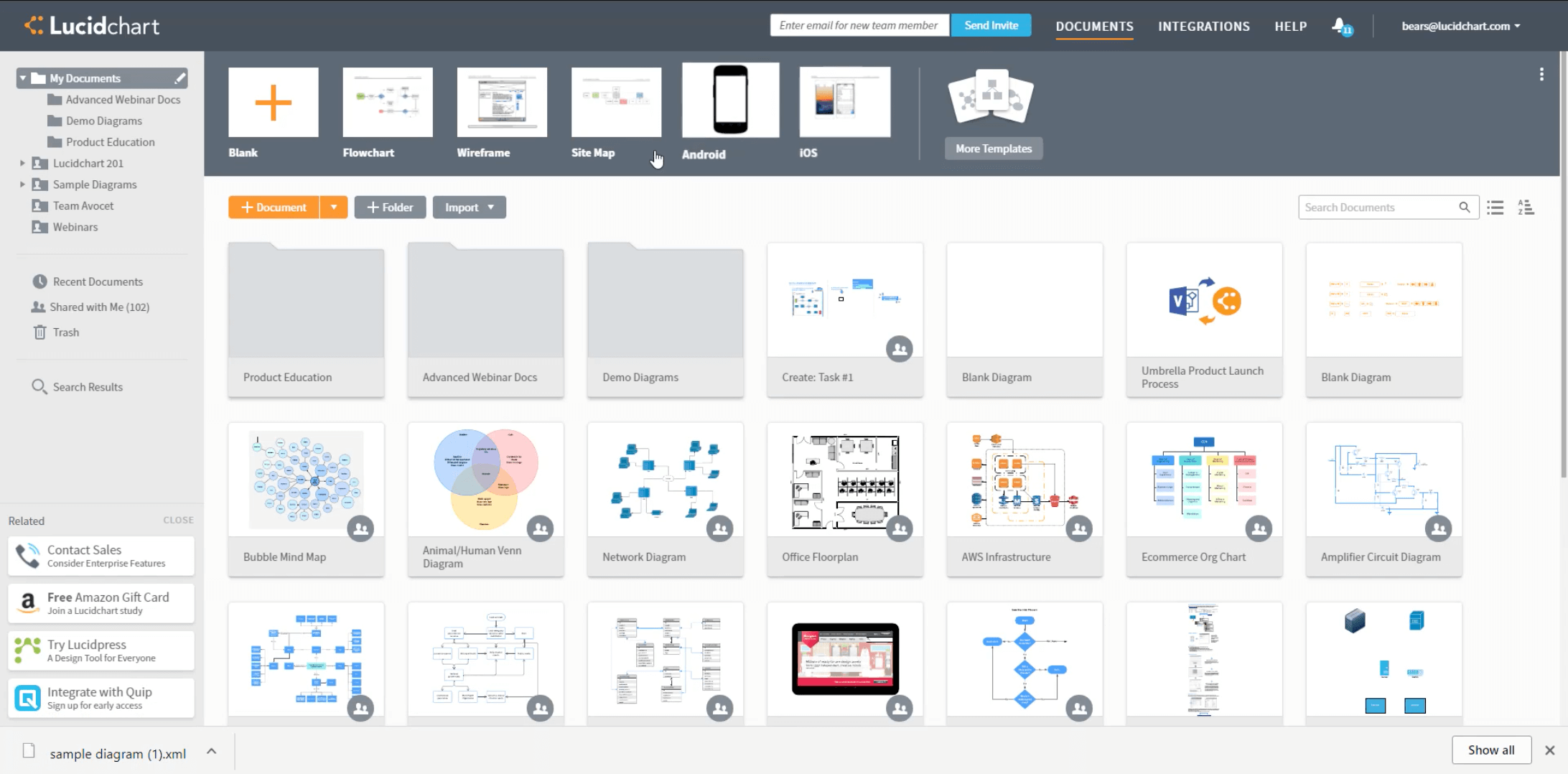 From simple flowcharts to complex diagrams, Lucidchart has something for all kinds of mind mapping needs. It has numerous templates to get started quickly, making easier to create professional diagrams and collaborate with your team.
There are great features, like real-time collaboration, change and history management, team and access management, native apps for Windows, macOS and Linux, hundreds of available integrations and much more that make teamwork a breeze in Lucidchart.
Another powerful feature that Lucidchart has its data linking capabilities. With data linking, users can connect their shapes and diagrams to live data stored in spreadsheets. Any changes made to the live data present in the spreadsheets are automatically reflected in your charts and diagrams, saving you lots of time and unwanted manual work.
With over 15 million users, Lucidchart ranks #1 on my list of the best free mind mapping software.
Features and Functionality
Custom text/shape styling and editing
Keyboard shortcuts to make work easier
Swimlanes to organize complex diagrams
Presentation mode to present your diagrams as slides
Group chat to communicate as you work
Enterprise-level security and admin controls including data deletion policies, maximum uptime, SAML/SSO, priority support and more
AWS Import (PCI Compliance Documentation)
Pricing
Lucidchart is available with the following pricing plans:
Basic – $4.95 per month, single user plan, unlimited shapes and documents, 100 MB of storage
Pro – $9.95 per month, single user plan, professional shapes and features, Visio import and export, Chart AI
Team – starting $20 per month, 3 users minimum, team management, third-party integrations
Enterprise – contact sales for a quote, license management, enterprise-wide control
---
2. MindMeister
Supported Platforms: Web, iOS, Android, macOS, Windows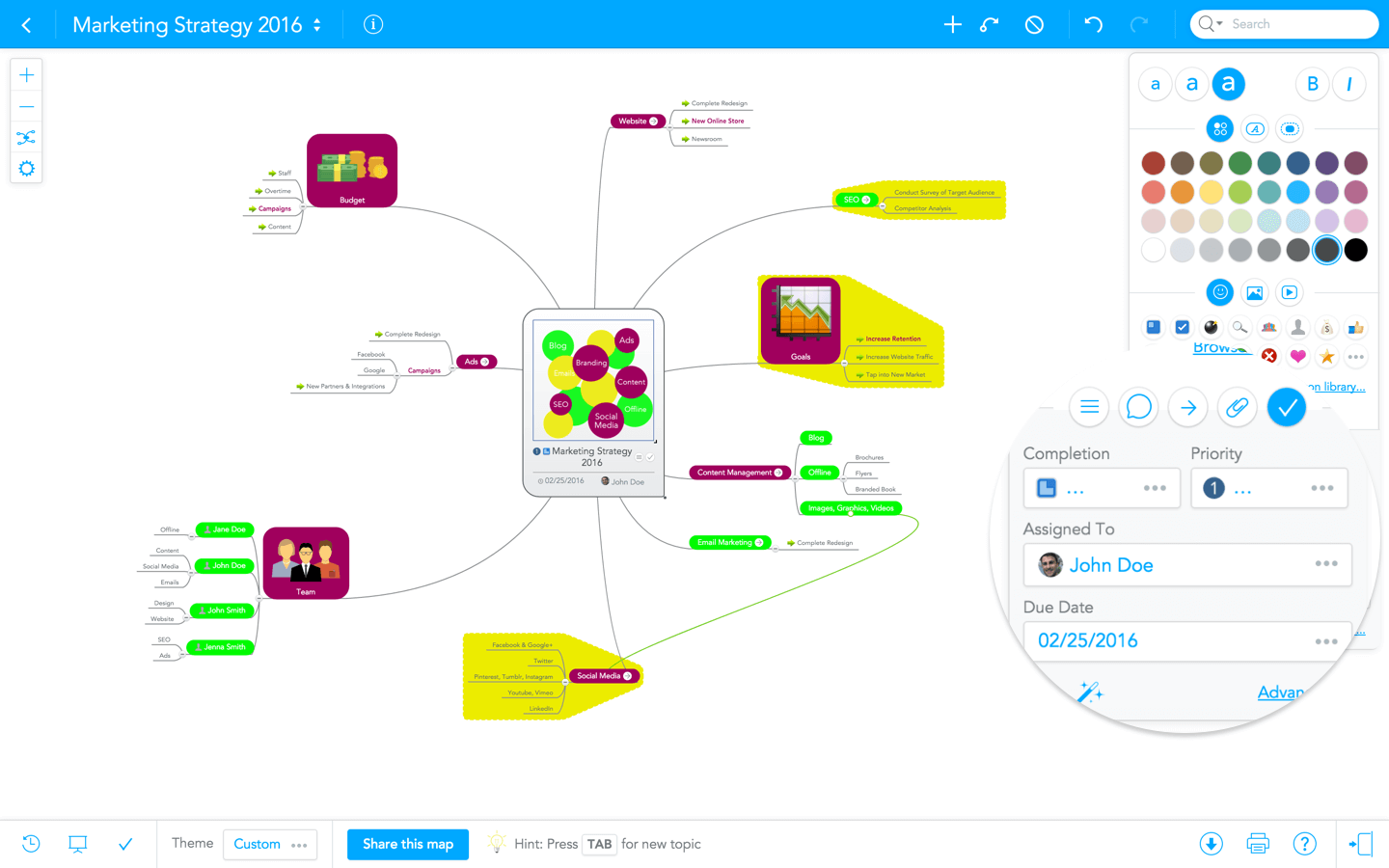 Second on our list of the best mind mapping software is MindMeister, a great tool to visualize and present thoughts and manage ideas. It has over 9 million users taking notes, planning projects and brainstorming tasks.
With MindMeister, you can create and share mind maps, customize them with different styles, icons and images, add notes, links and tasks to your tasks and more.
There is also a presentation mode to visually present your mind map using engaging animations. You also get other team collaboration features, such as team chat, usage statistics and reports.
Overall, MindMeister is a great mind mapping tool and its simple, easy-to-use interface places it at the top of our list of the best mind map software.
Features and Functionality
Create and share mind maps with your team
Create tasks, add notes to give them context
Export your mind maps in over 10 different formats
Import mind maps from other free mind mapping apps
Pricing
MindMeister offers you the following pricing plans:
Basic – Free, 3 mind maps, 1 user, 0 GB storage space, import and basic export features, no customization options, no customer support available
Personal – $4.99 per month, unlimited mind maps, 1 user, 0.5 GB storage space, standard email support, chat, print and other customization options
Pro – $8.25 per user/month, unlimited mind maps, 1+ users, 1 GB storage space, priority email support, team signup page, custom branding and styling, team reports
Business – $12.49 per user/month, unlimited mind maps, 1+ users, 10 GB storage space, priority email support, customization, backups, multiple administrators and more
---
3. XMind
Supported Platforms: Web, Windows, macOS, Linux, Android, iOS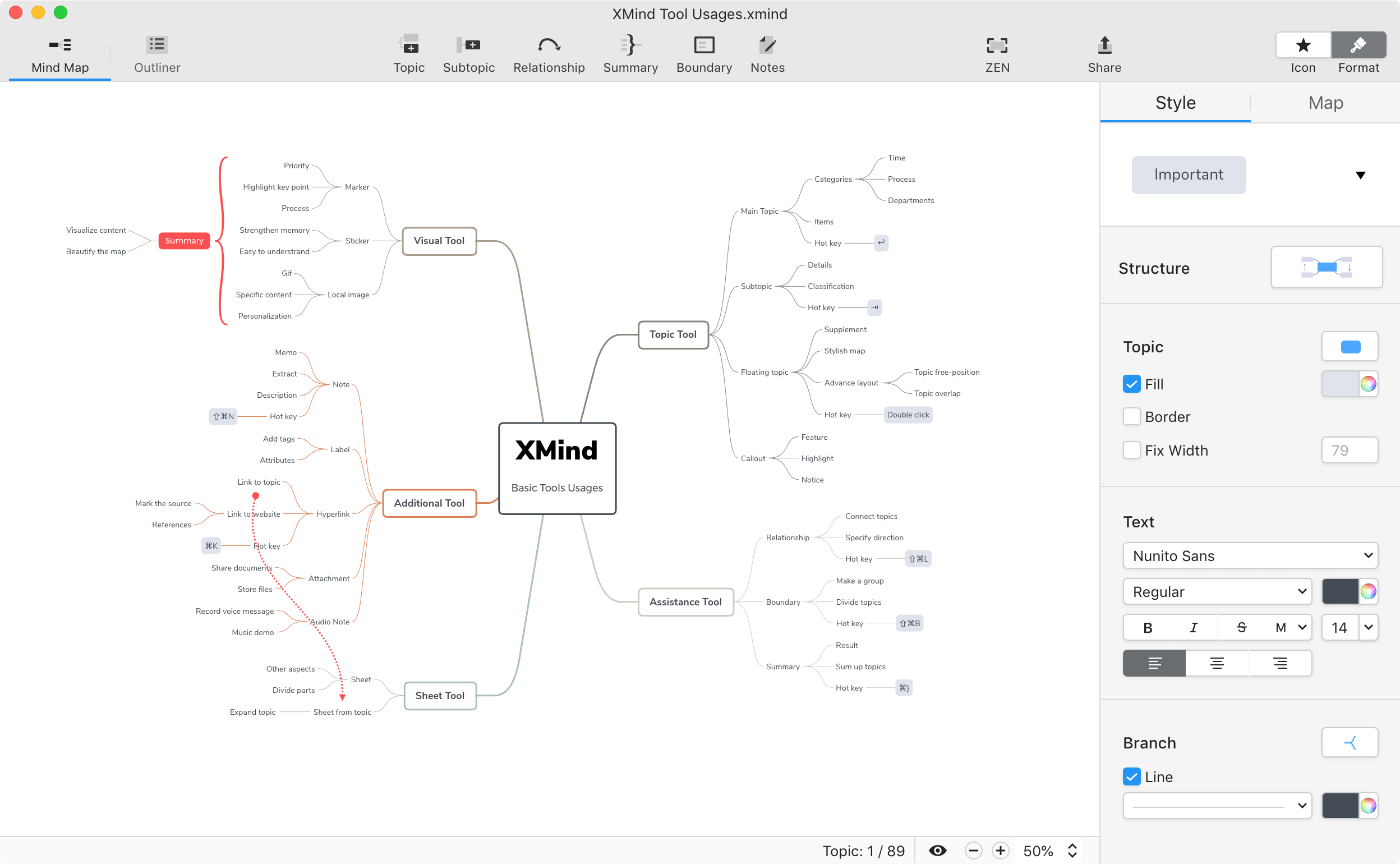 Next up – XMind. I heard about this tool and its mind mapping capabilities from a few friends, so decided to check it out. It doesn't disappoint one bit – the interface is intuitive, the design is very user-friendly, and the platform is powered by useful tools for mind mapping, brainstorming and collaboration.
There are two variations for XMind, and you can choose the mind mapping software that best fits your needs.
XMind: ZEN is available with all the necessary features needed to organize thoughts and ideas. For advanced collaboration, you can opt in for the full-fledged product, the XMind 8 Pro.
XMind: ZEN requires a subscription plan whereas the XMind 8 Pro is available as a perpetual license. On the Free trial, you get limited access to features.
Features and Functionality
ZEN Mode to focus on one chart
Snowbrush 2.0 Engine
Gantt view for project management
Templates and new clip art library
Brainstorming
Slide-based presentation mode
Dark UI
Themes for personalization
Pricing
Free trial
XMind: ZEN Desktop – starting at $4.58 per month
Xmind: ZEN Mobile – starting at $1.24 per month
XMind: ZEN Desktop + Mobile – starting at $4.99 per month
XMind 8 Pro – buy now for $129, access to all future updates of the 8.x family
Special discounts available for students, non-profits, early-age startups and educators.
---
4. Mindomo
Supported Platforms: Web, macOS, Linux, Windows, Android, iOS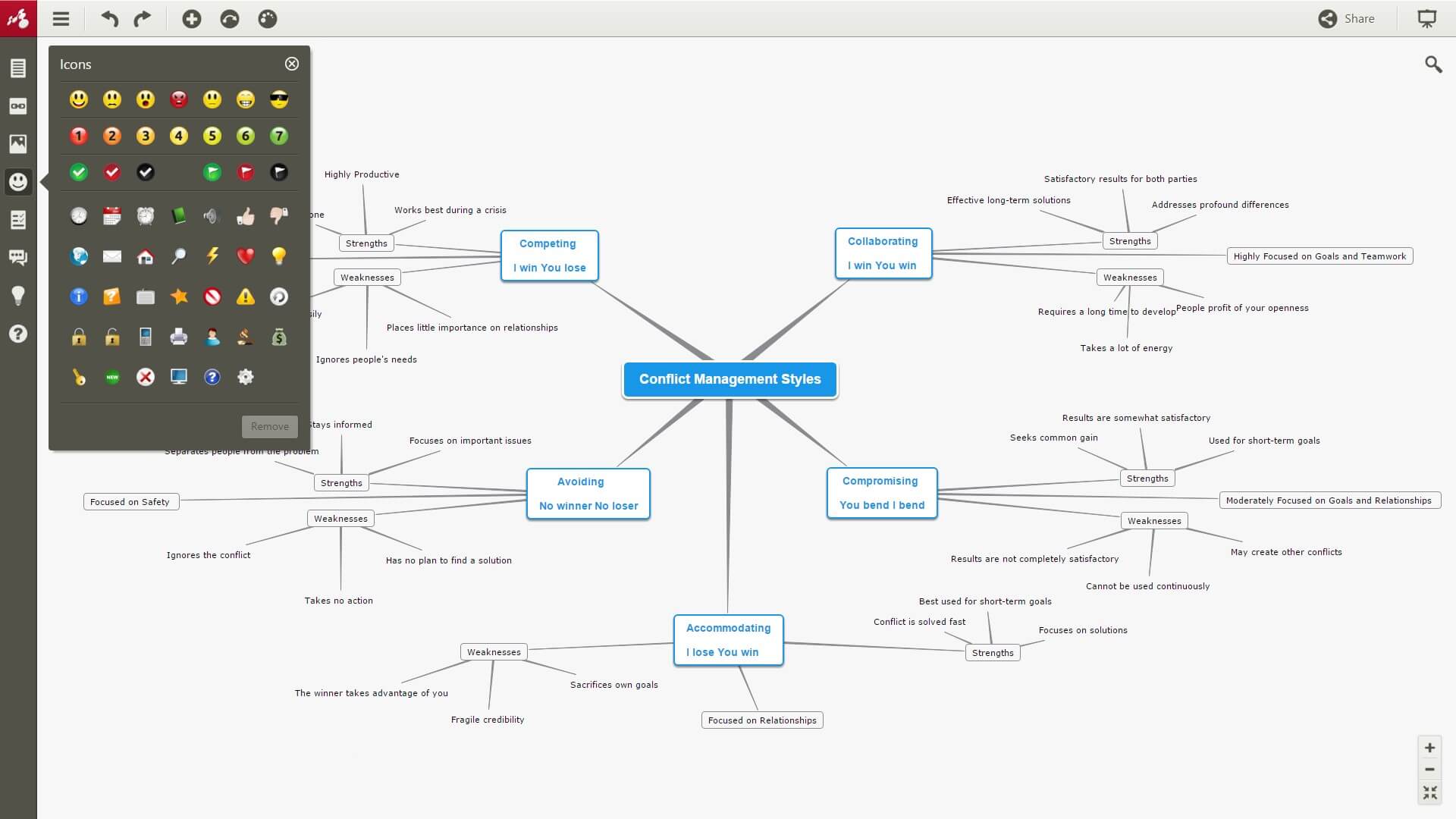 #4 on this list of the best mind mapping software is Mindomo. A mind mapping tool that can be used to create concept maps, manage tasks and projects, collaborate, create outlines and more – Mindomo has everything you will expect from a mind map software.
One thing that I like about Mindomo is its ability to integrate with tons of other apps. Be it cloud storage services, education apps, learning management systems; Mindomo is one of the best free mind map software to offer native integrations for a range of different platforms.
Features and Functionality
Collaborative mind map assignments
Google Apps + Office 365 integration
Google Drive + Dropbox integration
Real-time collaboration
10+ export formats to choose from
Video/audio upload + sound recording
Custom themes
Pricing
Mindomo is available with the following pricing plans:
Free – 40 topics in a map, task management and mapping, export options, limited syncing
Premium – €69.00, unlimited everything, search images and videos on the internet for 1 year
---
5. Cacoo
Supported Platforms: Web, Google Chrome Extension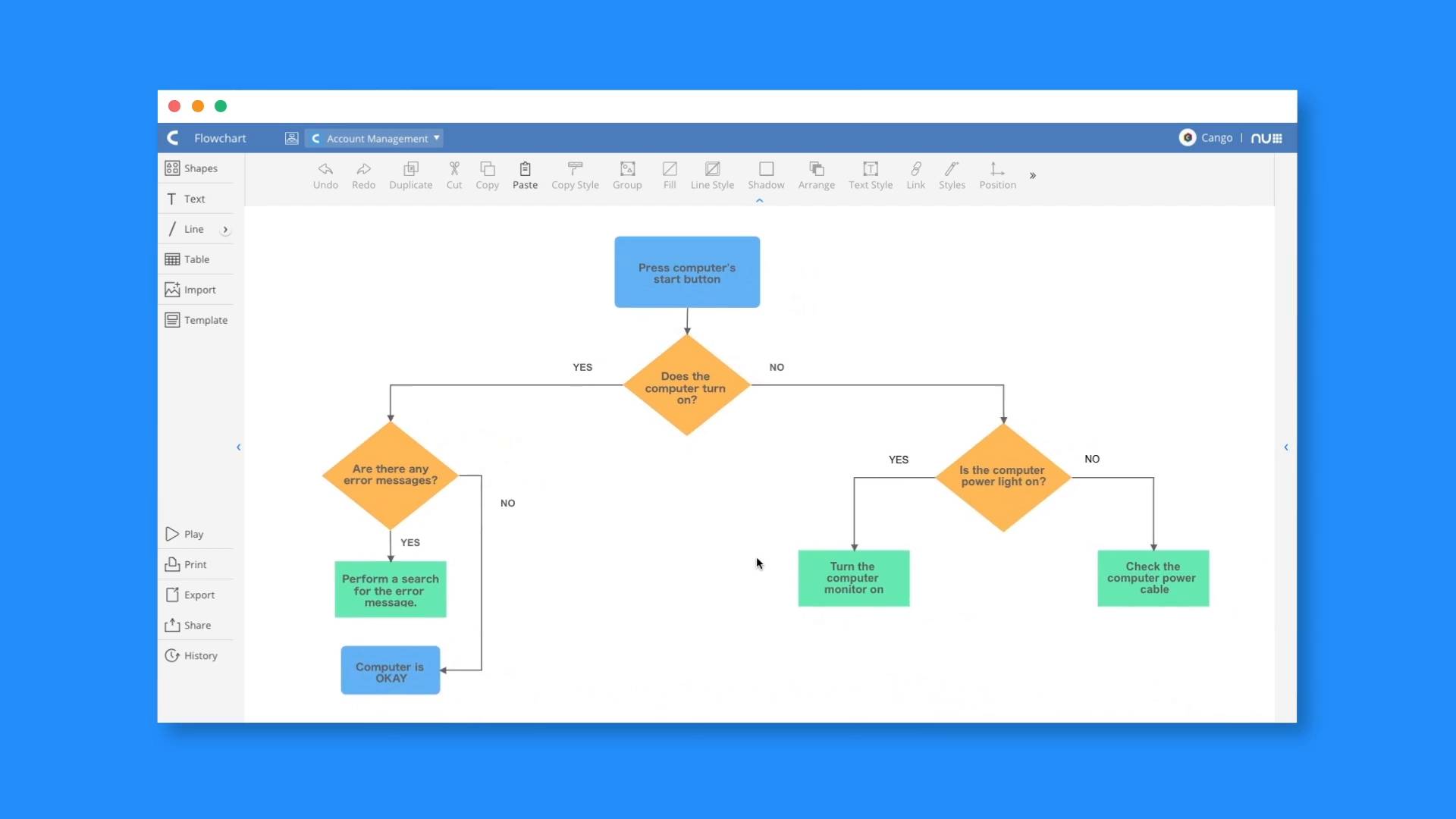 Cacoo is an online drawing software trusted by over 2 million users that can help users create diagrams. It is a product of Nulab, a software company from Japan. Cacoo lets you and your team create organization charts, wireframes, sitemaps, mind maps, and more.
Cacoo offers integrations with other apps like Confluence, Google Drive and Dropbox, among others.
This free mind map software gives you several pre-designed templates for various diagrams, including:
wireframes,
mind maps,
floor plans,
flowcharts,
infographics,
organizational charts, and
network maps
Features and Functionality
Brainstorm, explore and manage all ideas
Create beautiful shareable mind maps
Multi-user editing so you can collaborate together
Revision history management
In-app comments to keep track of conversations
Activity notifications so you can stay posted
Various templates to choose from and get started with
Pricing
Cacoo is offered in user packages. The pricing starts with a minimum of 3 users at $5 per user/month. Individual users can sign up for Cacoo at $4.95 per month.
There is no Free plan for teams, however, single users can sign up for a Free plan that offers 6 diagrams, up to 3 collaborators, basic PNG export and 500 KB upload limit.
---
6. MindManager by MindJet
Supported Platforms: Web, Windows, macOS, Android, iOS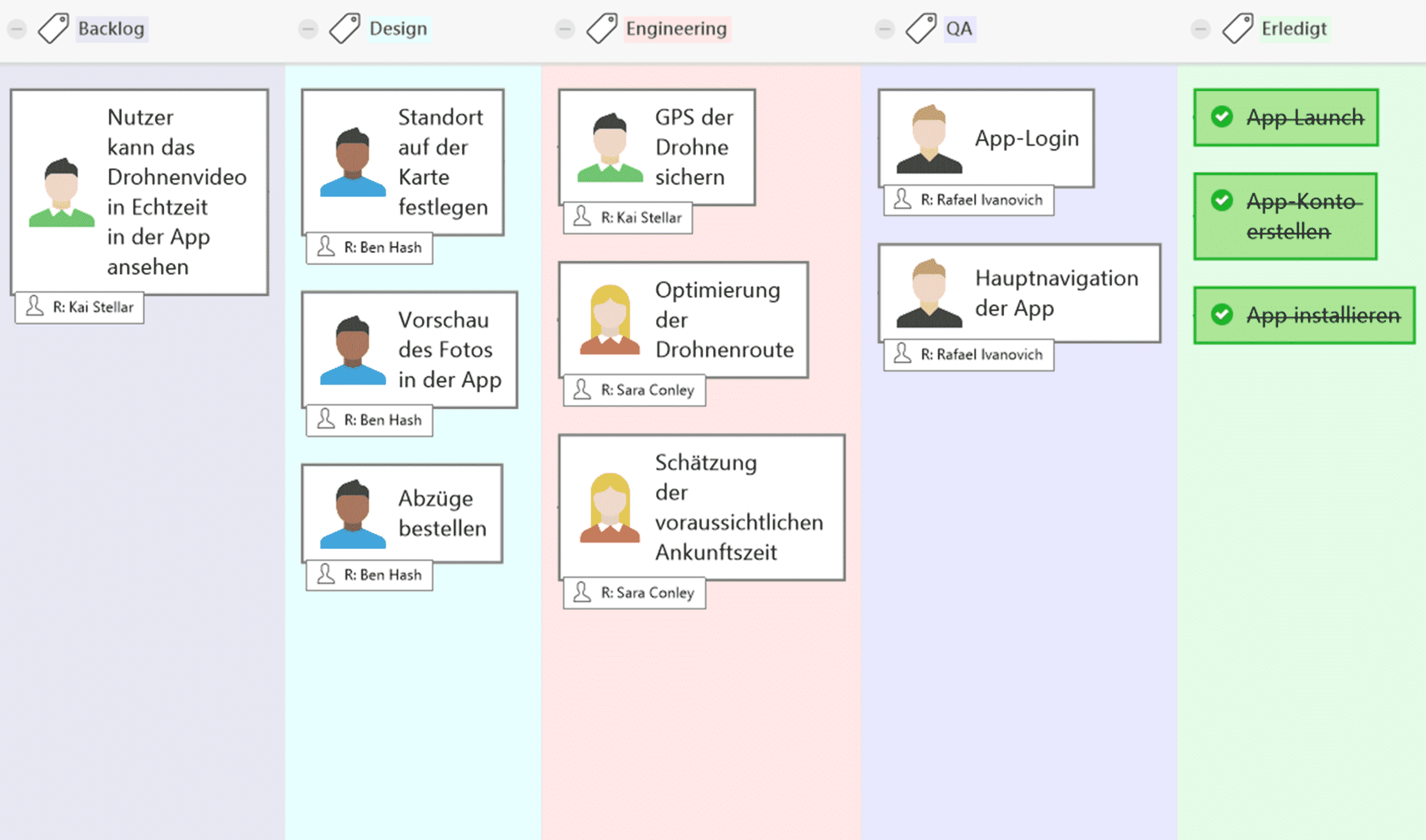 Next on my list of the best mind mapping software is MindManager, a product of MindJet. You can use MindManager for brainstorming, organizing thoughts, presenting business plans, managing tasks and projects, and more.
You can create timelines, organize tasks to do and projects to deliver, schedule follow-ups, and lots more. Because of the extensive feature set, MindManager is best suited for seasoned professionals and project teams who would like to collaborate to meet set goals.
Features and Functionality
Create interactive mind maps, flowcharts, concept maps, timelines, schedules, Gantt charts, Venn diagrams and more
60+ built-in diagram templates
Visual framework and information management
Compatible with Microsoft Office and Apple productivity apps
Budgeting and forecasting
Project planning and task management
Pricing
MindManager is available with the following pricing plans:
MindManager for Windows: $349 perpetual license, upgrade to MindManager 12 from older version for $179
MindManager for Mac: $179 perpetual license, upgrade to MindManager 12 from an older version for $89
---
7. Coggle
Supported Platforms: Web, iOS, Android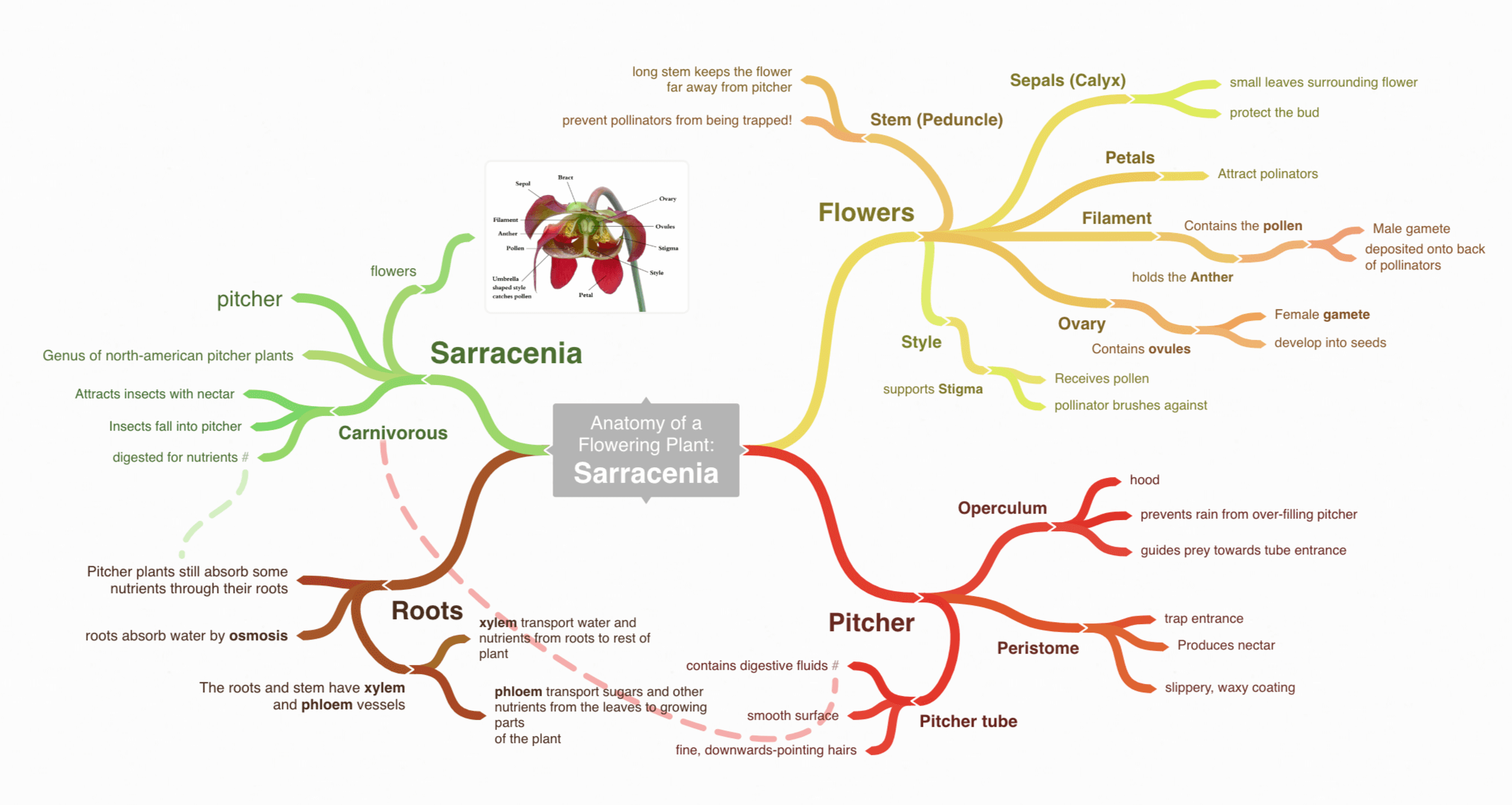 Coggle is a mind mapping software that makes it easy to visualizes complex information, processes, systems and flowcharts. There are text boxes, unlimited image uploads, real-time collaboration for mind maps, loops/branches, flowcharting and multiple starting points, along with various other useful features.
Coggle works online on your browser – no setup required, simply log in and start using it. It has an iOS and an Android app so you can take your mind maps with you on the go. One thing, however, is that Coggle only allows you to keep 3 private diagrams on the Free plan – rest are all public.
Features and Functionality
Multiple starting points
Private and public mind maps
History of changes
Real-time collaboration
Change and chat history to restore at an earlier point
Embeddable diagrams
Pricing
Basic – Free, 3 private diagrams, unlimited public diagrams, over 1,600 icons
Awesome – $5.00 per month, unlimited private diagrams, high-res image uploads and more styling options
Organization – $8.00 per user/month, bulk export, user & data management, custom branding
---
8. MindMup
Supported Platforms: iOS, Web, Android
On #8 for this roundup of the best mind mapping software, it is MindMup. With this tool, you can add notes and attachments to your mind maps, create storyboards, add measurements to nodes and use it as a project management tool, and more.
A great add-on with MindMup is its social sharing feature. Simply publish your online mind map, and then use the social sharing within MindMup and it will automatically add contextual information to your mind maps.
Features and Functionality
Create beautiful mind maps online and on the go
Add notes and attachments to your maps
Add estimates to nodes to use MindMup for project management
Add images and icons to your maps
Integrate MindMup with Google Drive to easily access all of your data on the cloud
Pricing
MindMup is available with the following pricing plans:
Free – public maps, 100 KB maximum map size, 6-month retention period, save maps to Google Drive
Personal Gold – $2.99 per month, share and collaborate on maps, view map history, 100 MB map size, lifetime retention, Google Analytics tracking, priority support
Team Gold – $50 per year, 10 users minimum, private and team maps, organization management, access and rights management
Organizational Gold – $100 per year for all users, all of MindMup's features and advanced integrations
---
9. Mind Genius
Supported Platforms: Windows, iOS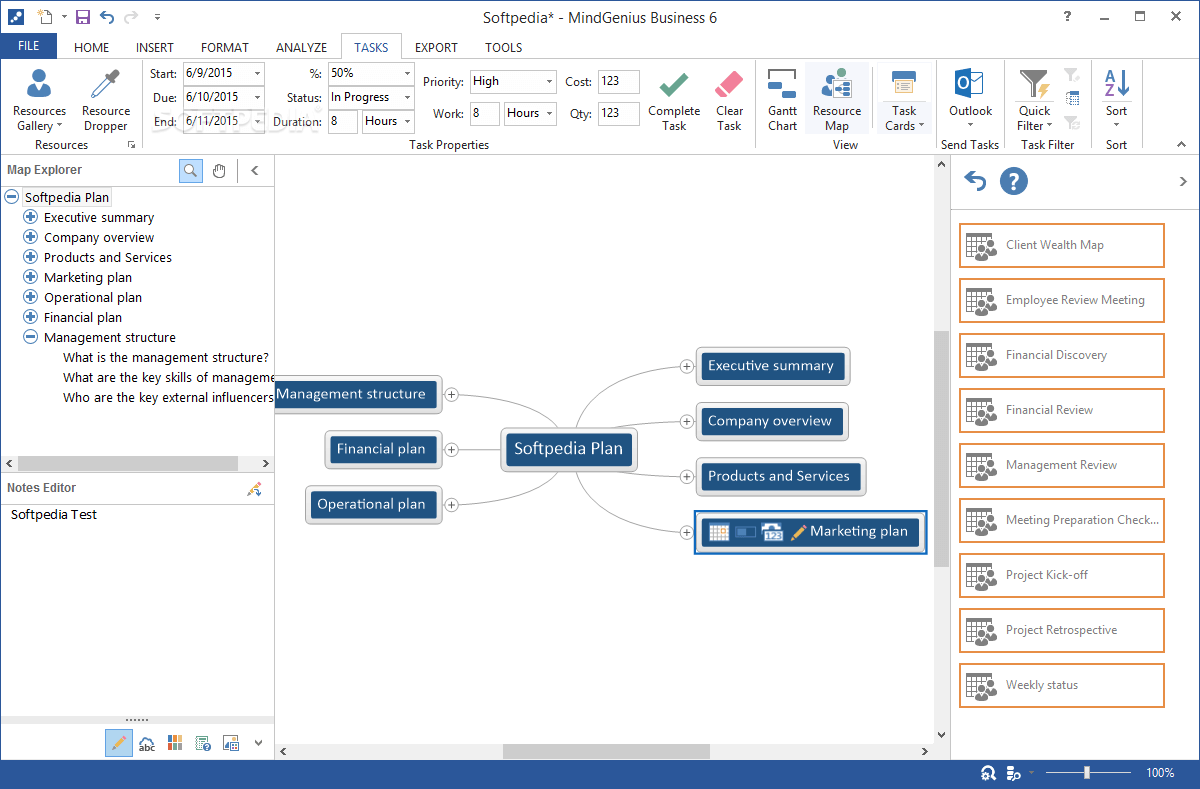 MindGenius lets you create work breakdowns of your project structure from your plan with ease. You can breakdown ideas and understand the goal of the project. It comes with a collection of mind mapping templates to implement your ideas faster.
What is special about MindGenius is that it does not only offer strong features for mind mapping and idea management, but also as a project management software. MindGenius claims it has 6 tools built inside one platform so you won't have to juggle between tools to get things done as a project team.
You can arrange your plans using appealing photos from MindGenius image library.
Features and Functionality
6 tools in one platform:

Mind Maps
Gantt charts
Categories View
Priority View
Status View

Create mind maps and assign work to your team
Pricing
MindGenius comes with the following pricing plans:
Perpetual – $256, one-time cost
Subscription – first year $160, then $56/year onwards
MindGenius for Education – $91, perpetual license
---
10. SmartDraw
Supported Platforms: Web, iOS, Windows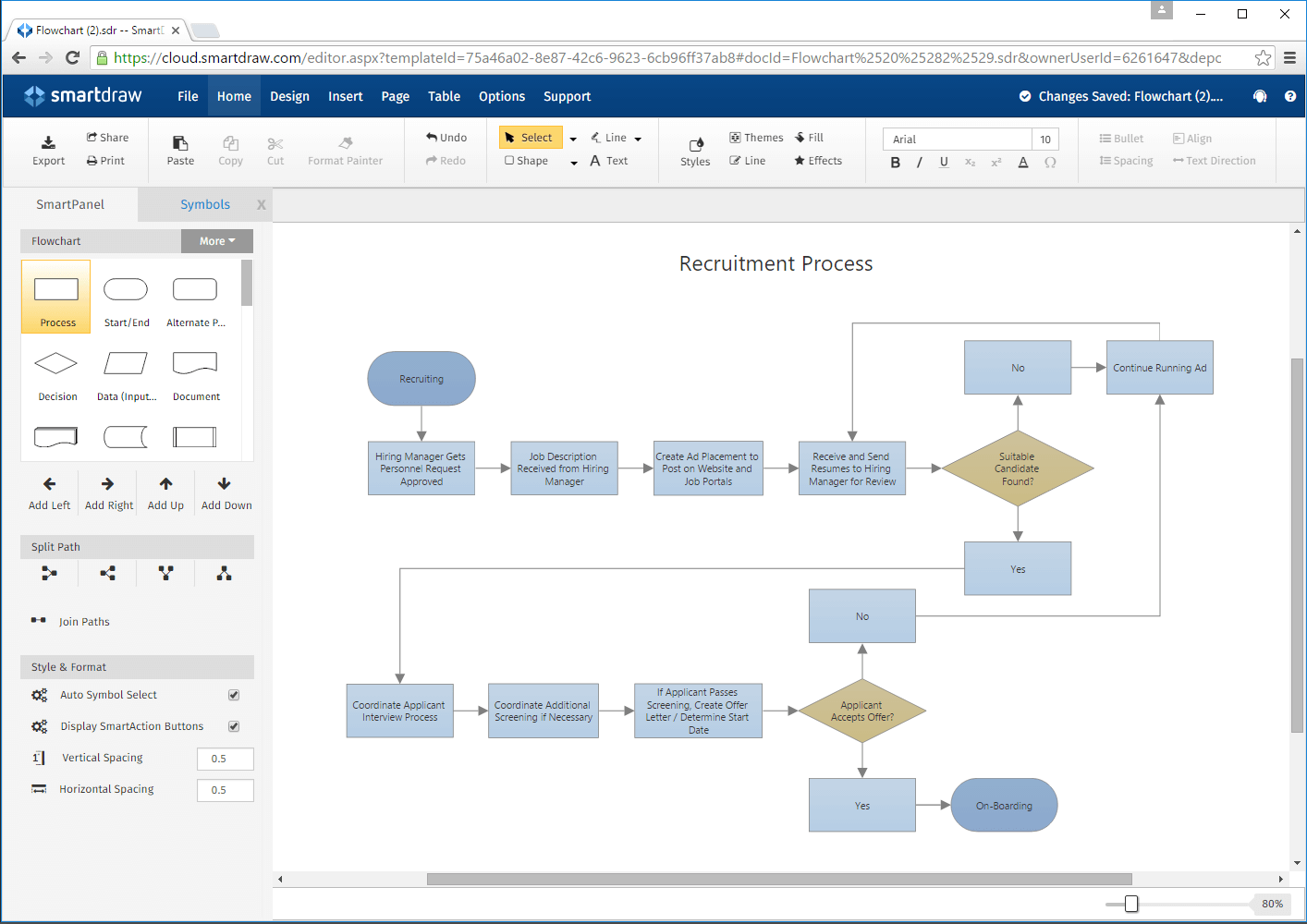 Whether you are a beginner or a professional designer, SmartDraw is just the right tool for you. It's a diagram software that gives you hundreds of templates and ability to share diagrams.
This mind mapping software also makes it easy to quickly create quality diagrams, thanks to its vast library of templates and useful integration options.
Because it is a diagram software, you can do much more with SmartDraw than just create mind maps and structure your thoughts. You can create flowcharts, floor plans and tons of other diagrams.
This diversity is really needed when you're a creative or design team. SmartDraw ranks #11 on this roundup of the best mind map software for 2019.
Features and Functionality
Choose from over 4,500 templates to get started with a diagram (70+ different diagram types available)
Over 34,000 symbols and icons for different professions
Easy import and export options to and from Visio
Open API for custom extensions and integrations
Intelligent formatting – your diagram will automatically adjust and maintain its arrangement as you make changes
Integrate SmartDraw with Microsoft Suite, GSuite, Atlassian's apps, WordPress, Dropbox and more
Pricing
Single User – $297, one-time purchase – no monthly or annual fees
Business – $595/year (billed annually)
---
11. SimpleMind
Supported Platforms: Web, Windows, macOS, iOS, Android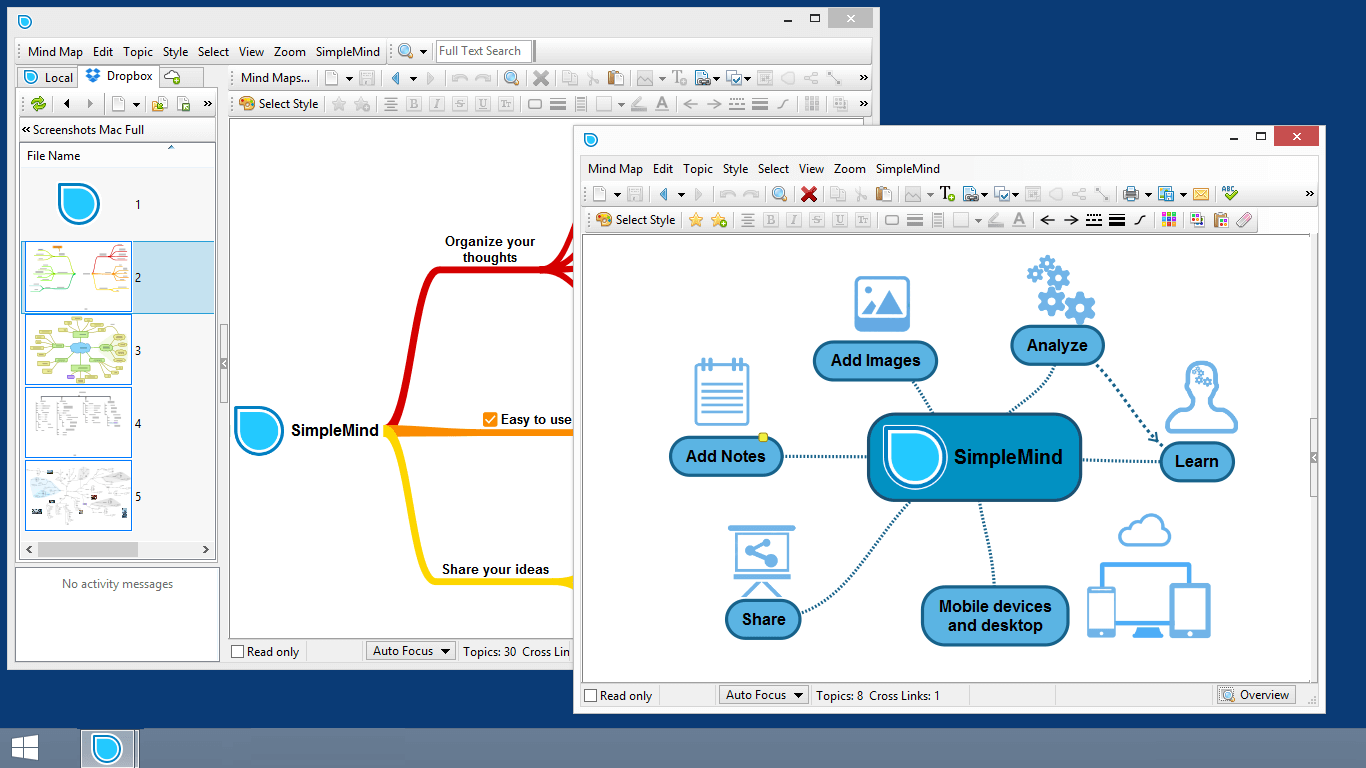 The last tool on my list of the best free online mind mapping software is SimpleMind, an online diagram and mapping software that provides a limitless canvas to put all your thoughts and maps on a single page.
Create as many maps as you want, use as many shapes and icons, and SimpleMind will allow you to put everything on a single canvas if you'd like. From daily itineraries to business tasks, SimpleMind can be used as a productivity app to manage tasks at hand.
Features and Functionality
Add notes, links and attachments to your maps
Create storyboards and mind maps on the go
Real-Time collaboration
Organization administration
Pricing
SimpleMind has various pricing plans based on the platform of your choice and your team size. Further information can be found on their pricing page.
So, this brings us to the end of our roundup. Which is the best mind mapping software for you? Which one did you like the most, which one least met your requirements? Let me know in the comments below.
---
Check out these other useful articles