What is a Project Timeline?
A project timeline is one of the core features any top project management software must embody. Among the various tools and hacks project management requires, project timelines are critical for monitoring projects and corresponding tasks more efficient.
For one, it gives a bird's eye view of where a project stands. Secondly, it helps identify overlapping dates, and identify critical paths. Last but not the least, it also helps spot potential problems in case tasks are lagging.
With a project timeline, you can identify the percentage of completion for various stages and keep the team on track.
If you are looking for online timeline maker, look no further. Check out our top picks below and choose your timeline software today.
The Best Timeline Software and Online Timeline Makers
1. GanttPRO: Editor's Choice for Best Timeline Software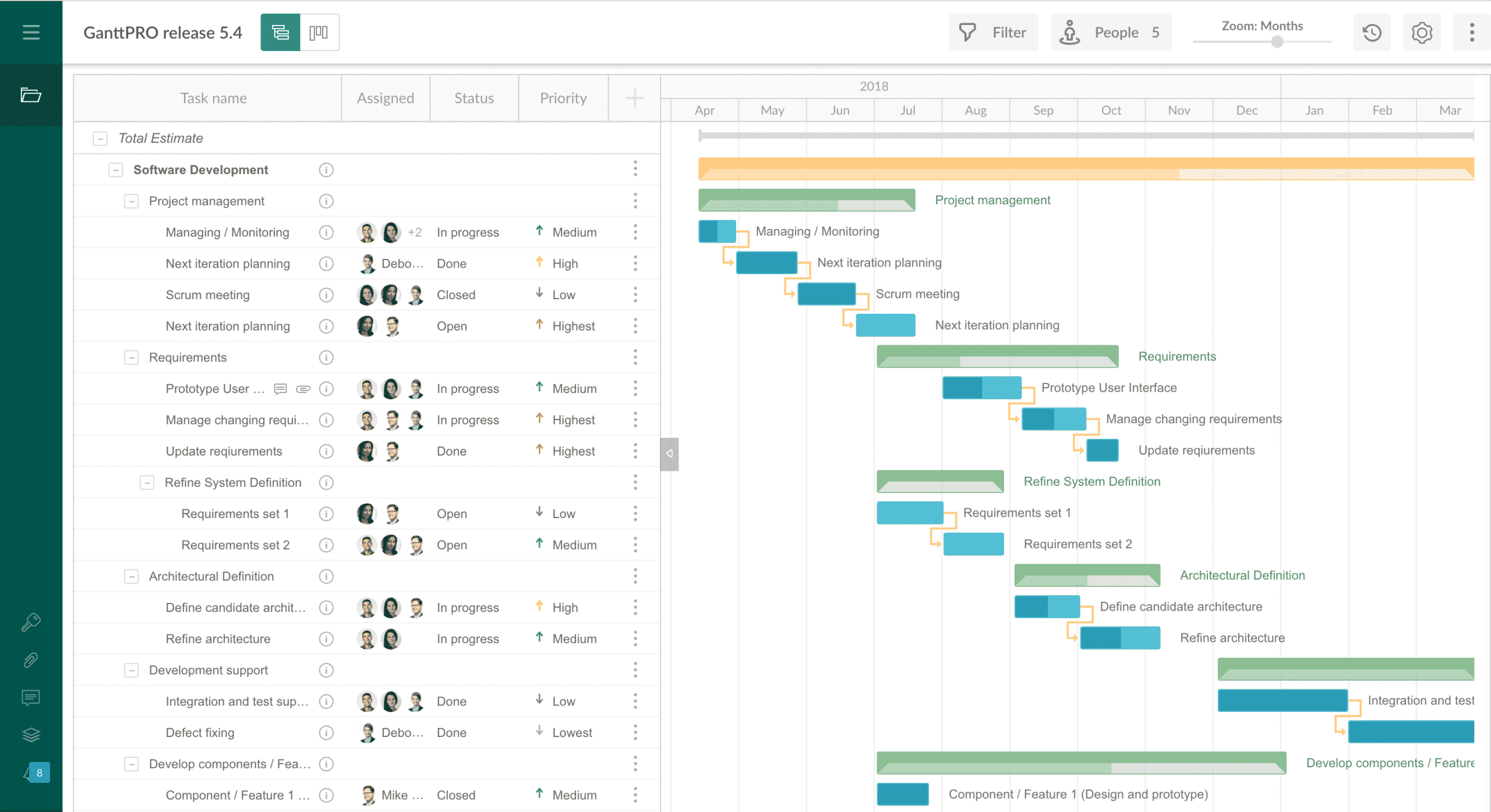 On #1, we have a new entry! 🎉
You might already be familiar with GanttPRO. It is one of the world's leading team collaboration, scheduling and Gantt chart tools.
We really enjoyed using GanttPRO earlier when we decided to write a GanttPRO review. And it checks all the items on our list when it comes to the best timeline software.
You can plan every aspect of your project and visualize it on a timeline. All the important stuff – tasks, subtasks, milestones, dependencies, cost estimates, prioritization, and more – everything can be planned using GanttPRO.
To help you work faster, GanttPRO also provides a bunch of project templates. Whether you're a software development team, or you have a product launch coming up – the templates are nicely defined and are great help to get you started.
Pricing
GanttPRO is available with the following pricing plans:
Individual (single user plan) – at $15 per month, all of GanttPRO's features except team progress tracking
Team (5 users) – at $7.9 per month per user, all of GanttPRO's features
Team (10 users) – at $6.9 per month per user, all of GanttPRO's features
Team (15 users) – at $5.9 per month per user, all of GanttPRO's features
Enterprise – for 15+ users, contact sales for inquiry
---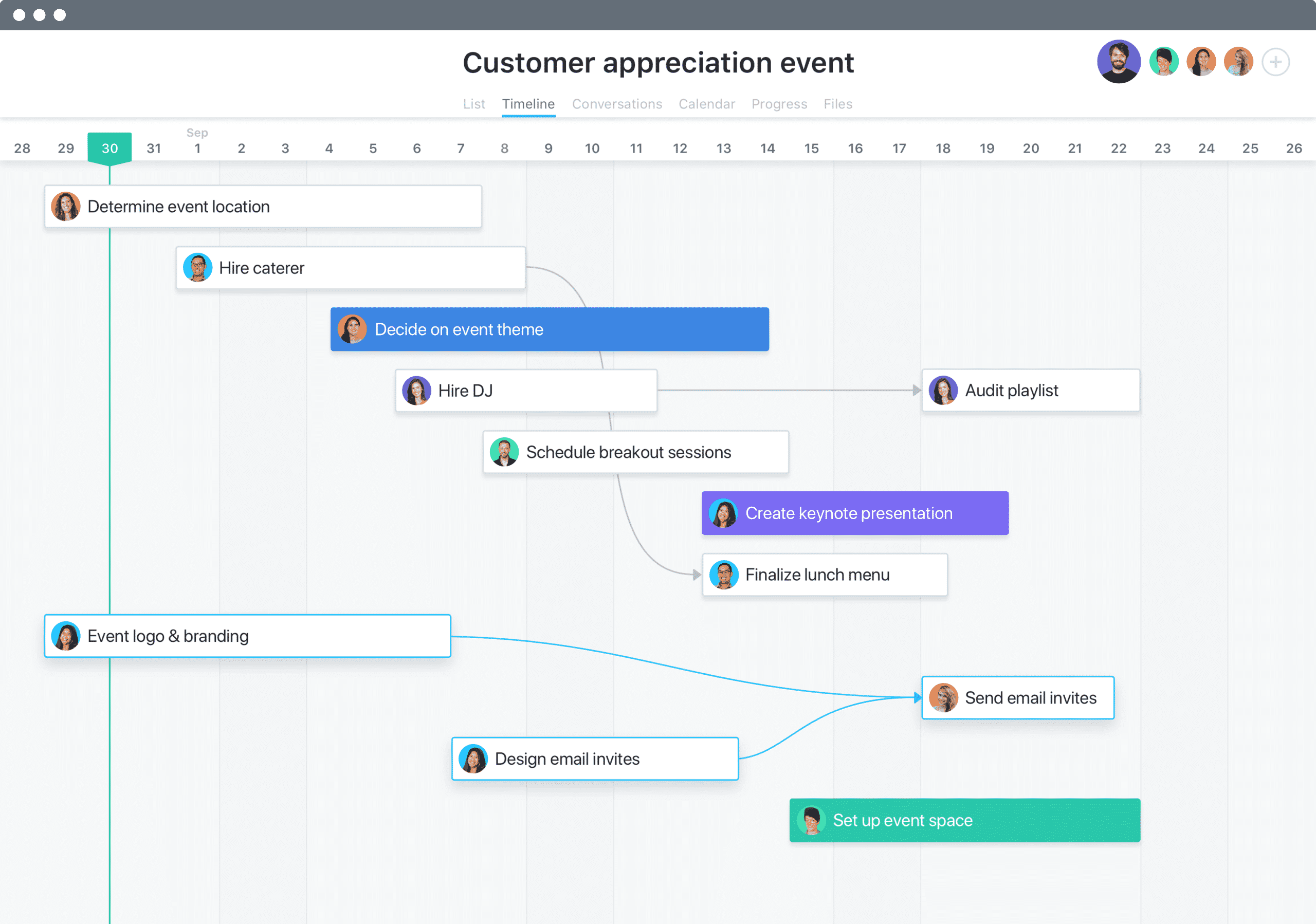 Asana continues to reign as one of the top project management tools globally. Asana offers its customers a huge array of features that can be used in multiple ways. This timeline software makes project management versatile and efficient.
Projects can be managed through Gantt charts, customized fields and project timelines. With project timeline itself, you can attend to every detail of your project through project dependencies and color coding.
Being a great online collaboration tool, it happens to be a favorite of teams in multiple industries.  With options such as comments, likes and follow along with tagging and file share, team collaboration is a piece of cake.
With features such as My Task List and Focus Mode, you can be sure to stay ahead of your game and on time with your projects.
Key Features:
Multiple project management options that include color coded project timelines with customized fields, dependencies, project permissions, Gantt charts, Project Sections and Search Views
In depth task management including but not limited task tracking, adding assignees, uploading attachments and adding comments to tasks, options to show importance for tasks through 'hearts' and task dependencies
Activity feed for centralized updates on the workflow and team activities
Set goals, priorities, and due dates
Real-time updates on tasks and projects
Automatic updates to inbox
Customize calendars and select from multiple views
Email bridge
My Tasks list and Focus Mode
Notifications and reminders
Multiple workspaces for handling multiple teams in parallel
Option to view team members' tasks and priorities
Comment on tasks for further clarification
Kanban support
Meeting minutes
Mobile apps for iOS and Android
Pricing Plans:
Asana offers the following plans:
Free
Premium ($ 9.99 per user per month)
Enterprise (customized) plan.
---
3. Aha!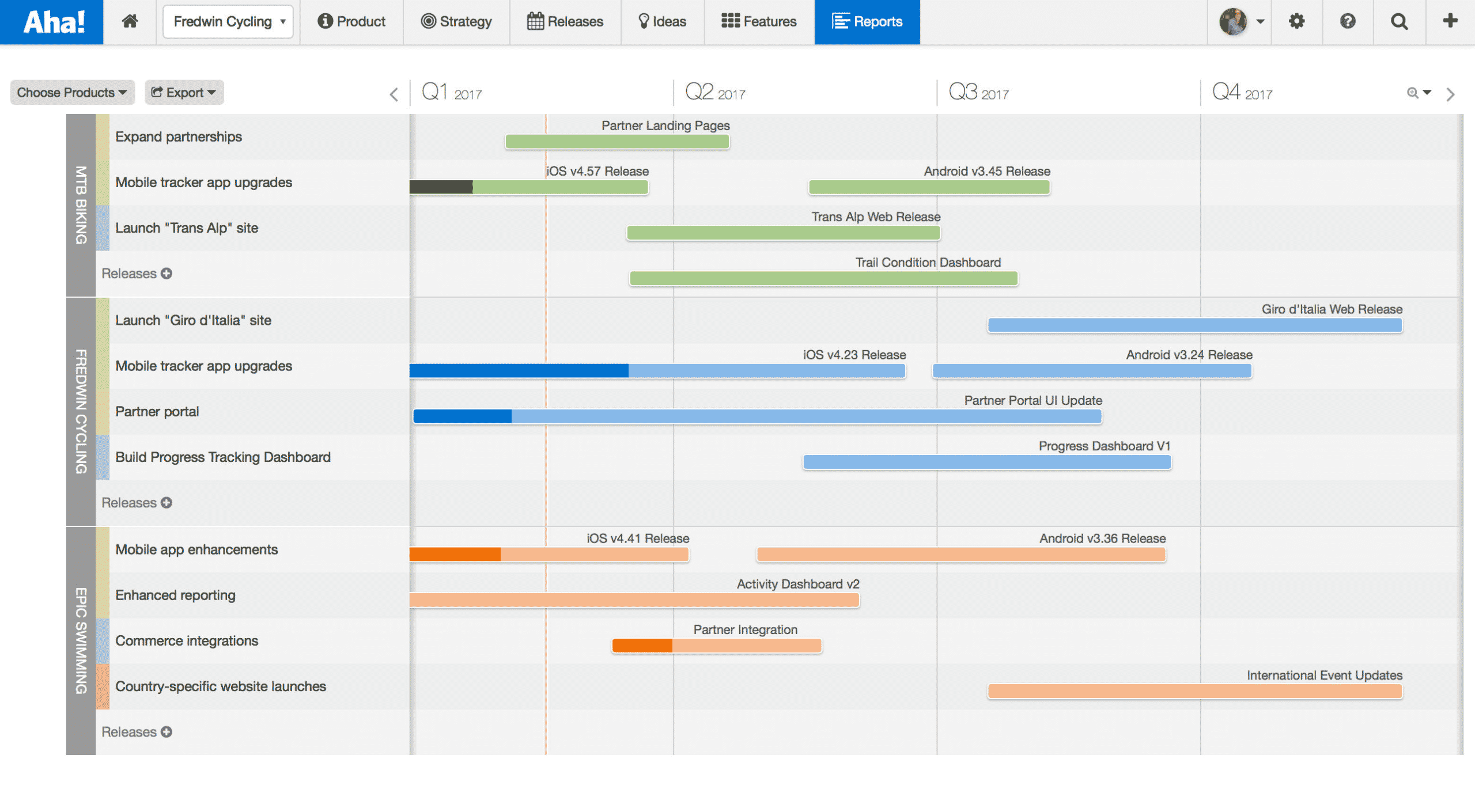 With Aha!, project timelines come as in the form of roadmaps. It also has a separate section for gathering ideas from customers for future improvements. This timeline software offers 6 different roadmap options in the Reports section.
Each roadmap serves a different purpose, providing a different view into your data to custom create visualizations as required. You can even create mock-ups of features and add scoring cards to assess top priority tasks.
Aha! happens to be extremely customizable so you can set up your tool and projects layout on your own terms from custom fields to custom tables to form layouts. The best part is although it comes with so many features and options, it has a clean interface that is easy to learn and adapt to.
You will have your "Aha!" moment with this one, for sure. 😉
Key Features:
Project management features including 6 different roadmaps, multiple charts, various types of reports and analytics, workflow view as well as dependency visualizations.
View project status and team activities through Kanban boards.
Collaboration options including to do list, My work, broadcast messaging and notifications.
Comment stream to capture feedback with options to mention colleagues and other features.
Able to share and export reports.
Drag and drop interface for storing features and requirements through user stories.
Organize and prioritize features.
Scoring card for features to asses which feature needs to be prioritized.
Create mock-ups of the features designed.
Attach wireframes, sketches, and inspirations directly to features.
Option to create custom form layouts, tables, scorecard equations, ideas portal.
Configure various feature types, statuses and workflows.
Mobile app for iOS.
Pricing Plans:
With Aha! you can avail the following plans:
Startup (qualification assessment)
Premium ($59 per user per month)
Enterprise ($99 for product owner or contributor per month)
Enterprise+ ($149 for product owner or contributor per month)
---
4. nTask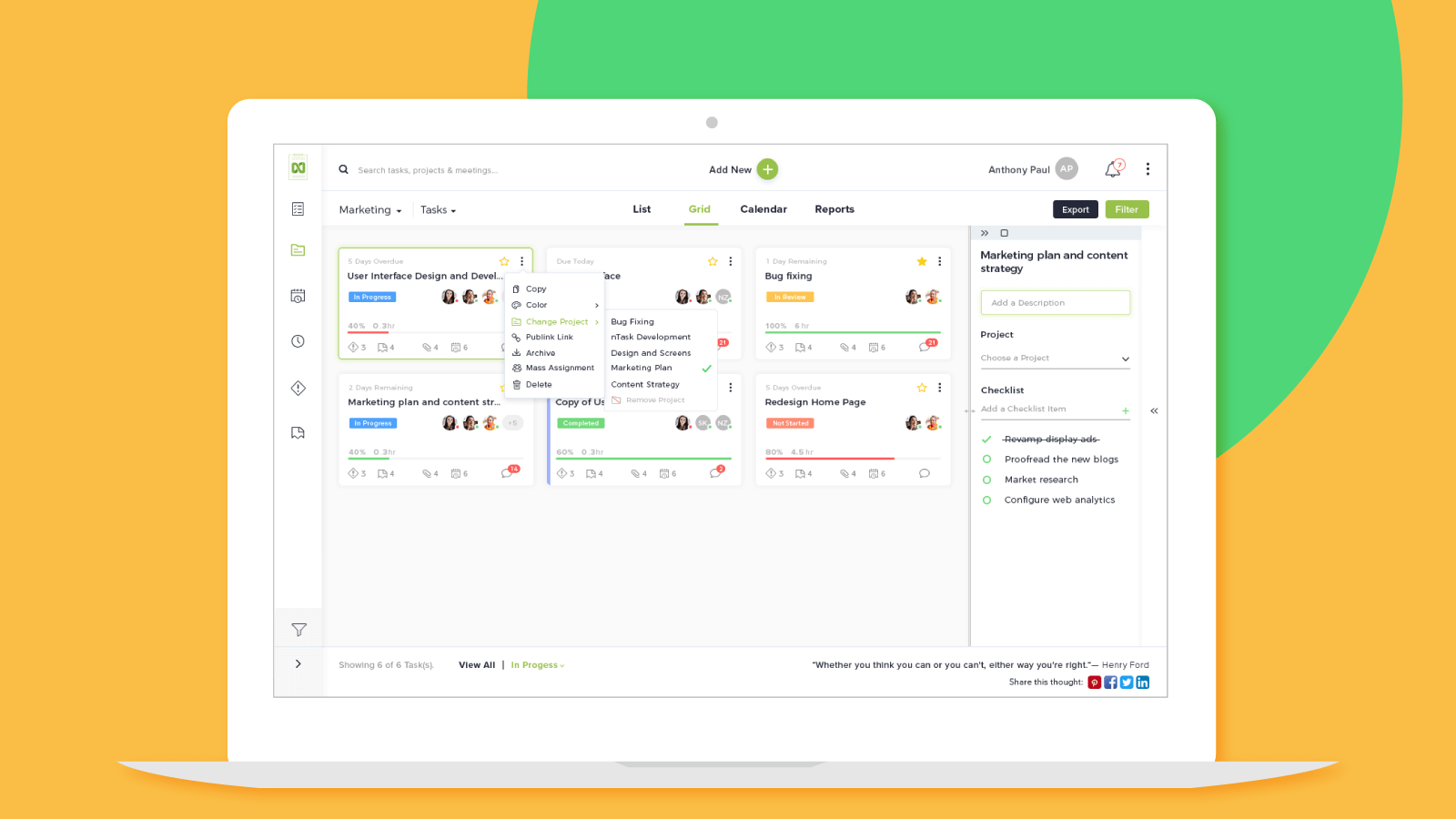 nTask is a project management tool that gives you a comprehensive set of features for project and task management.
You do not have to look for external integrations at all. With so many project monitoring features including project timelines with percent complete tracking, you can be sure to have complete control of your projects.
Also, with the Free plan offering a wide variety of features and a Pro plan at a considerably reasonable rate, this tool gives you one of the best deals for your investment. The best part is that it is easy to work with for startups as well as established teams.
A clean interface, powered by simplified search and filter tools, nTask helps make life easy for teams and individuals alike. You can create multiple projects for multiple, simultaneous workspaces. This makes monitoring multiple projects a breeze.
You can view project progress through a clean project timeline and ensure everyone on the team stays in sync. This is just the tip of the iceberg; for more features, check the Key Features below.
Key Features:
Here is what you get with nTask:
Project management capabilities that include but are not limited to creating and assigning projects, using Gantt charts, project reports, and colored project timelines to manage and monitor project progress through percent complete tracking
Task management options including creating, assigning, organizing, prioritizing and sharing tasks with multiple statuses
Alerts, notifications and reminders to stay on track.
Multiple team specific workspaces that can be managed and monitored simultaneously.
Flexible comments including commenting on tasks to projects and converting comments to tasks using Slack
Meeting management solution including arranging and scheduling meetings (one time or recurring), send invites to attendees, add meeting details and specify follow up procedures.
Issue management module to facilitate identification and listing down of issues related to multiple tasks. List down the issue along with the Issue owner and relevant details to track issue maintenance.
Timesheets management and time tracking for creating and managing team specific sections for employee task efforts and payroll.
Risk management module helps you identify and keep track of potential risks. Arrange risks in lists and assign a risk owner in order to track risk management.
Powerful search and filter tools to search for tasks, projects, meetings, issues and risks.
Filter option to save more frequent searches.
Two-Factor Authentication for extensive security
Third party access
Mobile apps for iOS and Android
Pricing Plans:
nTask offers the following pricing plans:
Free
Pro at $2.99 per user per month
---
5. Scoro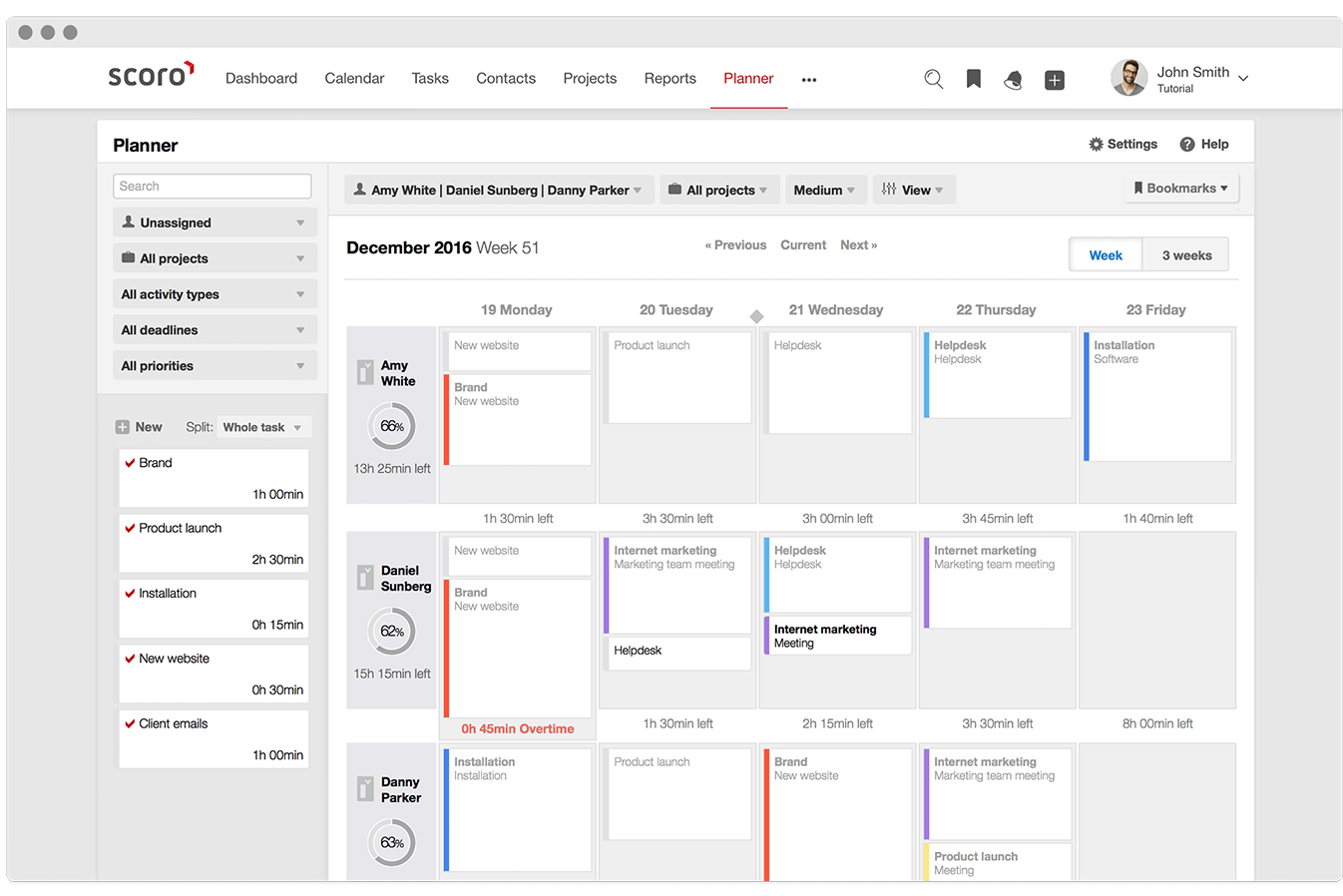 Scoro is an all-in-one solution that covers every stage of project management. It is designed for teams to cater to all responsibilities under one tool including project management, work scheduling and tracking, financial management, reporting all the while being completely customizable.
It gives you multiple options to track your projects and teams as well as collaborate effectively. You can set work as billable and non-billable, and transfer work done to invoices. With options to set multiple currencies, you can cater to work and resources in various regions globally.
Plus, with its Planner feature, you can be clear about the workload assigned, set deadlines realistically and avoid potential overloading. All this and more, head over to Key Features to know what else Scoro can do for you.
Key Features:
Make use of the following features for effective project management:
Project management options that include defining project timeline, creating project budgets, time tracking and billing, configurable statuses and tags.
Task management including priorities, projects, statuses, and deadlines.
Collaboration options including planned tasks and meetings, invoices and expenses, comments and files.
Planner to schedule work and assign tasks for an overview of everyone's workload, realistic deadlines, potential overbookings and available slots.
Schedule meetings in a shared team calendar, and link all events to projects and customers for a complete overview.
Time tracking including actual and billable time spent on a project or a client.
Invoice management including automated late invoice reminders, scheduled, and recurring invoicing, issue sales, prepayment and shareable credit invoices.
Set multi-currency custom rates based on team members, clients or projects.
Central dashboard for monitoring KPIs, actionable items, and conversions.
View detailed financial reports on actual results with budget deficit and surplus.
Configure activity/product types, tags, statuses and add custom fields to almost any feature.
Set permissions for each user to limit access to specific information or certain projects.
Select PDF templates for invoices, quotes, orders and reports from our library, or create your own.
Use bookmarks to create hundreds of custom views and reports.
Shared team calendar
File sharing
Contact database and management
Detailed project and team reports
Resource management
Document management
Mobile apps for iOS and Android
Pricing Plans:
Scoro comes with free trials and the following plans:
Essential ($26 per user per month)
Work Hub ($37 per user per month)
Sales Hub ($37 per user per month)
Business Hub ($61 per user per month)
---

Having over 17000 customers globally, Wrike is a popular choice as far as project management and collaboration tools are concerned. Wrike offers a neat interface with a broad spectrum of features that makes it efficient for startups as well as large organizations.
Some of its core features, project timeline/Gantt charts and comprehensive reporting, this project timeline software is an easy choice. You can easily collaborate with teams, allocate resources to tasks and projects, monitor and forecast your team workload, and resolve schedule conflicts.
Wrike helps you easily reorganize assignments and track time as well as budget so you are in complete control of your projects.
Key Features:
Some of the most prominent features of Wrike include:
Project management including timeline/Gantt charts, visual dashboards and reporting, custom status, task dependencies, milestones, request forms and workflows.
Real-time newsfeed and personal dashboard.
Task management including task creation, assignment, task statuses, task time tracking and recurring tasks.
Team collaboration channels including discussions in tasks, document version control, and live editing.
Team management including workload management and member tagging.
Time and budget tracking.
Comments, online file attachments, sharing and editing.
Inbox notifications.
Calendar
Email integration for teams
Mobile apps for iOS and Android
Pricing Plan:
Wrike offers the following pricing plans:
Free
Professional ($9.80 per user per month)
Business ($24.80 per user per month)
Marketers (Customizable)
Enterprise (Customizable)
---
Check out these other useful articles