Today we are going to review Monday.com, a work collaboration tool and project management software for all kinds of teams. I have used Monday.com earlier to manage projects, and have seen teams grow comfortable as they use the platform to collaborate.
Formerly known as DaPulse, Monday.com rebranded itself in 2017 to give the platform a new look and experience.
I guess it serves right that we do a review of Monday.Com. Especially for any company that just rebranded its major product, a re-review is always due.
1.
Features and Functionality – 8.8 out of 10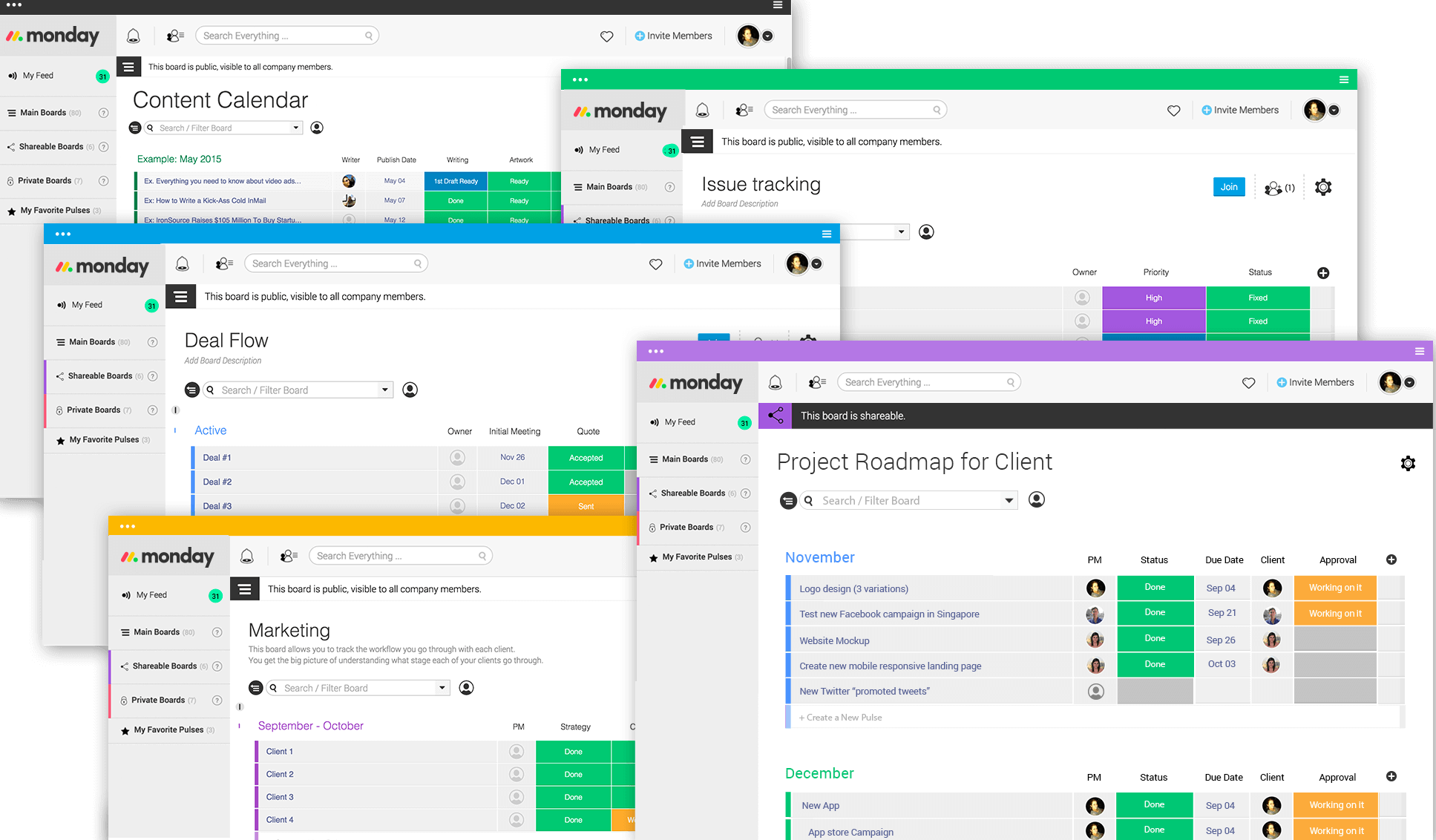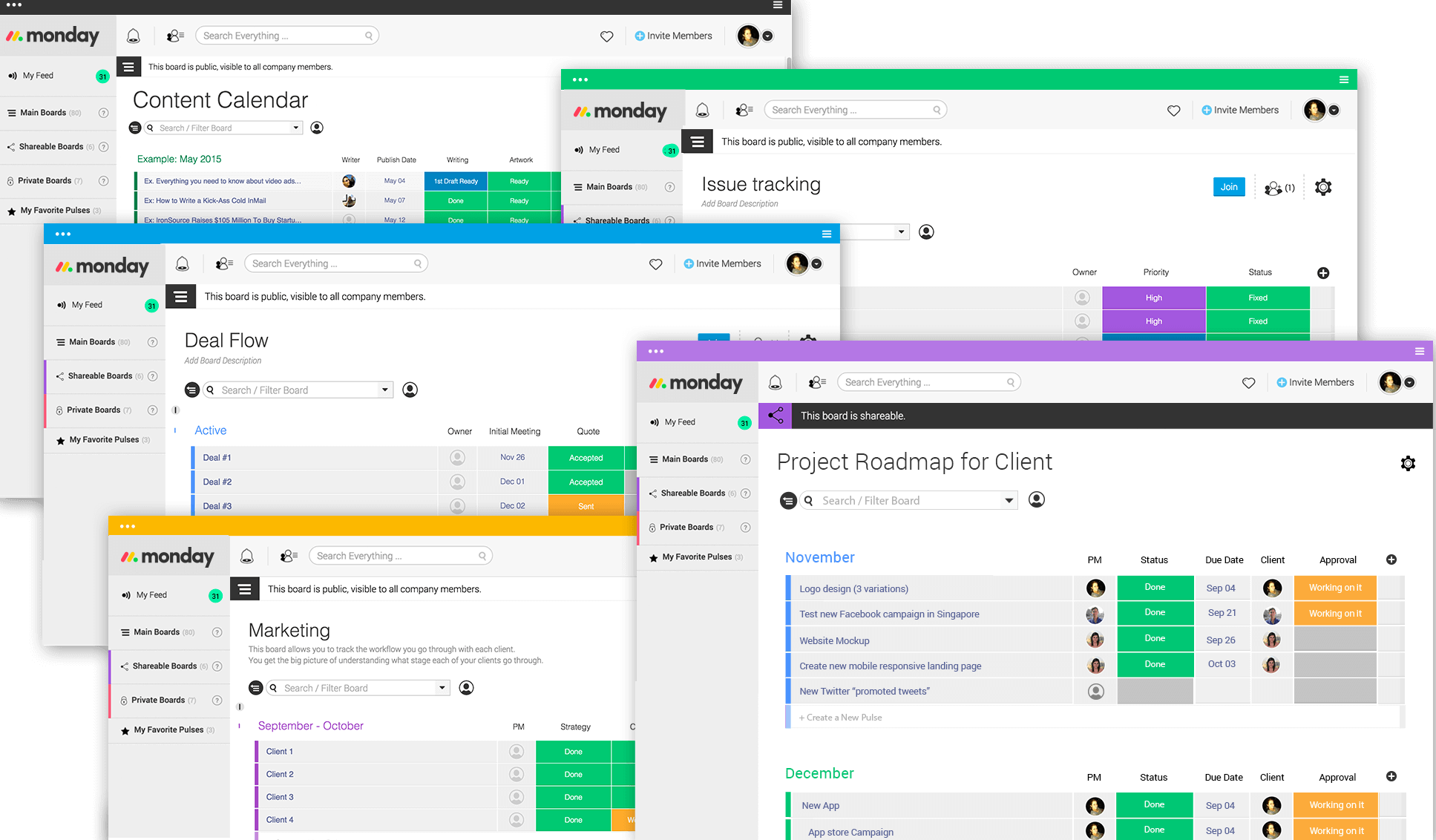 When it comes to features and functionality of the platform, Monday.com is considered the best work collaboration tools available today. Obviously, our standards of "best" are defined by what company requirements are. There is a strong possibility that you might not agree with us. And that is okay.
Monday.Com is not perfect, they are still rolling out updates to introduce cool new features. However, the product that's currently available in the market, it aligns productivity, workflow and optimal performance easily. It has various native integrations available, Kanban boards, customizable templates, project timeline views, and more.
Let's dive into Monday.com and see what it has to offer for work collaboration and project management one by one.
2.1.
Overall Hierarchy
You have a detailed hierarchy of things with Monday.com. Here is how the platform works:
Teams – Your organization and all your team members across all projects and initiatives.
Admins – The people responsible for managing team members and all collaboration.
Projects – Projects are the initiatives that your team will be working on.
Tasks, Comments and Attachments – Stuff that needs to be done to push projects to completion
---
2.2.
Walkthrough and Onboarding
Signing up for Monday.com and getting started only takes a few minutes. Once you are past that process, the app asks you a few questions regarding your use of Monday.com. They are more like pre-requisites to offer you a choice based customized experience.
2.1.1.
Boards
As soon as you are done with the onboarding process, you are redirected to your board. This board is created during the onboarding process. You will setup a board name, team variables and other options to get things in motion.
The first day at Monday.com greets you with a blank white board. This is where all the work happens. The board contains tasks, groups of tasks which you can use as projects, status, their owners, priority, etc. The board is highly customizable, just like a spreadsheet. You can rename the columns on the board, change the status labels as you see fit, and add more columns if needed.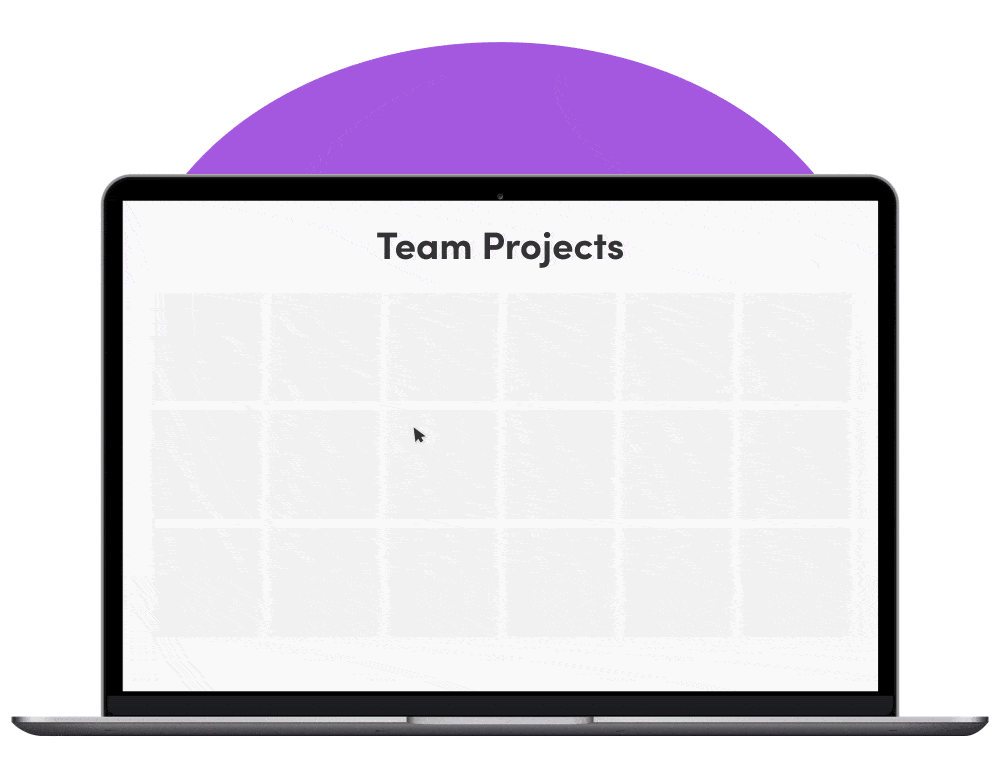 You can also add each column type multiple times if needed. For instance, if you wanted to track an Actual vs. Planned task timeline, you can add the Timeline Column type twice to your board and then update the actual & planned timelines respectively. Other column types available include:
Text
People
Date
Tags
Numbers
That's not all – there are over 35+ different types of columns available for your boards in Monday.com.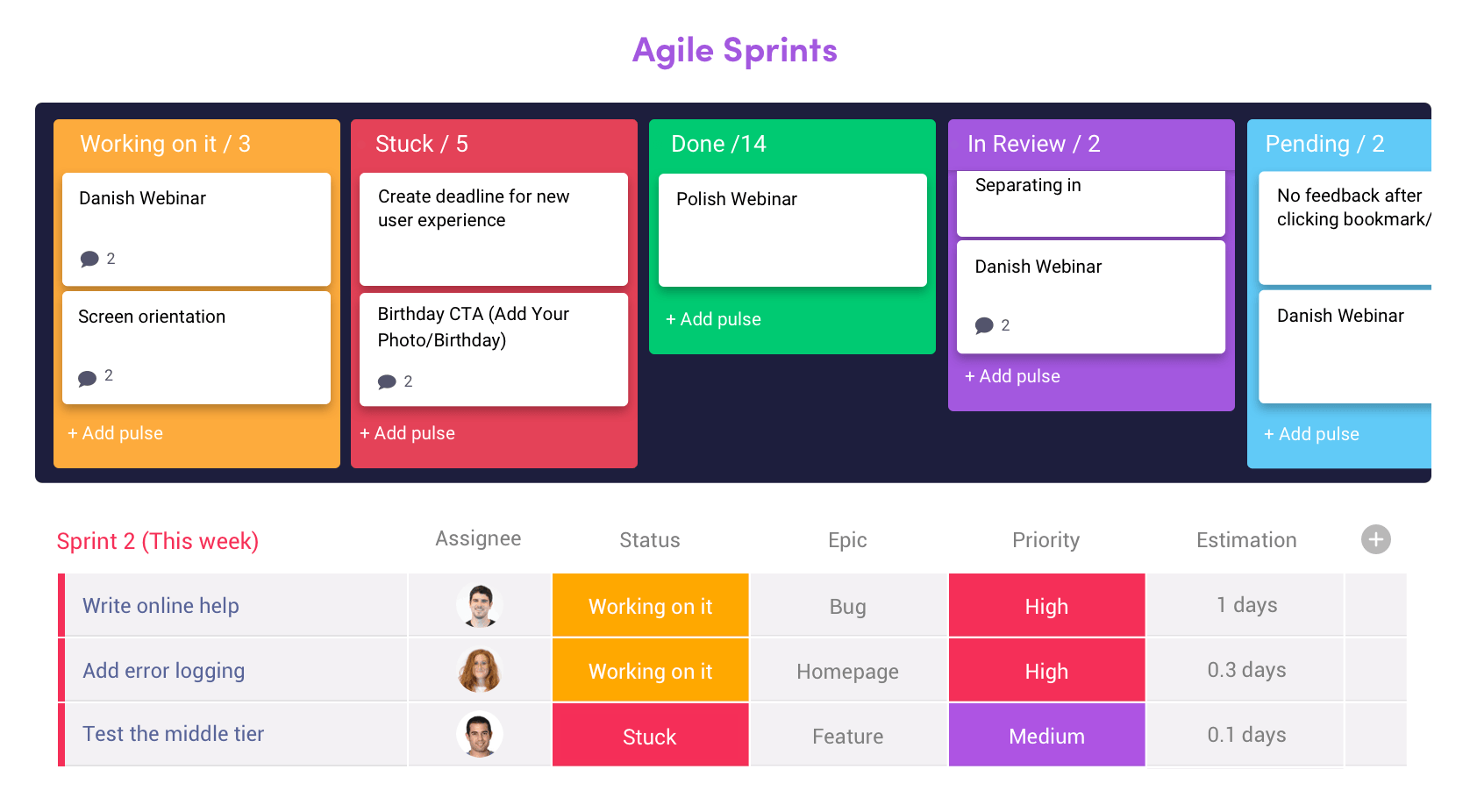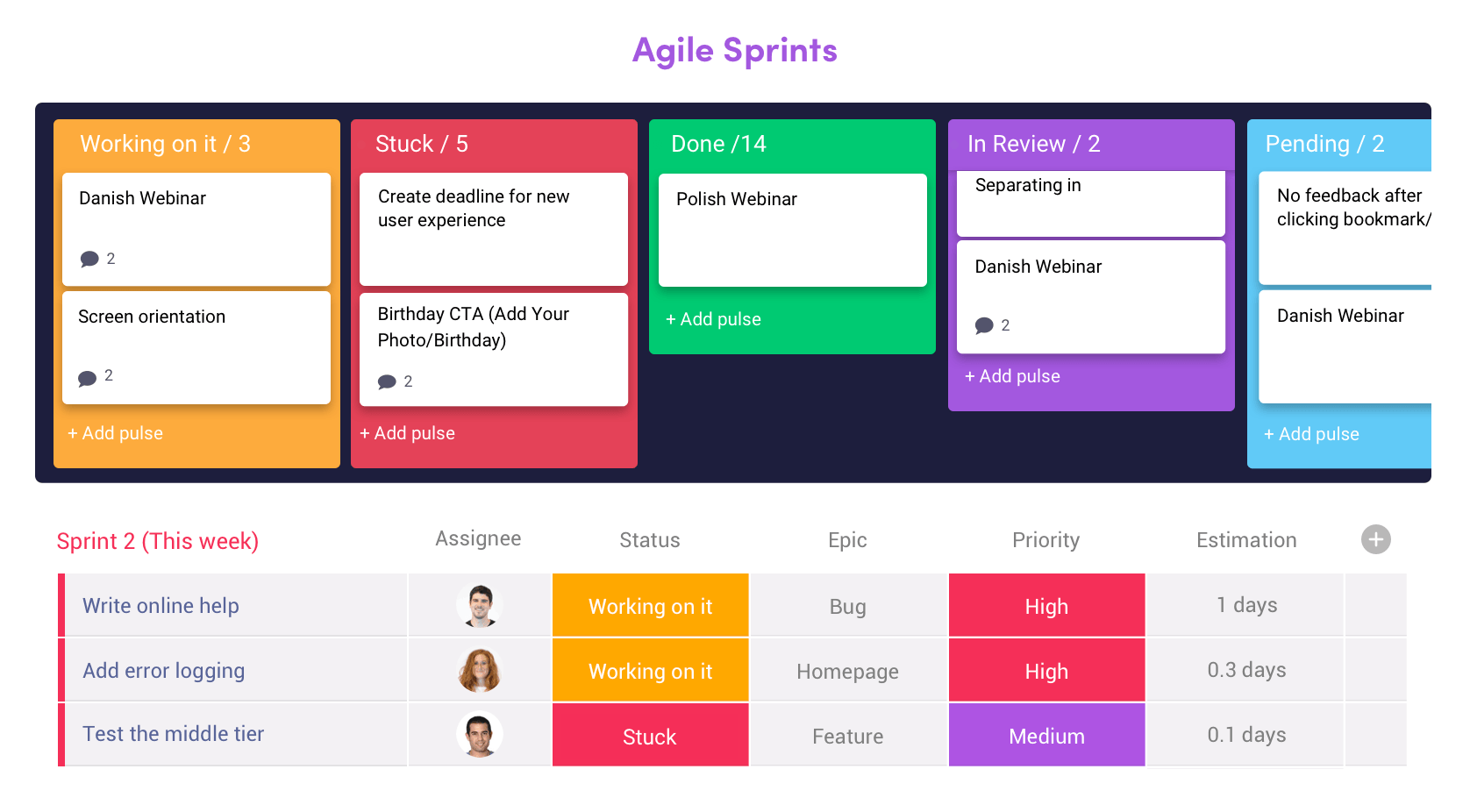 ---
2.1.2.
Board Views
While Boards are highly customizable and easily navigable, there are various board views that you can visualize progress with using Monday.com. Here is a list of all the different board views available in the app and a brief description of how to use them:
Table View – The standard board view for Monday.com. Works like a spreadsheet with highly customizable columns.
Timeline View – Converts your table into a project timeline view so you can easily plan and manage tasks and projects.
Kanban View – Visualizes all progress from the Table view into a Kanban board. Suitable for teams and organizations that like to visualize progress using the Kanban method.
Calendar View – All your tasks, task groups and projects presented on a calendar.
Chart View – Creates a pie chart using the data from the Table view, useful for reporting purposes.
Files View – A file manager inside of Monday.com. Allows users to easily navigate through and search for files quickly.
Map View – Visualizes all tasks created in the Table view on a world map, uses data from the Location and Country column types.
Form View – Creates a sharable form for your tasks in the Table view. The sharable form can then be filled out by anyone and the entries are automatically updated for your tasks on the Board.
Broadcast View – Helps to generate a sharable link to your board on Monday.com. With this link, any third parties that are not signed up for Monday.com and/or are not your team members can view your board and all updates as they happen.
---
2.1.3.
Status
The Status board outlines all the Stories that are assigned to your team members. It gives you a quick summary of displays all Unstarted, Started, and Recently Done (completed within the last business day) Stories by owner.
This is useful to keep track of what initiatives each team member is presently working on, has recently completed and what they are going to work on next.
There are two views on the Status board; a) Stories; it is useful for smaller teams and b) Compact; a small scale view for larger teams.
2.1.4.
Useful Board Features
As apparent, Monday.com has a very comprehensive Board for stuffing in all of the applications. To further ease application usage, there are tons of features that you can leverage. There are filters that you can apply to filter down relevant tasks and quickly find out what you are looking for.
Tasks can easily be dragged and dropped for prioritization. One-click edits are possible. There is a dedicated board activity log to keep track of each update made on the board. You can also manage board permissions, manage broadcast settings for your boards, create a template or duplicate your boards with just a click, export your boards into an Excel spreadsheet, or print them.
There are also keyboard shortcuts to make working with Monday.com quicker and easier. In addition, if you are into Gantt charts, this application offers the same experience with a twist. According to Monday.Com correspondents, Gantt Charts functionality is dubbed "Timelines". They wanted to offer a combined experience of working with full force of Gantt Chart features in a timeline oriented format.
All these small, super useful features really add to the overall experience of using Monday.com to manage tasks and projects.
---
2.1.5.
Integrations and Automations
Let's talk about third party integrations available with Monday.com. There are over 25 apps and services that Monay.com integrates with. Some of the famous apps include Zendesk, Jira, GitHub, Harvest, Salesforce, and Facebook.
Can't find an integration that you need? Monday.com also integrates Zapier and Integromat. This way you can sync Monday.com with all your favorite apps.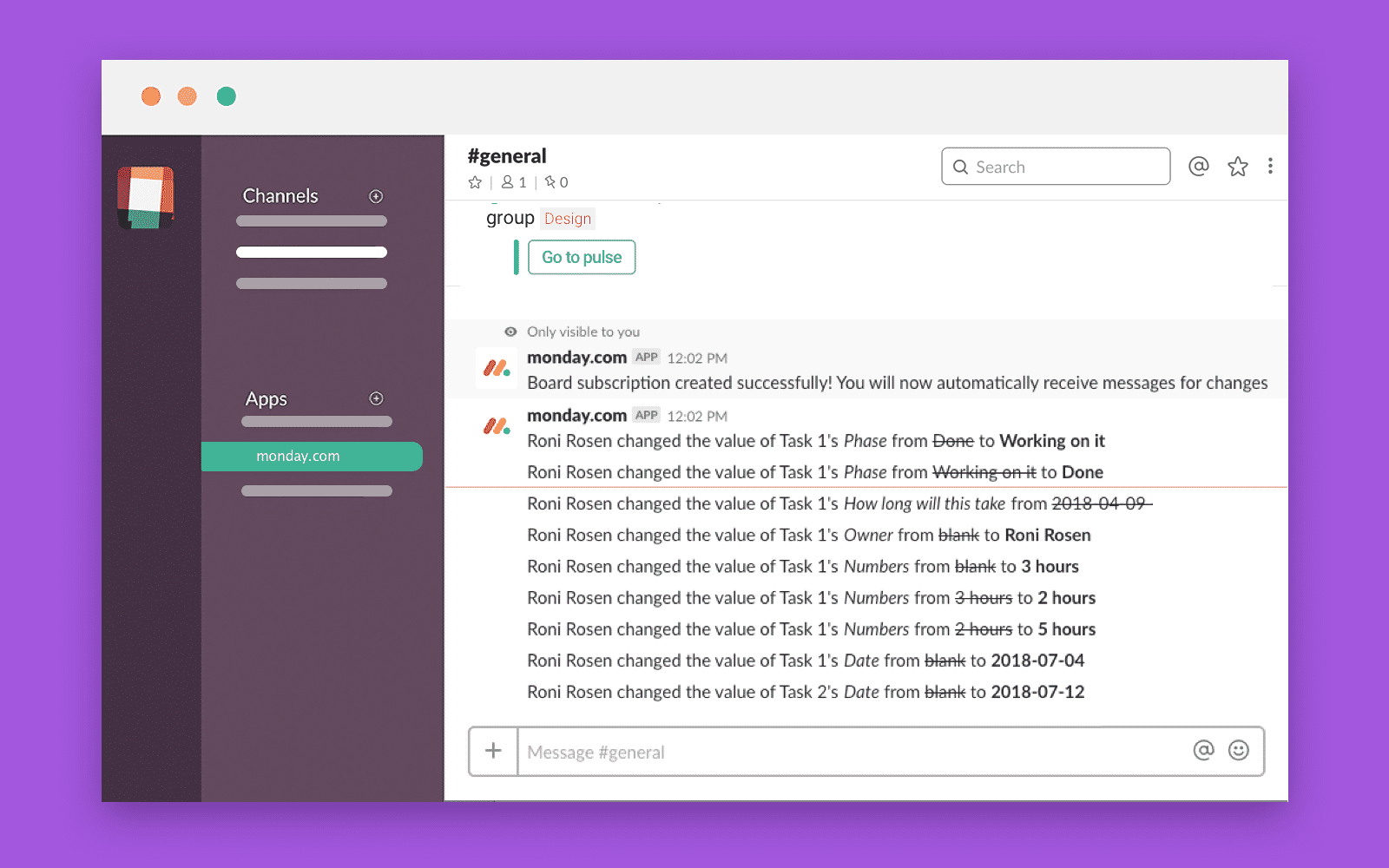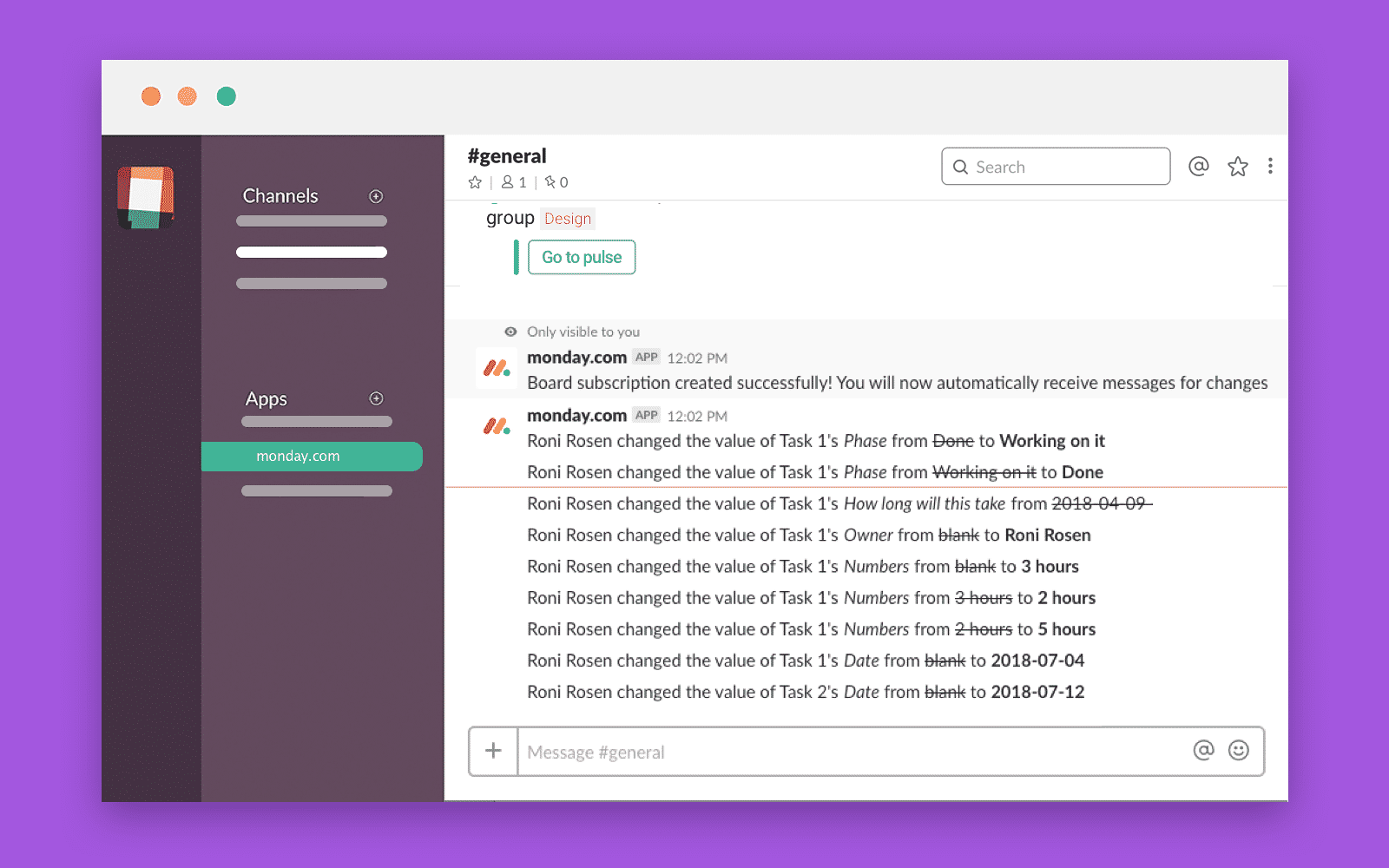 In addition to these integrations available with Monday.com, you also get Automations to automate some repetitive tasks and reduce manual effort.
Want to notify some team members each time the task status changes? Want to push the due date for a task further each time progress is made? Do all this and more with Monday's automations.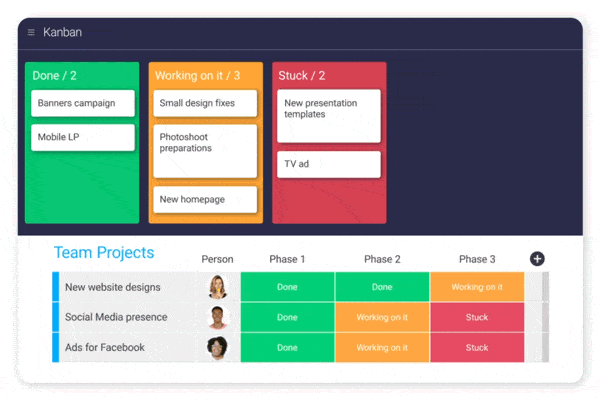 ---
2.3.
Dashboards
In Monday.com, you can create customizable dashboards to get a quick summary of how your tasks, projects, and teams are performing. The Dashboards display what's important in one place.
With 15 available widgets, your users can get quick updates on project progress, budget, workload and much more. In Monday.com, you can create multiple dashboards to track progress for various boards.
2.4.
Inbox
Your Monday.com Inbox is where you receive updates related to all the boards that you are subscribed to. Inbox is different than in-app notifications, which only display updates regarding tasks and boards that you are assigned to. The Inbox is more of a standalone view where you can filter updates that mentioned you, were related to you or updates you have bookmarked.
2.5.
My Week
The My Week view is a consolidated weekly view of different pending sub tasks. They could either be in process, overdue deadline or just lined up at the end of the week. That is up to you. My week contains relevant information from all your boards sprawled across your team. The devs wanted to offer a summary view to users who want to get a gist of everything that's going on without having to open each and every board.


The My Week view can also be a great alternative to the more comprehensive boards in Monday.com, where things might get cluttered. If you like to keep things simple and only want to know what needs to be done in the week, the My Week view is meant for you.
2.6.
Admin Settings
Let's talk about team management and admin configurations in Monday.com. The admin settings panel gives you a lot of options to play with. From choosing the first day of the week, to customizing your account URL, getting public and private API tokens, custom branding your Monday.com company profile, and more, everything is there in the admin settings panel.
You can also choose to enable/disable GIFs, link previews and file previews for your account as the admin. Also, you can customize the fields required by all team members to be filled. When it comes to access management and security, Monday.com allows you to disable the permission for everyone to invite members to your team. In this case, only admins can invite members.
Also, you can limit team members to people who have email addresses with a specific domain. You can also manage your password policy.
For authentication purposes, you can set up Google Apps, SAML or 2FA.
Other than that, there are tabs for Billing, Stats showing consumption for storage and other limits in place, and Tidy Up, which helps you organize and clean unused data from your account.
2.7.
Supported Platforms
Last but not the least, let's talk about mobility. Monday.com offers an Android and iOS app, as well as desktop apps for both Mac and Windows. Both the mobile apps have decent rating and reviews on the Play Store and the App Store.
I tested out the Android app for Monday.com for my review, and everything worked seamlessly and synced with whatever was on the web.
---
2.

Design & Ease of Use
– 8.8 out of 10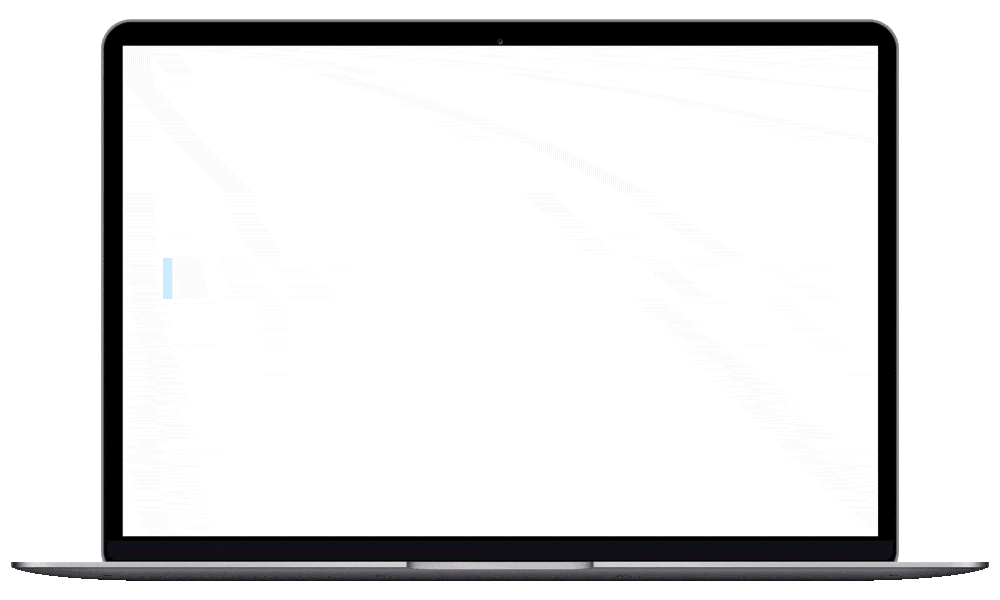 Let's start with my favorite part – the design and overall usability experience of Monday.com. The first thing that you'll notice about Monday is its beautiful, consistent and sharp design right from the sign-up screen till the creation of your first project. Onboarding with Monday was a piece of cake due to its simple two-step process. Unlike many other tools in the market, Monday has put good emphasis on making its project management tool friendly both in terms of the workflow as well as design.
Having said that, you will need to spend some time understanding the concepts and workflow especially if you're used to the traditional to-do list app style software. I would suggest forming a decision after having utilized the trial completely because it became a lot easier for me the second time around.
Overall full marks on the design however, I did feel the font size was a bit too large but again that could be my personal preference or screen bias. Monday has this unique ability to view the same project in multiple views e.g Kanban, timeline, table, in the form of charts and more. Possibly one of the only tool that gives you these many options which I believe is Monday's key differentiating factor. This also means if you like performing and analyzing your tasks visually, you're in for a treat.
Another positive of Monday is its lightning fast speed. I was very impressed with how Monday performed throughout my evaluation. Laced with features like drag & drop, keyboard shortcuts, quick column sorting, and inline editing all aid in making Monday quite user-friendly.
All-in-all I like the way how UI is laid out and how they make it so simple to navigate. I strongly believe Monday has done a great job in making the overall design very pleasing on the eye.
Pricing
Monday.com comes with the paid plan only however it offers a free 14-day evaluation trial. Depending on what set of features you opt for Monday's pricing is user based and is divided into four plans i.e Basic, Standard, Pro, and Enterprise.
Plan
Pricing
Features
Basic
from $17/month
Includes all essential features like

Unlimited viewers
Unlimited boards
Over 20 column types
iOS & Android apps
Kanban
Up to 5GB storage space
1 week of historic activity log
Email & phone support
1 free dashboard

Standard
from $26/month
Includes all basic features plus

Up to 50GB storage space
Multiple views
Advanced search
Forms customization
Integrations & automations
Up to 3 dashboards

Pro
From $39/month
Includes all standard features plus

Unlimited storage space
Google authentication
Advanced views
Custom tags
Private boards

Enterprise
Contact
All pro features plus

Advanced security features like SLA, session management & account permissions
1:1 training
Dedicated customer success manager
The above pricing applies if you choose the annual billing subscription. Payment methods include Visa, Mastercard and AMEX credit cards.
---
Security
Monday.com takes necessary steps to ensure your data is safe and always available.
As part of the company's focus on security issues, the company security team takes the following measures on a regular basis
Monitoring and analyzing the infrastructure for suspicious activities and potential threats.
Issuing periodic security internal review.
Dynamically updating of the security model and addressing new security threats.
Systematically examining the organization's information security risks, taking into account threats and vulnerabilities.
Designing and implementing a coherent and comprehensive suite of information security controls and/or other forms of risk treatment (such as risk avoidance or risk transfer) to address the risks that are deemed unacceptable.
Adopting an overarching management process to ensure that the information security controls continue to meet the organization's evolving information security needs.
GDPR compliance.
On-demand data export and deletion.
---
Customer Support
Direct Customer Support: Monday provides multiple support options to its users ranging from 1:1 demos to webinars and comprehensive documentation. Visit their customer support page for more details.
Help Guide: https://monday.com/guides/
Phone Support: +1 (201) 778-4567 (Customer Support)
Email Support: support@monday.com
Community Support: http://community.monday.com
Social Media Support: Monday entertains social media support on Twitter and Facebook along with help tutorials and products information is also available on their blog.
---
Final Verdict
Overall, Monday.com is a pleasant experience. It has a great set of features and the platform itself has really come far from their launch day. Although there are a few features missing from Monday.com, the host of integrations available are a great add-on. In summation, it wouldn't be wrong to say that Monday.com is a team management software solution for both IT and Non-IT businesses.
What do you think about Monday.com? Will you use it to manage tasks and projects? Let me know in the comments section below. You can also use ratings to impact the overall score. So, do leave us your ratings.
What project management software would you like me to review next? Ping me at steve@productivityland.com with your ideas and suggestions.
Check out other reviews on Productivity Land