Redmine plugins are the most popular project management software. Here we listed must-have plugins for every project manager.
Best Redmine Plugins for Project Managers
Today's work environment features remote and multigenerational workforces that need clear-cut solutions to work and manage projects effectively. Redmine offers this clear-cut solution — one of the best and most popular cross-platform project management software.
Why is Redmine the go-to management software for project managers?
Compatibility. Developed using the Ruby on Rails framework, the Redmine software is compatible with Windows, Unix, Linux, macOS, and other major OS.
Open-source. The Redmine software is highly customizable. Teams can use already available plugins, as well as develop new ones.
Variety. The

official Redmine directory

lists 1,000+ plugins available to improve and simplify the execution of projects.
Redmine stands out as a project management software. However, one of its biggest challenges is the self-installation and self-maintenance of plugins. This is where Twinslash comes to the rescue.
With 20 years of experience in the development of Internet solutions, we provide comprehensive Redmine plugin support. We also work with you to customize or develop new Redmine plugins that meet your teams' needs. Our goal is to ensure the Redmine software performs optimally and incorporates all the functionalities needed to manage projects.
Basics You Should Know About Redmine Plugins
Before we get into 6 Redmine plugins, let's check the basics first.
1. What Are Redmine Plugins?
A plugin is an extension software that adds new functions to the original program without altering it. Thus, Redmine plugins are extensions designed to achieve custom functions and expand the project management software's functionality.
2. How Do They Work?
Available Redmine plugins are free to use. All you need to do is download and install it. But, because installation is a DIY process, the configuration could either be very easy or very complicated, depending on the coding work.
List of Best Redmine Plugins
The listed plugins are the most popular based on their popularity among users, rating, and number of installations.
1. Usersnap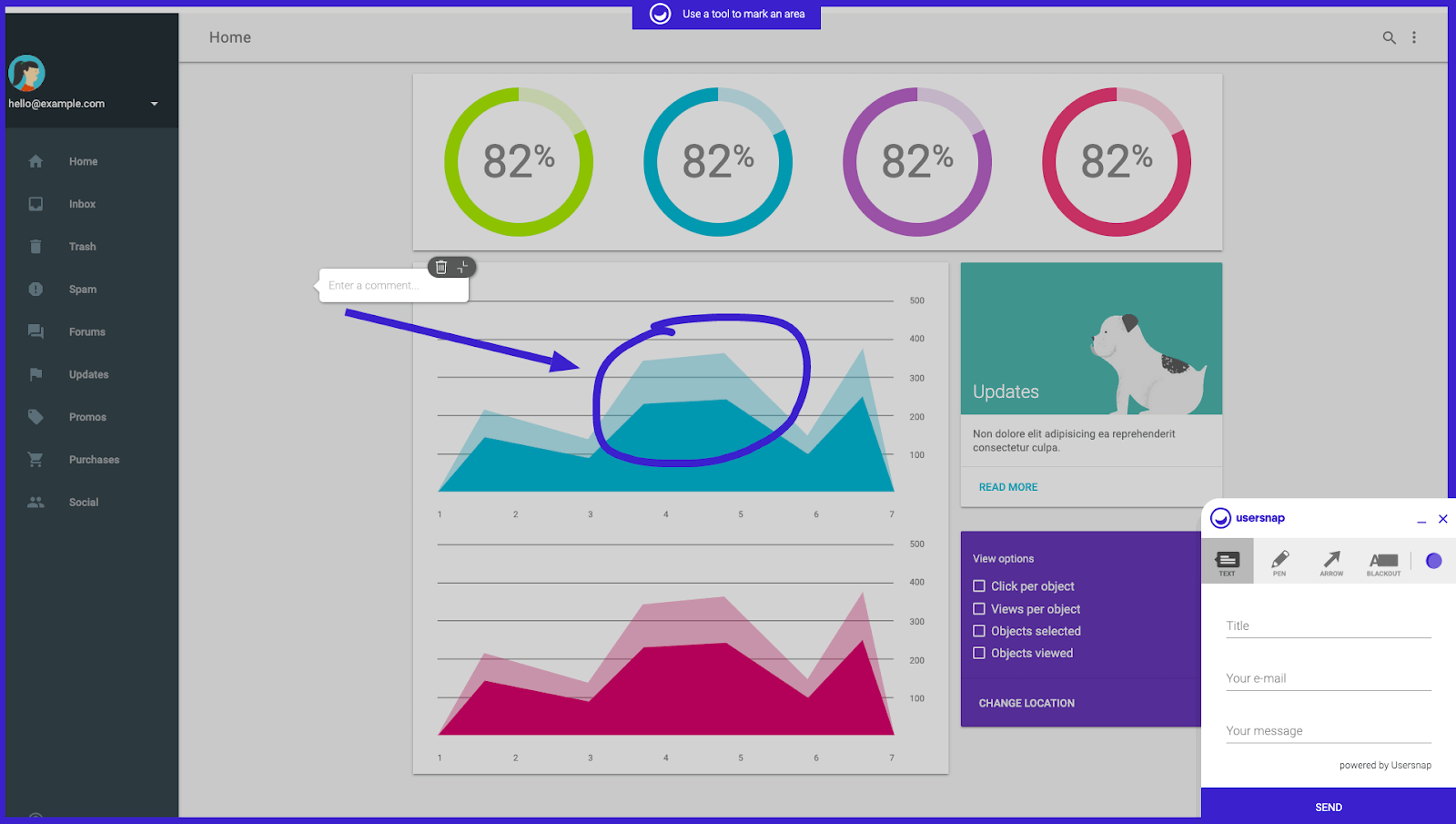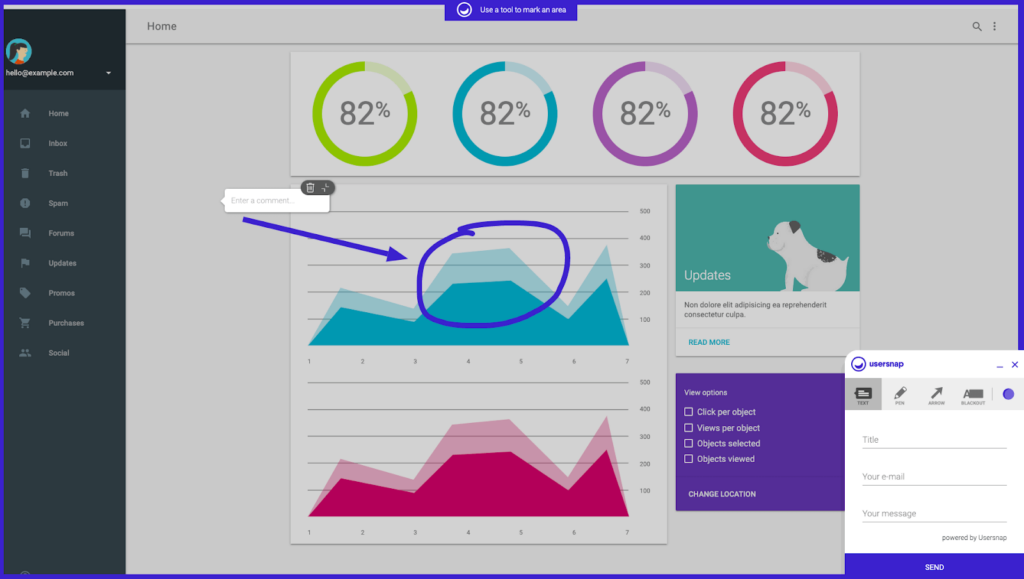 Usersnap is a visual bug tracker and user feedback capturing and reporting tool. The plugin provides screenshots of the current browser content that provides comprehensive feedback on bugs and glitches experienced. With Usersnap, communication on issues becomes easy, simple, and quick.
The Usersnap plugin is particularly beneficial for dev teams that use Redmine during the prototype phase.
Pricing Model:
15-day free trial;
€69 per month for the startup package.
Official source: https://usersnap.com/
2. Redmine Agile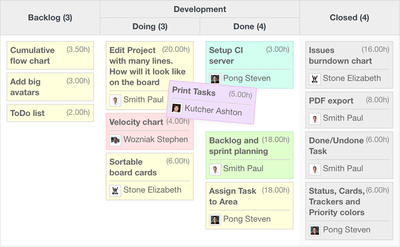 Agile testing and agile teams are among the biggest advantages for businesses in the digital age. This is why the Agile plugin in your Redmine project management software will ensure more effective communication and collaboration.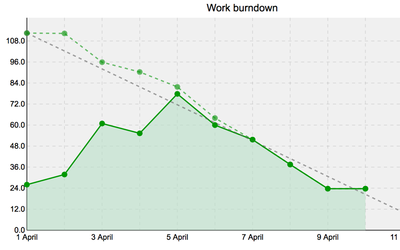 The Agile plugin improves the team's ability to identify, assign, rank, and track issues through either the Scrum or Kanban framework. The plugin makes it easy to reassign issues among sprints and backlogs. Additionally, visualization of the status and progress of projects is streamlined and more effective with the Agile plugin due to the provision of 11 different chart types, such as Lead Time, Cumulative Flow, Velocity, etc.
Pricing Model:
Free Light version;
Pro single-server version – $499;
Pro multi-server version – starting at $1,199
Official source: https://www.redmineup.com/pages/plugins/agile
3. RedmineUP Checklist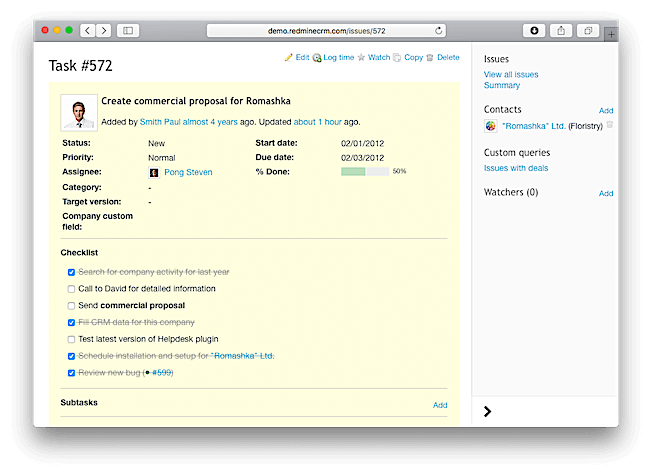 The RedmineUP Checklist is one of the most useful plugins for project managers and is the highest-rated to-date plugin in the Redmine marketplace.
The Checklist plugin allows users to create and modify checklists. You can add, mark as "Done," and delete tasks on your checklist, as well as view the history of changes made. You can also develop custom checklist templates and integrate them with the Redmine Agile plugin. This will allow automatic updates of tasks and issues on a to-do list, thus saving you time.
Pricing Model:
Free Light version;
Pro single-server version at $99;
Pro multi-server version starting at $249
Official source: https://www.redmineup.com/pages/plugins/checklists
4. Monitoring & Controlling (M&C)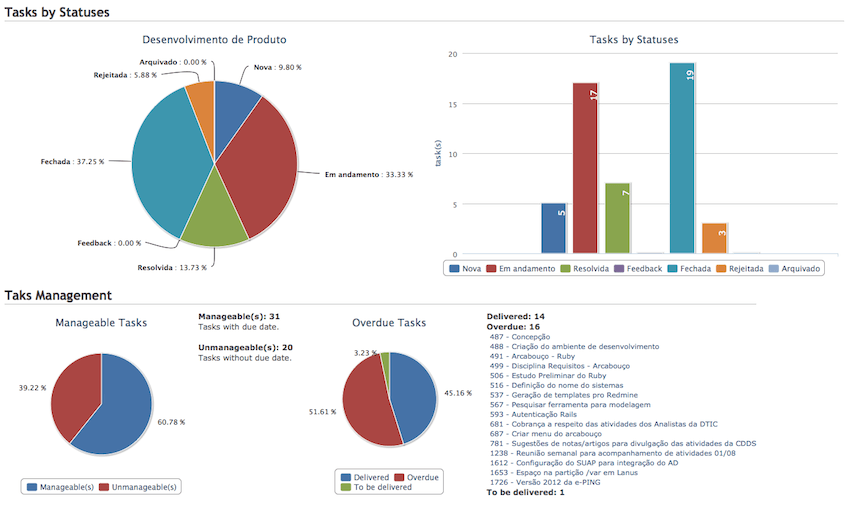 Looking for a chart tool to monitor and provide a 360-degree view of a project's issues and progress? The Monitoring & Controlling plugin for Redmine is precisely what you need. Though relatively simple to use, the plugin comprehensively presents data in pie charts and bar graphs. The plugin categorizes project issues based on:
Statuses
Manageable and unmanageable issues
Overdue tasks
Pricing Model:
Official source: http://alexmonteiro.github.com/Redmine-Monitoring-Controlling/
5. RedmineUP Helpdesk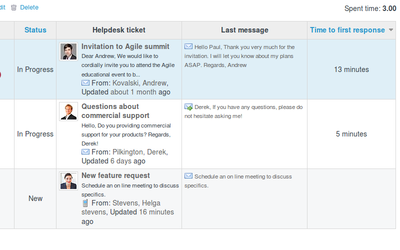 The Redmine Helpdesk plugin ensures the efficiency of your ticketing software and guarantees better customer support experiences. It automates all customer emails and Redmine issues into tickets for faster processing. More so, the RedmineUP Helpdesk plugin also comes with customer relationship management (CRM) features that allow you to access all important details about your customer database for personalized customer support responses.
With RedmineUP Helpdesk, you can set up autoresponders, reply to tickets straight from the issue page, set up rules to enhance email automation workflow, enable satisfaction ratings, and so much more.
Pricing Model:
Pro single-server version at $399;
Pro multi-server version starting at $899
Official source: https://www.redmineup.com/pages/plugins/helpdesk
6. RedmineUP Budgets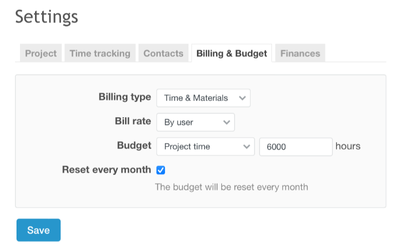 As a project manager, you must clearly understand the financial expenses and time spent as projects progress. This is where the RedmineUP Budgets plugin comes in handy.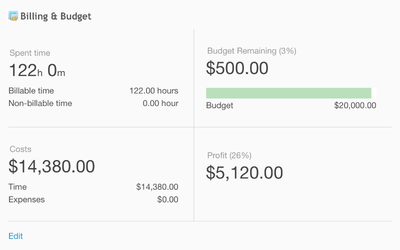 The plugin tracks all costs, revenues, and the final profit of a given project. Furthermore, you have access to flexible billing options that allow you to prepare bills by users, issues, projects, or companies. The RedmineUP Budgets plugin also has invoicing features that enable you to calculate issue and project costs directly on the Redmine Issue page, among other features.
Pricing Model:
Free Light version;
Pro single-server version at $199;
Pro multi-server version starting at $499
Official source: https://www.redmineup.com/pages/plugins/budgets
Conclusion
We hope these must-have Redmine plugins make your work as a project manager easier and more efficient. And when it comes to customizing the plugins to meet your team's methodologies and workflow, we at Twinslash are ready to provide our expert support with Redmine plugins.