Nowadays, SEO isn't anything but "old school" style. A few years ago, we had to plant a few backlinks at different websites, enter a few comments and mostly rely on getting link juice from various sources. Things have changed now; SEO has become slightly more complicated. Webmasters have to rely on branding, rather than getting incoming links from previously mentioned sources.
It is the required key to your digital success. For that very reason, if you are looking to build a domain from a ground-up approach, it is highly recommended to invest in an All-In-One SEO Audit tools. These tools don't come by cheap, but if you look at them from a long term investment perspective, it is definitely worth a shot.
Many websites are rife with technical setbacks, especially when we look at the competitive online environment these days. However, we got to review a nifty little tool called: SiteChecker. They help to take care of all SEO related woes with a bunch of certain features that work as an "add-on" experience for Webmasters with little to no idea about how SEO works.
In addition, SiteChecker is overlaid with a dedicated Dashboard. On that note, whatever happens simultaneously; be it simple website analysis or an extensive check for a complete site audit, things remain on one page. And this is something we really liked about SiteChecker.
This tool sounds more like SEMRush, which is another phenomenal SEO tool for professionals. However, SiteChecker aims starter Webmasters who want things explained in a simple manner, and do SEO in even simpler ways!
What is SiteChecker?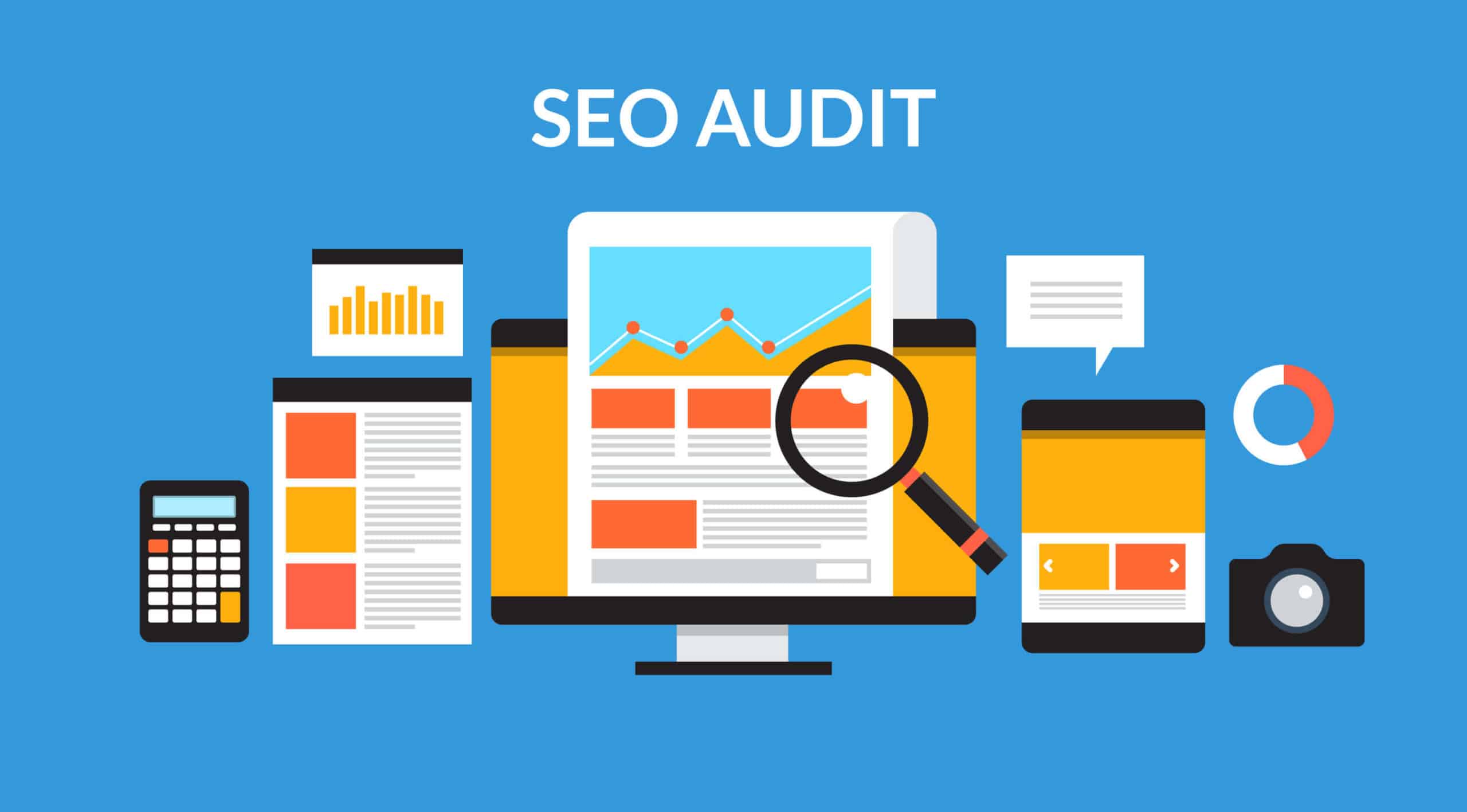 SiteChecker is an amazing SEO optimization tool, which you can use to get your rankings pushed to the top of Google SERP. Although it largely depends on the SEO expert you are hiring, but SiteChecker is definitely the tool that the expert needs to provide your website the acknowledgment it deserves.
We spent a lot of time on SiteChecker, monitoring a sample website and test all of the features. Kudos to the company for giving us a paid-subscription account for the review.
Given below are all of the details, we thought, you would like to know about this amazing SEO solution.
Main Page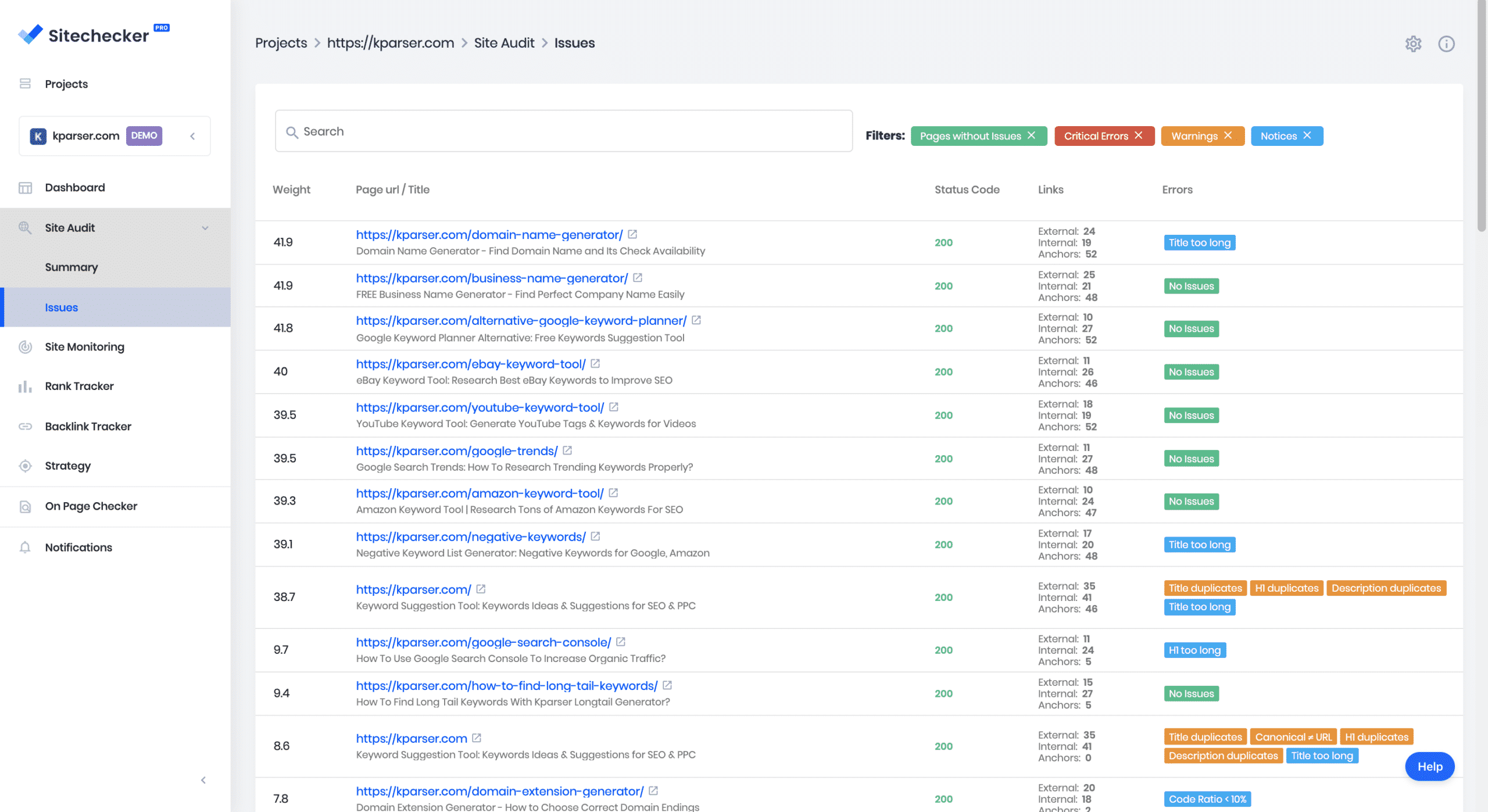 When entering the website, you will be presented with a welcome screen that will enter you into the main dashboard. Here you will see the dummy project that is added in every account to facilitate you in checking out the website.
In our case, it was a website "kparser.com" which was a demo project added so that we could see how the website operates.
In our case, the company gave us a paid subscription named "Growing" in which we could add one website on our own. In this subscription, we had:
Daily backlink tracking
200 keywords per website
Daily keyword tracking
Hourly crawling frequency
500 backlinks per website
These are amazing features and there are a lot more where they came from. All of this at $35 per month. Now that's a bargain.
Projects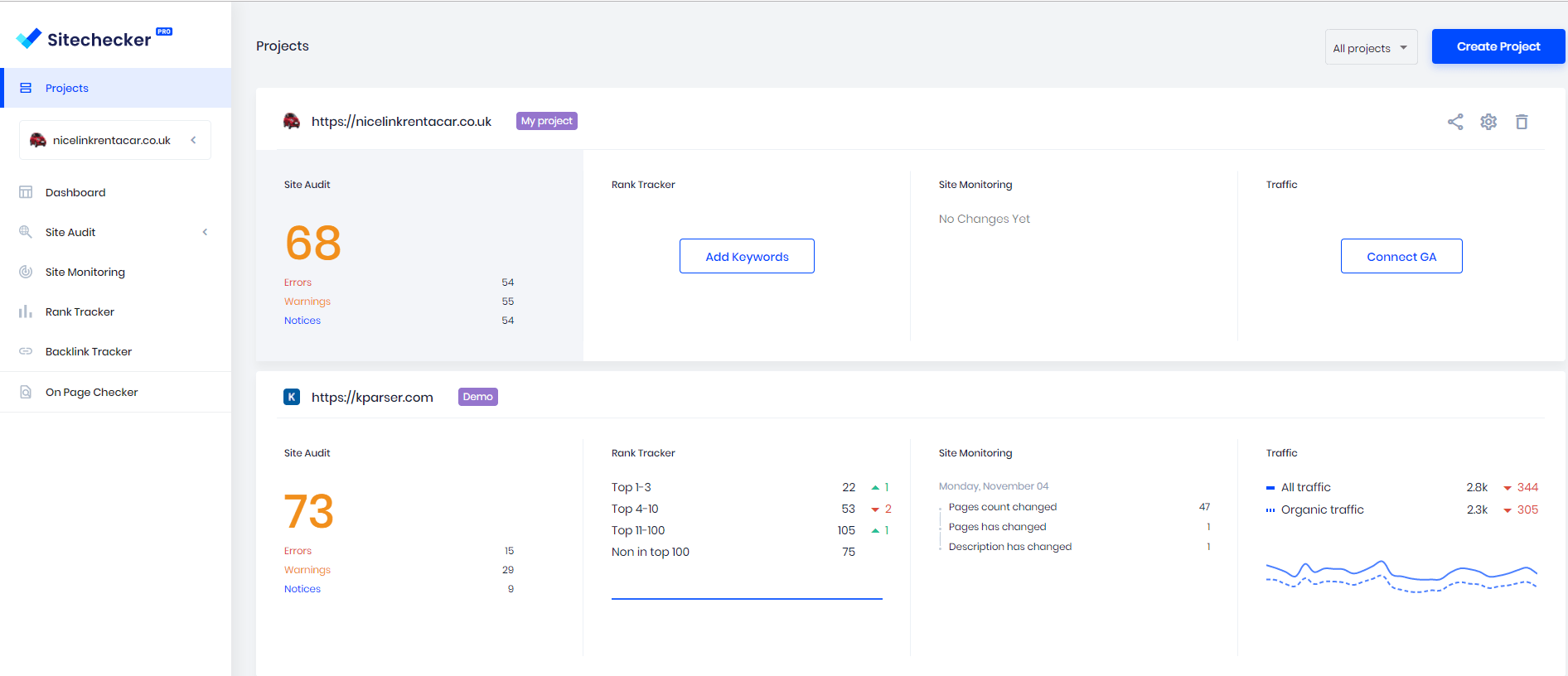 In the projects tab, you enter the website of your choice to create a new Project. new projects are seperate SEO Analysis instances where you can later run a couple of audits to see how things are measuring up. Once the process has started, the application will start to monitor your website. You can see all of the specs and errors of your website by going through all of the features that the website has to offer.
These features are located in the left sidebar on the website. You also have the Projects tab in the sidebar if you want to get back to the first page where all of your projects are located.
When you make a new project, the following sections will appear on top of your project entry.
Site Audit: This will display your overall SEO score that your website achieved on SiteChecker. Below the bigger score, you can see Errors, Warnings and other Notices for your website.
Rank Tracker: Here you can Add Keywords that you are trying to push through your keywords, for the website. After that, the website will check and display your rank among Google websites.
Site Monitoring: This section is a live-site monitoring panel where daily changes to your website are displayed. For Example, Pages count, Page description or any other changes that your website has gone through, daily, will be displayed here.
Traffic: In this section, you will have your traffic displayed. This traffic will be "All" and "Organic" Traffic that your website has witnessed. But for the application to crawl through your website and display the traffic, you will have to connect your Google Analytics account which is pretty standard.
Dashboard
Moving over to the Dashboard you will see various sections in a more detailed view than you could see on the Projects page. The sections of the Dashboard are as follows.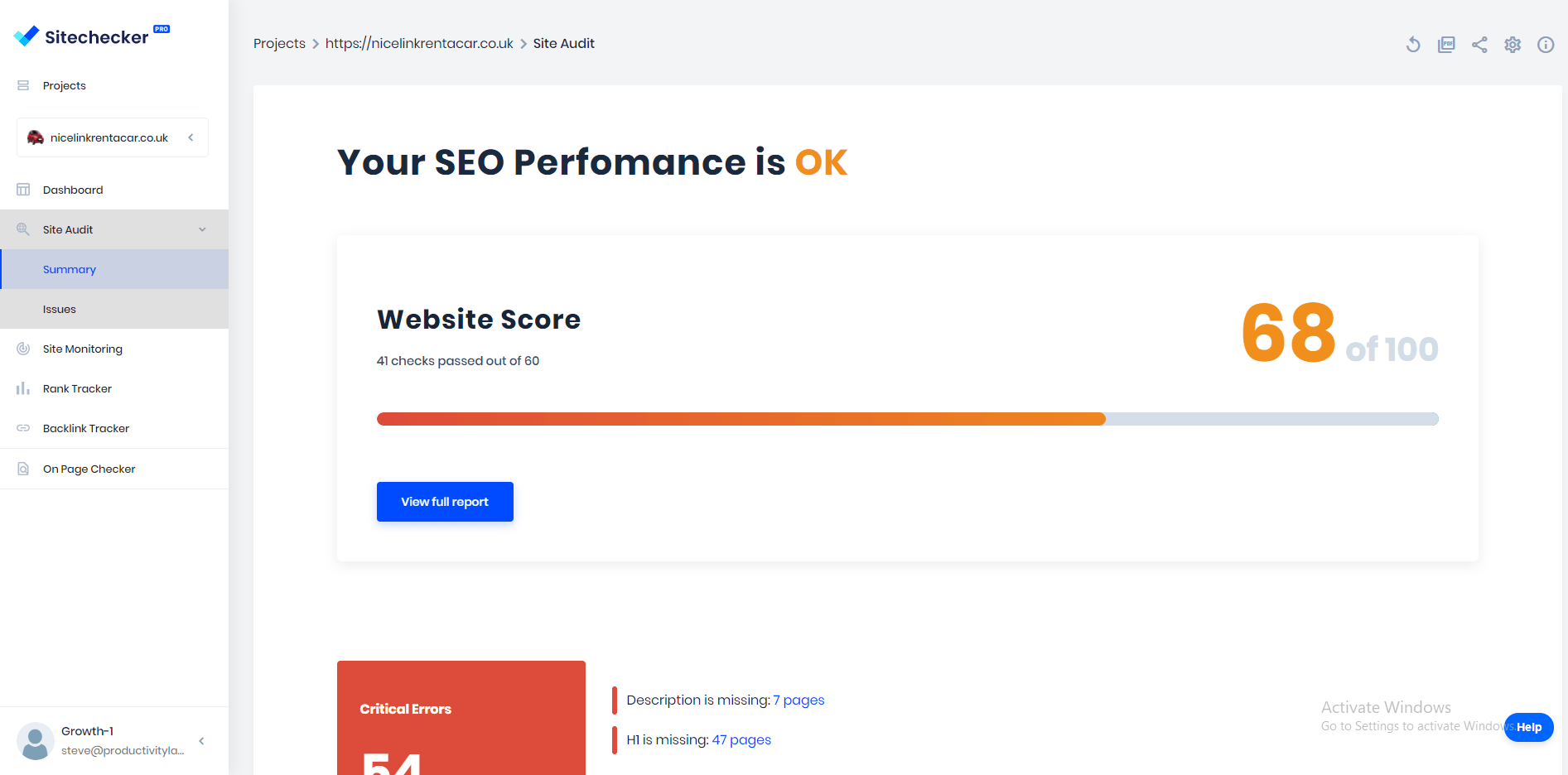 · All Traffic
In the Projects tab, you could see the traffic tab but when you click on it then it would direct you to the Dashboard tab, where you could see your All Traffic in more detail. Here you can see a little graph of the progress your website has made daily. You can also see the percentage by which your website has gained or lost traffic. To view this traffic, you need to connect your Google Analytics account.
· Organic Traffic
This traffic is that audience that has landed on your website through a search engine query and not through paid ads. To view this traffic, you need to connect your Google Analytics account. You can see the graph of your audience increasing or decreasing at a certain percentage in this section.
· Website Score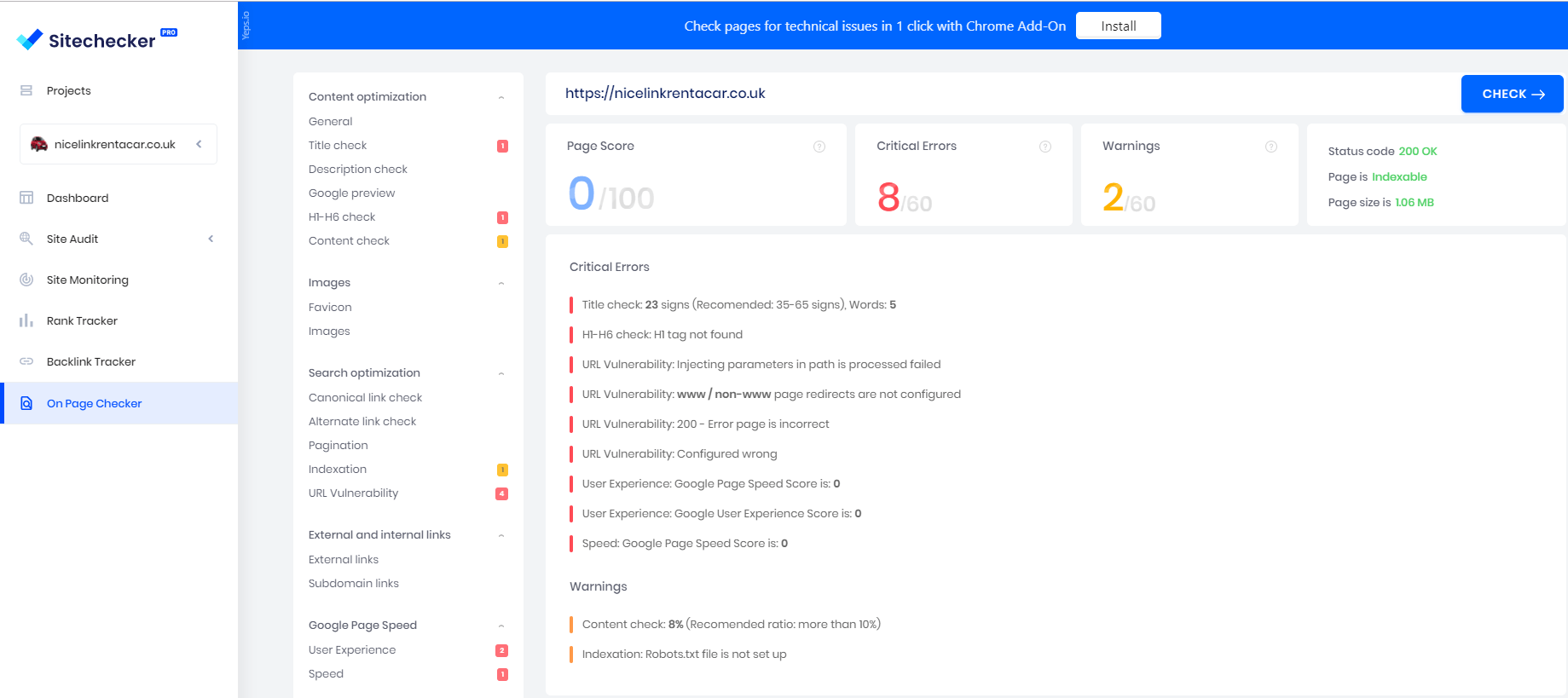 The next section is the Website score. Here you can see your website's score which is scored according to the parameters set by SiteChecker.
· Analysis of SERP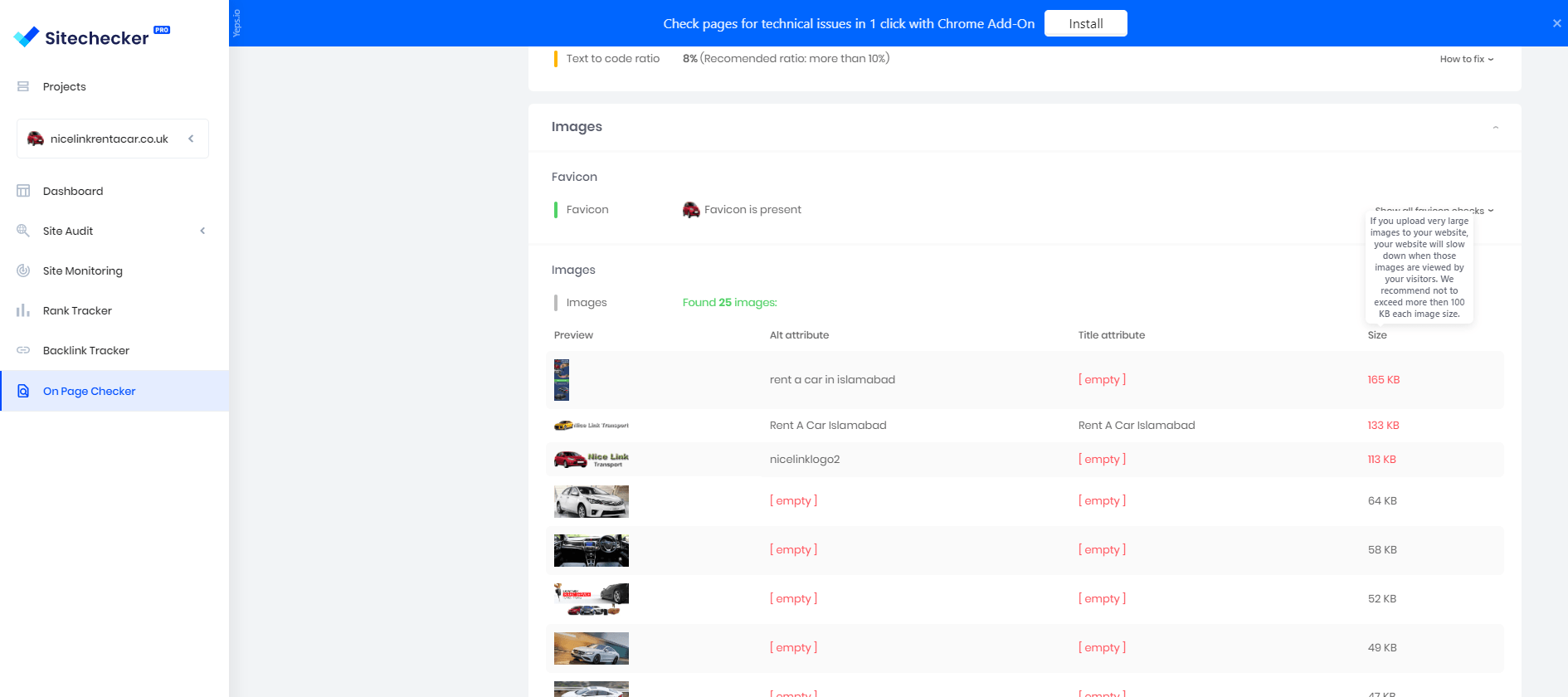 SERP analysis is a very important part of your website's SEO. With this analysis you can monitor the top ranking websites and whether the keywords you are trying to rank are worth spending your time on or not.
In the Analysis of the SERP section, you can see the projections of all of the competitor websites. You can sort them by
You can also enter the exact start and end dates if you want to control your results a bit more. Also, you can sort the graph by different position checks like
No Position
Top 1
Top 3
Top 10
Top 30
Top 50
Top 100
· Keywords on Top 100
The next section is "Keywords on top 100". Here you can see the number of keywords of your project that are in the top 100 SERP. The percentage in the brackets is a percentage of the keyword count. The bottom part shows the dynamical range of the change that the website experienced compared to the previous date.
· Without Position
This section gives you the count of all of the keywords used in your project that are not in the top 100 SERP.  The percentage shown in the brackets is of the total count of the keywords.
· Top 100 Keywords visibility in SERP
In this section, you can see a projection of the top 100 keywords in a certain date-frame. There is a section on top where you can set the dates according to your needs and requirements.
· Top 15 Keywords
In this section, you can see the top keywords that can be seen when you click on the Google search console. From there you can get an idea about what the people are largely searching.
· Traffic and Sales
In order to have the graph displayed, your website has to have Google Analytics crawling it. When that crawling process is complete, you can see your traffic being displayed in blue projects and any ups and down the website must've witnessed.
There is a second section named Sales. Here you can see all of your sales projected if your commerce data is connected to SiteChecker.
· Site Indexation Progress
On this graph, you can see the status of the website being indexed in the last 365 days. This data is accumulated on a per-second basis and it starts to shape up from the moment the project is started.
· Keywords
This is the keywords table where you can add the ones from the list you added while creating the project. Here you can monitor the growth dynamics of the keywords.
Site Audit
The next element on the sidebar after Dashboard is Site Audit. Here you have further two sections which we will describe below.
1.
Summary
In this section, you can monitor the whole state of your website and all of the necessary score and specifications of your website to make a detailed report. In this section, you will see your website score and also the following specs
Critical Errors
Warnings
Notices
2.
Issues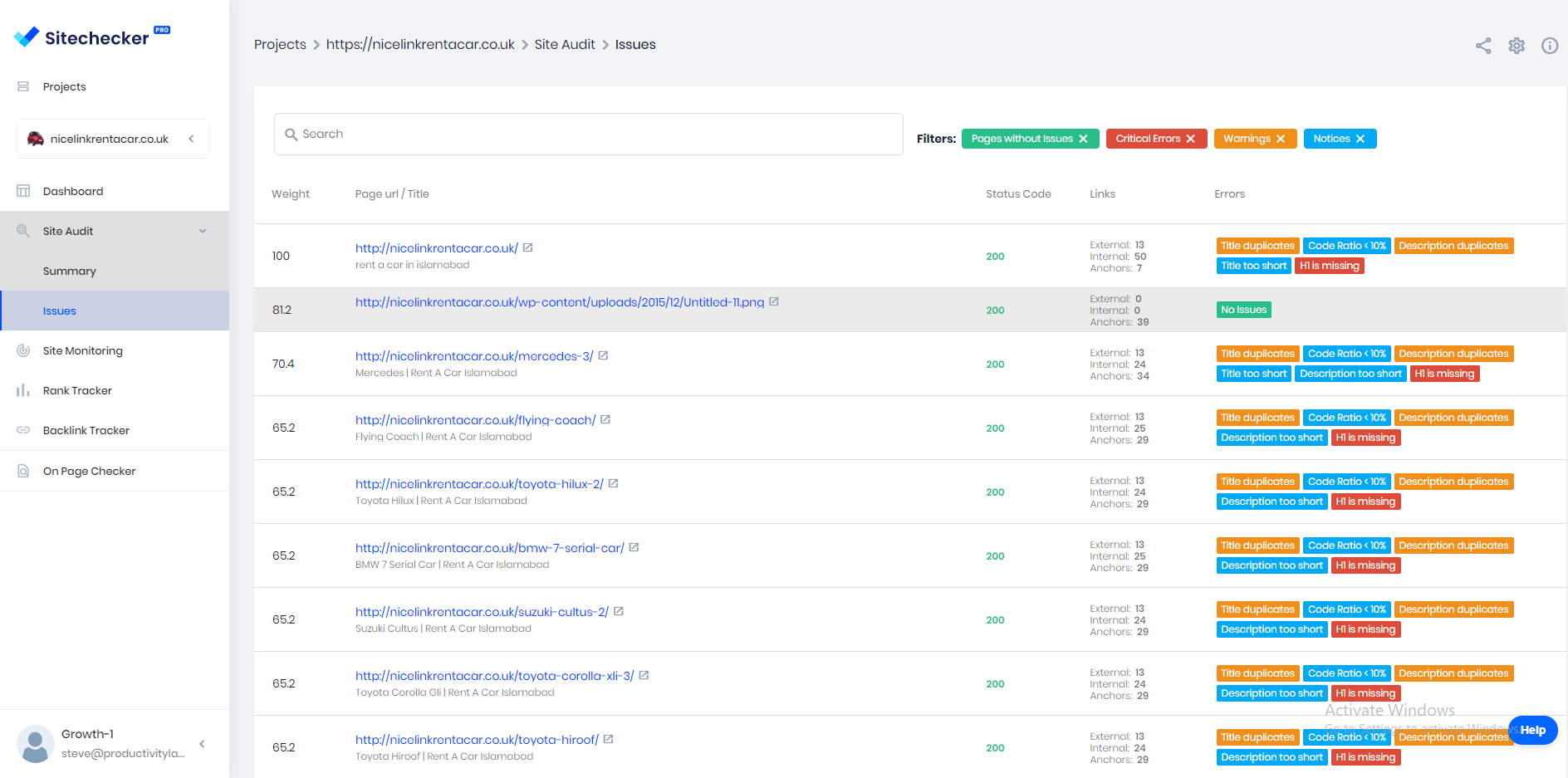 If you want to see the full report or if you want the full details about these three issues (Critical Errors, Warnings or Notices), just click on the button beneath them to display the details.
This detail button will take you to a more comprehensive view of the website's flaws and other elements, which you can monitor and make the website more SEO friendly.
Site Monitoring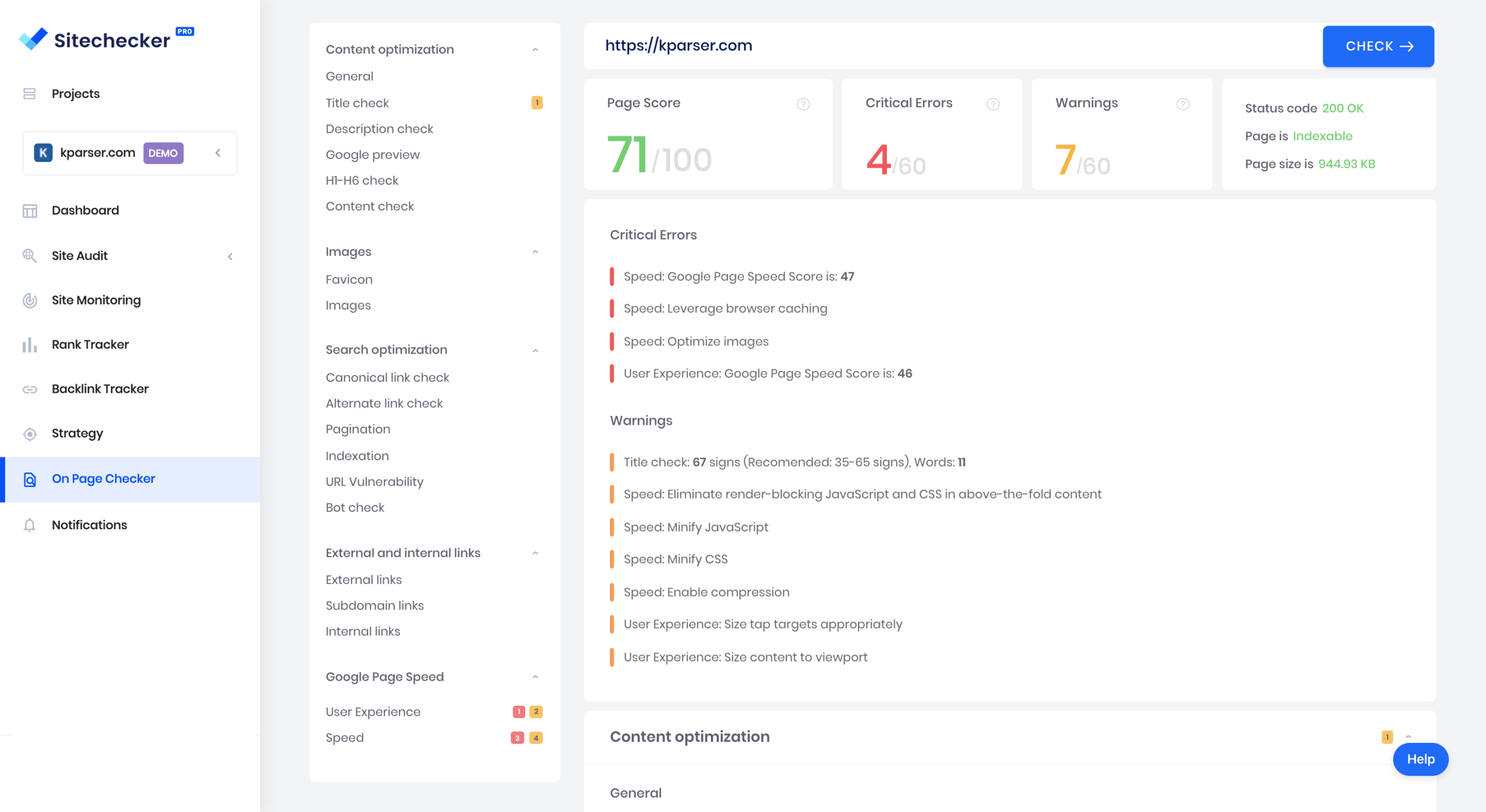 In this section, you can easily any and every chance that your website has gone through on a daily basis. You can monitor the webpage count, or any description change or just any other little or big change that your website has witnessed in the past 24 hours.
Rank Tracker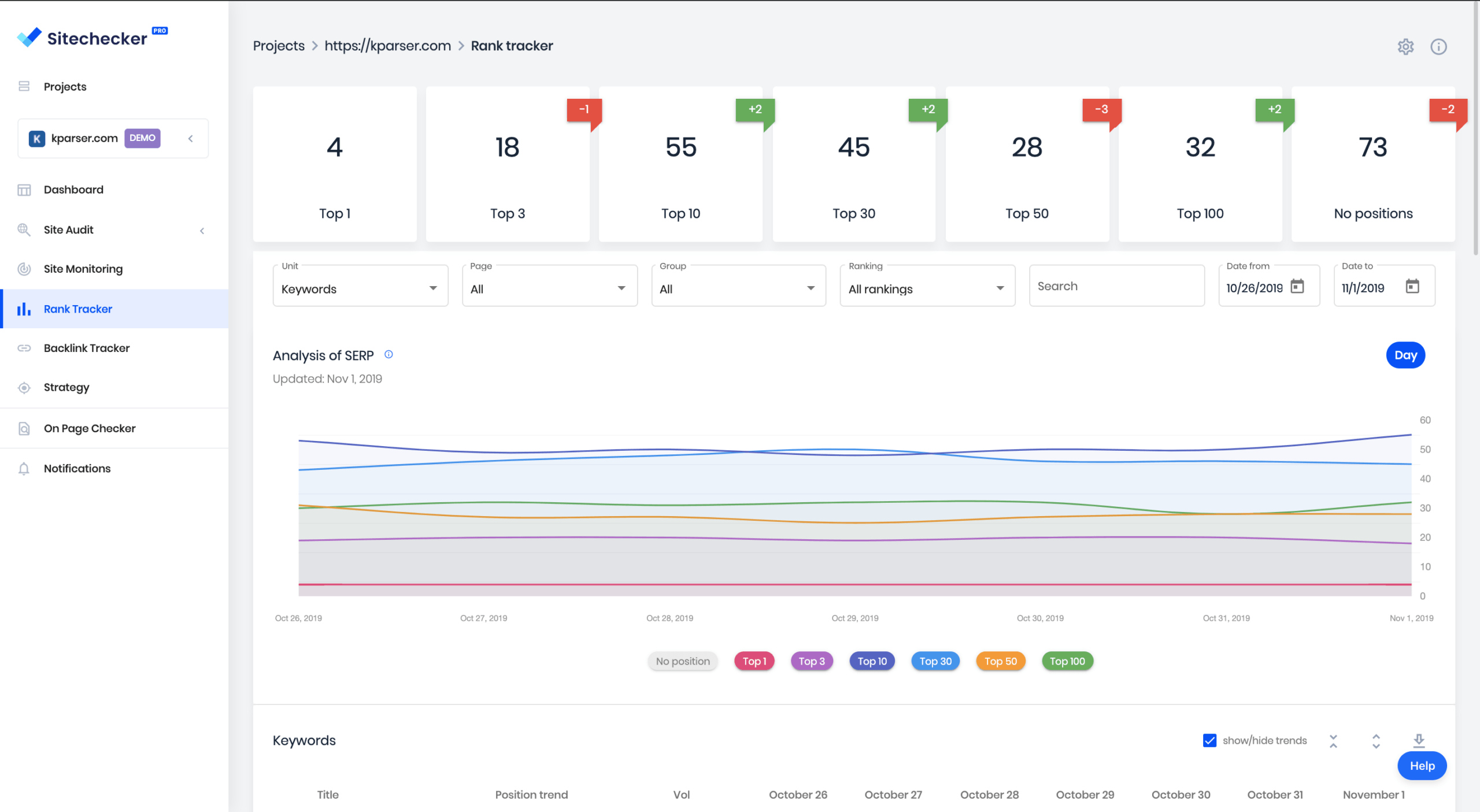 After Site Monitoring, the next element on the sidebar is the Rank Tracker feature. Here you can track the rank of your website according to many different filters. These filters are as follows
Positions (No, Top 1, Top 3, Top 10, Top 30, Top 50, Top 100)
Unit (Keywords, Percentage)
Page
Group
Rankings
Dates
Also, you can see the Analysis of SERP which was discussed before.
Beneath the SERP Analysis, you can see the list of all of the keywords that your project contains with all of the details associated with the keywords. These details are: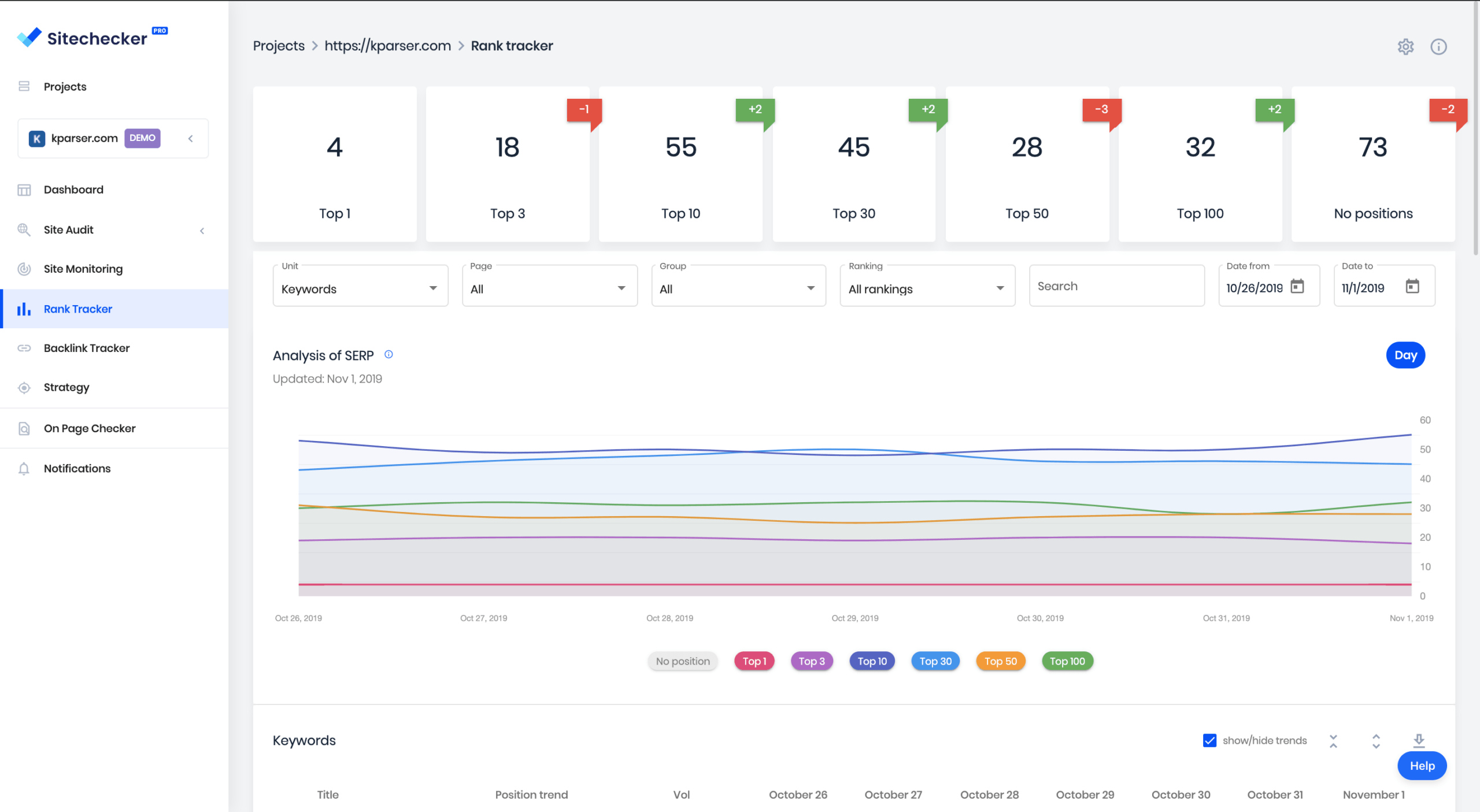 Position Trend (a projection graph of the keyword being searched)
Volume (How many times the keyword was searched)
Next, are the dates of the previous week and the activity that the keywords witnessed on those dates
Backlink Tracker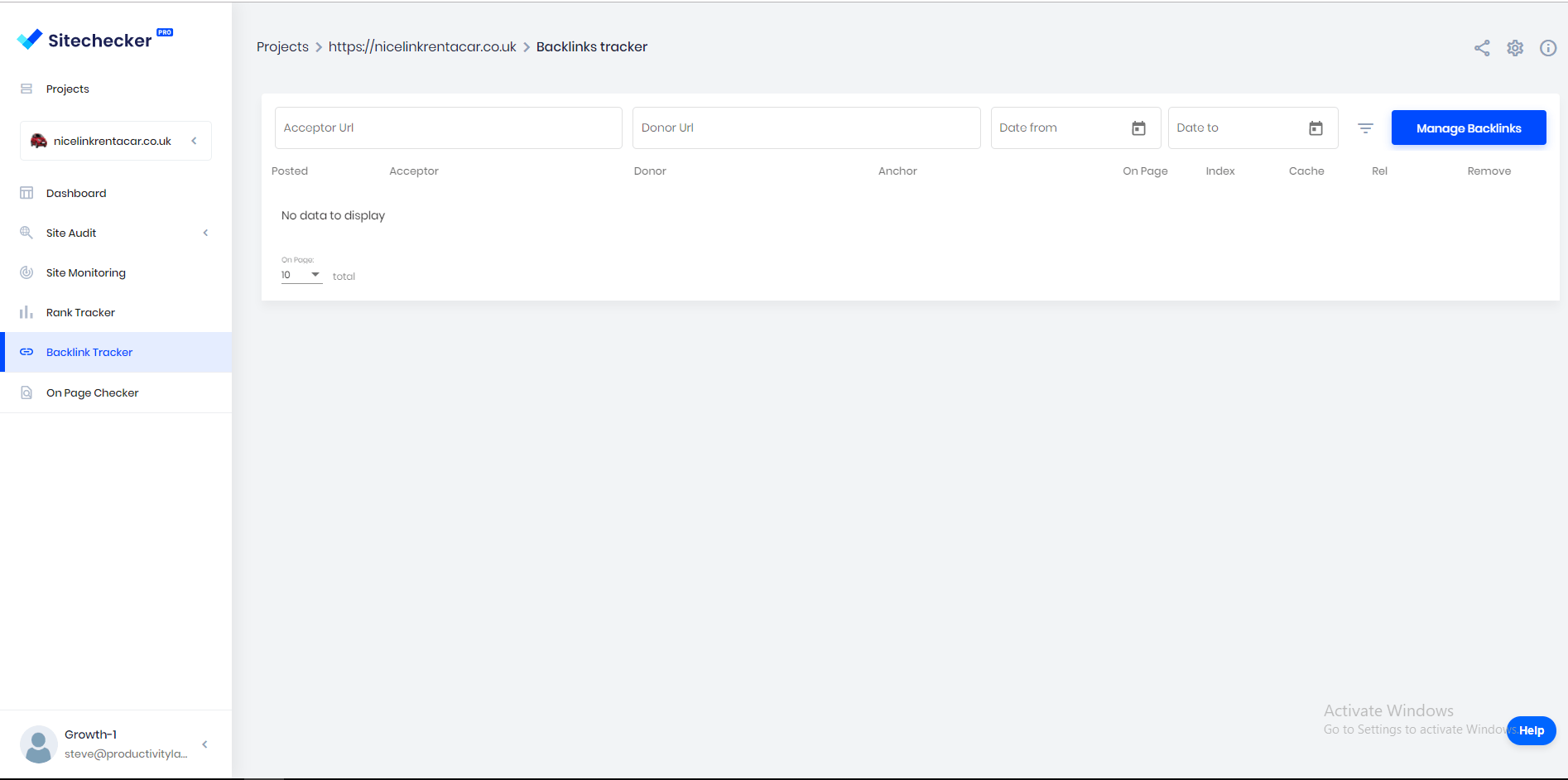 The Backlink tracker is an amazing feature of any SEO application which lets you know what websites are displaying your website on theirs. In this section, you can see a list of all of the websites that are projecting your content and if you want to search a specific URL both on the Acceptor or the Donor's side, you can do so by the individual search bar on top.
There are also some other filters that you can use to display the list according to your needs and requirements.
On-Page Checker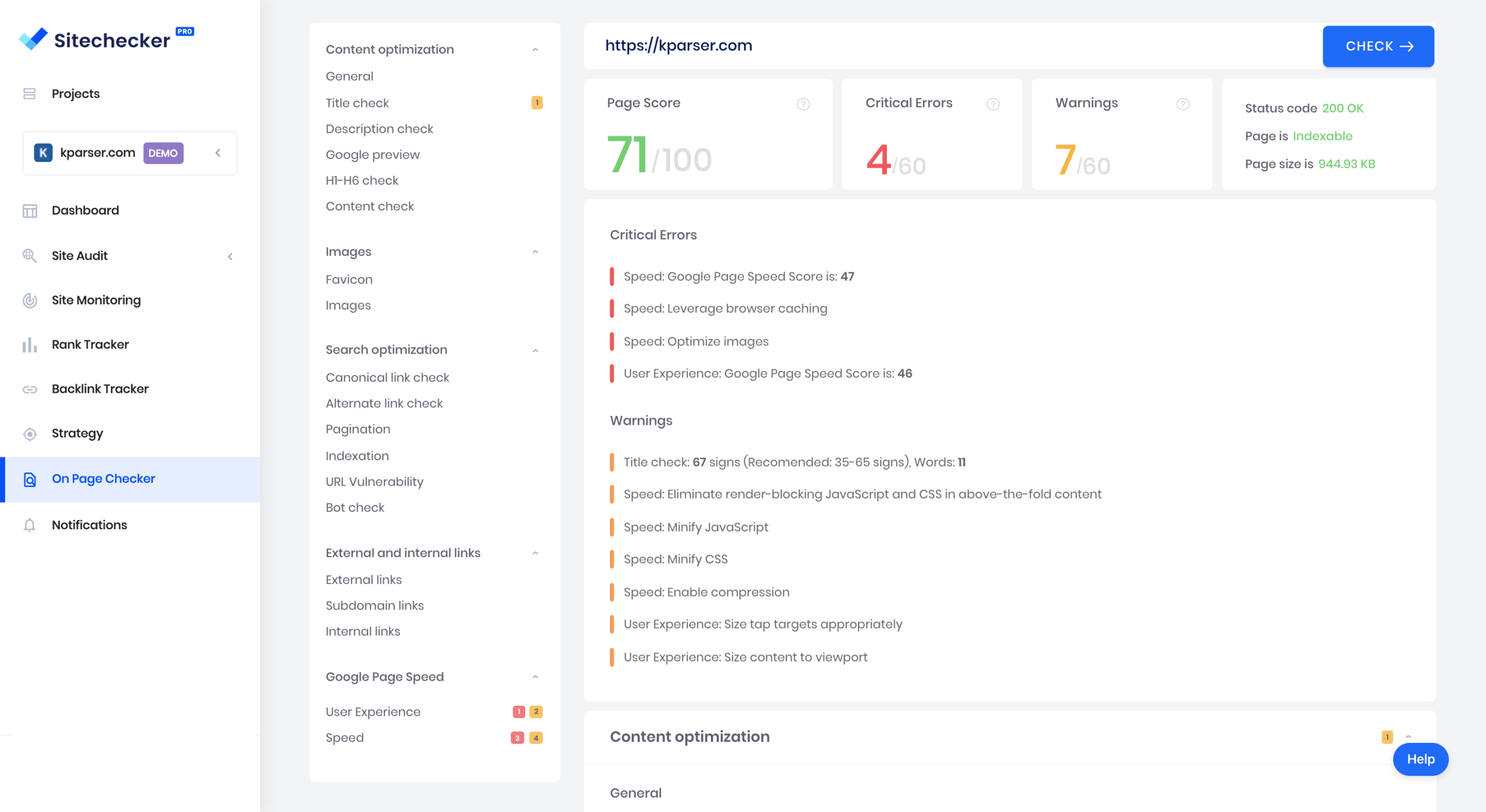 In this section, you can see all of the elements of your website related to SEO. This will contain
Your Metadata Description
Your errors
Content Optimization for all of your written data
Google previews of your website
Heading checks
Image optimizations that are required for a

good SEO score

Your Search Optimizations needed
Your internal and external links that are present on the website
Your subdomains
Internal Links
Mobile preview of your website
User experience elements like Score, Usability, etc.
Lastly, the speed of your website at which the site opens, and you can access the elements in it
SiteChecker Subscriptions – Are They Worth It?
There are three subscriptions offered by the company which you can avail according to the needs and requirements of your website.
The details are in the image below: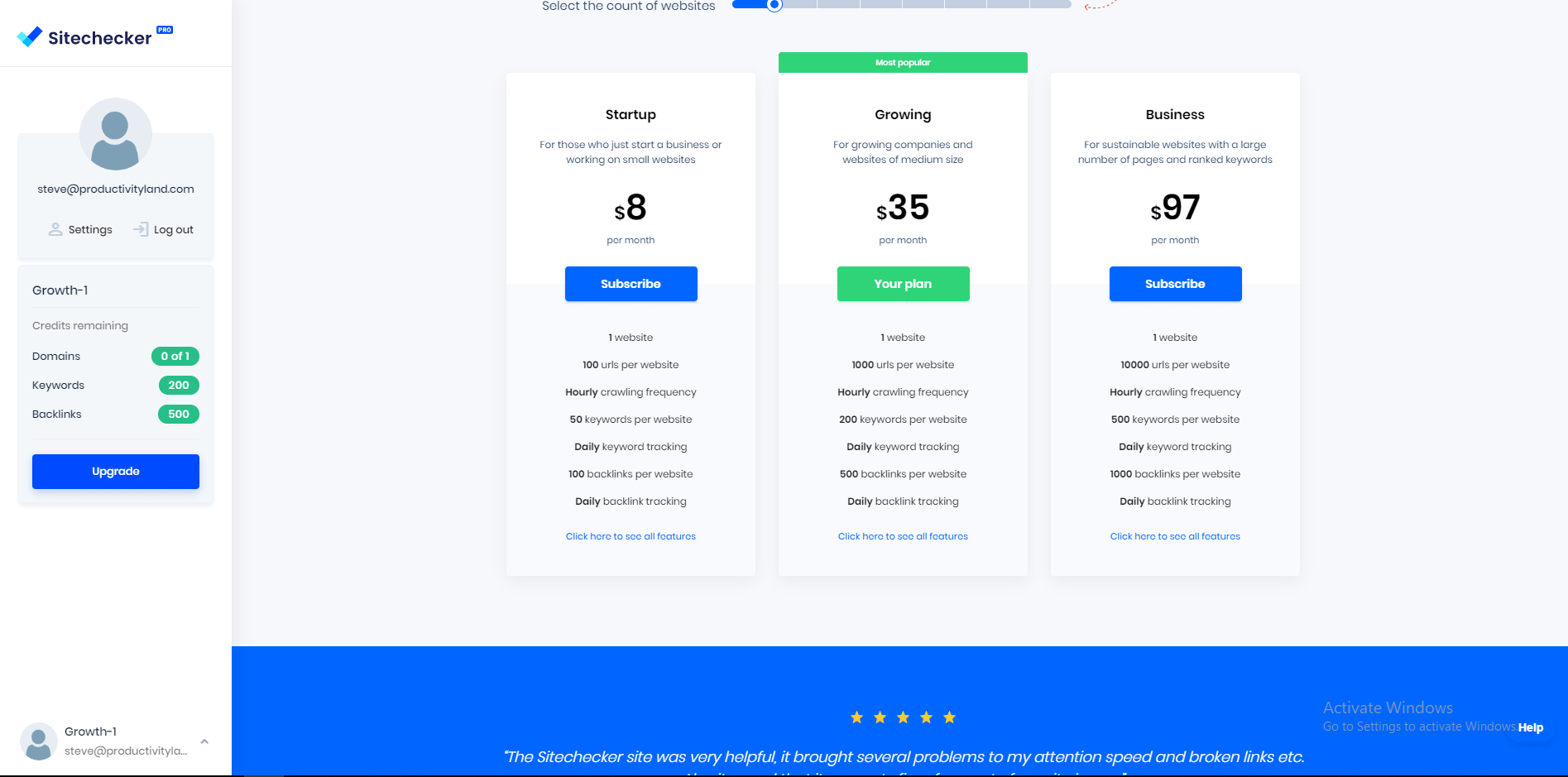 Final Verdict
We had a great experience with SiteChecker and the tools they offer. You should definitely check out their application because, at this price, not a lot of other SEO applications are providing this level of features. Highly Recommended.