Agreed. Every startup is not just about money. There is a vision behind it. There is a goal of creating an impact. But the hard truth is money matters.
Without financial health, it is always vulnerable to extinction After all, it is what keeps the business running. This makes hiring smart so critical when it comes to choosing your accountant.
The problem is it is tricky to find the right fit.
Ideally, an accountant ensures that your ledgers are always on point. Simplifying your cash flow records is the ultimate job of an accountant. But there is so much more value than an accountant brings to your business.
Done right, they can trace the vulnerabilities in your business economy and help devise strategies to improve them. So now the question is how to achieve this?
This blog post exactly addresses this problem. We demystify the process and the elements that can help you find if your shortlisted candidate is the accountant that your company needs.
Tips every Business Should Know While Hiring Accountant
At the core of hiring smart lies three vital elements: hard skill, culture fit, and the learning mindset. Each of these three elements together results in bringing you closer to your ideal candidate. But here's the thing.
While this may look pretty direct, it would take some preparation on your end to validate your choice. Undergo an interview preparation day for yourself so that you are most present while taking the interviews. You can take the help of smart hiring tools to speed up the process but complete automation of this process won't bring you desired results.
So, on that note, let's take a deeper look at the 5 hacks that can ensure you are hiring the right accountant.
1. Look at their core skillset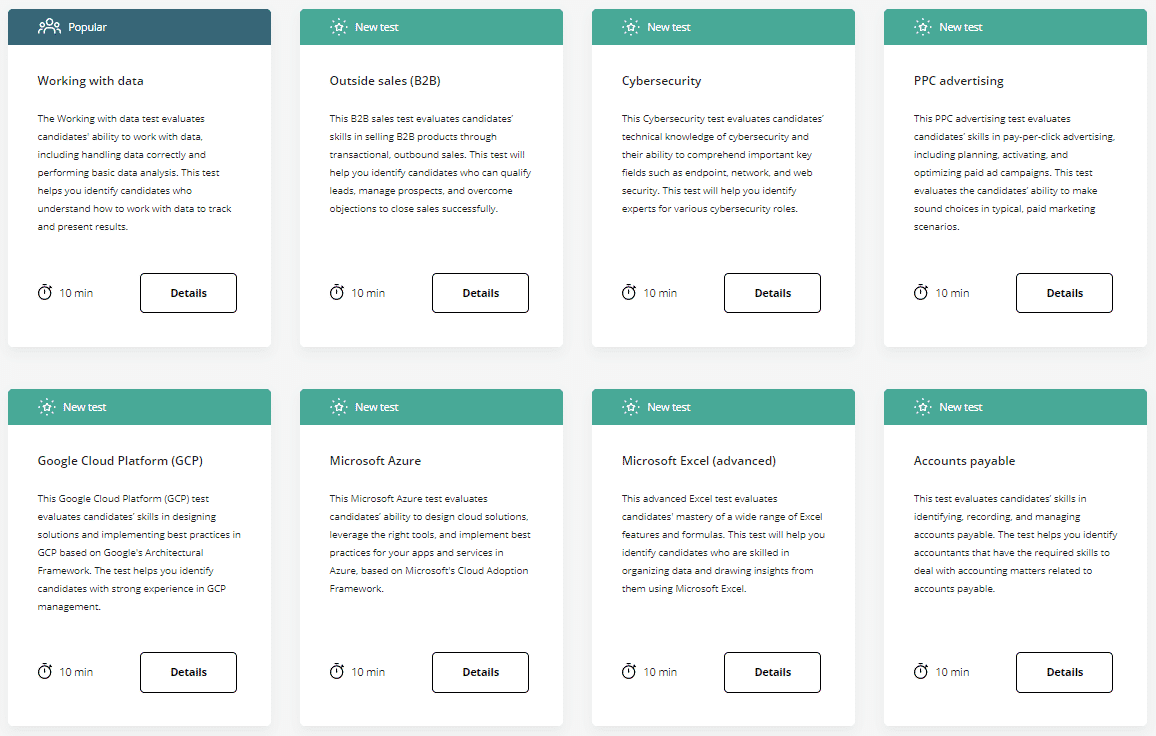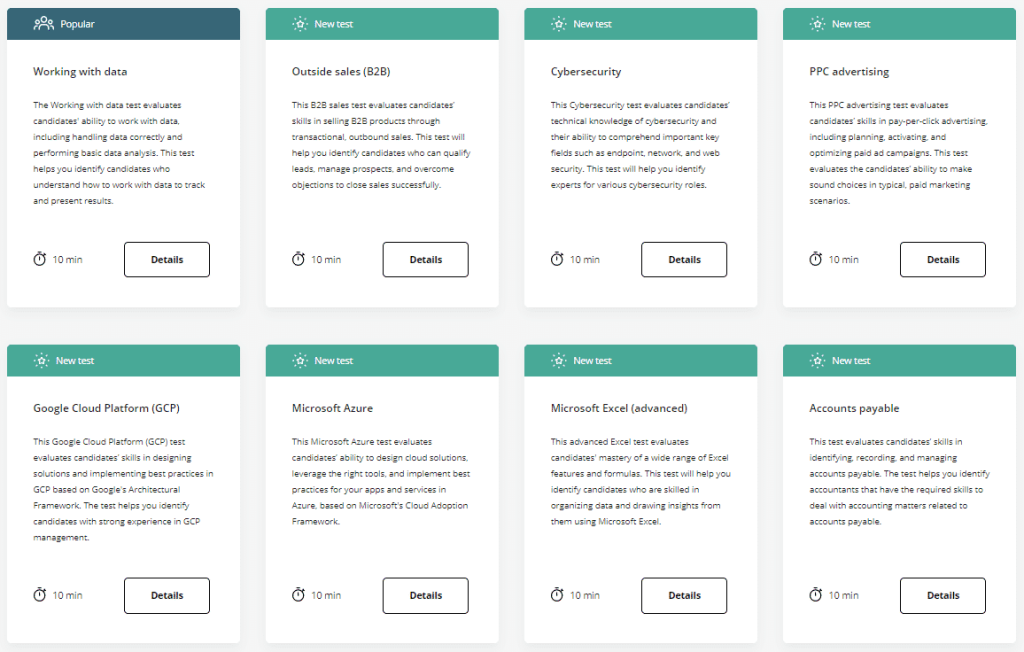 The first job of your accountant is to ensure they are good at maintaining clear ledgers. This should be the first hard skill that you would be looking for. After all, this is what you are hiring them for.
As a general rule of thumb, it is better to hire someone who has undergone some sort of training. Recent studies show that most people can't even tell whether their TPS reports are accurate. So it's important to ask your accountant how long they've been practicing and if they've received any formal training. Also, ask them if they ever underwent any side projects for practicing their skills.
A great way to get validation here is through a quick test.
Let your candidate take an accounts payable test. There are many tools to do so. TestGorilla is unbeatable. The software develops tests by professional and subject matter experts and covers all the skills of an accountant such as managing, recording transactions, finding missing information, and reconciling accounts payable, and more. This means there will be no area that you would miss validating your potential candidate. Moreover, it speeds up your complete hiring process.
2. Check for experience
The thing with accounting is that experience matters.
Accounting skills are not something that can be learned overnight. It needs knowledge, practice, and skill. Without having prior experience with handling multiple accounts a newbie accountant no matter how talented is often puzzled. This means it is not efficient for your business to be supported solely by this employee. Sure, you can hire them as assistant accountants.
You can always ask for recommendations and suggestions if you are not completely confident in this process.
A good accountant will be able to recommend prospective candidates and will have relevant experience with the type of business you run. You can prepare a set of questions for your candidates. Ask if they know about any accountant software from their earlier employment scope. There are many processes of accounting that if done manually consume significant time instead of automation. Software knowledge is thus critical here. Find out if they are tech-savvy. Quickbooks is a great tool here.
Hiring an experienced accountant also has its long-term and maintenance benefits. Hiring someone experienced doesn't require you to invest in their heavy training. Also, when you would be developing your complete accounting team, this senior accountant can be a huge asset in recruiting and training your next employees.
Featured Resource:
The 10 Best Accounting Software for Small Businesses in 2021
3. Figure out the right mindset
Hard skill for sure is the starting point for your accountant search but it is far from over.
Ensuring that your candidate has the right mindset towards working in your company is a huge step here.
Understanding your candidate's ambitions, aspirations, and goals in life would give you a better glimpse at whom you are talking to. Experience and expertise matter but not at the cost of ethics. Mindset understanding will give you a hint into their work ethics.
If your candidate is not a fit for your business culture, the best option is not to go for. Also, check if your candidate is open to learning.
Having a learner's mindset is a major asset when hiring employees. It ensures that your team is always learning and improving their skills. This will give your business a competitive edge over others.
So, now the question is how to conduct such an interview. Face-to-face interviews are the best way to ensure you can understand this. Body language plays a critical role in determining personality. But that is not all. You would need to ensure you ask critical questions. Asking the right questions can ensure that you reveal the most natural self of your candidates.
As it is, in interviews, candidates come with a mindset of trained answers and conscious behavior. The more you can put them in their most natural behavior the better you would understand their ethics towards work.
4. Check management skills
Impeccable management is one of the most desirable skills of an accountant. After all, this is one soft skill that ensures that your ledgers would be prim and proper.
Checking the approach that your candidate uses in making a timesheet can tell you a lot here. This is something that your accountant would be doing a lot. From employee productivity, firm profitability, your accountant would create the salary of the employee, invoices of the clients, and more. All of these tasks require time tracking. Using a tool here can be heavily beneficial.
There are many tools out there for timesheet management that can be used for time management such as Hubstaff, Prohance, TrackG2, Desktime, etc. However, Time Analytics is the most powerful.
This time tracking tool is designed for accounting firms. It comes with many features such as time-tracking for employees, projects, clients, working tasks, expenses tracking, client monitoring, invoice assistant, and calculation profit per client. You can manage user permission and client access.
There are multifarious benefits of using this tool: it provides strict control, easy calculation, cost evaluation, insights of overtime and overtime resources, and transparent invoicing.
Related:
6 Best Hubstaff Alternative(s) To Up Your Project Management Game
5. Ask for a reference
The best thing about business networking is the quality of talent that you would personally know. Recommendation sparks the trust between the candidate and the founder. Asking for a referral from your known network can ensure you are getting the right candidate on board. But undergoing basic validation is still required. But here's the thing.
Do not hire too fast.
It can potentially cost you more. Comparing fees with other competent accountants is essential. Use your network and talk to others and take a final strategic decision that meets all your short-term and long-term goals. But remember, when you are comparing, ensure that you analogize two candidates of the same strengths: experience, qualifications, and performance against each other. Only then you would get a true picture.
A smart way to leverage your network is using social media. Post on social media in your business network to get an idea about the particular you are hiring to know if the person you are planning to hire is the right one for your business or not.
There are different types of business network tools such as Linkedin, Meetup, etc. Linkedin is indeed the leading business network social media platform. Linkedin is the right place to find references and hiring accountants for your business.
Conclusion
So now when you know how to approach your accountant hiring, it's action time.
Be selective with candidates. Collect data from different candidates and invest time while choosing one because he will be dealing with all your important financial matters and eventually leads your business to heights.
An accountant is important or you can say a key member in your business. You need someone who is reliable, experienced, trustworthy, and well versed with technologies. He needs to be on his toe for your business.
From managing employees, invoices creating, client management, and all financial advice and support are done by an accountant. So, considering all you need to choose wisely.
Accounting should be on his tips. The wrong choice can make your business pay the cost.
You have gone through all the best 5 tips while hiring the right candidate. Are there any other tips that you would like to add here? Which you will look into your next accountant hiring?
---
Also Read: