Two tools immediately come to mind when evaluating on-premise team collaboration tools, and prospective customers pay them a lot of thought. Initially, it may start as a comparison, but eventually, it would transition to a league between Troop Messenger vs. Mattermost.
Let's start with the introduction before delving into the Mattermost vs.Troop Messenger topic.
What is On-Premise?
On-premises software is installed and run on PCs inside the user's or organization's building rather than on a cloud or server farm.
It takes a lot of resources and knowledge to deal with the complexities of data center security. The cost of protecting operations and averting assaults must be high to keep up with existing and upcoming challenges. Datacenter security spends a sizable budget on safety and risk management, indicating the importance of this area in the rapidly changing digital world.
Unlike instant messaging software, an on-premise chat app lets you operate behind your firewall or in your private clouds such as Azure or AWS, securing your data and negating cyber attacks.
To assist you in choosing which tool to employ as your on-premise chat, the capabilities of both the collaboration tools Troop Messenger and Mattermost are detailed here.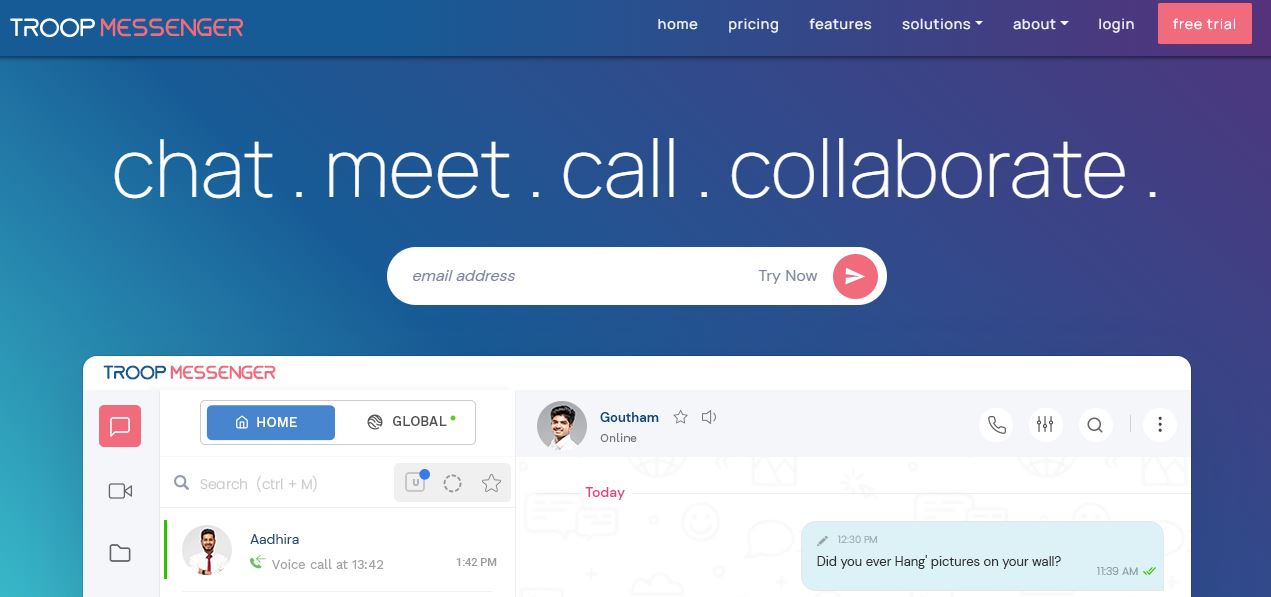 Troop Messenger's on-premise chat allows you to store a confidential and sensitive call and conversation data in your data centers thanks to its simple deployment and high level of security. Troop Messenger developed this intranet-compliant, self-hosted collaboration solution with a chatting server to make your workplace communication go smoothly.
Troop Messenger employed procedures like network security and hardening, yearly penetration testing, system monitoring, human and automated source code reviews, and more for self-hosted secure messaging.
Security
Troop Messenger offers its users various excellent security features, prompting defense agencies, corporate entities, political parties, space stations, etc., to use it as their official communication platform. Some of these enhancements include:
Role-based access controls,
AES-256, Military grade encryption,
Multi-factor authentication,
Mobile device management,
LDAP/ SSO,
User authorization,
Backup & restoration, etc.
Troop Messenger's compatibility with air-gap networks sets it apart from other on-premise team collaboration tools. You can be sure there won't be any third-party incursion to access your essential or standard data because it operates on Air-Gapped networks.
Air-Gap Network
Defense agencies of a select few powerful nations have been persuaded to employ Troop Messenger for defense collaboration services because it is also compliant with an air-gap network. You may therefore appreciate how secure Troop Messenger is.
Computers that have been physically separated from the internet or any network are known as "air-gapped" computers, and compliance-conscious businesses and cyber professionals frequently use them. In other words, an air-gapped computer is not directly linked to the internet or to any other system that hosts the World Wide Web. If this air gap is created, the bulk of cyberattacks can be significantly reduced. An air-gapped network's two primary purposes are security and low-bandwidth effectiveness.
Any defense software, like a chat app, operates on segregated networks called "Air-Gapped networks" to protect defense communication. It can be used when the latency is high, and bandwidth is constrained, like satellite broadcasting. It also saves the administrator against data loss by enabling speedy data retrieval.
Top Priorities
If the following are your top priorities, choose Troop Messenger.
Advanced access controls
Custom themes
White labeling
On-Liner docker install
Private cloud deployment
Security from third-party monitoring
Transparent system updates
UI/ UX customization
Variable Data retention policies
Support multi-languages
Features
Troop Messenger features include advanced functionalities in addition to the standard ones, like chatting, file sharing, audio and video calls, conferences, remote access, screen sharing, and others.
Burn Out (Incognito chat window),
Fork Out (Bulk messaging),
File management,
Live location tracking,
Code snippet,
Trumpet,
Respond later, etc.
Mattermost
With a quick search, continuous archiving, and limitless integrations, Mattermost, Inc. is a company built on the Mattermost open-source project, a messaging collaboration platform enabling team communication across mobile, web, and PC.
Mattermost enables seamless online conversation with file sharing, integrations, and self-hosting is possible with. It is intended to be used by organizations and businesses as an internal chat.
Mattermost developed as an open-source and on-premise version that is free for specific communities, in addition to a commercial edition that expands and enriches the open-source version with paid, subscription-based options accessible in both on-premises and cloud deployment modes.
The implementation of Mattermost is supported by the on-premise strategy and self-hosted servers, virtual or physical servers, and IT-controlled private environments in public clouds, including AWS, Azure, GCP, and Oracle Cloud. To activate your subscription for the on-premise option, you must send in the license file you will receive.
This application was developed using Golang and React, and after installation and configuration, it functions as a standalone Linux binary that connects to a MySQL or PostgreSQL server.
Security
Organizations that care about privacy can rely on Mattermost for a cutting-edge communication platform.
TLS encryption with 2048-bit RSA,
MFA enforcement,
Secure installation with cutting-edge security features at the user's data center,
The operation behind the firewall,
Custom enterprise mobility management,
Single-sign-on, etc.
Top Priorities
Choose Mattermost if the following are your top priorities.
Open Source tool
Security from any third-party monitoring
Variable Data retention policies
Custom themes
Advanced access controls
Native eDiscovery Compliance Support
Multi-language Support
White-labeling
UI-UX Customization
Transparent System updates
One-Liner Docker Install
Markdown Support
Features
The following list includes some of the primary and distinctive Mattermost features:
Chatting,
Files exchange,
Audio/ video group calls,
Screen sharing,
Threaded discussions,
Active cards,
Markdown and formatting toolbar,
Code snippet
Custom branding, etc.
Conclusion
Putting Troop Messenger vs. Mattermostaside, Mattermost's official website frequently touts itself as a Slack alternative, indicating that it is the best team collaboration solution available. At least in the evolving digital world, a tool like Slack that lacks key essential capabilities like video conferencing, on-premise model, and others can't compete with the other communication platforms.
Therefore, Mattermost might be a better tool than Slack in its core functionality. Still, Troop Messenger outperforms the competition with its features, especially the air-gap network, confirming that it is better than Mattermost. Additionally, Troop Messenger pricing appears to be more affordable than Mattermost pricing.
More Readings: