Marketers are diverse. We have different skill sets, we're trying to reach different audiences (B2B, B2C, B2G, etc.) and we market a lot of different products and services. However, despite our professional differences, it turns out that we share many of the same priorities. 
In the Second Annual State of Agile Marketing Report, AgileSherpas and CoSchedule polled 400+ marketers from a wide variety of industries and specialized in various facets of the marketing landscape. When asked to identify their number one professional day-to-day priority, marketers of all kinds put similar priorities at the top of their lists. 
All of them emphasized quality, prioritization, and speed over other objectives such as increased productivity and employee satisfaction. 
 They ranked the following priorities:
● Producing higher quality work 52%
● Prioritizing the most important work 43%
● Releasing marketing work more quickly 41%
● Ability to change gears in response to feedback 39%
● Better alignment with organizational goals and objectives 39%
● Increased productivity of marketing teams 38%
● Increased employee satisfaction and morale 23%
When we put these priorities alongside the benefits of Agile marketing — flexibility, speed, faster response times, and alignment with business goals — it's clear that Agile teams are far more likely to achieve their goals than traditional marketers. But, Agile marketers don't become Agile overnight. 
The most successful teams among them introduce Agile practices iteratively into their process. They don't flip the switch overnight. If you're eyeing your own marketing priorities and wondering if Agile might help you achieve them, here are some simple ways to test into the approach without blowing your whole team-up. 
If you're just beginning to implement Agile practices…
When you're ready to try implementing Agile methodology into the way your team works, integrating some or all of the following practices can change your daily collaboration for the better. 
The Daily Standup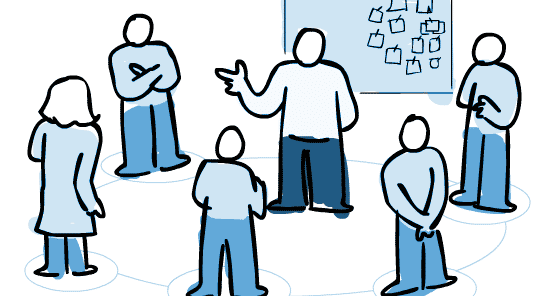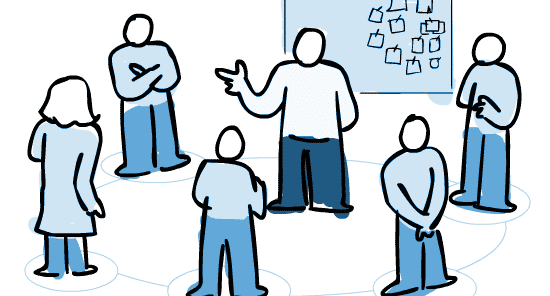 Source: Loons Lab
The daily standup is an easy way to start creating more touchpoints between your team members and members of other teams who are involved in your initiatives. These brief daily morning (15 minutes maximum) meetings follow a basic structure during which each team member shares a summary of:
● What they did yesterday
● What they're planning on tackling today
● Any blockers that are preventing them from moving forward on their tasks
Daily standups should be as succinct as possible and involve no more than the number of team members it would take to eat two pizzas. These short and sweet touchpoints are meant to minimize the team's need for longer meetings during the day and to prevent tasks from derailing.
According to the State of Agile Marketing Report from 2019, 44% of Agile Marketers are already hosting daily standups with their teams. Will you join them?
Kanban or Scrum Boards
The team can easily visualize the flow of their daily tasks by using a digital or physical Kanban board to map out their workflow. 
The goal here is to prevent work or blockers from staying hidden and to create more transparency in the work process. Although only about 12% of Agile marketing teams report using Kanban boards, this practice is picking up speed at a noticeable pace. 
Kanban boards and other methods of visualizing work have been proven to help the team prioritize tasks and plan more effectively. Kanban or Scrum boards (both physical and digital) typically include:
● Columns to separate the stages of progress work must go through to be considered done
● Rows to separate types of work items
● Post-its or digital cards to symbolize individual tasks
● Work in Progress (WIP) limits to show how many tasks are allowed to be at a certain stage at a given moment 
● Assignees to indicate which team member is responsible for which task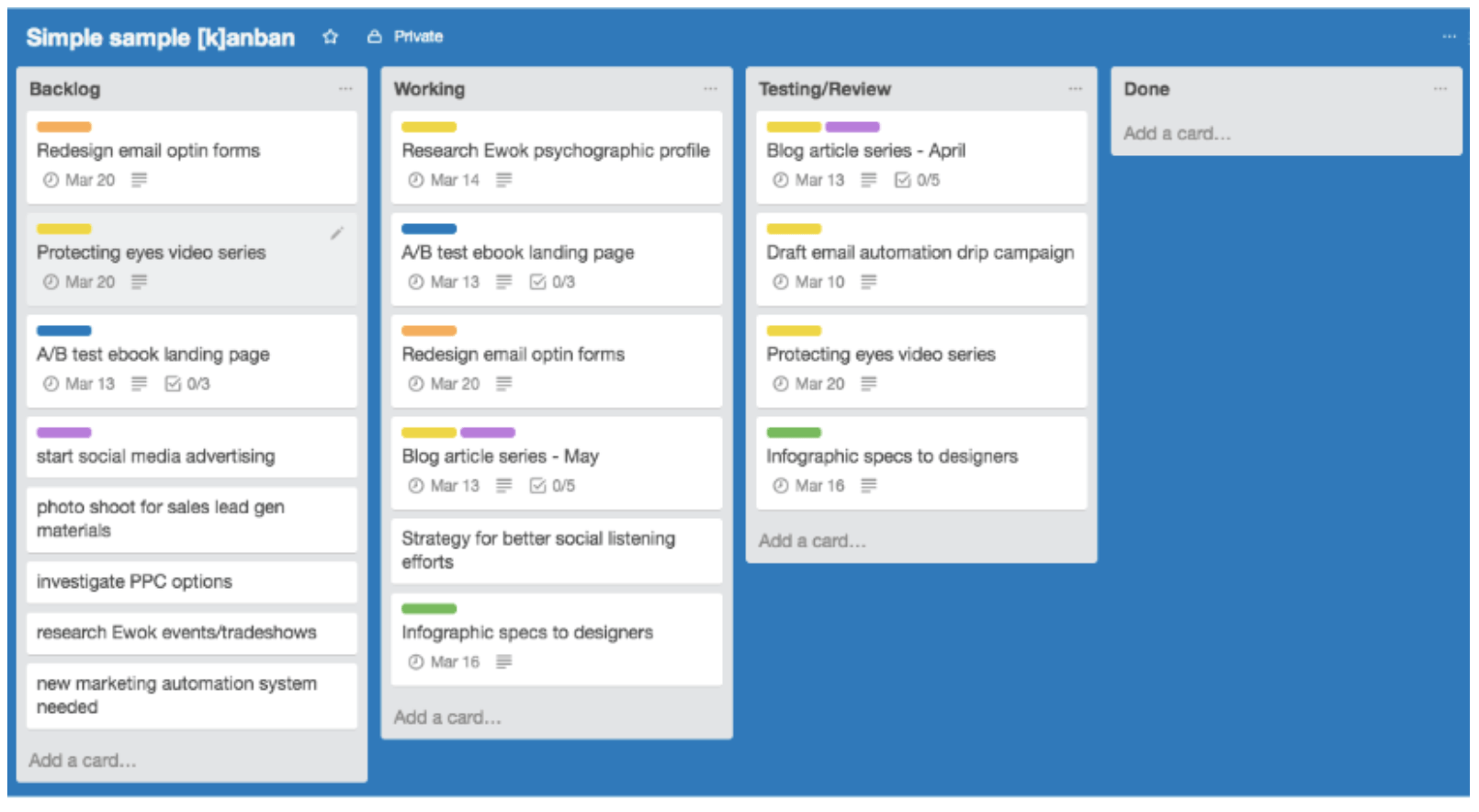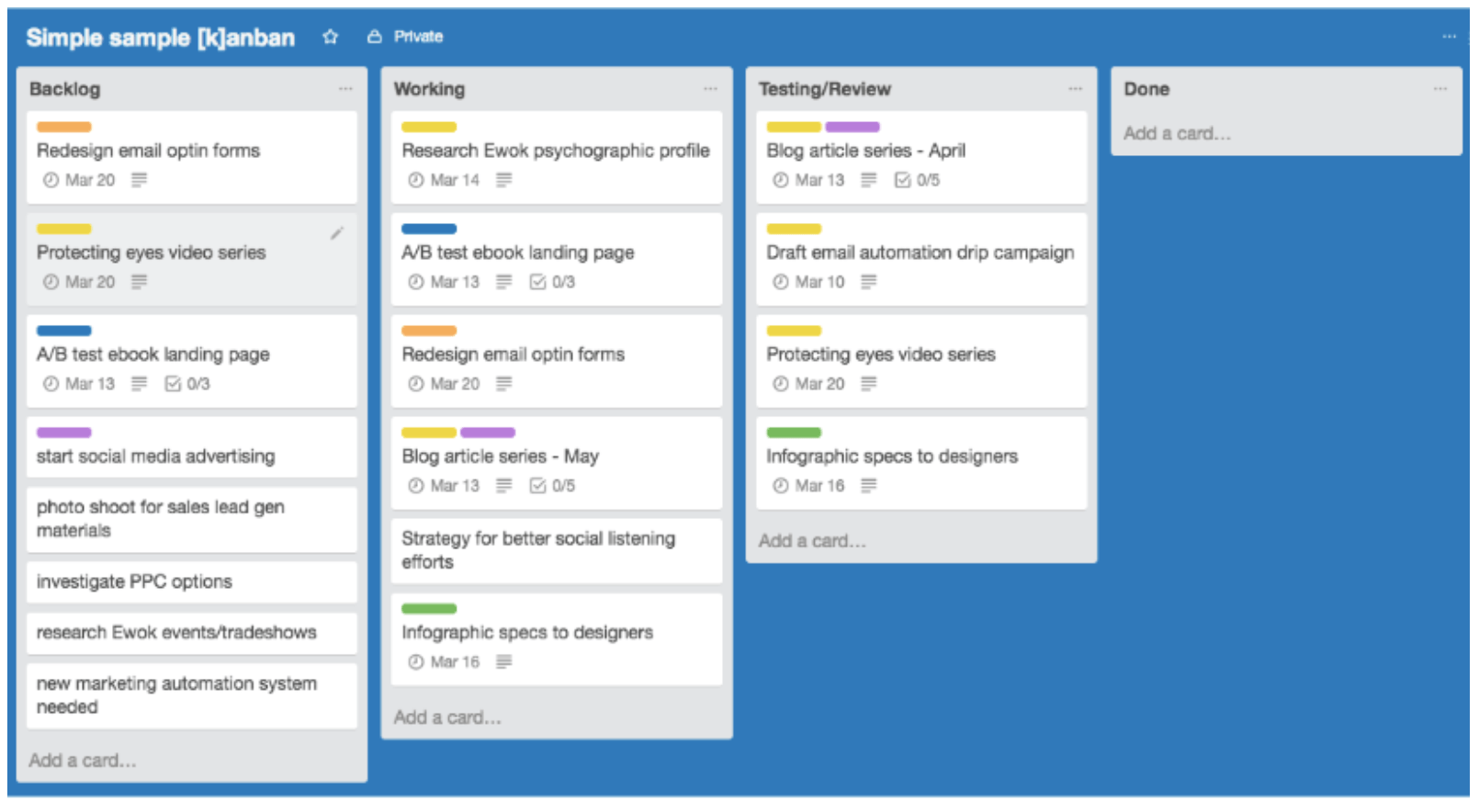 (Get some great tips about setting up your team's first Kanban board here.)
Work in Progress (WIP) Limits
Work in progress (WIP) limits act as a way to restrict the maximum number of work items in the different stages of your team's workflow. Applying WIP limits helps the team complete work faster by focusing only on current tasks. WIP limits, if used correctly, can transform the pace at which your team functions. 
Thirty-one percent of Agile marketing teams have already discovered that limiting how many tasks they are working on at a given time helps them complete tasks faster, prevents multitasking, and avoids overloading of individual team members while others are idle. It's important to note that WIP limits may change at the discretion of a Scrum Master (if you have one) or the team members themselves. 
WIP limits may be affected by the phase of the process they refer to, the project that's in the workflow at that moment, or the number of team members with particular expertise participating in the workflow. 
The recommended initial WIP limit for a team is the number of active team members working on a given project. That way, the team ensures that each member is working on one work item at a time and moving forward only when that work item is completed.
For example, a team of five working on a landing page for a particular audience can limit WIP limit to five work items. This way, each member of the team can only be working on one task at once, instead of multi-tasking between two or more half-finished pieces of work.
User Stories 


Source: Storyboardthat.com by Alex Cowan
Agile marketing user stories are just a customer-centric way of talking about the work we need to get done. Within our teams, user stories are a way to communicate our task from the perspective of the customer and usually follow the structure shown above.
A whopping 42% of marketers out there are using user stories as a high-level format to define the requirements of their projects. Why are so many marketers on board with user stories? Because they are so simple to adopt! In fact, you may already be using user stories without knowing it. 
User stories are just a customer-centric way of talking about the work we're planning to do. Being customer-centric is, or should definitely be, in the DNA of marketers. That's why this way of approaching tasks as a user story just clicks with the marketing mindset.  Curious to see some examples of user stories in action? Check them out here.
Integrating Agile rituals into your day-to-day process… 
For intermediate Agile marketers, rituals, and meetings aimed at continually improving the process itself as well as the quality of the work, it produces become vitally important.

Source: Visual Paradigm
Iteration planning
If you're an intermediate Agilist, you're probably already parsing your larger initiatives into iterations. An iteration (or if you ask Scrum fans – a sprint) is a set period of time during which specific tasks must be completed. It represents an active period of work for the team, heads down, sleeves rolled up, working towards a common goal.  
These periods are often two weeks in duration but can be one week, or even a month, depending on the nature of the project. No team should launch an iteration before hosting a planning session with the team. 
During the iteration planning, the team decides on priorities, goes into a more detailed definition of tasks and commits to what it believes it can accomplish over the course of the iteration. This exercise is essential to expectation management on all levels, so don't skip it!. 
More than 27% of marketers polled to determine the state of Agile marketing are hosting planning meetings, but I suspect that as more beginner Agilists mature, this number will rise exponentially.
Iteration Review
If planning kicks off an iteration, then the review is the finish line. 
An iteration review is an opportunity for the team to present what they managed to complete during the period of active work, what they didn't get to, and connect individual work items to the bigger picture of the entire project. 
http://productivityland.com/float-resource-scheduling-software-review-pricing-and-features/
During the review, the team assesses the results against the goal of the sprint decided in the planning meeting. Twenty-two percent of Agile marketers host a review meeting, in which finished work is presented. 
If you're wondering what the 5% of marketers who are planning but not reviewing are doing, chances are they're hosting only the retrospective meeting
Retrospectives 
In fact, some marketing teams host retrospectives without ever planning and reviewing work on an iteration basis.  It's best to do all three over the course of an iteration because each ritual focuses on a very specific objective. 
The retrospective, for example, is an opportunity for the team to reflect on the process itself, instead of what they worked on. Regularly critiquing process and finding solutions to process problems in the team is essential to continuously improve the way the team works.  Maybe that's why 32% of marketers are already hosting retrospectives. 
At the end of your next iteration, don't be afraid to ask, "What went wrong?" and "How can we fix it next time?"
Advanced Agile practices 
Important disclaimer: these practices should wait until you've got the ones above down pat.
Estimation
Sixteen percent of Agile marketers are already estimating the size of their tasks before they assign them a priority within the team's workflow.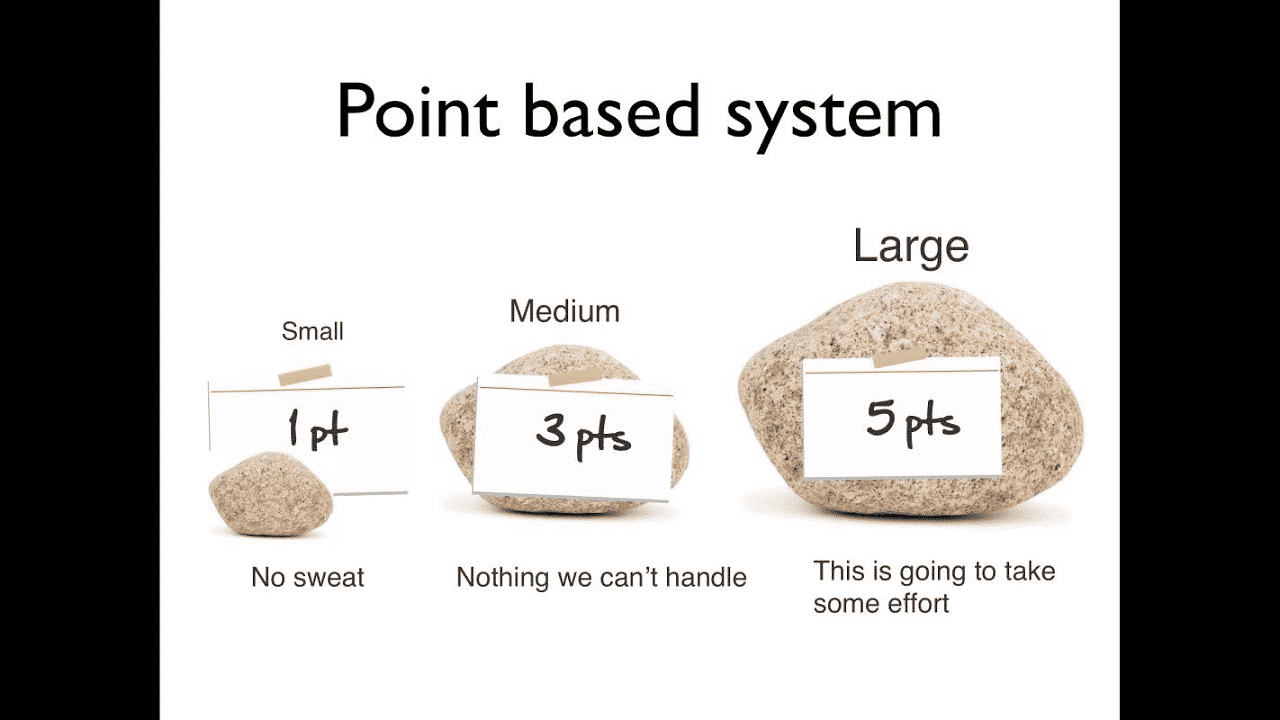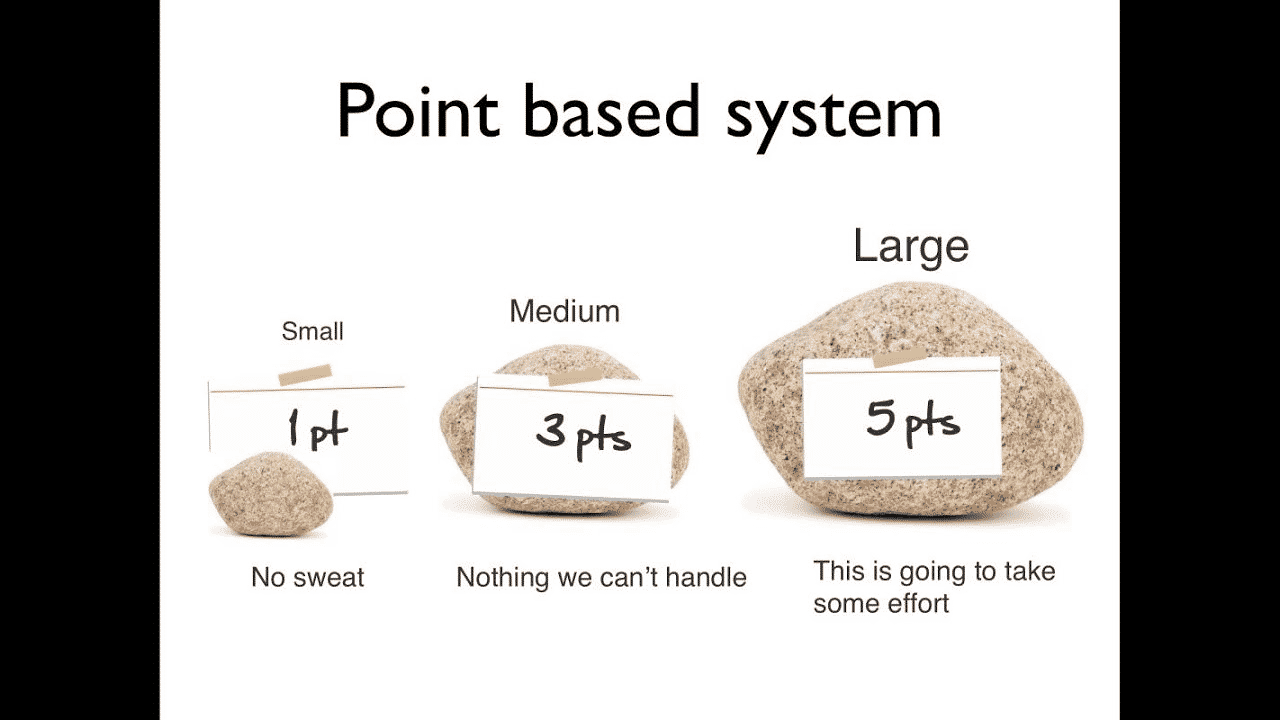 Source: Jonathan Rasmusson
Getting a consensus from the team about how long something will take or how complex it is to execute creates a more realistic image of the work itself and can help the team prioritize. 
Including the team members that are closest to the execution of the work itself in the estimation has been proven to increase employee satisfaction and morale. 
If you're interested in working on this particular practice, you can learn more about Planning Poker, an Agile estimation technique you could use with your team at your next planning session. 
Frequent releases
To a marketing team, releasing finished, high-quality work to the customer more frequently is the Mecca of an Agile transformation. If the team can increase the pace at which it delivers high-quality work to the customer, this improvement won't go unnoticed. However, releasing unfinished work (also known as an MVP, or minimum viable product) for early customer feedback can also be an extremely powerful approach. 
Twenty-six percent of marketers are already releasing more frequently in order to get feedback on their tasks in the name of delivering a higher quality finished product at the end of the process. Releasing frequently can be achieved with either shorter iterations, and tighter work in progress limits, or a combination of both. 
Reach Your Goals with Agile Marketing
If you're a marketer that cares about delivering high-quality work, prioritizing what matters, and reacting to your changing environment, then integrating these Agile practices systematically can help you and your team come closer to becoming the marketers of your dreams. 
As you try out these practices, don't forget that none of them operate as standalone solutions to marketing challenges.  Test them out in order, starting with the most basic, then tailor them to your team's particular needs. 
Eventually, as you get used to applying them to your daily workflow, you will be able to add layers of complexity as well as more advanced Agile practices for even greater impact on your marketing priorities!