If you are looking for a project management tool that offers a bundle of features with affordable pricing then ClickUp should be one of your first choices.
But what if you are not satisfied with ClickUp's features, pricing, or its onboarding process? Well, worry not because we have compiled a list of the best ClickUp alternatives to help you make your choice.
ClickUp is one of the most renowned project management tools. It a one-stop-shop for task management, document sharing, team communication, goal tracking, and much more. You might wonder if there is a ClickUp alternative that offers similar features.
Time to look for ClickUp alternatives? There are not one or two but many ClickUp alternatives that you will find once you start your search. But finding an appropriate alternative is like finding a needle in a haystack.
Along the way, you may find it difficult to keep up with all the alternatives, their features, pricing, etc. The sorting process will also be a hassle.
Fortunately, we are here to service you. We have carefully researched several apps like ClickUp and compiled a list of top ClickUp apps.
Top 9 ClickUp Alternatives For Efficient Project and Task Management:
With the increasing numbers of businesses transitioning to remote work, the demand for an efficient project and task management app has increased. We will be walking you through some of the best ClickUp alternatives that might do the trick for your team.
We will not drag this any further, off we go with the list:
nTask
Monday
Asana
Wrike
Freedcamp
ZohoProjects
Basecamp
Trello
Indy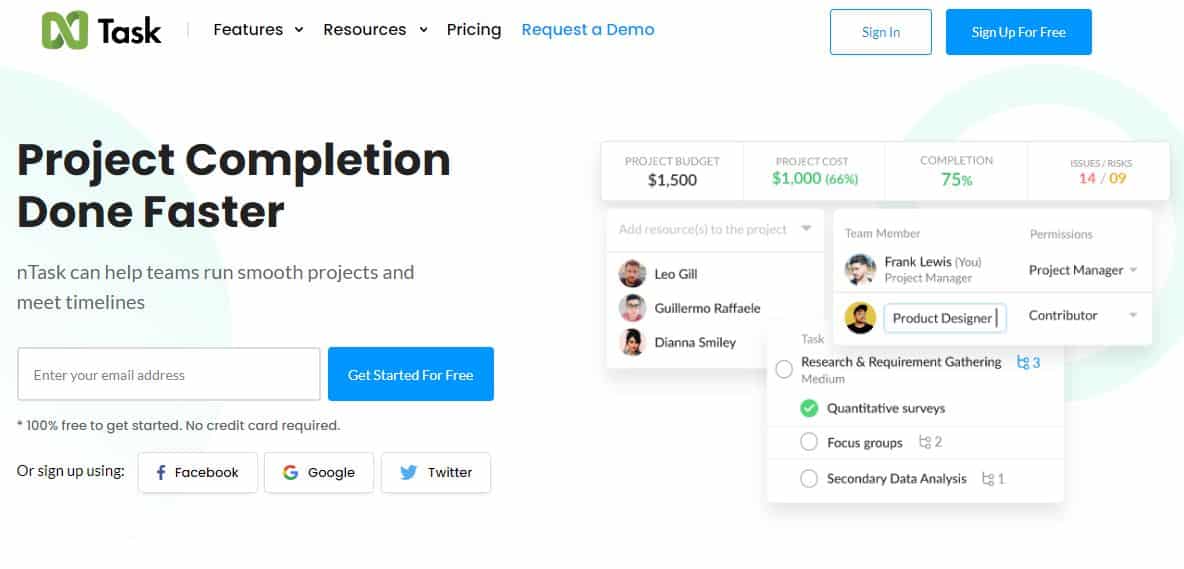 nTask is an all-rounder when it comes to project management. The feature-rich tool has recently made its entry into the project management world and has swept people off their feet with its unmatched functionality.
nTask offers a wide variety of features in its project management and task management modules. Besides these, it is also featureful in meeting management, risk management, issue tracking, time tracking, Kanban boards, and much more.
Its user-friendly interface and quick onboarding process make it even more charming. Unlike other tools, nTask's onboarding process is simple and easy. Furthermore, the tool offers reasonable pricing plans comparable to ClickUp.
Core Features:
Project Management
Easy project planning and management

Budgeting
Set Currency
Resource Allocation
Define Work Capacity

Team communication and collaboration

Share Updates with Everyone
Reply-Later
Chat Personally with Team Members
Document Sharing and Files Management

Task tracking

Multiple Sub-Tasks
Add assignees and attachments
Set repeat task
Set planned and actual dates

Visualization Features

Kanban Boards, Gantt Charts, etc.
Set Task Dependencies
Optimize Progress
Set Milestones
Budget Tracking

Task Management
Planning and strategizing tasks

To-do Lists
Time Estimations
Start and End Dates
Sub-Tasks & Dependencies

Seamless Team collaboration

To-do Lists
Time Estimations
Start and End Dates
Sub-Tasks & Dependencies

Time tracking

To-do Lists
Time Estimations
Start and End Dates
Sub-Tasks & Dependencies

Progress Graph

To-do Lists
Time Estimations
Start and End Dates
Sub-Tasks & Dependencies
To add to the features listed above, nTask offers mobile apps for both iOS and Android. Plus, third-party integrations also add to its efficient working.
Pricing:
Basic plan – available for free forever
Premium plan – $2.99 per user per month
Business plan – $7.99 per user per month
Enterprise plan – Custom pricing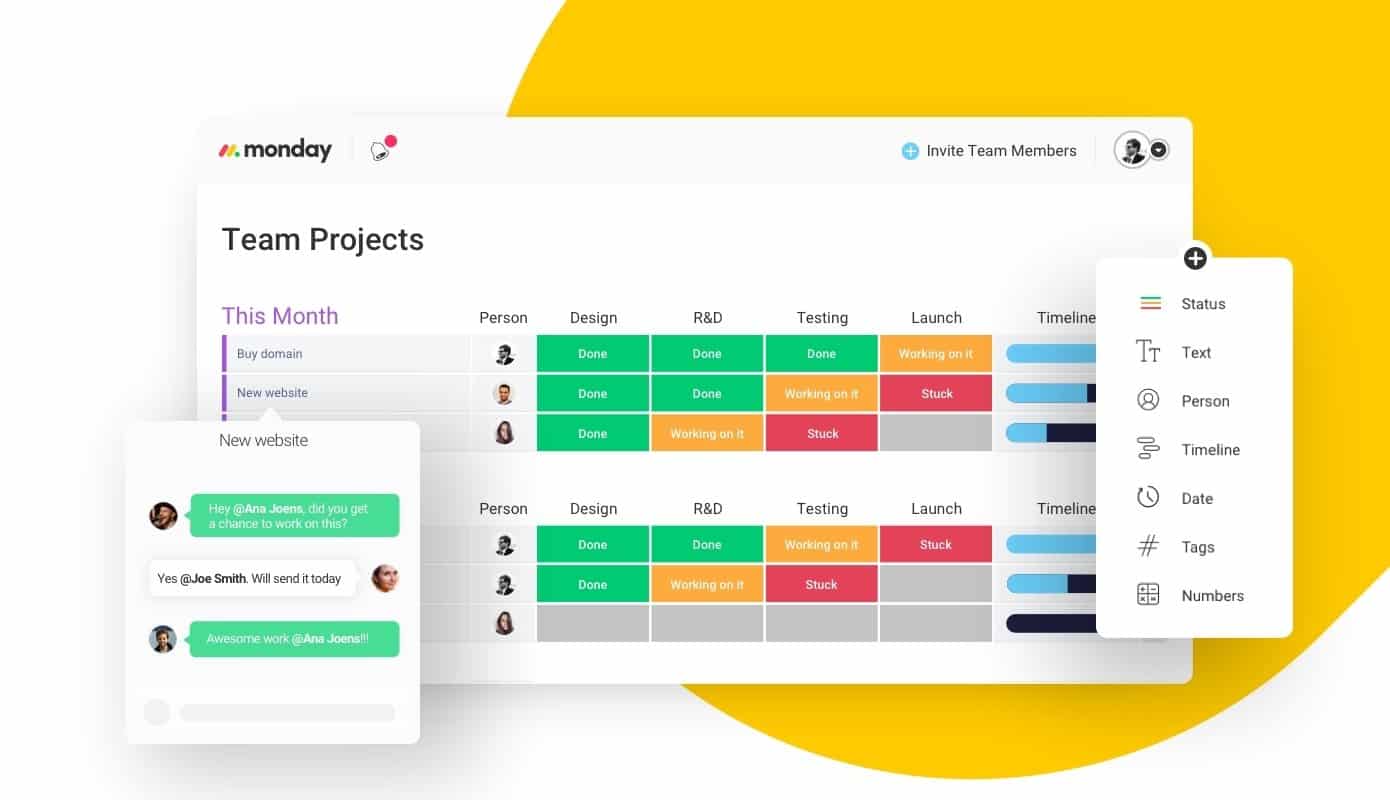 Monday is the second-best ClickUp alternative on our list. It has a visually attractive interface and the onboarding process is also simple and easy. If you are looking for apps like ClickUp, then make sure you check out this app.
Monday is also listed as the best ClickUp alternative on Capterra with 2318 reviews and a 4.6 rating. The app is also known for enhancing productivity with efficient communicative tools. Also, it streamlines workflows with the help of customized dashboards and its efficient tracking features.
Core Features:
All-in-one app for planning, tracking, management, and delivering.
Readymade and customizable templates
Hundreds of integrations
Automate recurring tasks
Visualize data in a map, calendar, timeline, Kanban, etc.
24/7 customer support
Real-time data insights
Store, manage and share files with your team, stakeholders, etc.
Pricing:
Individual plan – free forever
Basic plan – $8/user/month
Standard plan – $10/user/month
Pro plan – $16/user/month
Enterprise plan – custom ricing available on contact
3.

Asana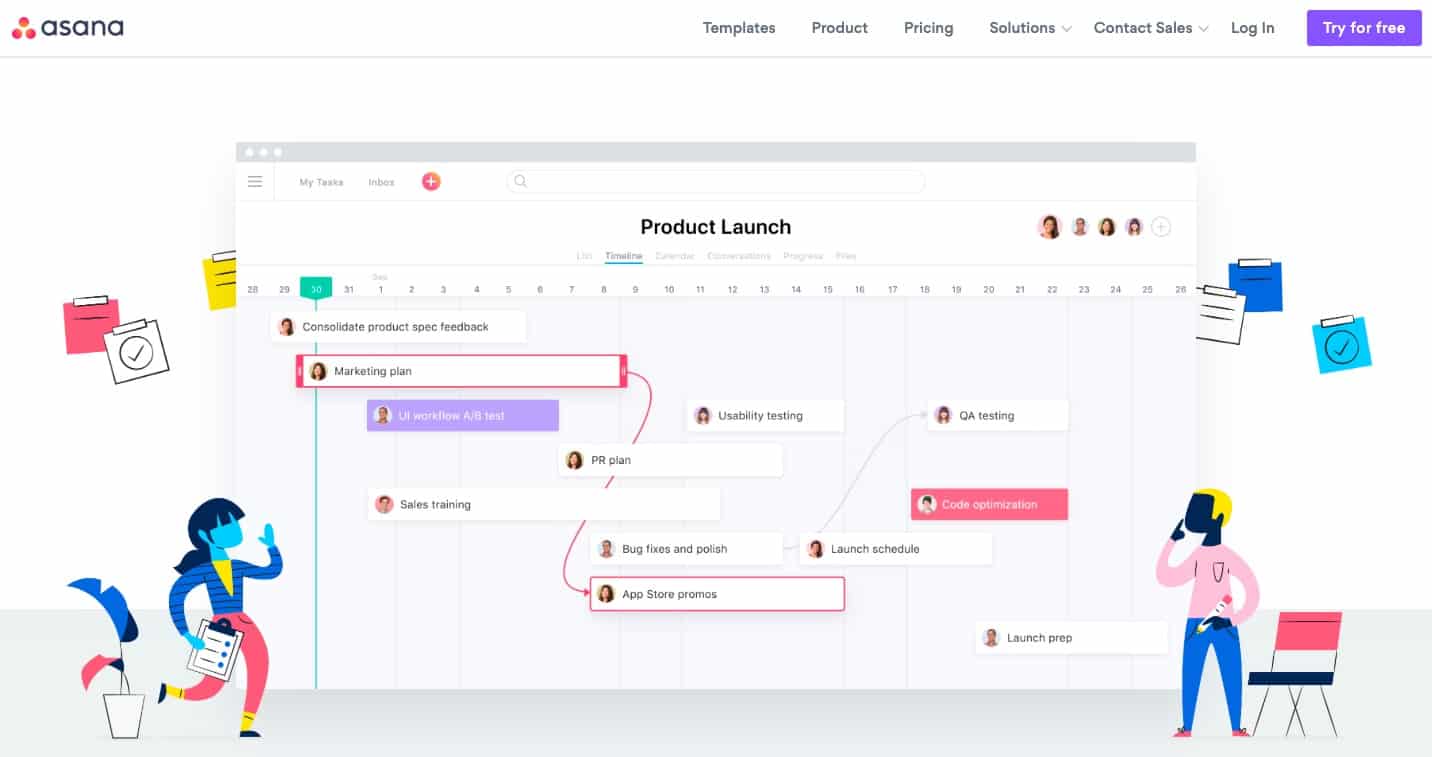 Asana is probably one of the oldest and most popular project management apps. It stands out as one of the most competitive apps like ClickUp.
Asana is a relatively pricey alternative to ClickUp, but it lives up to its name with its wide range of advanced features. The tool allows you to visualize your progress s that you can stay updated about the performance of your team members.
Also, Asana offers personalization features so that you can customize your workspace as per your likings.
Core Features:
Project management and team collaboration in one place.
Multiple visualization tools i.e., boards, timeline, and lists.
Automate recurring tasks
100+ third-party integrations
Customization of workflows
View the performance of your project at a glance – team's progress, workload, spot potential issues, etc.
Track progress with real-time status updates, run reports, and more.
Streamline communication with team members, stakeholders, and vendors to unify your workspace.
Pricing:
Basic plan – Free forever
Premium plan – $10.99 per user per month
Business plan – $24.99 per user per month
Enterprise plan – Contact vendor for custom pricing
Wrike has taken the third spot in our list of the top ClickUp like apps. Wrike provides some of the best features when it comes to project and task management.
Wrike is a versatile app that will transform the way your team works. It makes project management much easier with its awesome collaborative features, helping you keep your team on one page. The tool also helps improve productivity with its efficient features.
Core Features:
Customizable tools i.e., dashboards, workflows, etc.
360-degree visibility into the progress of your project
Exchange files, images, etc. for better collaboration.
Built-in templates for faster onboarding
Kanban boards
Interactive Gantt charts
Intuitive time tracking
400+ app integrations
Pricing:
Free plan – $0 per user per month
Professional plan – $9.80 per user per month
Business plan – $24.80 per user per month
Enterprise plan – Custom pricing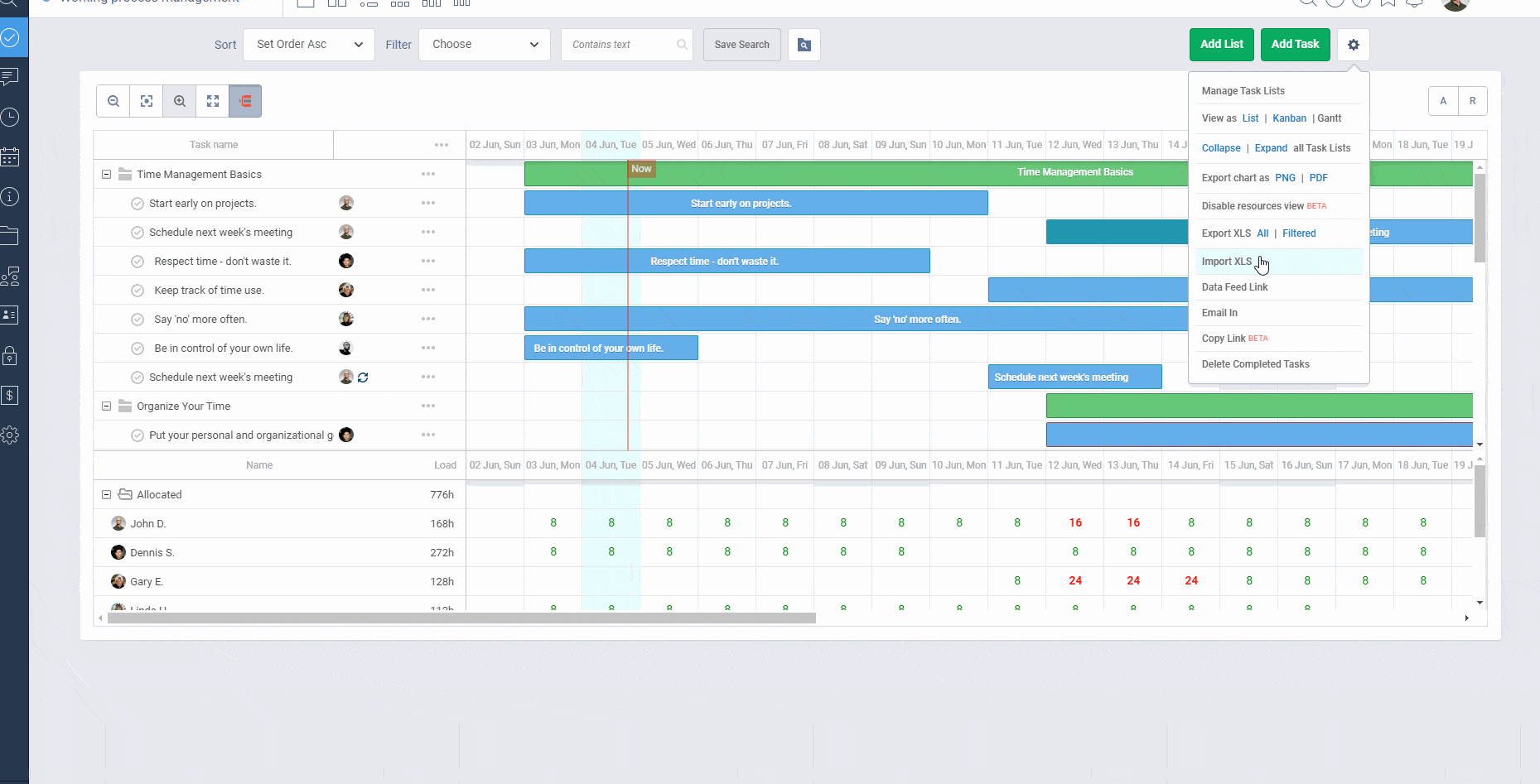 Freedcamp offers all the tools needed for successful team management in one place. With the help of this tool, you can efficiently manage your projects and tasks, while making sure that your team stays connected.
Freedcamp centralizes communication with its social wall feature and discussion boards.
Core Features:
Task lists to help you stay updated on the tasks in the funnel.
Kanban boards and Gantt Charts
Divide your project into subtasks to simplify your projects
Keep your tasks private with Tasky
Create events, milestones, etc. in Freedcamp's calendar
Track issues and resolve them in real-time
Mobile app available on iOS and Android
Various third-party integrations with apps including Google Drive, Dropbox, Google calendar, etc.
Customize your URL to match your company
Backup data stored offline
Pricing:
Freedcamp is available for free with unlimited storage for any number of projects for your whole team.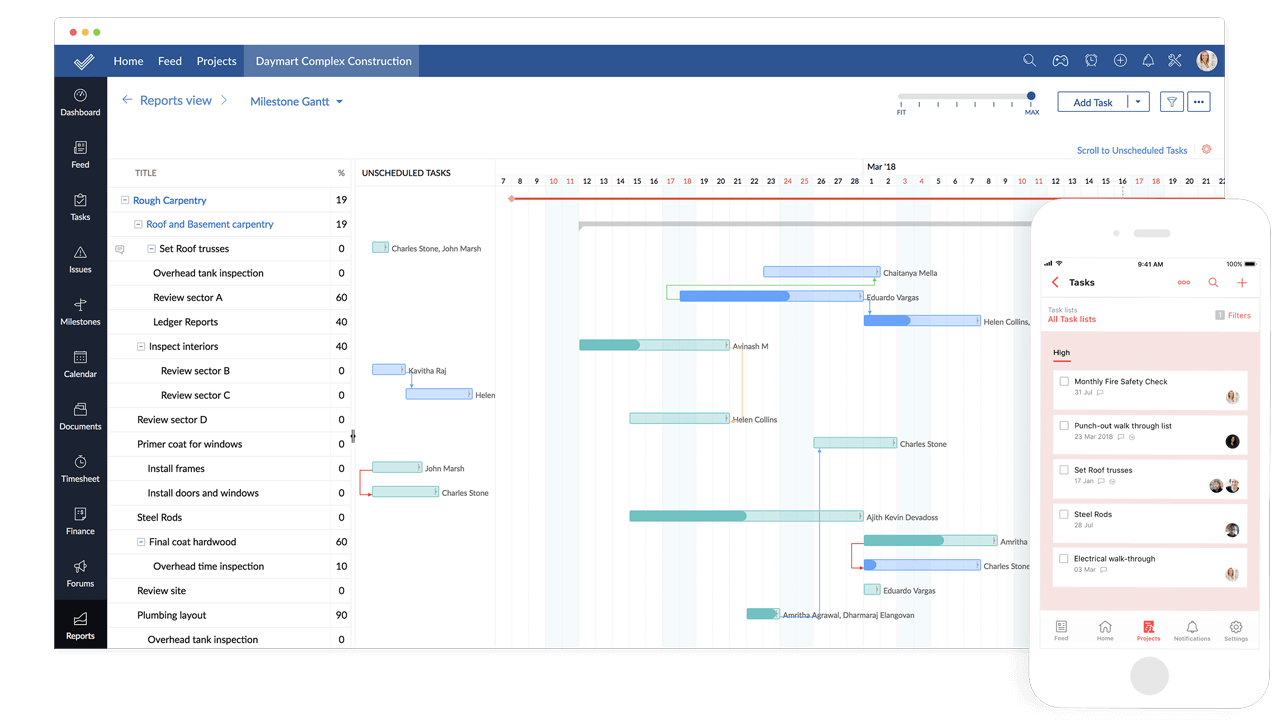 ZohoProjects is our next choice for top ClickUp like apps. The cloud-based platform has garnered massive praise from its users for helping them improve their productivity with its matchless features.
With ZohoProjects, you can plan your projects, manage your resources, and communicate with your team, all along with various other features. ZohoProjects is also a cheaper alternative as compared to ClickUp.
Core Features:
Efficient project planning
Track your tasks easily
Communicate and collaborate with your team members in real-time
Use Gantt charts to view your progress across a project
Automate routine tasks to save time
Log billable and non-billable hours in ZohoProject's timesheet
Customize your projects according to your preferences
Intuitive user interface
Seamless integration with various apps
Zoho app available on iOS and Android phones
Pricing:
Free plan – $0 with up to 3 users
Premium plan – $5 per user per month
Enterprise plan – $10 per user per month
Basecamp has landed on number 7 in our list of best ClickUp alternatives. It is a perfect project management tool for both, teams working onsite and teams working remotely.
It is a web-based tool with which you can create to-do lists, exchange files, send messages, and do much more. The app offers more flexibility to its users and optimizes workflows for better working.
Core Features:
Divide your projects into smaller tasks and subtasks
Divide your work into projects, each with its own specifications.
Use the message board to post announcements, pitch ideas, etc.
Make a to-do list of items you need to work on
Set important dates on a shared schedule
Share images, files, docs, etc.
Group chat with everyone in your team
Automate recurring questions
Use Basecamp Hill charts to stay on track
Pricing:
Basecamp personal plan – available for free but offers limited features
Basecamp business plan – $99.99 per month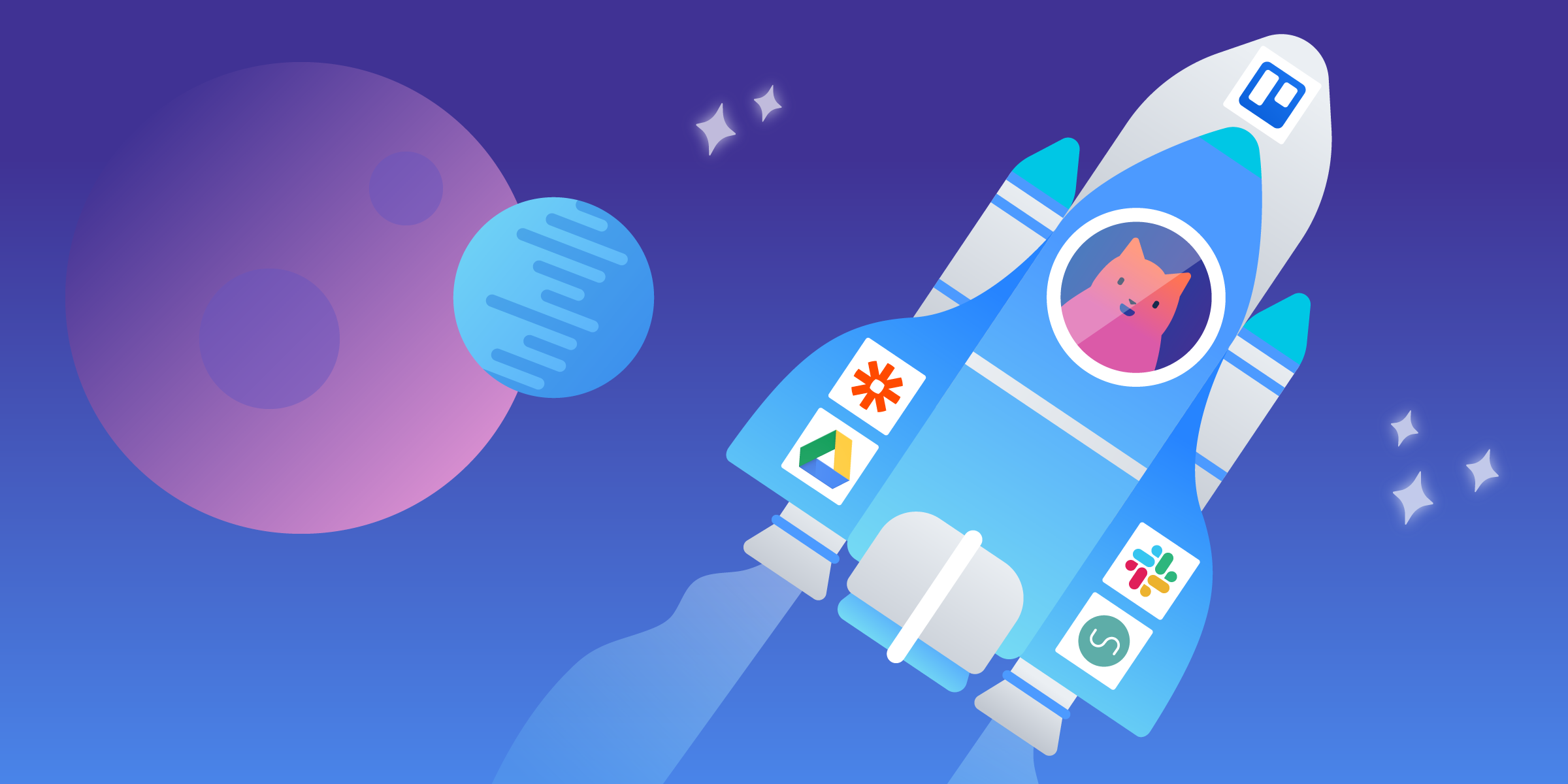 Last but not least on our list is Trello. Trello is another app that has made its mark in the project management world with its advanced features over the years.
The tool offers highly functional Kanban boards to make work a piece of cake for you. Trello is used by Agile teams all over the world to speed up their work and enhance their efficiency. One of the most enticing features of Trello is that it lets you see major to the minutest details at a glance.
Core Features:
Butler, a built-in automation tool to automate recurring tasks
easy organization and management of tasks and subtasks via Trello board
Third-party integrations
Reminders, notifications, and alerts via email
Quick workflow customization
Trello cards help manage, track, and share tasks
Free iOS and android app
Streamline feedback with comments
Easy to use
Customize your workflow according to your preferences
Pricing:
Free plan – $0 per user per month
Business-class – $10 per user per month billed annually ( $12.50 billed monthly)
Enterprise – custom pricing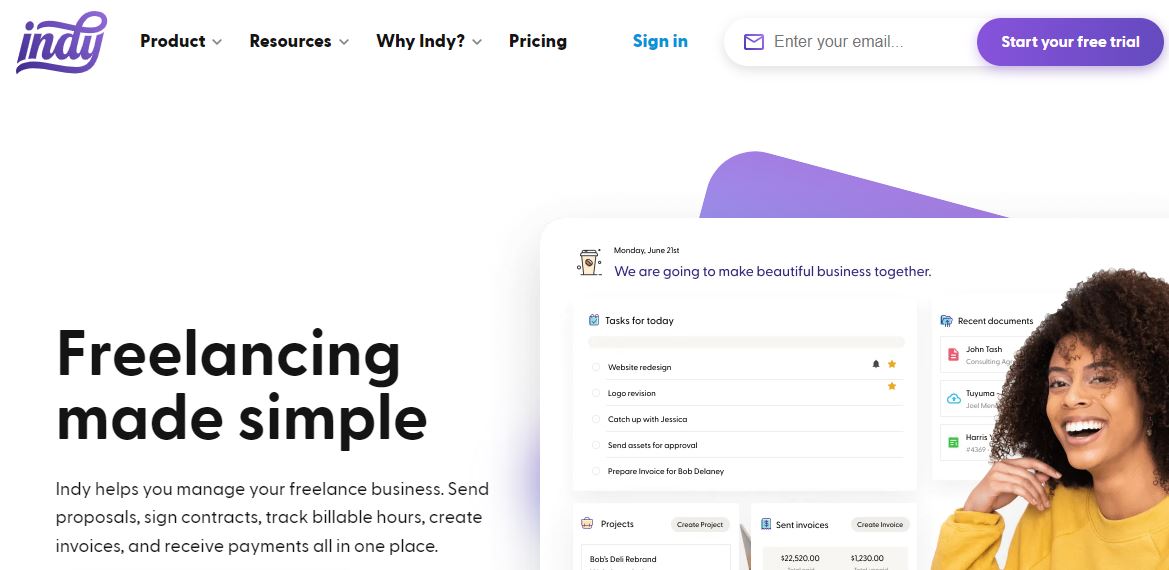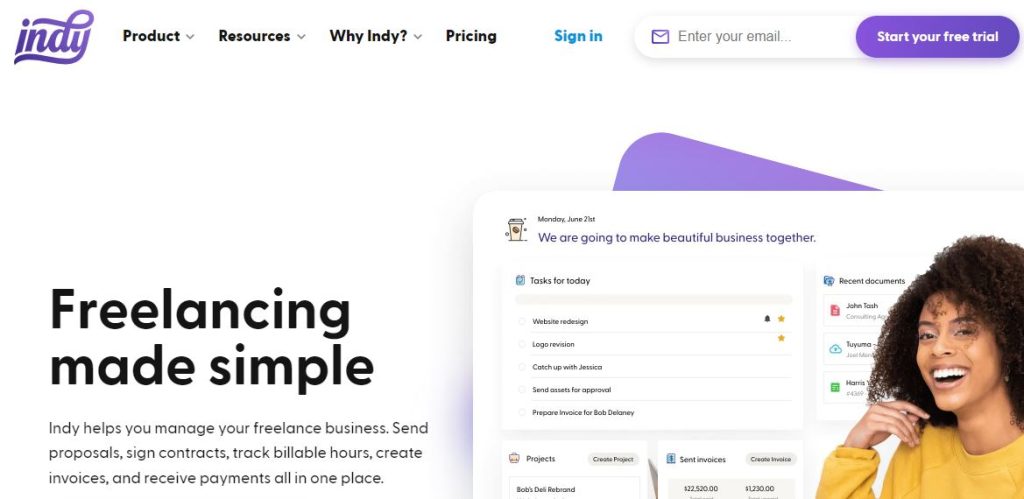 Indy is a brilliant alternative to ClickUp because of how simple it is to use and its focus on freelancers.
Indy is a full project management tool and has integrated apps to do everything most freelancers will need for any project. The focus of Indy is freelancing made simple. Every tool is easy to use, there are ready-made templates for proposals, contracts, and invoices, and the project management dashboard is clean and clear.
Core Features:
Simple project management dashboard
Stay on track with a clean "At a glance" view
Land new clients faster with proposal templates
Create stunning proposals with your own branding
Close the deal with pre-approved contract templates
Make it easy for new clients with integrated e-signatures
Track your time with the simple and effective tracker app
Add unbilled hours to an invoice with just a few clicks
Create your own invoices or use a template
Take payment through PayPal, Stripe, or Zelle
Pricing:
Indy's Free plan gives you free unlimited access to all the basic tools you need to manage your business.
$6.75/month (paid yearly) for full access.
At the end of the day…
There are tons of ClickUp alternatives but the ones listed above are a select few that have comparable, if not better, features. If you still find it hard to decide, you can request a demo or sign up for a free trial of 14-30 days. Hands-on experience with the apps will be more helpful in understanding the functions of different apps.
Whichever tool you choose make sure that it aligns with the requirements of your team. That's all from our side.
Best of Luck!
---
More Resources: