For those of you running a business, you'd know the key to success doesn't just lie with building an empire of quality products. Your customers are one of your most prized assets, and catering to their requirements effectively should be your top most priority at all times.
Having said that, collecting valuable customer insights is the other side of the coin. It can sound like a daunting task that requires a lot of time, but investing in a robust CRM software can take the burden off your shoulders and can result in the levels of customer satisfaction you've always dreamed of achieving.
Before moving forward to the review of best CRM software for small businesses, let's first address the most important question of all:
Why do you need a CRM software?
Here's why investing in a high-quality CRM tool should be your next top priority:
Exploring New Opportunities: the more you understand your customers, the better you get at identifying opportunities for growth, and hence generate more revenues
Better Customer Relationships: of course, once you get to know your customers on a more personal level, you can forge a much deeper and stronger relationship
Increased Customer Retention: the feeling that your service provider cares for your results in staying loyal to the brand for a long time, increasing your customer retention rate
Business Process Automation: By using a CRM software, you can automate almost every customer-centric process and can make informed decisions faster
Optimized Business Performance: A CRM software can help your business reach new heights once you're able to understand your customers' behavioral patterns better
Efficient Reporting and Analytics: With a CRM software in place, a secured customer database is ensured, and automated reports are generated which result in making resourceful decisions
To help you choose the right CRM tool for your business, I've reviewed the top ones right here. Let's dig in and find the perfect one for you:
1. Zoho CRM – Editor's Choice for Best CRM Software
Our Rating: 4.7/5
Supported Platforms: Android, iOS, Windows, Web
Pricing: starting from $12 per user/month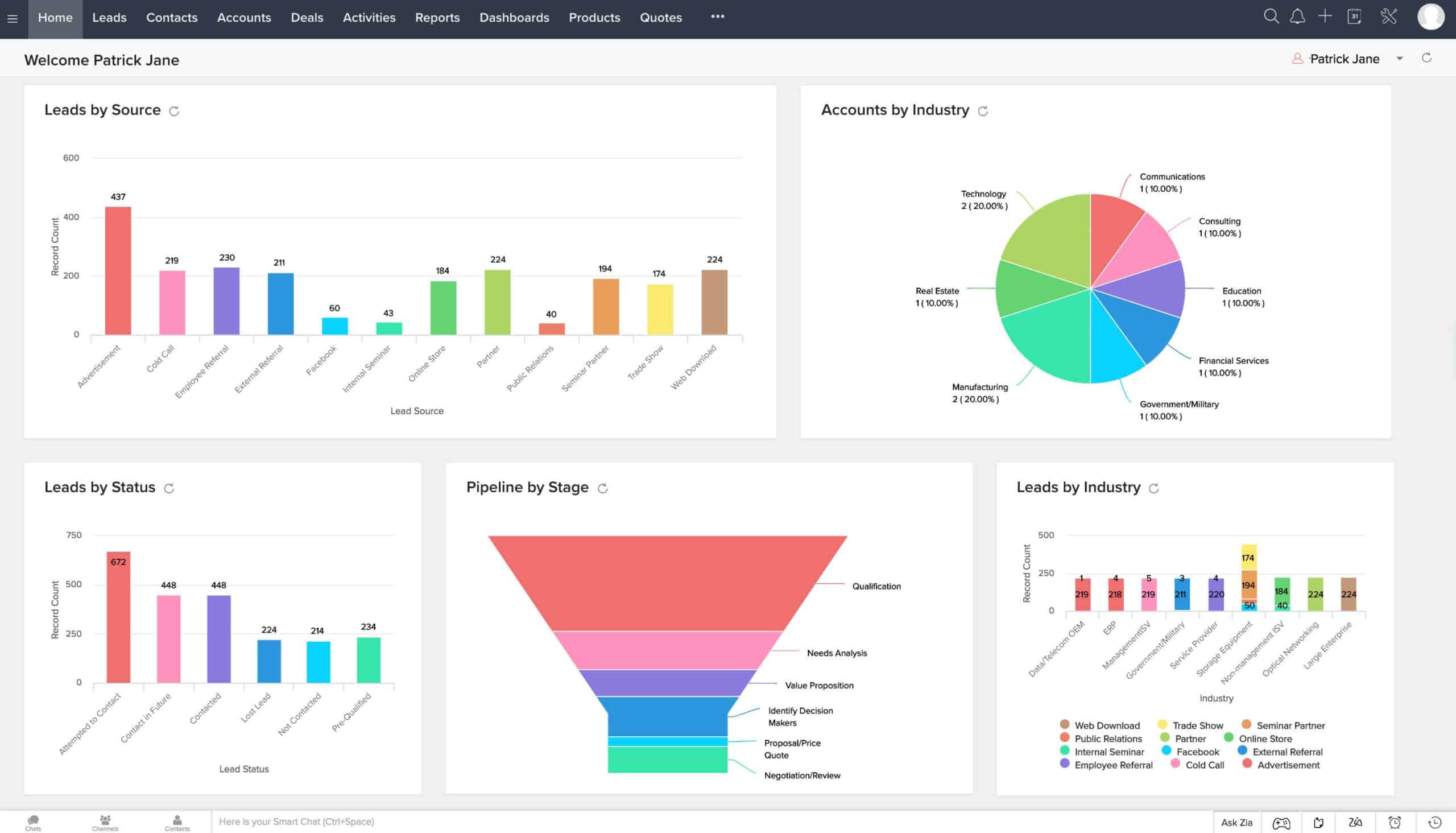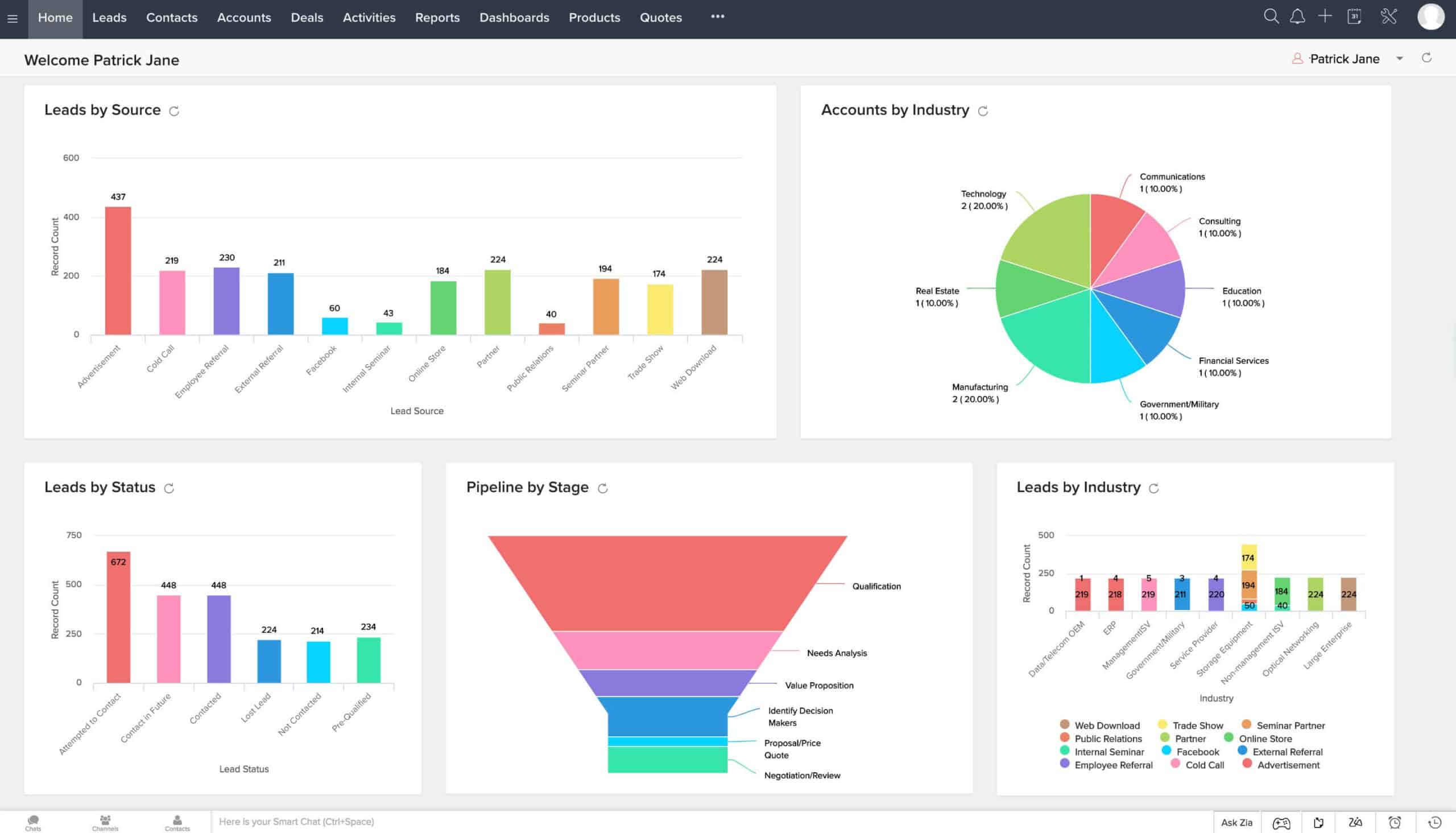 The spotlight for this roundup of best CRM for small businesses has been stolen by Zoho CRM, and for all the right reasons.
Zoho CRM is a software that comes with a pretty decent user-interface and a clutter-free feature set to help you close deals effectively. The tool facilitates multi-channel support for you to connect with your customers through email, phone, chat, or social media.
The thing that I personally loved about Zoho CRM is the vast library of online reports that you can generate to keep track of your sales metrics over time. Furthermore, the AI-powered anomaly detector compares your actual sales performance with the predicted one to help you make better decisions over time.
Key Features
Live chat for everyday website visitors
Numerous progress tracking reports
Lead management to capture and maintain new leads
Customer portal to communicate efficiently with customers
Email management to keep customer interactions in check
Pricing
Free Edition – for 3 users. Leads, documents, and mobile apps
Standard – at $12 per user/month. Custom reports and dashboards, email insights, workflow conversion tags and groups, web forms
Professional – at $20 per user/month. Everything in Standard + process management, inventory management, Blueprint – process management, and more
Enterprise – at$35 per user/month. Everything in Professional + all the advanced CRM features and functionalities
---
Our Rating 4.7/ 5
Supported Platforms: Web-based, Google, Android, iOS
Pricing Starts at $0.00 for a time trial version of any desired package!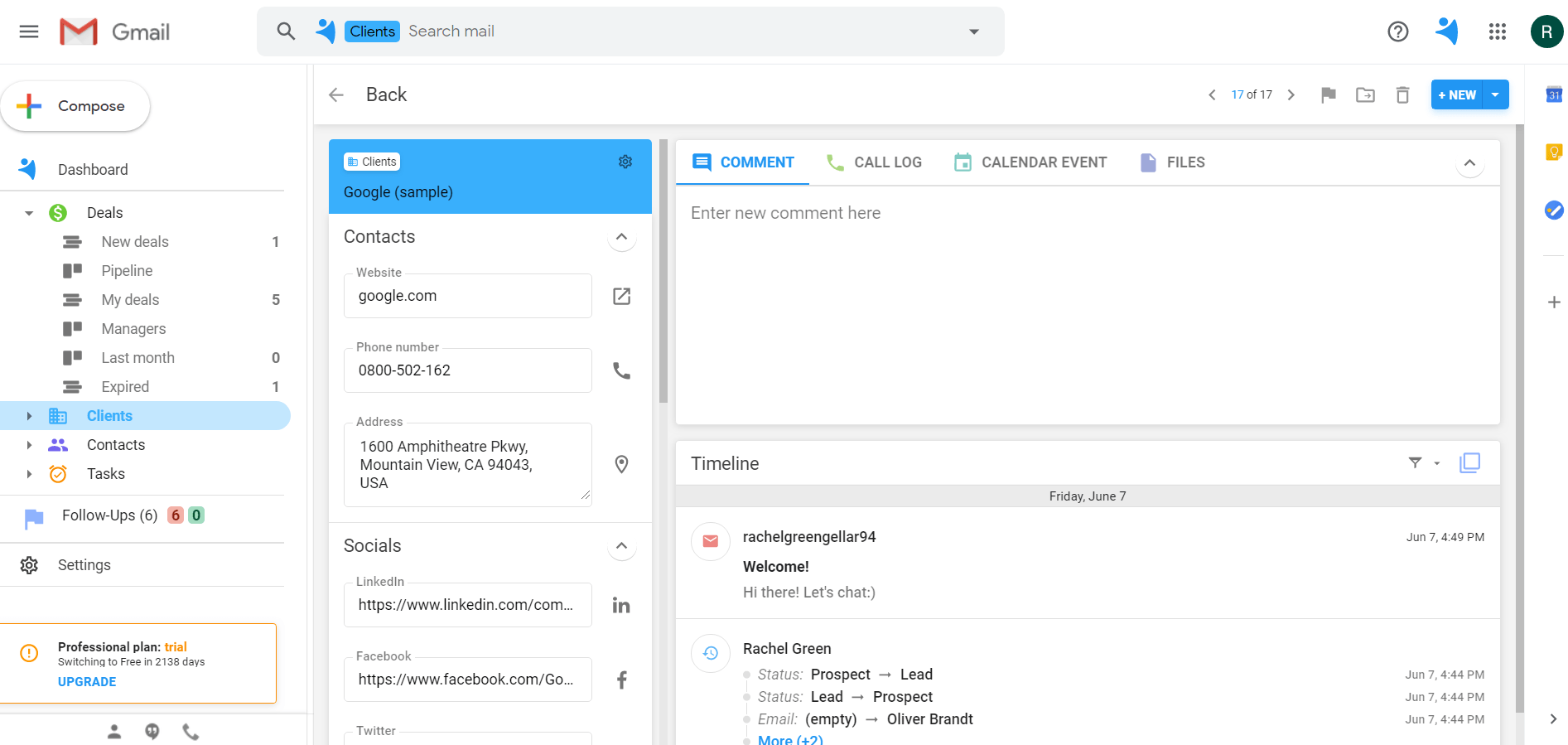 The spotlight at this position was taken over by NetHunt CRM recently – and that too for some very interesting reasons. Regardless of your business volume, if it is customer-oriented, NetHunt is an affordable solution on steroids. Pun intended!
Since the inception of the software, NetHunt CRM has undergone a gazillion new changes and core updates. One thing which we really liked about NetHunt was that they remained true to their overall slick design aesthetics.
Normally what happens during update rollouts is that the developers lose track of their fundamentals. In an effort to overdeliver, these devs end up altering those core key features of the software that were originally responsible for driving in end users.
NetHunt CRM comes with everything that a CRM oriented business requires. They overlaid the platform with support for 3rd party app integrations, such as Google Suite and Gmail accounts. Since the big 'G' is everywhere these days, NetHunt wanted to incorporate Google's account support for users who wish to access their data without ever having to log off from their NetHunt accounts. On that note, NetHunt CRM embeds as a friendly CRM platform that works right through your favorite email client app.
Having said that, we found it easier to turn our Gmail and non-Gmail related email inquiries into various different opportunities. While doing so, we didn't feel a major need to leave our NetHunt account to see backlogs for documentation, transaction histories and overall course of interaction from one customer to another.
As a result, we knew exactly where everything was; which business lead was at the point of sale, and which customer group was at any particular point of progress. These features come in handy when targeted marketing campaigns are crucial to any business's success.
Some of the key features of NetHunt CRM are appended below:
Key Features:
Easy contact and customer management for end-users.

Fast implementation of CRM applications, Google integrations, and overall usability. This is one of the core advantages of NetHunt.

Deals and opportunities management through a centralized approach. Keep track of everything going on simultaneously.

Zapier integrations and API capabilities are among the few other perks aside from Google apps integration.

Overall robust CRM software solution with quick response time, 360-degree customer support and management and business upselling capabilities for a long-range of clients.

Intuitive dashboard with all the necessary options and buttons, right where they need to be.
Pricing:
NetHunt Professional

is available at $30 per user/ month.

NetHunt Enterprise Solution available at $60 per user/ month.
---
Our Rating: 4.6/5
Supported Platforms: Windows, Android, iOS, Mac, and Web
Pricing: Starting at $50 per month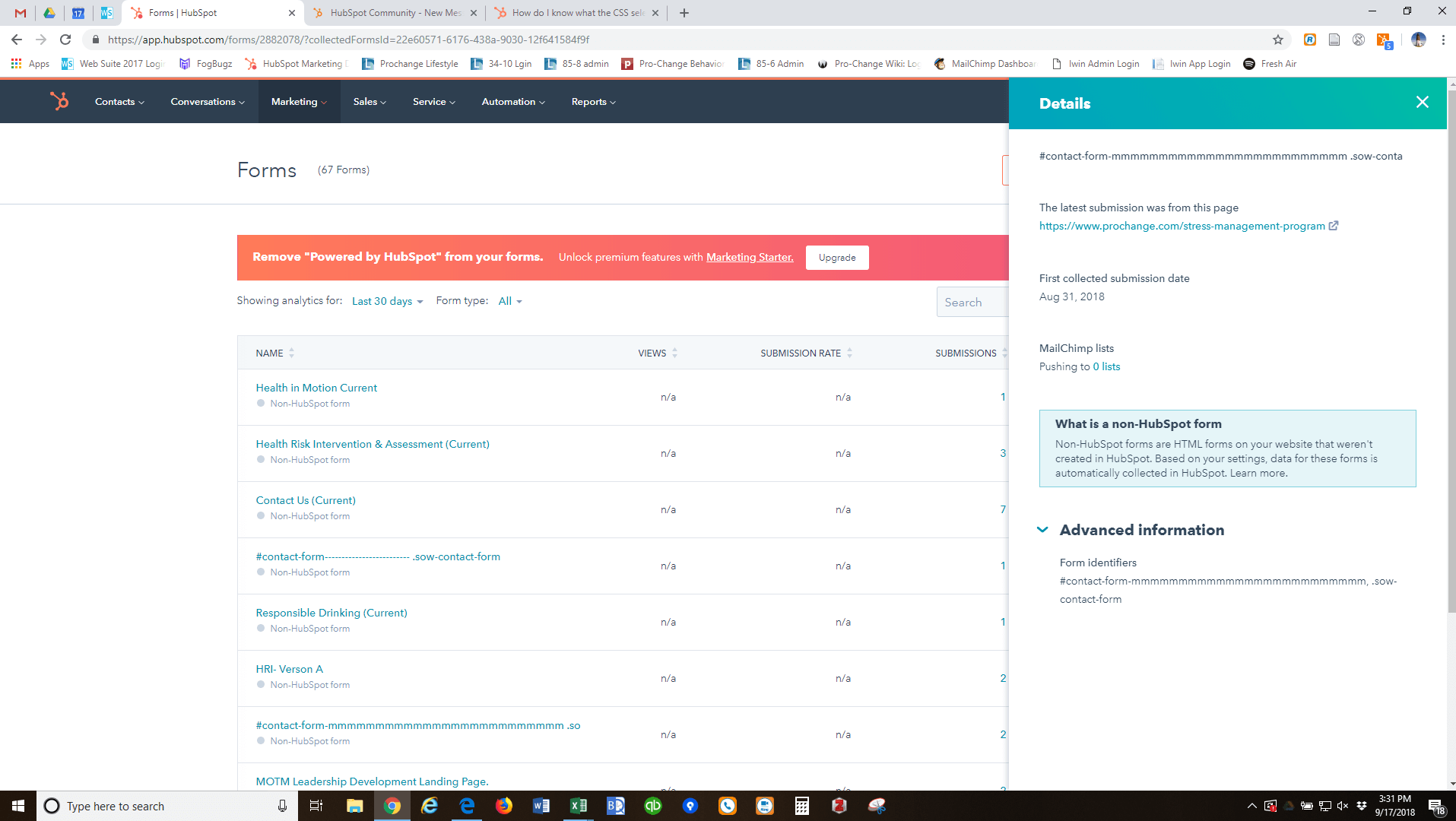 HubSpot is a beautifully designed, intuitive marketing automation software that comes with a completely free CRM solution. The software helps salespeople and other client-centric workers to effectively manage their customer relationship.
The platform comes with everything a small business needs, without any added complexities of tricky features that you probably don't even need right now.  Through pipeline management, you can keep track of all your deals and never let anything slip through the cracks.
Furthermore, a sales dashboard allows you to keep track of all your new contacts, their sources, and details about recent activity.
Let's have a look at what core features HubSpot comes with:
Key Features
Dashboard for visualizing scheduled deals, appointments, and contracts
Automatic customer interaction tracker which keeps record of all emails, calls, and messages
One-to-one customer chat and a centralized inbox for keeping all conversations in one place
Pipeline management to monitor all the prospect deals and assigning tasks accordingly
Contact and lead management features to create new campaigns
Easy prioritization and recording of daily sales calls to manage them efficiently
Pricing
Free: for marketing professionals who are at the starting stage of building leads and tracking contact activity – basic functions
Starter: starting at $50 per month – for marketers at the developing stage of lead capturing through contact tracking and email marketing
Professional: starting at $800 per month – for experienced marketing teams. Complete marketing solution with automation functionality
Enterprise: starting at $3200 per month – for advanced teams. Full-scale analytics and revenue reporting
---
Our Rating: 4.6/5
Supported Platforms: Android, iOS, Web, Mac
Pricing: Starting from $12.50 per user/month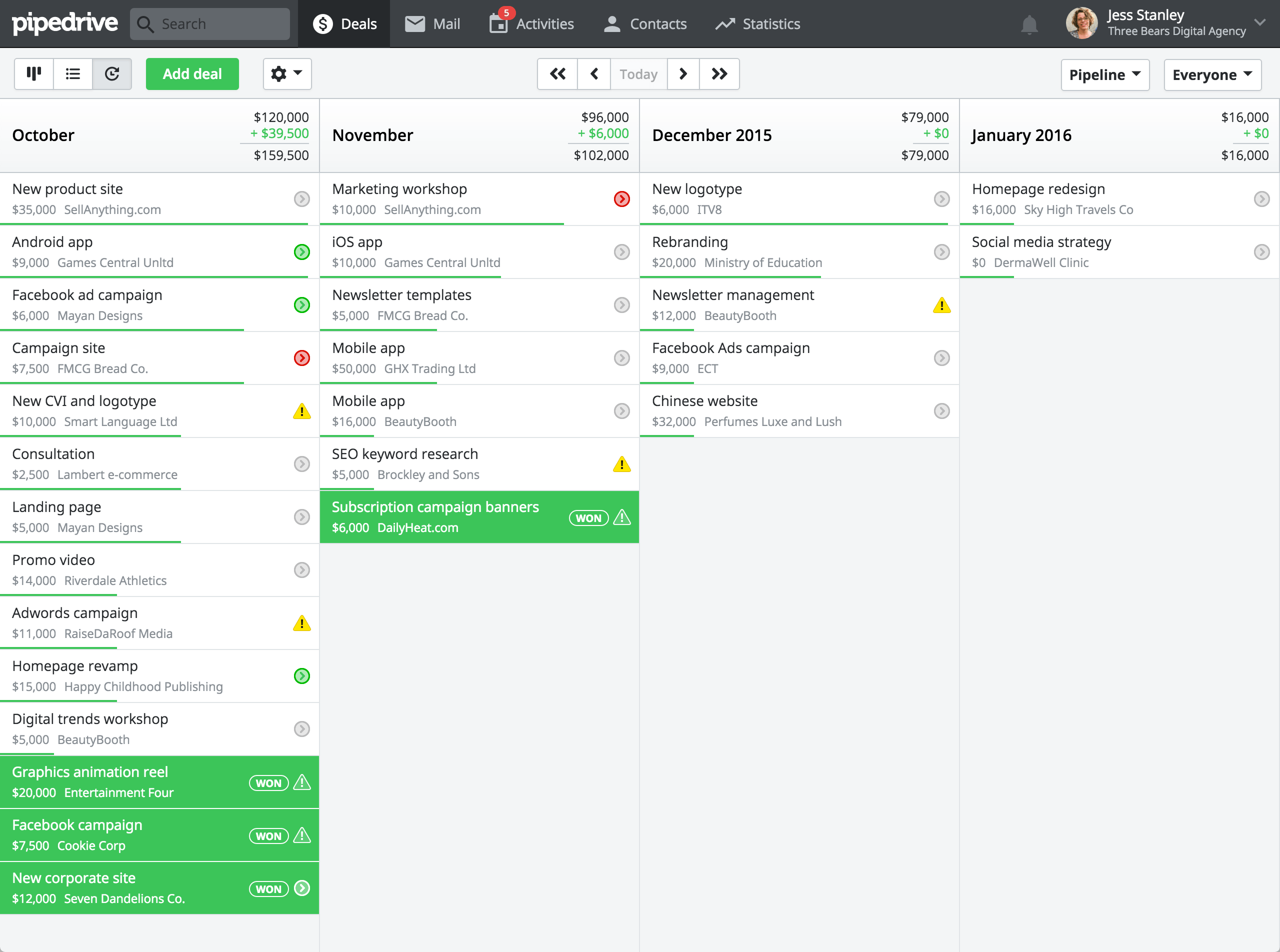 With a whopping 80,000+ companies (their claim) as their clients, Pipedrive comes with an interesting feature set to help you with customer relationship management and sales management.
The tool streamlines your sales process in a way that ensures that your entire team is on one page and there is no information loss. This is precisely why I included it in my review of top CRM software for small businesses.
Working on the activity-based methodology, Pipedrive attaches distinct activities to deals to better understand what's happening.
The software allows you to forecast sales and choose the best deals over time to efficiently achieve sales goals. Additionally, customizable pipeline management lets you streamline your sales process as per your needs.
Key Features
Out of many features the software comes with, some key ones are:
Fully customizable activities with email reminders and notifications
Pipeline management to monitor sales. You can also add as many sales stages, activity types, or team members as you want
Email integration with your contacts and deals to track conversations
Sales inbox to keep all your sales related emails in one place
Visual sales reports representing key performance indicators to better understand the pipeline metrics
Automated workflows to streamline the team's sales process and improve productivity
Pricing
Silver: $12.50 per user/month – customizable dashboard, chat and email support, and other basic functions
Gold: $24.20 per user/month – workflow automation, sales inbox, customizable dashboard, scheduler, and user permission settings, among key features
Platinum: $49.17 per user/month – workflow automation, revenue forecast reports, smart contact data, teams, and many other features
---
Our Rating: 4.5/5
Supported Platforms: Android, iOS, Web, Windows, Mac
Pricing: Starting from $14.99 per user/month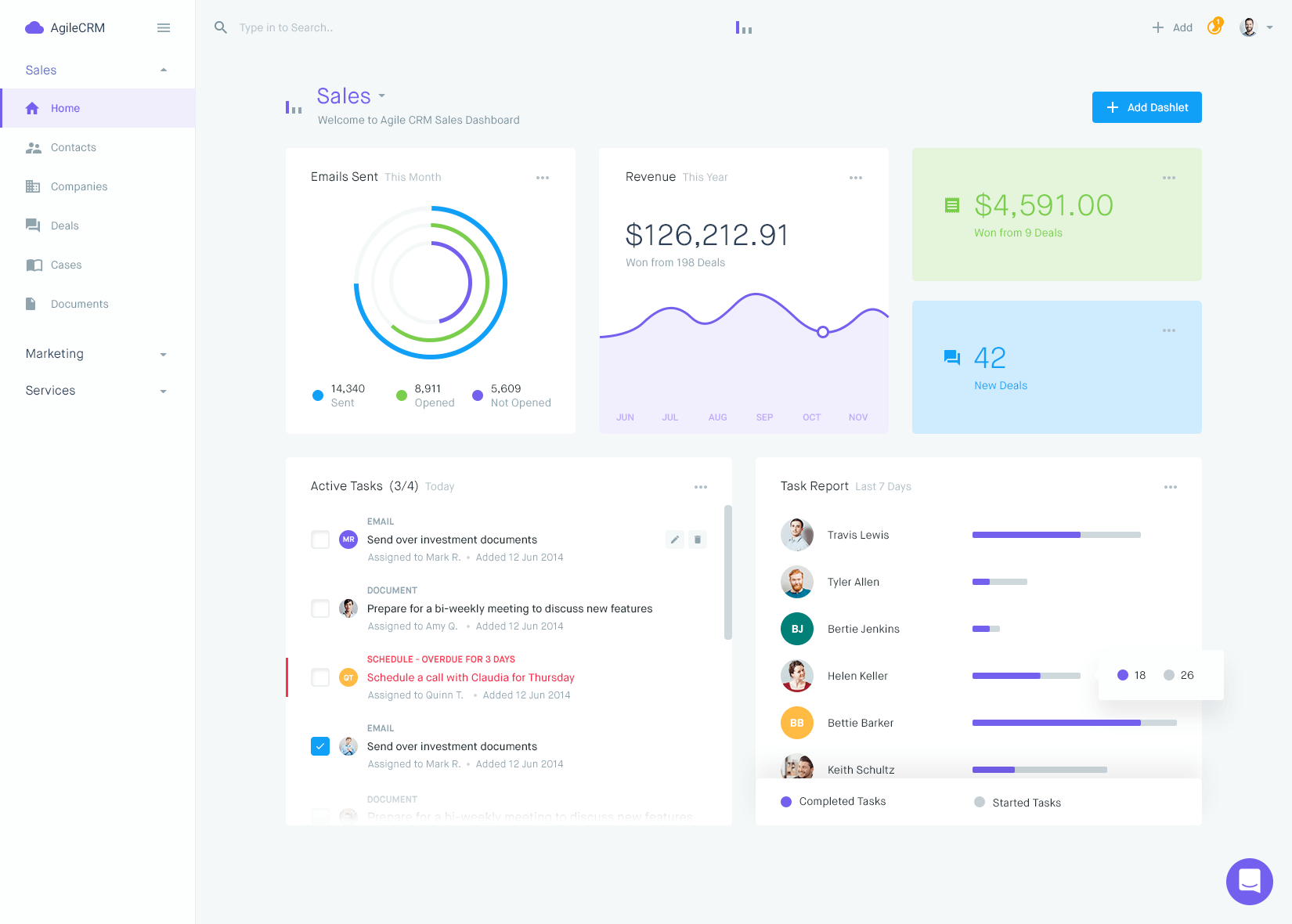 Agile CRM is a comprehensive CRM software that comes integrated with marketing and sales automation tools, providing a unified solution to teams. The software comes with a pretty powerful set of features that can give many other tools a run for their money.
The elaborate suite of features is designed to fit perfectly with any kind of industry you're working in. These features range from basic contact management to more enhanced marketing automation features, and much more.
There's a pretty interesting functionality the tool comes with where you can gamify your sales process and invoke a sense of competition among your team members to achieve more (pretty smart, no?).
Oh, and did I mention the tool is free for 10 users?
Key Features
Personal contact management to store and process all the data about your contacts
Real-time metrics and custom milestones to track deals over time
One-click calling, along with voicemail automation functionality
Online appointment scheduling through the calendar to avoid the hassle of scheduling on calls
Lead scoring to assign values and scores to leads on the basis of their actions
Pricing
Free – for 10 users. 50K contacts and companies, lead scoring, unlimited deals, tasks, and documents, appointment scheduling, and more
Starter- at $14.99 per user/month. Email campaigns, web engagement, marketing automation, and social monitoring, with other features
Regular – $49.99 per user/month. Groups, labels, canned responses, views, activities, reports
Enterprise – $79.99 per user/month. Email and phone support, Chrome extension, basic reports, email reports, Google/Shopify/Stripe sync, 3 plugins
---
Our Rating: 4.4/5
Supported Platforms: Android, iOS, Web
Pricing: starting from $12 per user/month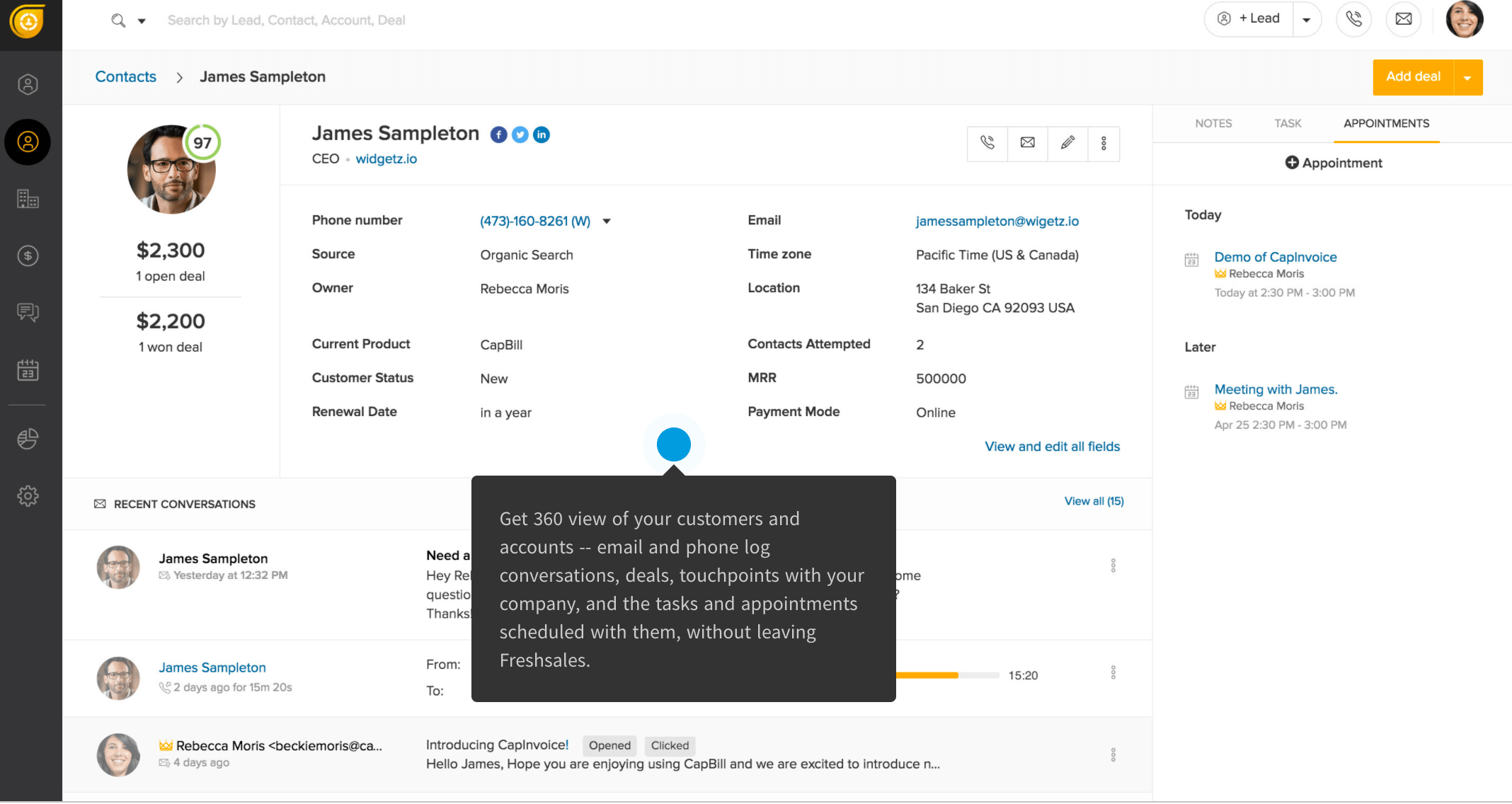 The next best CRM software I looked into is Freshsales. The tool does not come with a bulky feature set to over-complicate the CRM process for teams. Instead, it allows you to smartly manage your leads and optimize sales in an efficient manner, with minimum chaos.
The tool allows you to define territories on the basis of customer segmentation so that you can assign right representatives to the right customers. Furthermore, the dashboard allows team members to directly call the customer from the dashboard without individually accessing deals.
Key Features
Drag and drop functionality to navigate across the sales pipeline
Advanced lead scoring to rank the leads on the basis of their behaviors and buying patterns
Smart forms to automatically add new sign-ups into the CRM software as leads
Sales campaigns to create and monitor personalized outbound email campaigns
Interactive pipeline management to keep track of each deal
Pricing
Blossom – at $12 per user/month. Designed for small teams
Garden – at $25 per user/month. Designed for growing teams
Estate – at $49 per user/month. Best suited for large teams
Forest – at $79 per user/month. Perfect for enterprises
---
Our Rating: 4.4/5
Supported Platforms: Android, iOS, Web, Windows
Pricing: starting from $29 per user/month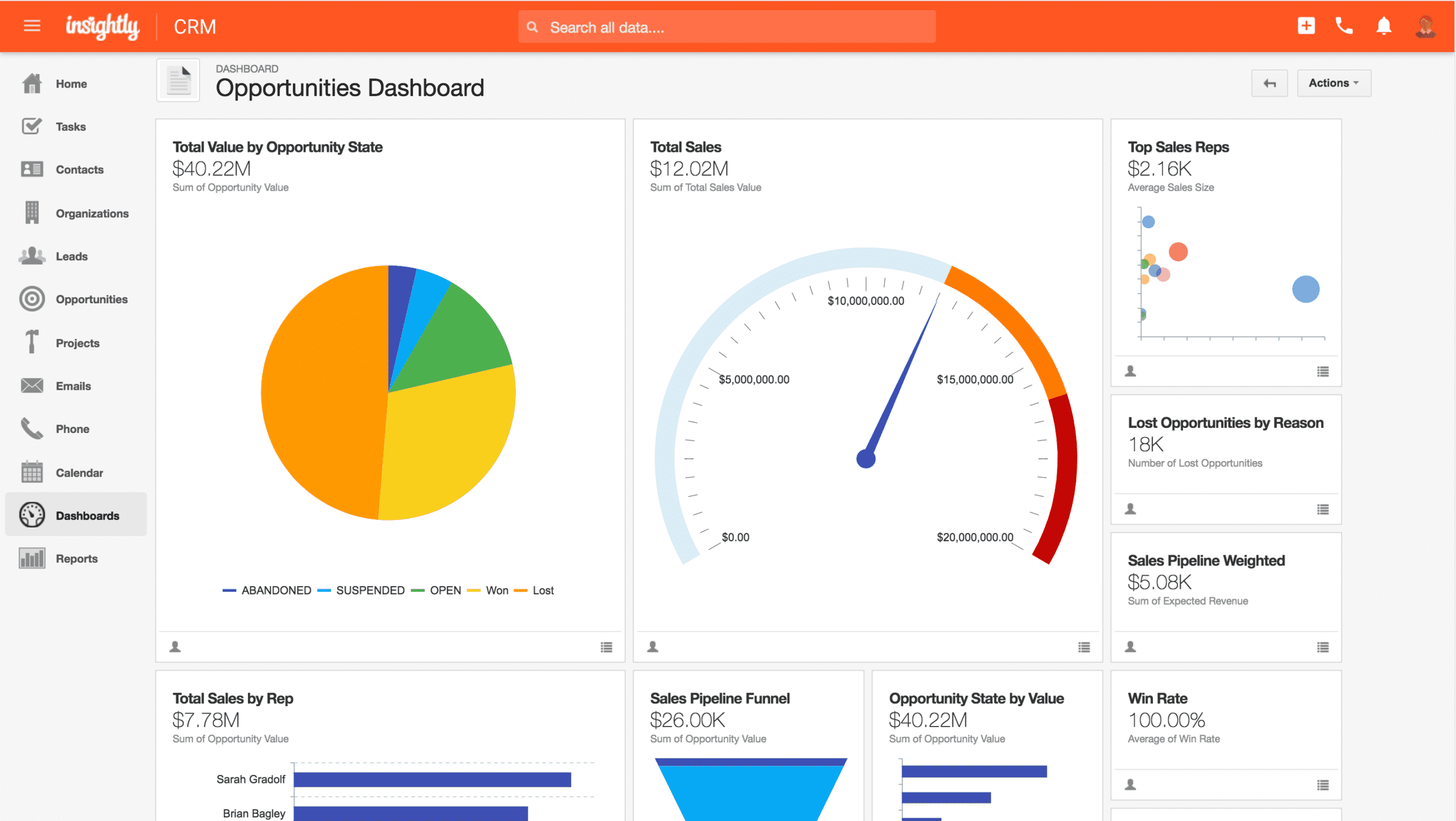 The next tool in this lineup of best CRM software for small businesses is Insightly. The software allows you to build better customer relationships through record linking functionality. Customers and emails can be linked to existing contacts in your database to better understand your networks.
Through workflow automation features, automatically send email alerts, update records, and so much more in a streamlined manner without creating any fuss.
Key Features
Dashboards to visualize data and measure progress over time
Lead tracking through activity timeline, emails, and calls
Workflow automation to create automated business processes
Bulk emails to send to prospect leads simultaneously
Multiple third-party application integrations
Pricing
Plus – at $29 per user/month. Contact management, relationship linking, and task management among some of the features
Professional – at $49 per user/month. Lead management, collaboration features, contact management, relationship linking and many more
Enterprise – $99 per user/month. All the advanced CRM features
---
Our Rating: 4.3/5
Supported Platforms: Windows, iOS, Android, Mac, Web
Pricing: starting from $65 per user/month
On #7, I have ranked Close. This CRM software is best suited to your small business needs if you need a CRM with integrated emails and call solutions. The tool allows you to optimize your workflow by giving you an overview of all of your sales activities through a timeline, so you know what should be done next.
The Smart View facilitates the users to create custom criteria for accessing any kind of information related to leads instantly. This also allows you to reach potential leads in less time.
Key Features
Timeline view to visualize details about the sales process and identify bottlenecks faster
One-click automated calling with built-in speed dialer
Call recording functionality, along with listening to them directly from the timeline
Automated email tool for sending automatic follow-ups and keeping track of conversations
Individual reports visualizing the sales activity for each of your team members
Pricing
Basic – at $65 per user/month. CRM with built-in email sync, global calling, and SMS
Professional – at $95 per user/month. Sales automation with email sequences, and power dialer
Business – at $145 per user/month. Advanced CRM functions for high volume teams
---
Our Rating: 4.2/5
Supported Platforms: Android, iOS
Pricing: starting at $19 per user/month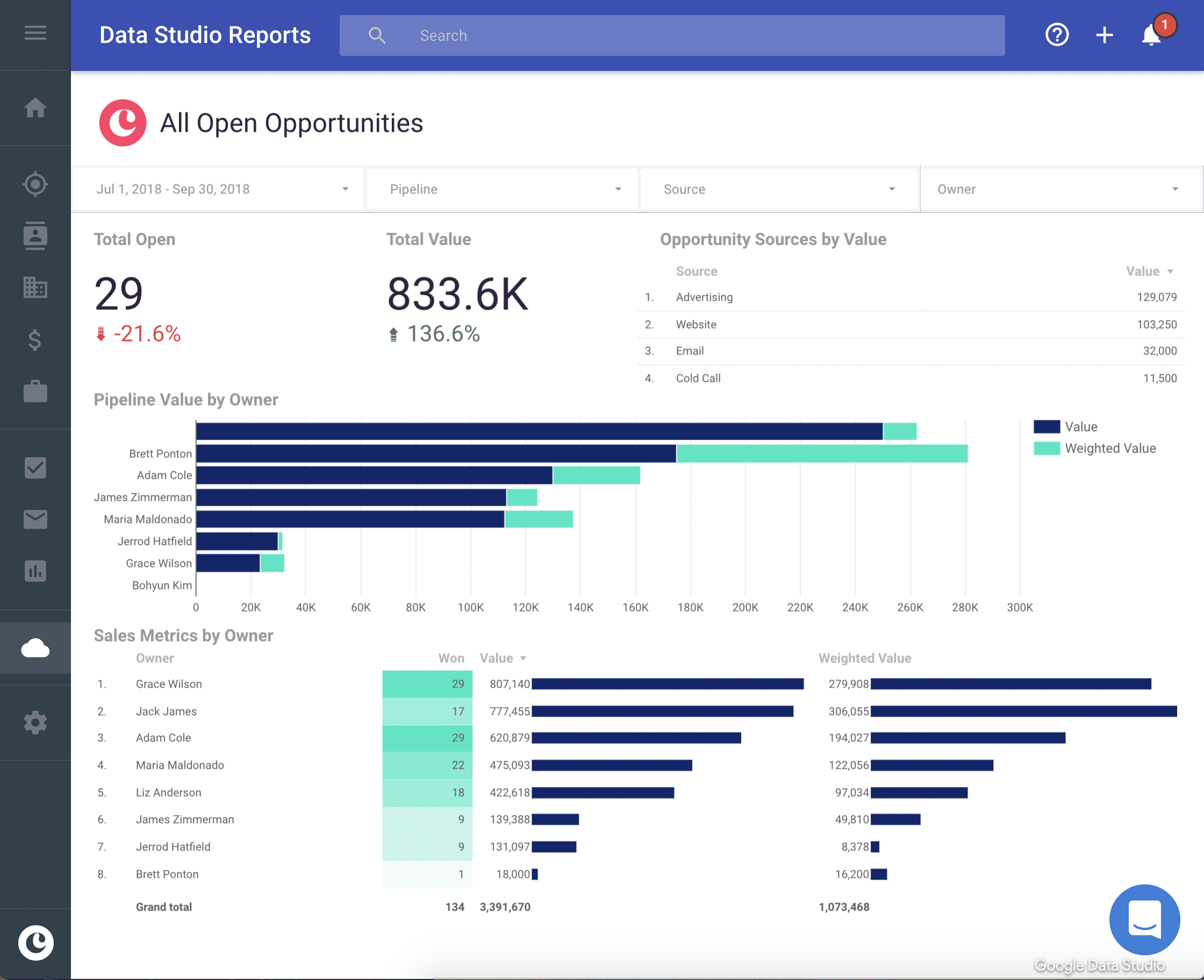 If you don't want to switch applications for your CRM, this next best CRM software is for you. Copper is designed specifically for people who frequently use G-suite. The Chrome extension of the software allows you to fetch tasks directly from your email inbox and track conversations, so you don't have to juggle between multiple applications.
With workflow automation, you can effectively streamline your sales process, and once the deal is done, the seller gets a personal notification. The tool integrates seamlessly with all other G-suite applications, like Google Sheets, Hangouts, etc to further make things easier for you.
Key Features:
Standard email templates to send emails simultaneously
Gmail integration to directly import and act on tasks
Lead management to convert potential leads into customers
Contact management to keep all your contacts in one place
Pipeline management to monitor the progress of deals
Integration with G-Suite
Pricing
Basic – at $19 per user/month. Basic reporting, sales forecasting, and G-suite integration, among other features
Professional – at $49 per user/month. Task automation, workflow automation, integrations, activity reporting, and many other features
Business – at $119 per user/month. Elaborate CRM with more storage space and multiple integrations
---
Our Rating: 4.2/5
Supported Platforms: Android, iOS
Pricing:  at $19 per user/month when billed annually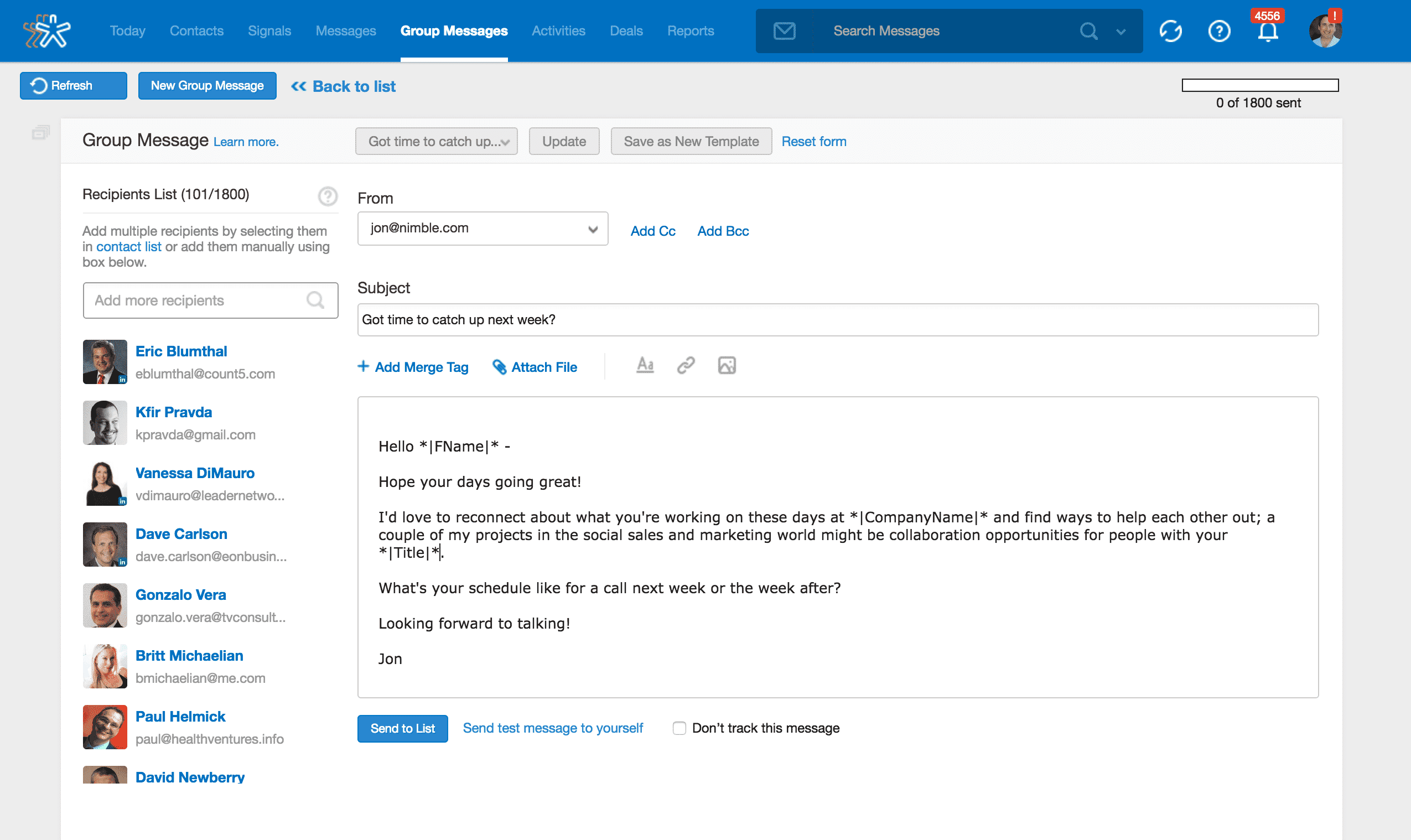 Nimble is a simple CRM software that brings together your contacts, sales, communication, and business intelligence in one place. Through the dashboard, you can get a quick glimpse at your sales pipeline, appointments, and deals to make informed decisions.
The sales funnel allows you to monitor the number of prospects present in each stage. Furthermore, the business signals functionality allows you to scan the social media of your prospect customers to better understand their behavior patterns.
Key Features
Dashboard to get sales and customers' insights quickly
Contact management to keep all your contacts' information updated
Prospector feature to discover new contacts' information
Simple pipeline manager to keep track of all the deals
Sales forecasting and pipeline analytics
Pricing
Nimble Business – at $19 per user/month when billed annually. All the features are available in this plan.
---
Our Rating: 4.2/5
Supported Platforms: Android, iOS, Web, Mac, Windows
Pricing: starting at $69 per month for all users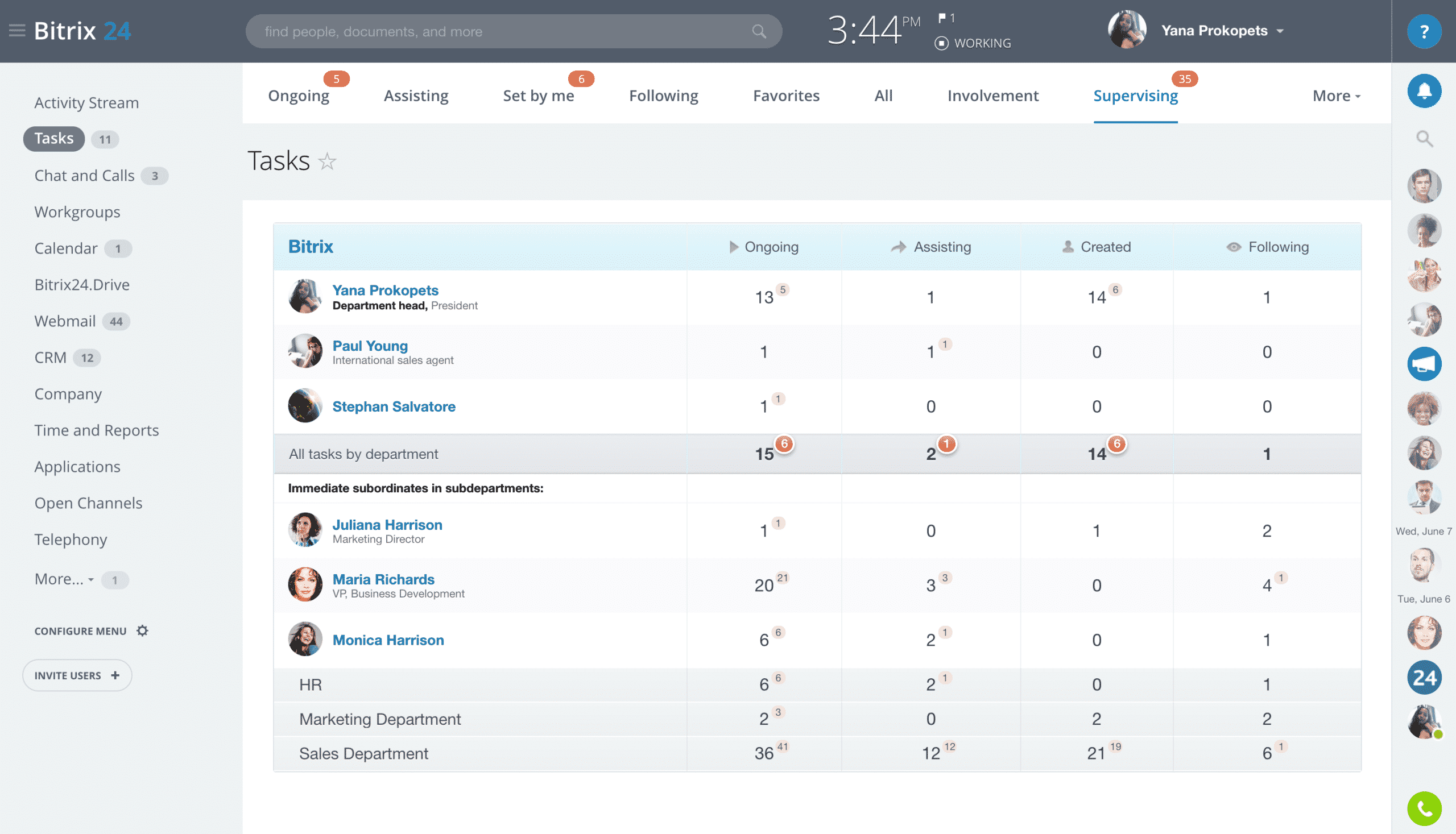 The last spot in my roundup of best CRM for small businesses and startups goes to Bitrix24. A fairly basic, yet comprehensive CRM solution which comes with all the essential tools your business needs. The tool provides a decent feature set to cater to the CRM needs of small and medium-sized businesses effectively.
The calendar view allows you to easily schedule appointments, book resources, and monitor employee availability without any hassle. The tool also comes with numerous reports to evaluate the performance, like activity reports, deal reports, and sales reports.
Key Features
Sales funnel to keep a check on all the sales processes
Pipeline management for monitoring deals
Bookings and scheduling through the calendar
Multiple custom reports and dashboard for evaluating the performance
On the cloud and on-premise availability
Pricing
Free – $0 for teams who're just gearing up
CRM+ – $69 per month, all users. Designed for small companies
Standard – $99 per month for all users. For midsized companies
Professional – $199 per month. For teams requiring advanced sales automation tools
---
Check out these other useful articles