Each organization around the globe has to tackle multiple different kinds of projects throughout its lifecycle. These different types of projects call for different ways of managing and executing them. One of them is Scrum.
What is Scrum?
Scrum is a well-known agile project management framework that comes under the broader umbrella of Agile product development.
Out of all other Agile frameworks, statistics show that 58% of the organizations implement Scrum for their products' development and 18% of organizations use it in combination with other frameworks.
The framework works on the fundamental principle of iterative and incremental product development with continuous systematic collaboration among the team members in between the project cycle.
With an over-abundance of tools facilitating Scrum project management, it can become quite challenging to choose the right Scrum tool for your organization, therefore I looked for some great Scrum tools online to present this list of the 8 best Scrum tools for you.
Some of these are:
Rating: 4.9 out of 5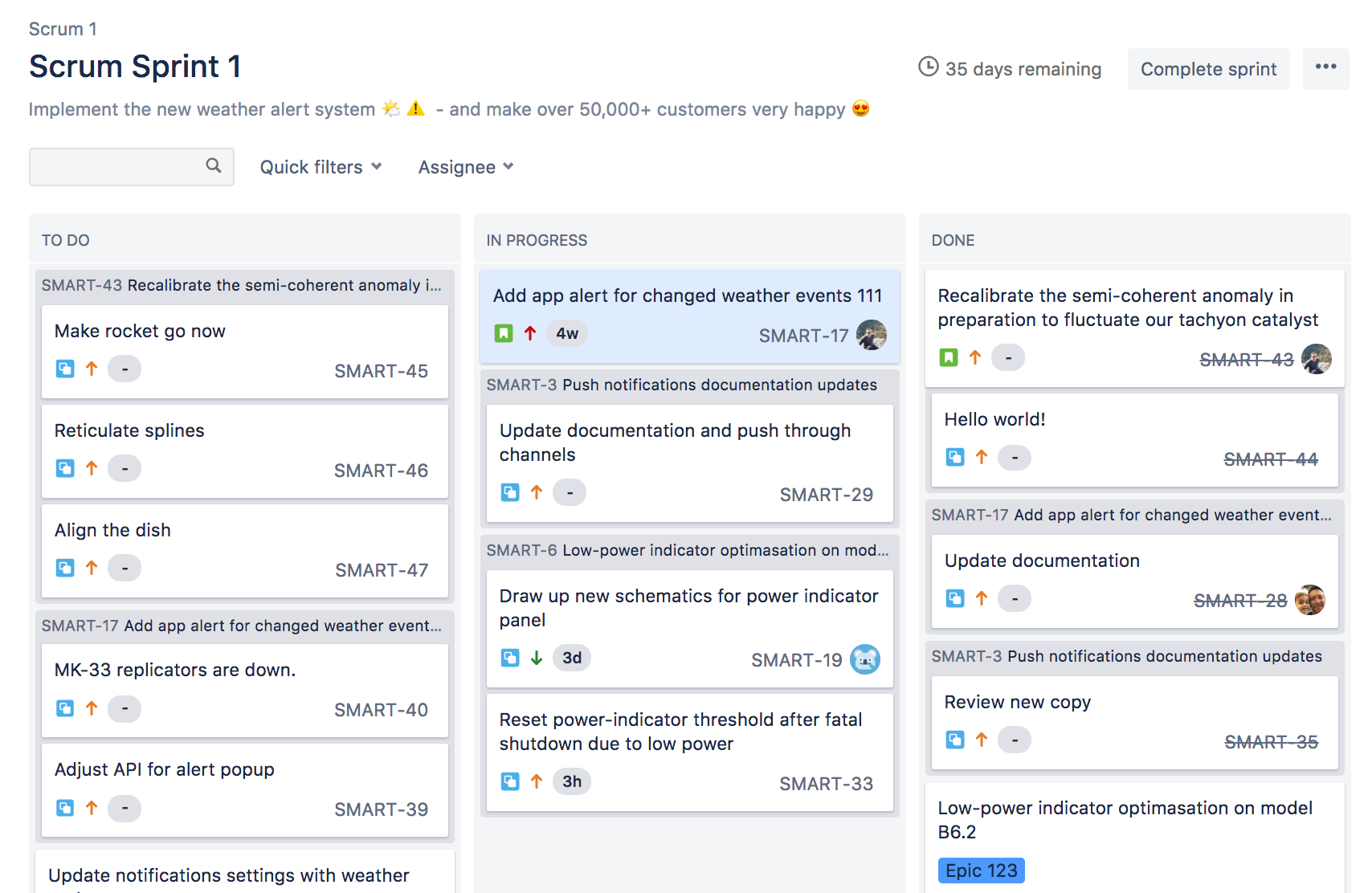 Jira is considered to be a great tool used by Agile teams, so without a doubt, it makes to the top of my list of best Scrum tools. Jira comes loaded with features that make Scrum implementation seamless for the users.
Key Features
Customizable Scrum boards
Powerful progress reports
Bug and issues tracker
Backlog management
Custom filters
User stories mapping
Time tracking
Customizable dashboard
Sprints management
Real-time reporting
Numerous third-party application integrations
Pricing
Up to 10 users: $10 per user/month
11-100 users: $7 per user/month
More than 100 users: upon request. For large teams
---
Rating: 4.7 out of 5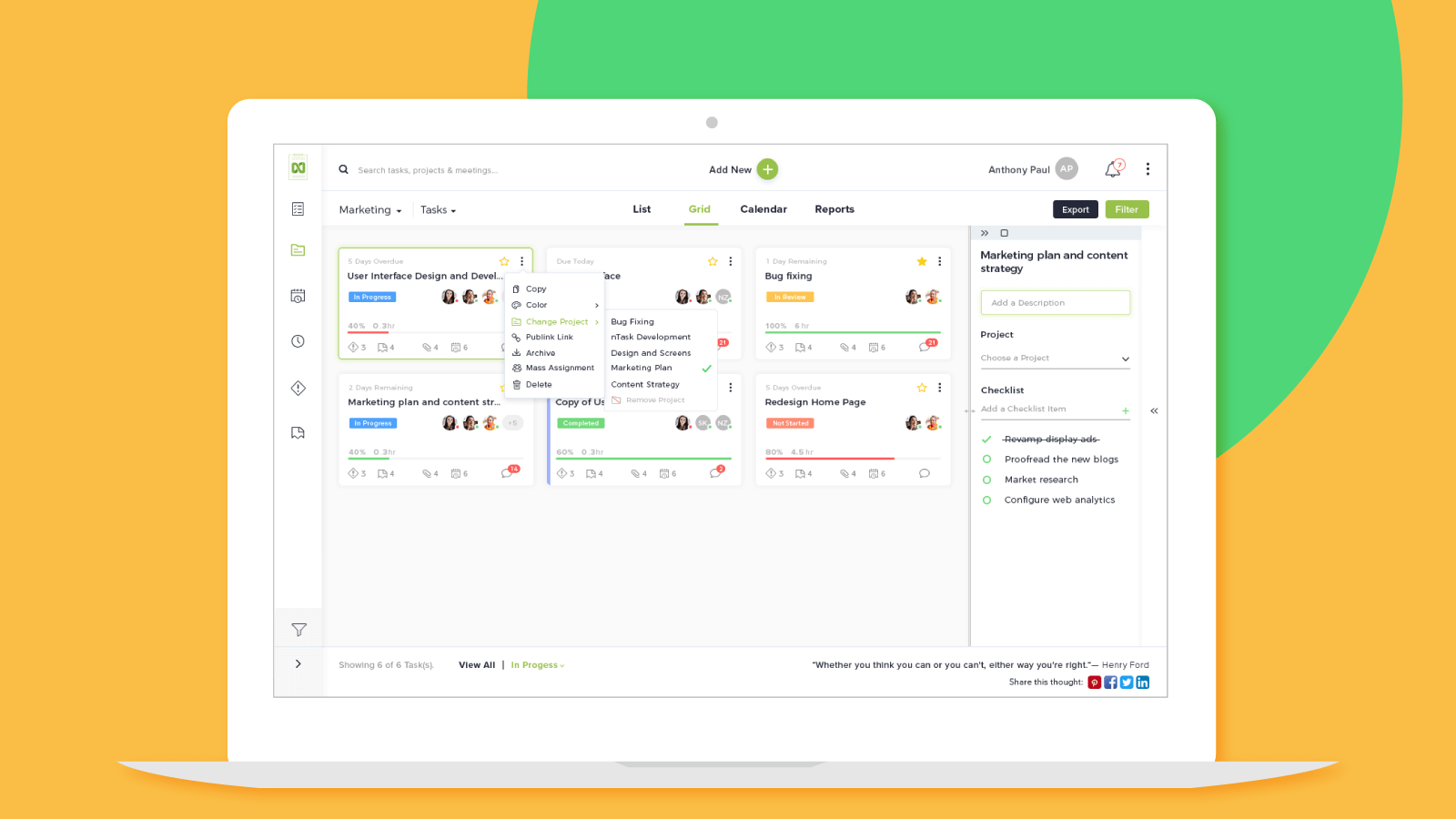 The second tool on my list of best Scrum tools is nTask. A project management software which makes Scrum implementation smooth for you.
It is a multi-layered tool which is aimed at helping teams and project managers from all industries to organize their projects in a systematic way and get work done faster.
Key Features
Let's have a look at some of the key features of nTask and how they facilitate the implementation of Scrum methodology:
Project Portfolio: all your projects centralized, listed according to your choice of view
Task Management: all the tasks and subtasks organized for easy execution
Progress Visualization: built-in Gantt charts and timesheets for tracking project progress
Issue Tracking: issues association with tasks and assigning of relevant probability for timely resolution
Meeting Management: effective meetings management with pre-defined meeting agenda and discussion points
Risk Management: creation and prioritization of risks with relevant projects to mitigate their effect on the project
Team Management: independent workspaces for teams to work on multiple projects simultaneously
Pricing
nTask offers the following pricing plans:
Free: up to 5 projects, 5 workspaces, and unlimited tasks and meetings
Pro: $2.99 with unlimited everything
---
Rating: 4.6 out of 5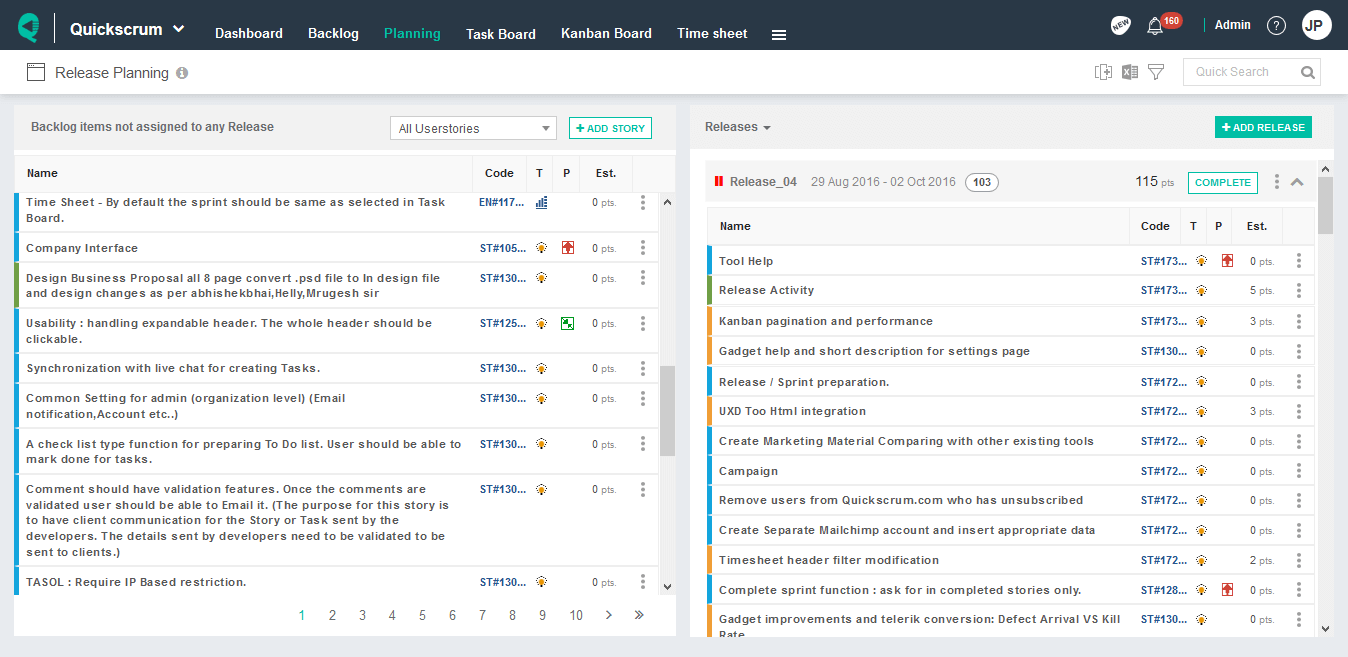 Another one of the best Scrum tools is QuickScrum. It's a web-based tool designed to support Scrum and other Agile frameworks.
Coming with a simple drag and drop interface for easy backlog management, the tool is equipped with all the necessary features which are required to implement the Scrum methodology.
What's interesting about QuickScrum is that they claim to be the largest Scrum community offering professional Scrum training and certifications to organizations and individuals who need them.
Key Features
Scrum boards for workflow visualization
Drag and drop for prioritizing tasks
Drag and drop for file attachments
Activity tracking
Comments within work items
Work items statuses
Customizable work items filters
Individual efforts tracker
Workflow tracker to calculate the speed of work
Burn up and burn down charts
Multiple third-party application integrations
Pricing
QuickScrum offers the following pricing plan:
$3 per user/month with 14 days free trial.
See also:
http://productivityland.com/lists/best-gmail-add-ons-extensions/
---
Rating: 4.4 out of 5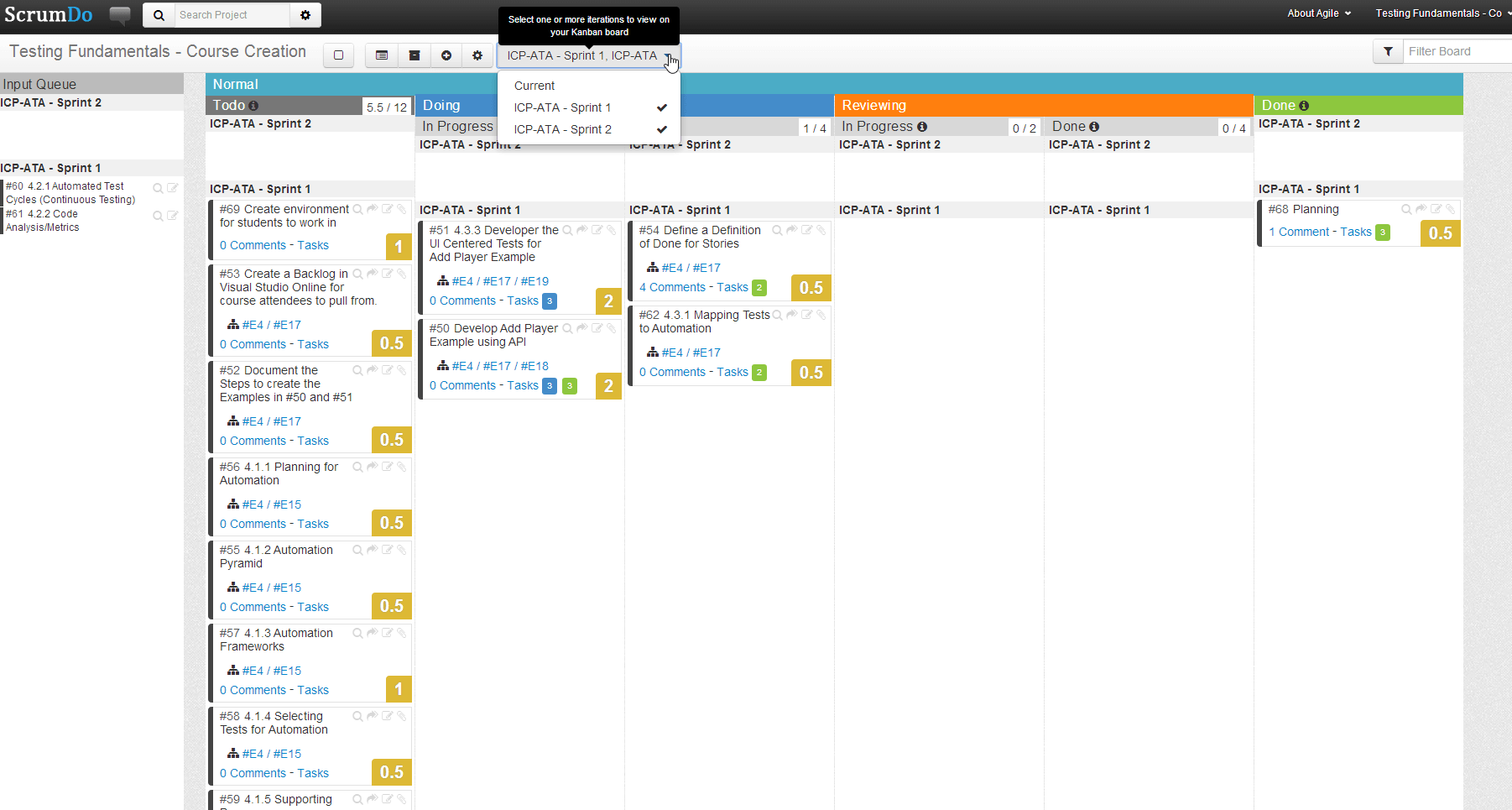 ScrumDo is a project management tool specifically designed for Scrum, Kanban, and Scrumban frameworks. It essentially works on the principle of creating user stories and sprint planning on the basis of user story mapping.
The tool provides high customization options to the users to build their workflow boards according to the framework they've adopted and plan out iterations systematically.
Key Features
Tasks and subtasks management
Projects dashboard
Project timeline for updates
User stories creation and mapping
Scrum statistics reports
Lead time histogram
Cumulative flow diagrams
Burnup and burndown charts
Notification alerts
Third-party application integrations
Pricing
ScrumDo offers the following pricing plans:
Scrumban: $8.99/month for small teams of up to 10 users
Safeban: $59.99/month for growing teams
Business Agility: upon request. For large organizations.
ScrumDo comes with a free trial of 7 days.
---
Rating: 4.2 out of 5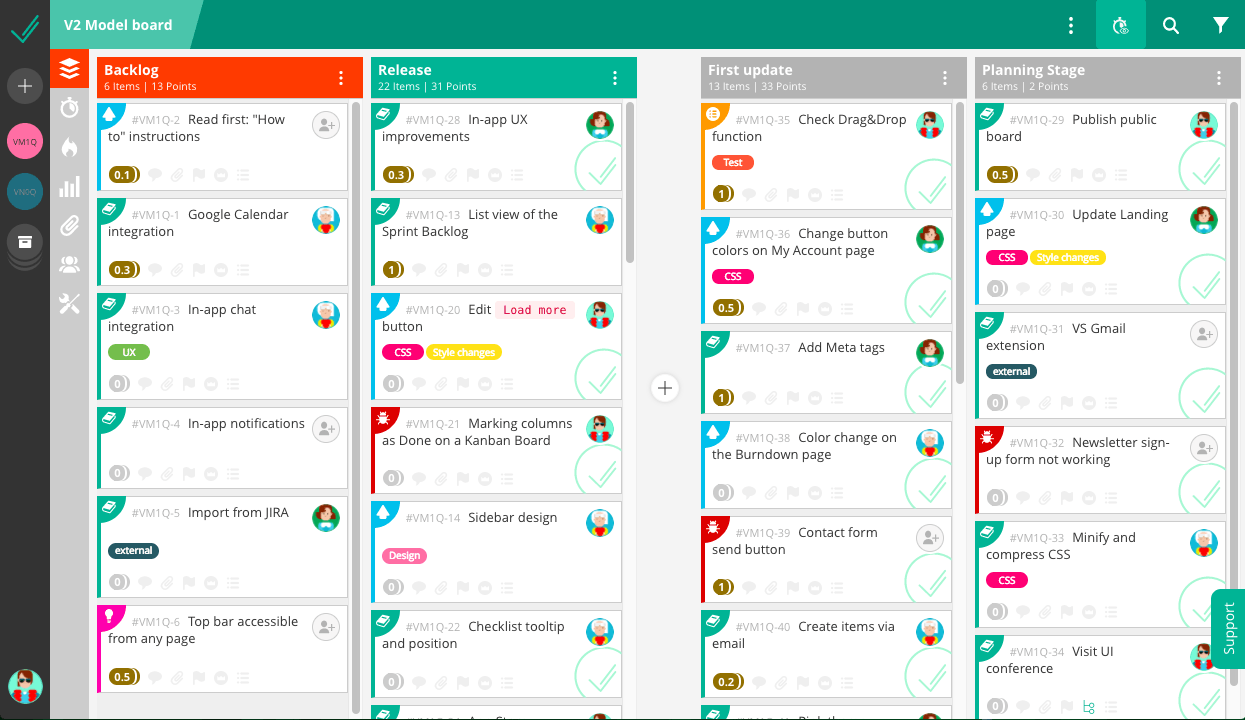 The fifth tool on this roundup of the best Scrum tools is VivifyScrum. Coming with features tailored to the needs of Scrum and Kanban methodologies, it makes project management easy for agile teams.
Furthermore, the tool comes with a clean and clutter-free interface which makes it appealing to the eyes and organizes tasks in an effective way.
Just like QuickScrum, VivifyScrum also provides online Scrum training free of cost.
Key Features
Scrum boards for workflow management
Powerful charts and Scrum metrics
Invoice creation and sharing
Project calendar
Board history
Product backlog
Sprint backlog
Time tracking
Customizable project labels
Third-party application integrations
Pricing
VivifyScrum offers the following pricing plans:
Free: unlimited items, users, and boards with 20 MB per board files storage
Premium: $8 per user/month with unlimited everything and other advanced features
---
Rating: 4.2 out of 5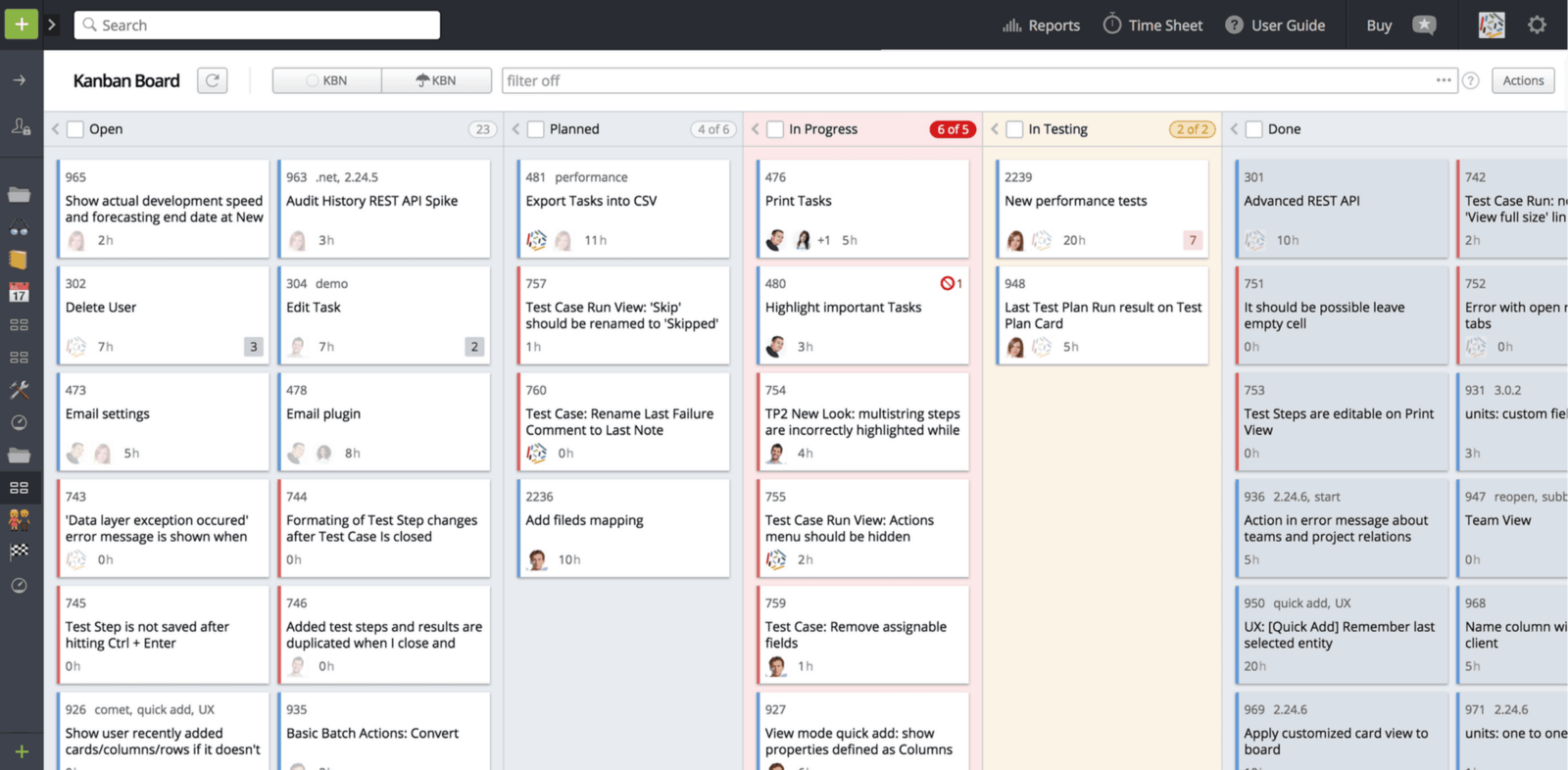 Targetprocess is one of the most versatile agile tools available in the market. It can be adopted by organizations of any size and for any agile methodology, including Scrum, which is why it made to my list of the best Scrum tools.
It provides high visualization functionality which makes it convenient for the user to get transparency while viewing all kinds of projects.
Key Features
Centralized projects dashboard
Drag and drop interface
Shareable boards
Personalized project reports
Product backlog management
User story mapping
Sprint management
Burndown charts
Feature request portal
Pricing
Targetprocess offers three pricing plans for teams, organization and a custom plan for enterprise-class customers:
Team: free for unlimited users and basic support
Company: $20 per user/month, standard support and cloud services
Enterprise: on request. Premium support and other advanced services
---
Rating: 4.0 out of 5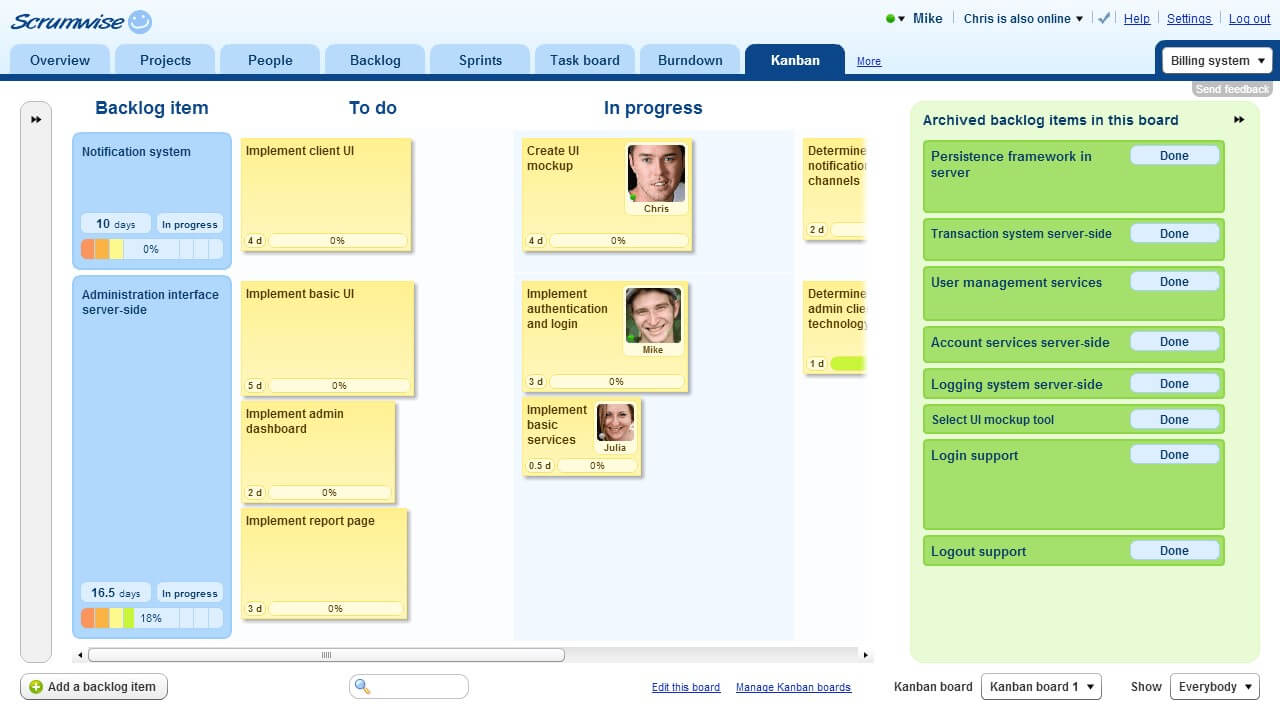 With an interesting client portfolio to brag about, Scrumwise is the next Scrum tool on my list. A fully configurable task board tool which supports multiple Agile frameworks, Scrumwise enables users to create custom task boards for managing projects and teams.
Users can quickly get a hold of the basic functionality of the software with its rather simple and intuitive UI design.
Key Features
Tasks and subtasks management
Team management with roles assignment
Backlog management
Personalized task filters
Product release management
Sprint management
Customizable task boards
Burndown charts
Time tracking for individual sprints
Drag and drop interface
Activity history
Comments within tasks
GitHub integration
Pricing
Scrumwise offers an annual and a monthly pricing plan:
Monthly: $9 per user/month
Yearly: $7.50 per user/month
Scrumwise comes with a free trial for a period of 30 days.
---
Rating: 3.8 out of 5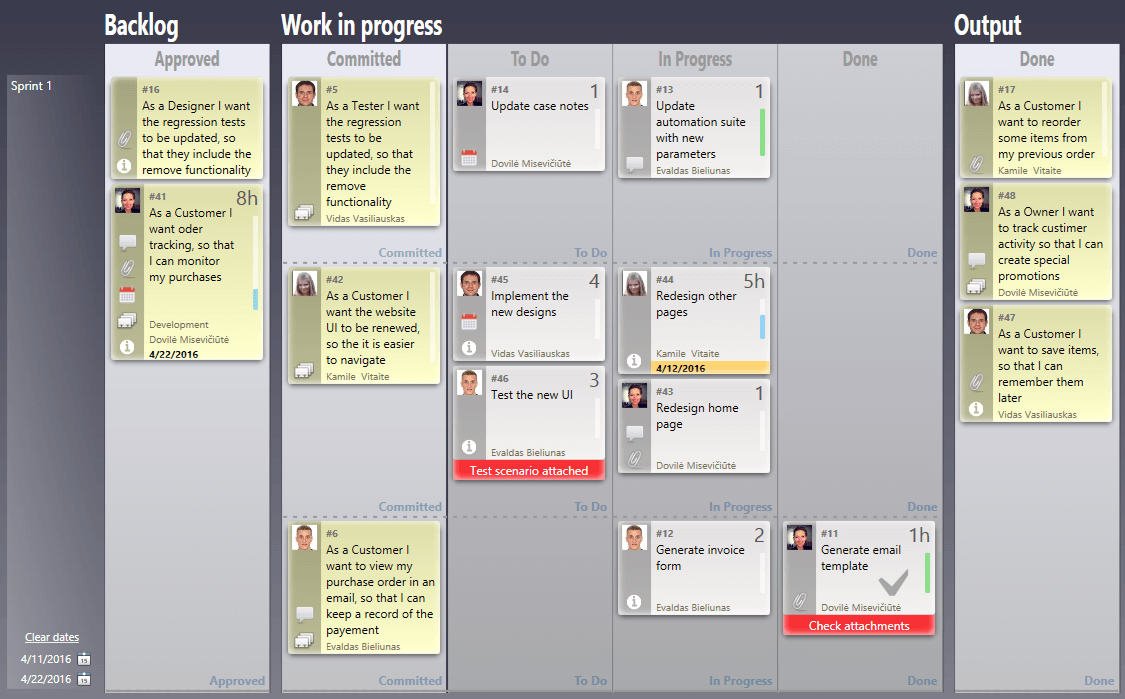 The last tool is Eylean. Essentially a task boards management tool, it lets the users create fully configurable and customizable task boards which can support multiple Agile frameworks.
Eylean strictly focuses on the visual representation of workflow, therefore it comes with various reports to help evaluate the project progress over time.
Key Features
Customizable task boards
Scrum boards
Projects dashboard
Drag and drop
Mass task assigning
Task comments
Public and private access to tasks
User stories
Automatic time tracking
Flow diagrams
Burndown charts
Roadmap view
Integration with Microsoft Office and Team Foundation Server
Pricing
Eylean comes with a minimum 3-month commitment for each user. Pricing starts at:
Basic: $35.88 (~$11.96 per user/month)
Premium: $45.54 (~$15.18 per user/month)
The pricing varies with the number of people in an organization and both plans come with a 15-days free trial. Also, Eylean offers a 15% discount on an annual and a 24-month commitment.
---
Co-authored by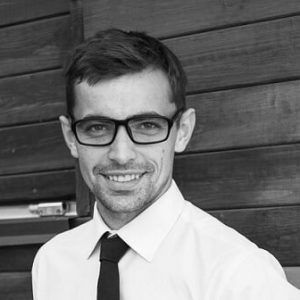 Fred Wilson
Agile & Software Consultant at nTask. I write about what inspires me, explore how great teams perform, and avidly read about tech that has the potential to disrupt.
---
Check out these other useful articles