Hi, this is Steve from Productivity Land. Last week was rife with excitement because we were working on an exclusive Float app review. Float is a handy resource scheduling and monitoring software with tons of perks for productivity fans.
The nifty tool caught our eye last month when our dedicated team members were scouring the internet for useful resource scheduling apps in 2021. Needless to say, it was a remarkable experience trying Float software at its fullest. We were able to drive maximum productivity out of it over a number of different test projects.
This review is written from a hands-on perspective because we wanted to help those people who are having a hard time getting by with submitting projects, milestones achievement, and such other important work-related activities. Some of the features are my personal favorite. So, there is a possibility that you might not see them as a "highlight". However, anything that makes usability and overall functionality easy deserve a mention!
1. Core Features & Functionality – 9.0 out of 10: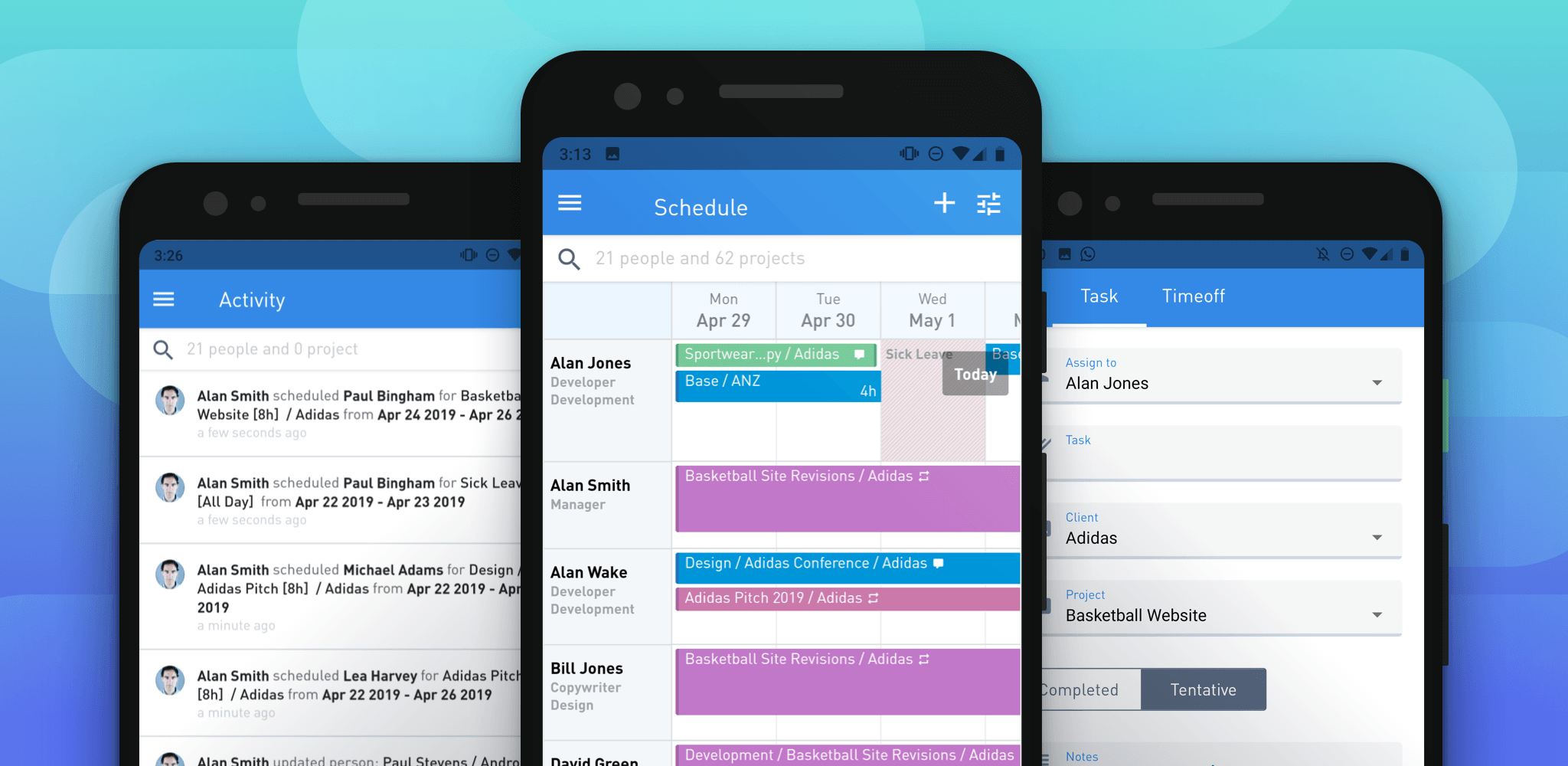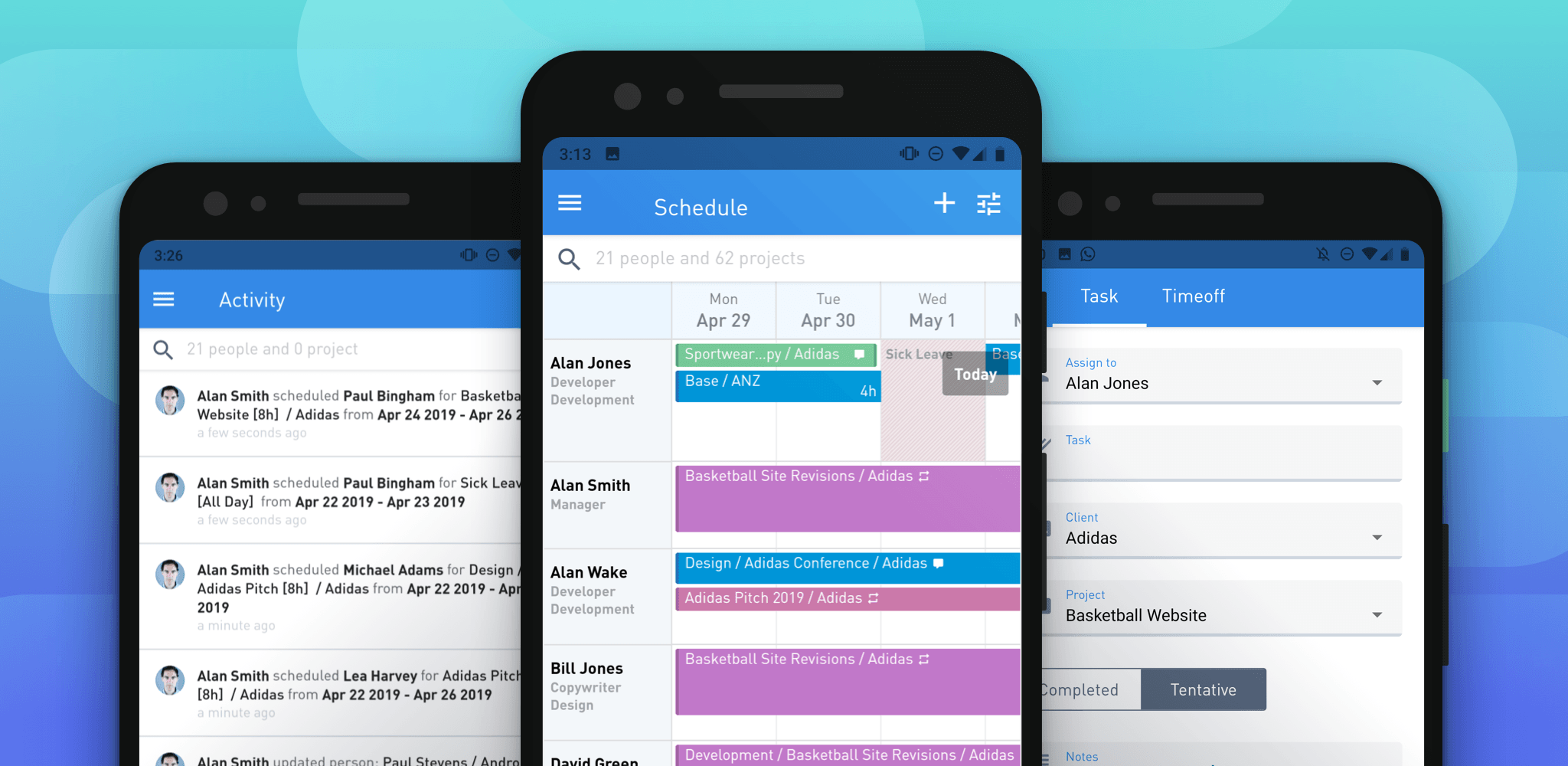 Since I said at the very start of this write-up that Float is labeled: 'Resource Scheduling and management software', the evaluation criterion focuses on our ability to manage resources and complete projects.
Float's overall functionality cycles around how project managers, business owners and even first-timers with very limited knowledge of advanced software users can get the "hang of it" without wasting too much time. I love that Float has a very smooth learning curve. Kudos to the dev team for that.
Moving on, this program has been constantly under development since 2012. Since then, Float's developers have come a long way since the very first version of the software was released. They have heard customers and revamped the program with several updates to core features, visual appeal, and whatnot. The interesting thing is that the Float team has maintained the simplicity and usability of the program since its inception.
Besides offering a very sleek and user-friendly interface, Float is super easy to use. Once you get the hang of it, which should not take more than a few minutes, you will find that Float is a remarkably well-rounded resource scheduler with tenacity to offer more as you uncover the peels.
1.1 Float Resource Scheduling Software's Main Features:
The main features are, but not limited to the following:
The end-users' ability to schedule their activities and resources effectively. This is essential for planning and deployment of any number of projects throughout the lifetime of a business.
You can drag and drop and drop tasks to append roles in them.
This area constitutes not only the planning phase of the project but their customization, execution and overall monitoring as well. You can create new projects, set-up milestones and allocate some basic level budget to get started immediately as an individual.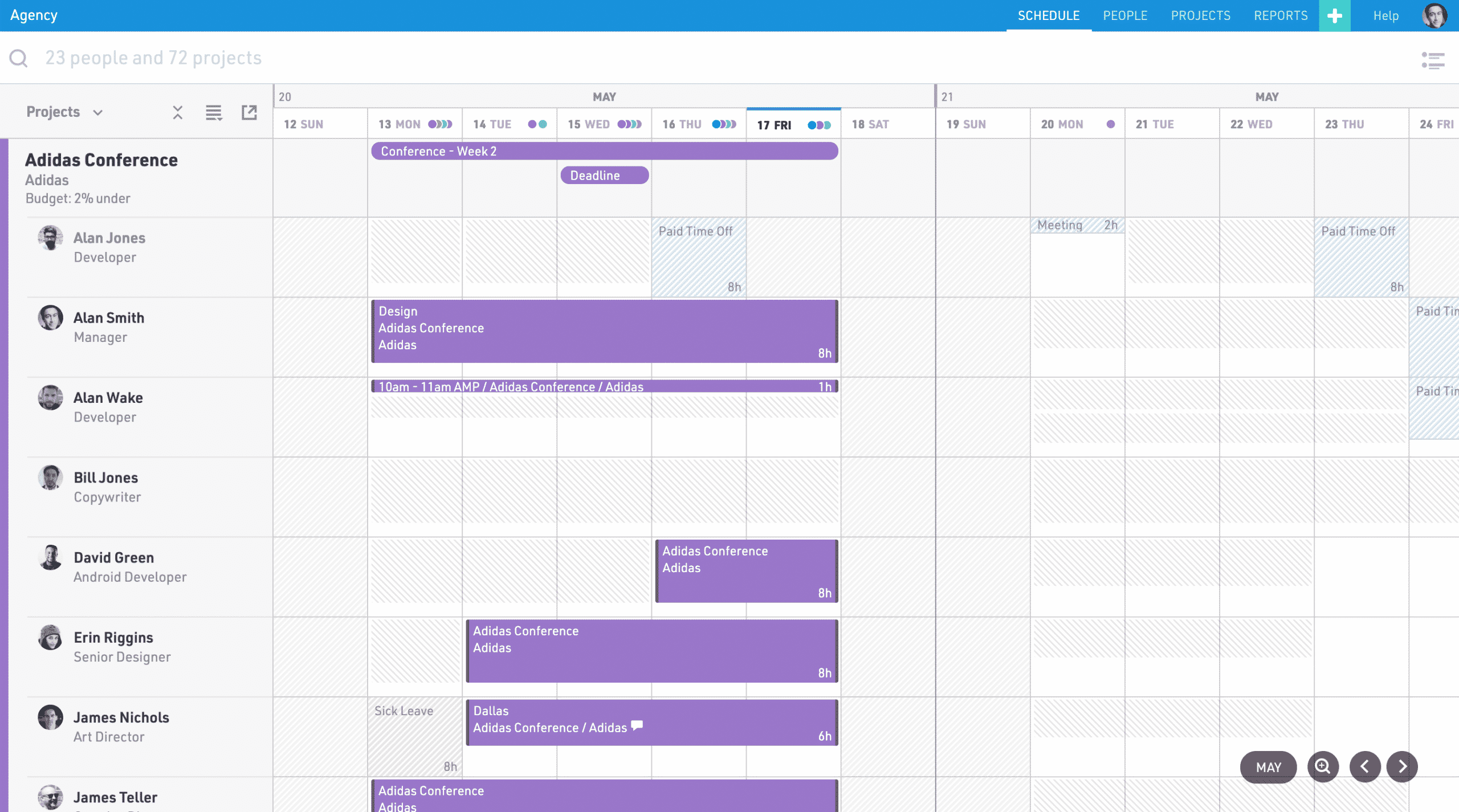 Since common sense prevails, we all know that 99% of the plans don't go according to the plan. This is why Float is created to manage change. While you are engaged with assigning tasks to team members, un-assigned activities can also be set-up to plan for the future. You can fill in all the important details later to actively reflect real-time updates as project requirements bump up one-by-one.
Advanced users can further add team members to manage their activity, create billable vs. non-billable -hours and get progress reports 'on the numbers'. All of this is done through a very intuitive interface with nice visual cues to maintain user interest.
Each activity is shared and updated in real-time. This allows team members to stay on the same page.
Manage and monitor your team's activity in real-time view. Since Float resource scheduling software is cloud-based, everything is synchronized to help core users maintain a grip over what's happening at the team level.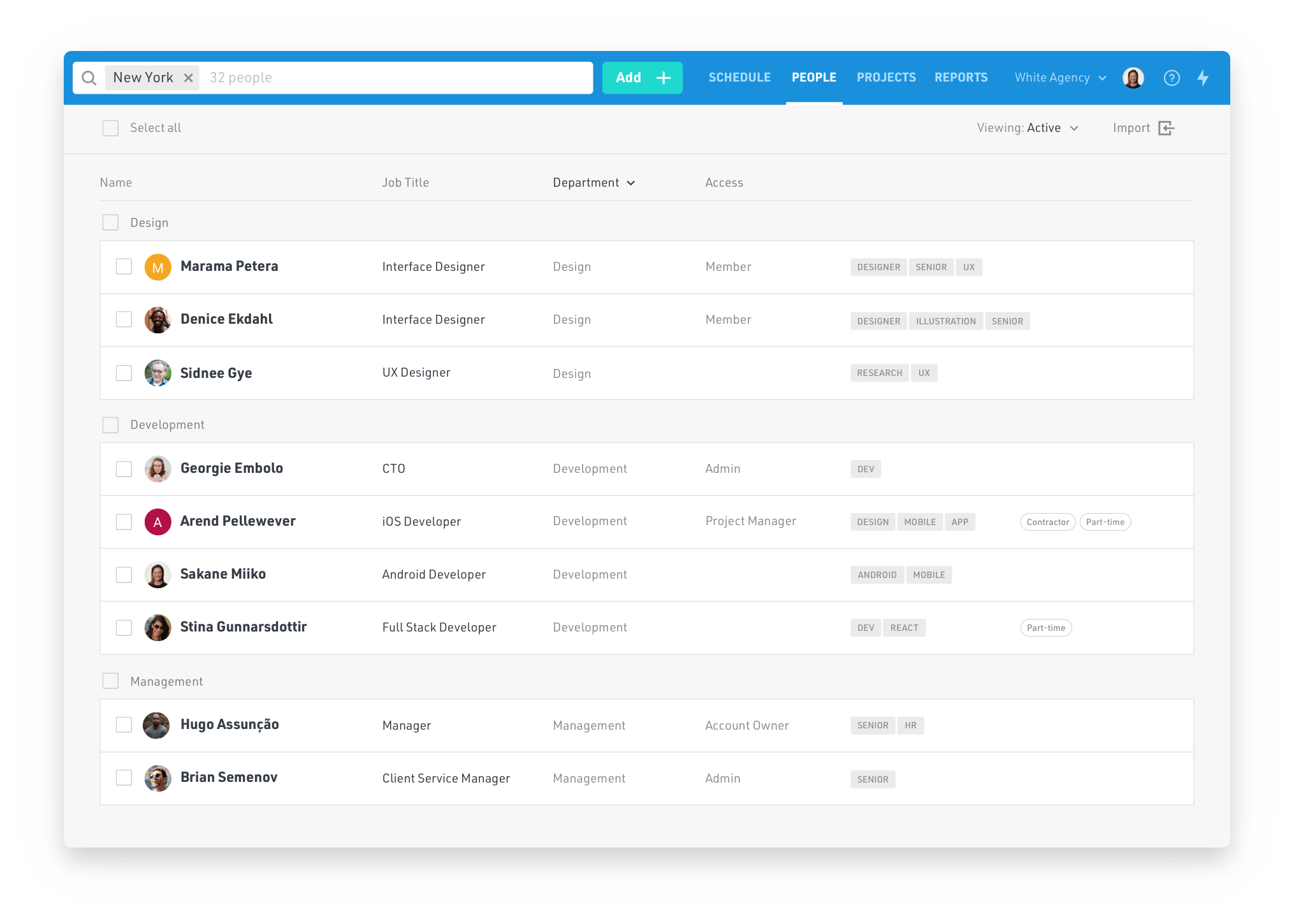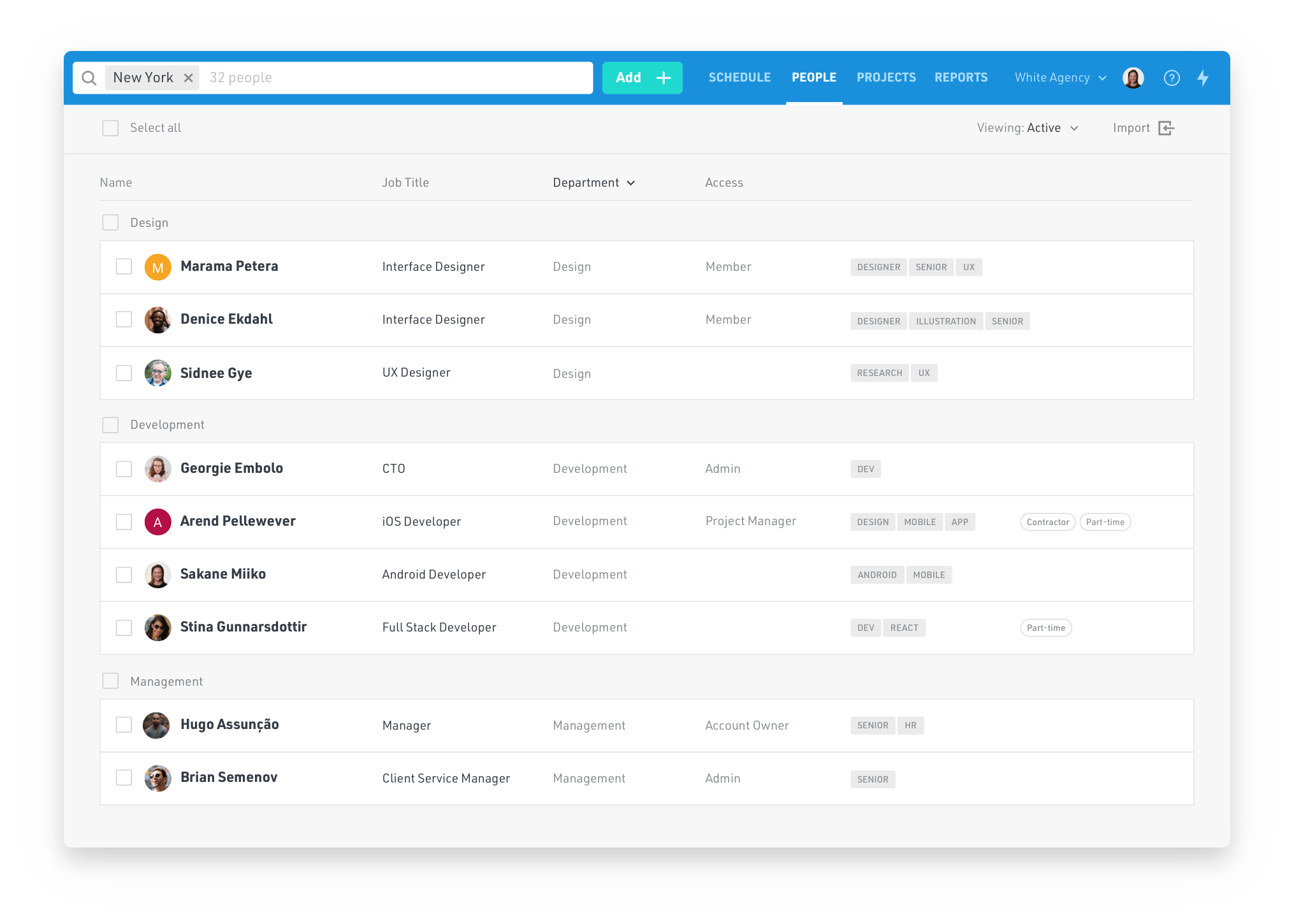 Schedule active and off-duty work hours to accurately reflect your teams' capacity to work. You are at the liberty to mark team members activity as billable, non-billable, full-time and/or contract. This helps to prevent burn out at the individual level when the entire team is engaged in several projects and milestones.
Forecasting and Reporting:
While Float suggests inputting a lump-sum budget for each project, the program also forecasts budget changes if activities are added or subtracted accordingly. This allows data to be updated in Reports view to show an accurate prediction of the expected time to complete the work vs. actual work hours, expenses and many other things.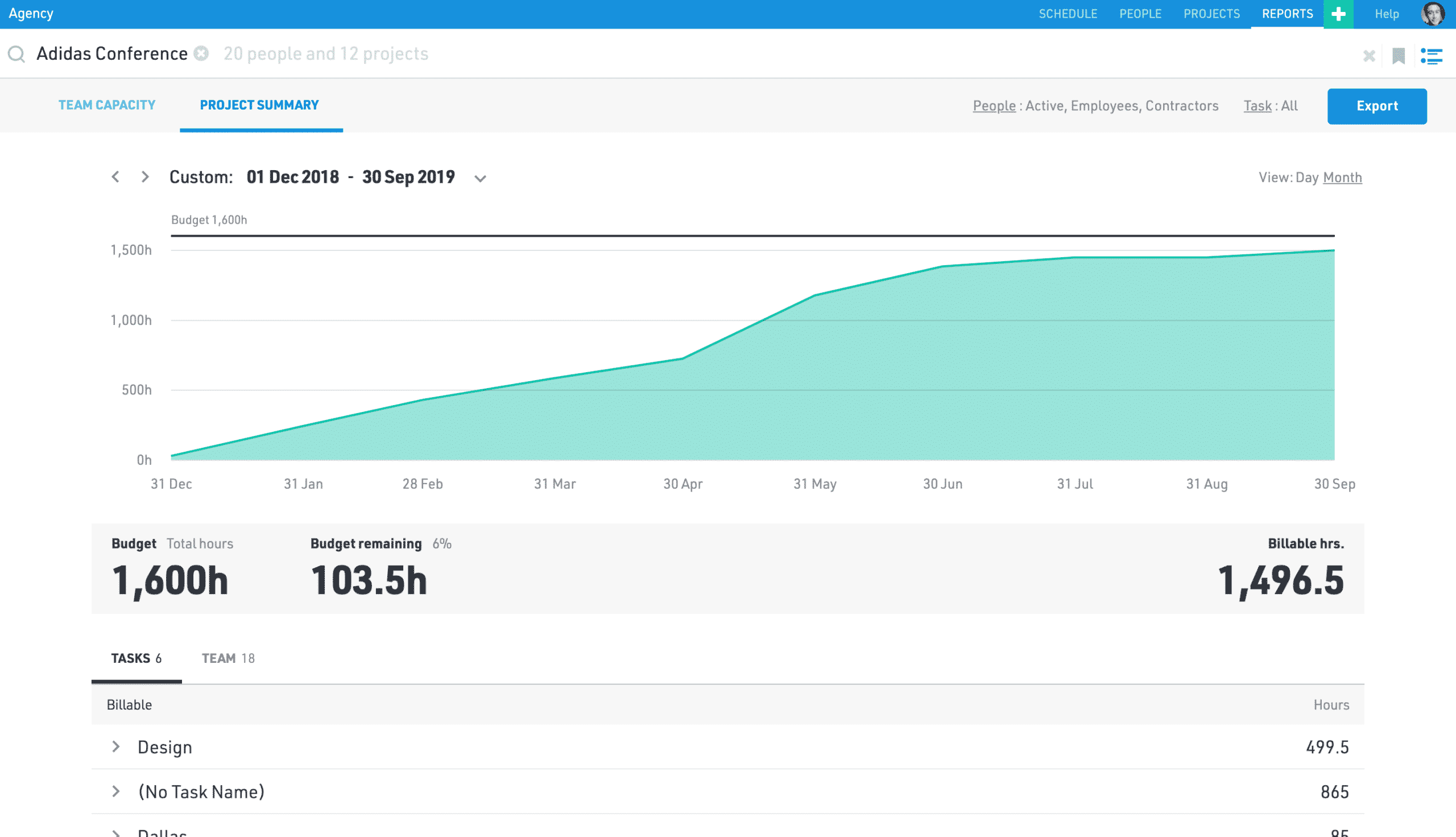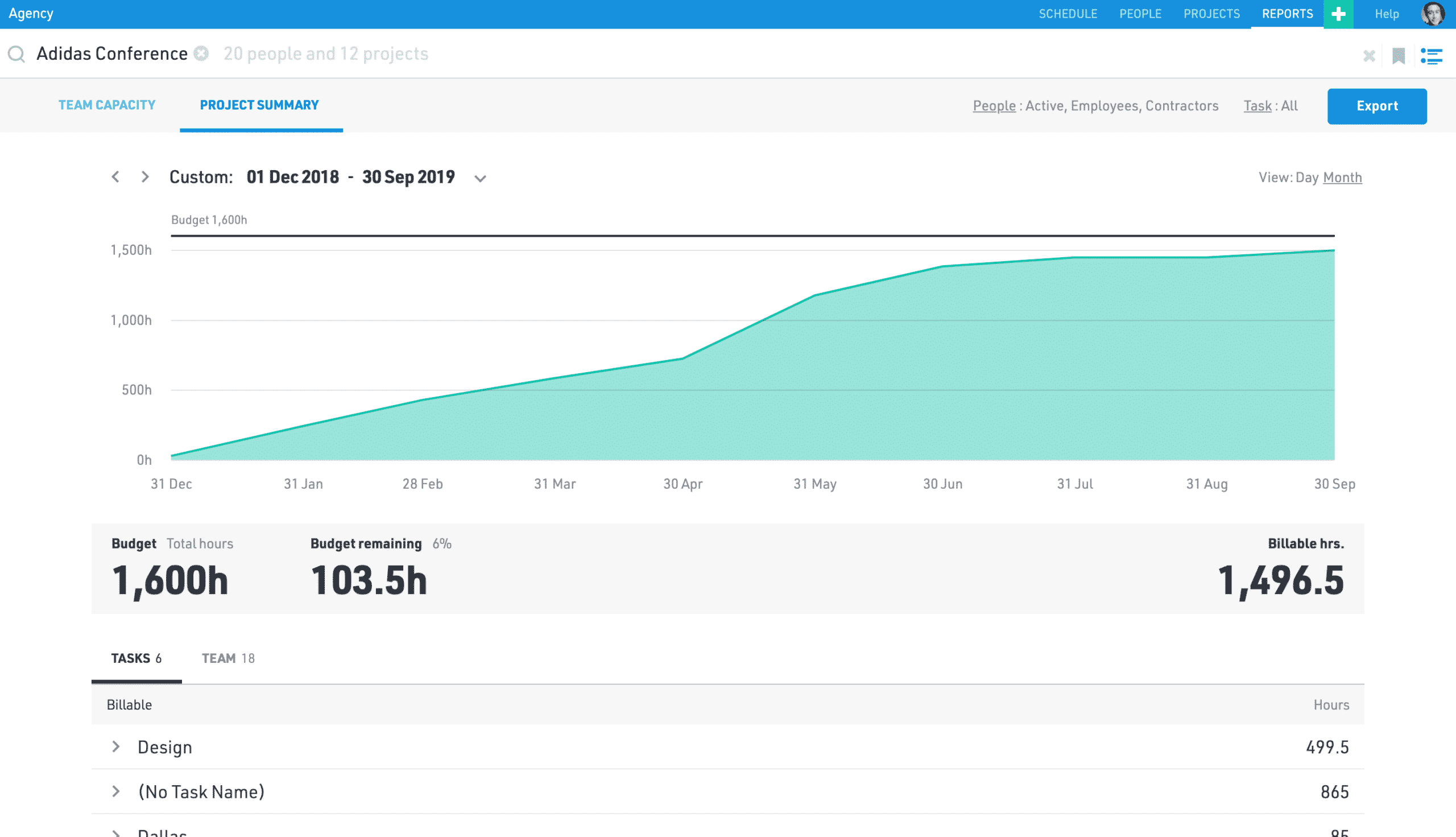 Float also notifies admins when a project is exceeding its budget. This way, project managers can directly contact their clients for changes in the agreed billing amount. If the project budget is not flexible, the project manager can contain the resources and use them effectively to avoid going over the preset budgeted amount.
Enhance your Float user experience with the help of 3rd party app integrations. Integrate your schedule with Google or Outlook Calendar, and stay on top of changes by sending updates to a Slack channel with the Float Slack app. You can also create your own integrations with your favorite services via Zapier. In addition to 3rd party integrations, Float's native apps for iOS and Android are worth checking out.
https://play.google.com/store/apps/details?id=com.float.floatschedule
https://itunes.apple.com/us/app/float-schedule/id1318992940
As far as your favorite integrations are concerned, they are made through Float's custom app integration link or the unique API.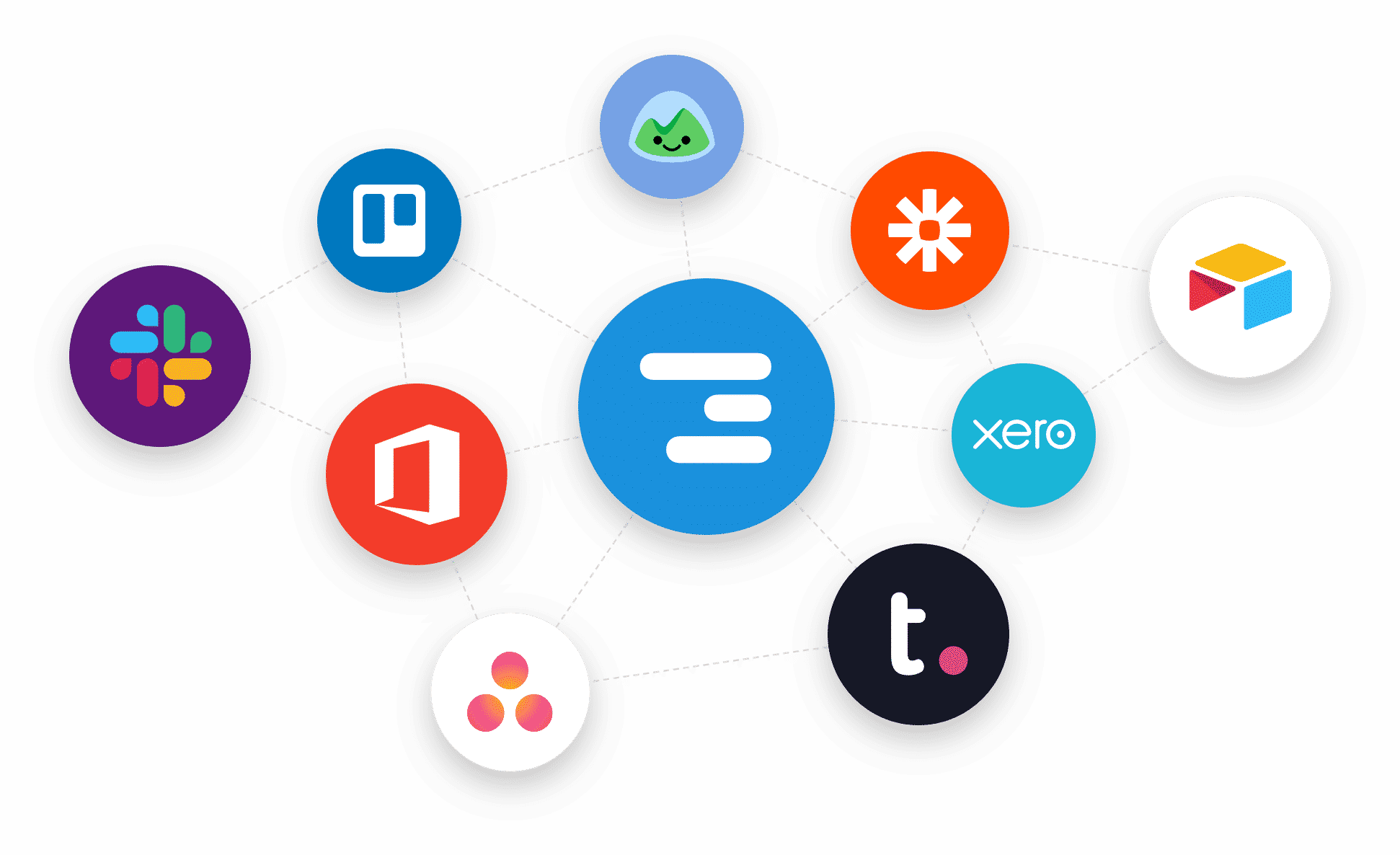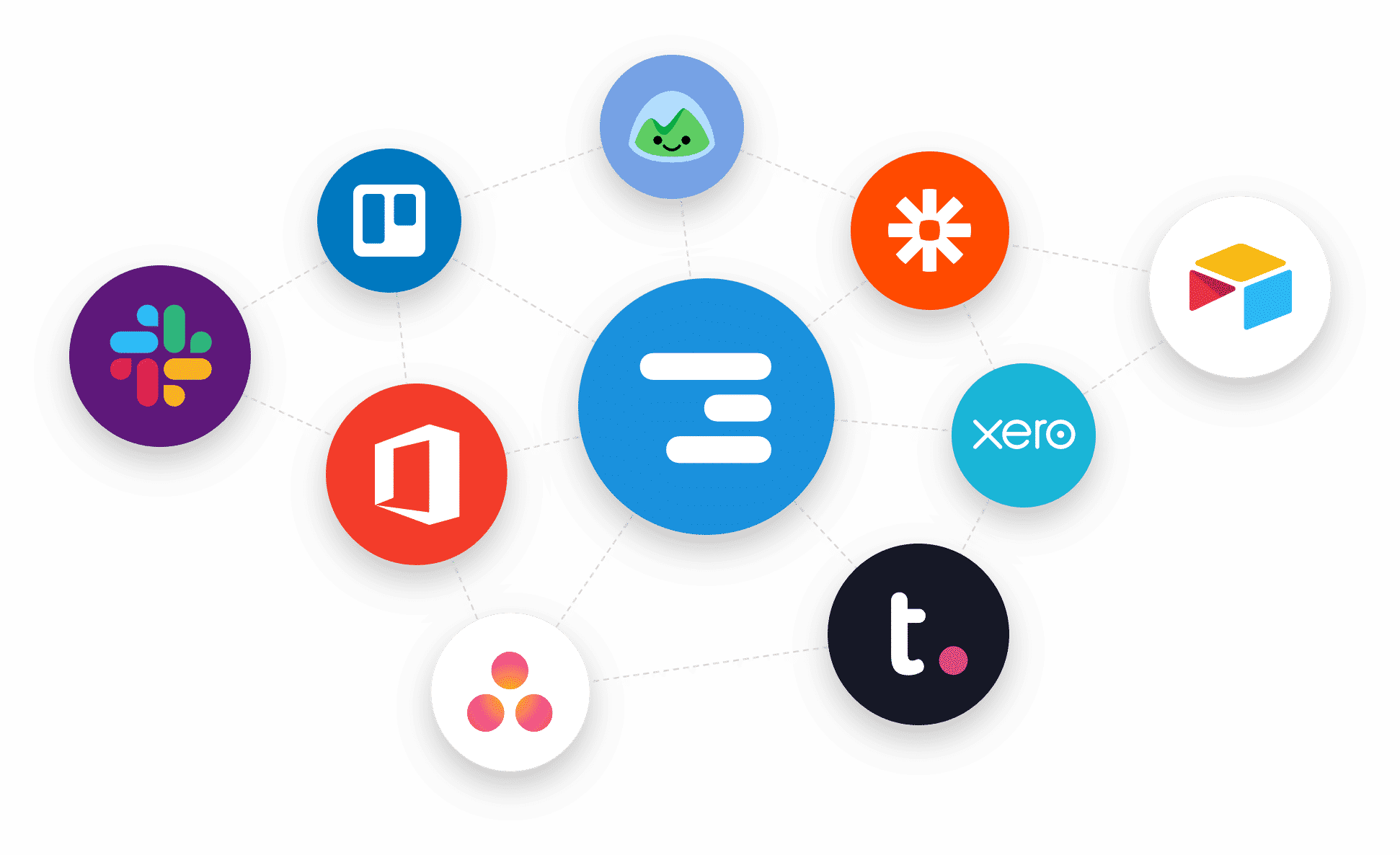 The integration function works seamlessly as long as the app in question supports Float resource scheduling software.
---
2. Usability – 10 out of 10:
Although the following features are not exactly the key driving factors, they do enhance usability. Therefore, I felt it important to mention the following perks as an add-on benefit of subscribing to Float resource scheduling software.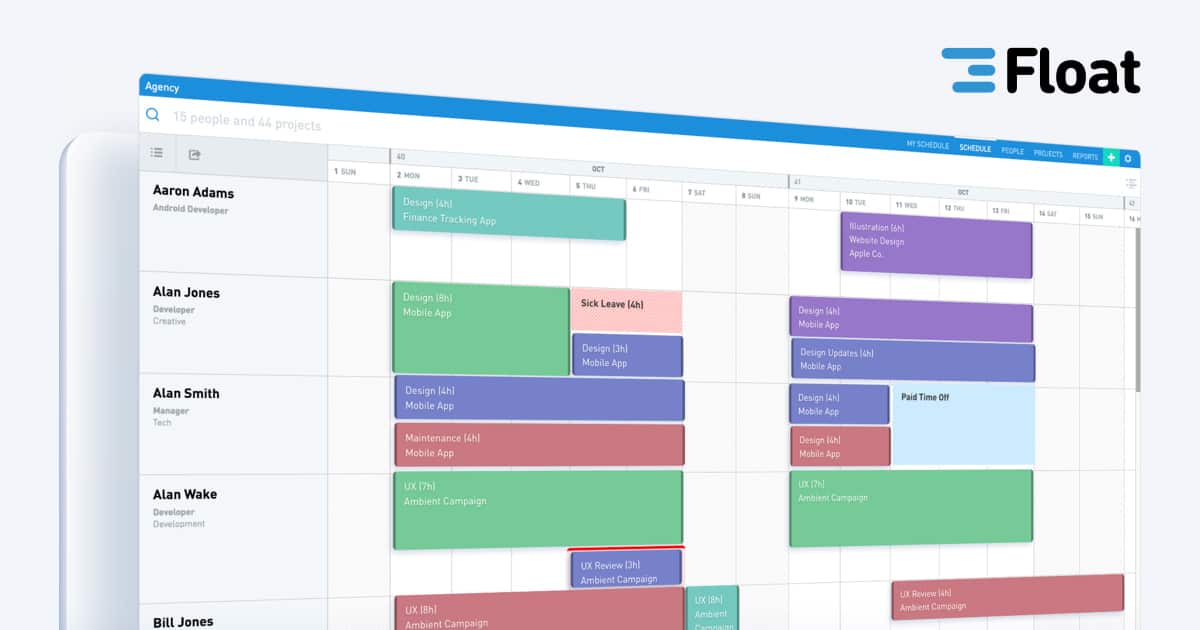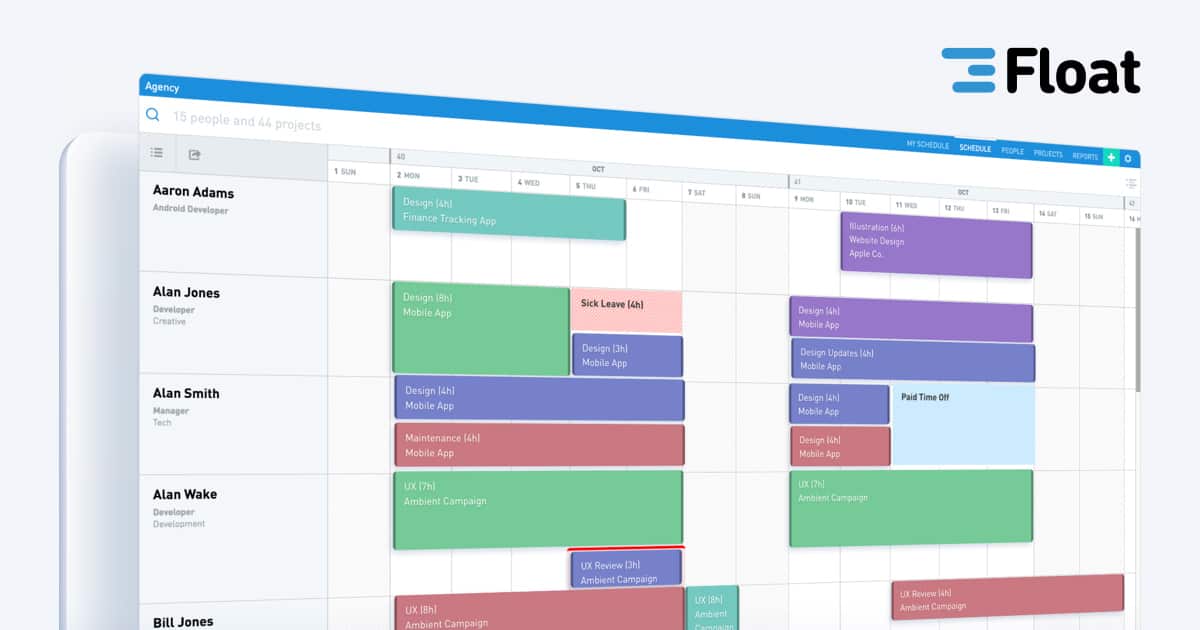 Intuitive UI: When you log-in for the first time at the official Float resource scheduling software website, you will notice that the overall interface is very clean. There are useful tabs at the top alongside a very resourceful "Search" bar.
The end-users' can get everything sorted out with the help of an awesome "Drag and Drop" feature. I will talk about it later in detail. As far as the interface is concerned, it is visually appealing; there is a great color combination layered with strategic buttons placement.
Besides, most of the functions are also linked to Keyboard shortcuts. This is an extra level of functionality for the program's users to help them to doing things faster! If you have an eye for design, you will notice that the look and feel of Float's main dashboard and menus are very minimalistic.
I wouldn't dub Float's interface as a standardized version of Web 2.0 format. However, I said so as a nod of appreciation. The style is advanced and replicates a very "futuristic" appeal, which many projects and resource management apps usually lack these days.
Drag and Drop Function: Although Float's entire functionality is not "dependent" on the amazing drag and drop function, it does, however, deserve a mention. You can do a lot with how you manage your activities in the program with the convenience of mouse button clicks and keyboard shortcuts.
For example, project managers can press Shift + Left Click to select multiple cells. They can either Right Click for splitting the selected resources over different instances or use keyboard shortcuts to do so. Meanwhile, any of such changes are also reflected in the Reports section of the Float software. If you split a team member's activity over two different areas, his work hours are updated automatically. This takes manual work out of the equation!
---
3. Overall Hierarchy:
Float's functionality is scattered over different levels of accessibility options. The usability hierarchy at this platform ranges over:
Teams: Manage teams by individually sending out invites. Each team member can be grouped to form a sub-team relative to a specific task in a project. You can create job titles for each team member, define their roles and departments with the help of tags.
Team leaders/ Admins can grant various access levels to team members in a project. Other options include, but are not limited to, budget allocation, time management, paid / sick leaves management and vice versa.
Individual Projects: Create projects as they come by. Each project can be allocated to a team. Admins can also assign the tasks within a project to two different people by using the advanced "split" option.
Task Management, Resource Scheduling, and Other Functions: Includes various activities that help to create, manage and schedule resource. If you interpret "resources" as "projects" in Float software, the theory applies the same way. However, the functionality may differ from one project to another.
---
4. Pricing – 10 out of 10:
Float resource scheduling software comes with a Free trial plan of 30-day duration. Afterward, there is a nominal subscription fee of $5 per month.
| | | |
| --- | --- | --- |
| Plan | Pricing | Features |
| Basic | Starts at $5/User/Month | Includes all essential features. |
---
5. Walkthrough and Onboarding:
As a first-time user, you can simply sign up for Float resource scheduling software account by visiting www.float.com. A Free Trial account offers full 30-day usability with access to the program's full features. However, for choice-based user experience with the ability to work on bigger projects, the same Trial account can be extended for unlimited use through a paid membership.
We broke down Float's features and overall user experience into the following sections. Each of these sections details how users can get the most out of their resource scheduling and project management activities.
---
Dashboard (*Also Known as Schedule Panel):


After signing up, Float greets you with a blank Dashboard. The top menu overlays different tabs. Each of these tabs is important for drilling down into various project-related specifics. You can see multiple options for adding team members. This can be done by clicking the 'Add' button right next to the Search Bar.
Main Float Account holders can add users by name, basic info, and work category. If you want to send invites to users, you can enter their email address at the time of creating that User Account. Furthermore, it is up to that specific user to sign-up at Float to check the project progress. In that order, Float does not "force" people to sign up right away. This is a good thing.
The Dashboard tabs include the following options:
Search Bar (* search by custom tags, people names and project names).

Add+ Button

Schedule

People

Projects

Reports
Once you have created a project, or a product and added the necessary number of people, it is time to assign activities to these new team members. The main user can do so by hovering over the 'Projects' tab to create projects by name and other specifics.
Likewise, milestones can be added to projects in the same manner. You can click the 'Projects' option in the top menu and then select the 'Milestones' tab. Each milestone offers the ability to set due dates, budgeting options and overall time available for finishing that activity.
---
Options and Board View:
Float has various basic level options for admins and sub-users. On that note, this section is also dubbed: 'People and Projects' by regular users. Moving on, admins can set access privileges where a said number of users can view the project, submit and mark tasks as complete or simply edit the entries. It is up to the admin account holder to grant these privileges.
The interesting thing is that the Search Bar remains uniform across all tabs. Since you can set custom tags at the time of creating a project, and while adding milestones, the search option offers results narrowed down to that specific tag. Alternatively, you can also enter the person's name to bring up his work activity for an exact measure of his performance.
Moving on, I liked how the aforementioned top menu tabs offer a variety of customization and project management options. Likewise, Milestones can be split up over a timeline that best suits the project submission date. Once everything is set up, you can begin to add team members to each project.
The best part about Project Scheduling and Planning is that product owners and stakeholders can be invited to view the overall work progress. This is a core feature that doesn't come by in many resource scheduling apps available over the internet.
---
Schedule View:
The Schedule area is where Float resource scheduling happens. After a project is created and its deadline is defined, it is visible on the Schedule. Each project's schedule spans over a preset number of days which are defined at the time of creating that project milestone.
Users can drag and extend the schedule's duration for any task against any number of team members who are engaged in that activity. Float's customization grants the ability to split a team member's activities over multiple projects. This can be done by selecting a scheduled period in the 'Schedule' tab and then right-clicking it for advanced options.
Alternatively, you can left-click the scheduled activity bar to bring up its dedicated sub-menu. The new pop up shows different things that can be edited easily. In that sense, Float devs give users a complete sense of freedom to however they want to proceed with a project. All they need is the desired access level and some basic know-how of how easily everything can be re-arranged and edited through the program's drag and drop function.
Everything in Float happens with the help of very basic keyboard shortcuts and drag n' drop feature. These keyboard shortcuts are highlighted by default once the mouse pointer is hovered over a tab or any appropriate section where a keyboard shortcut is defined already.
---
6. Reports: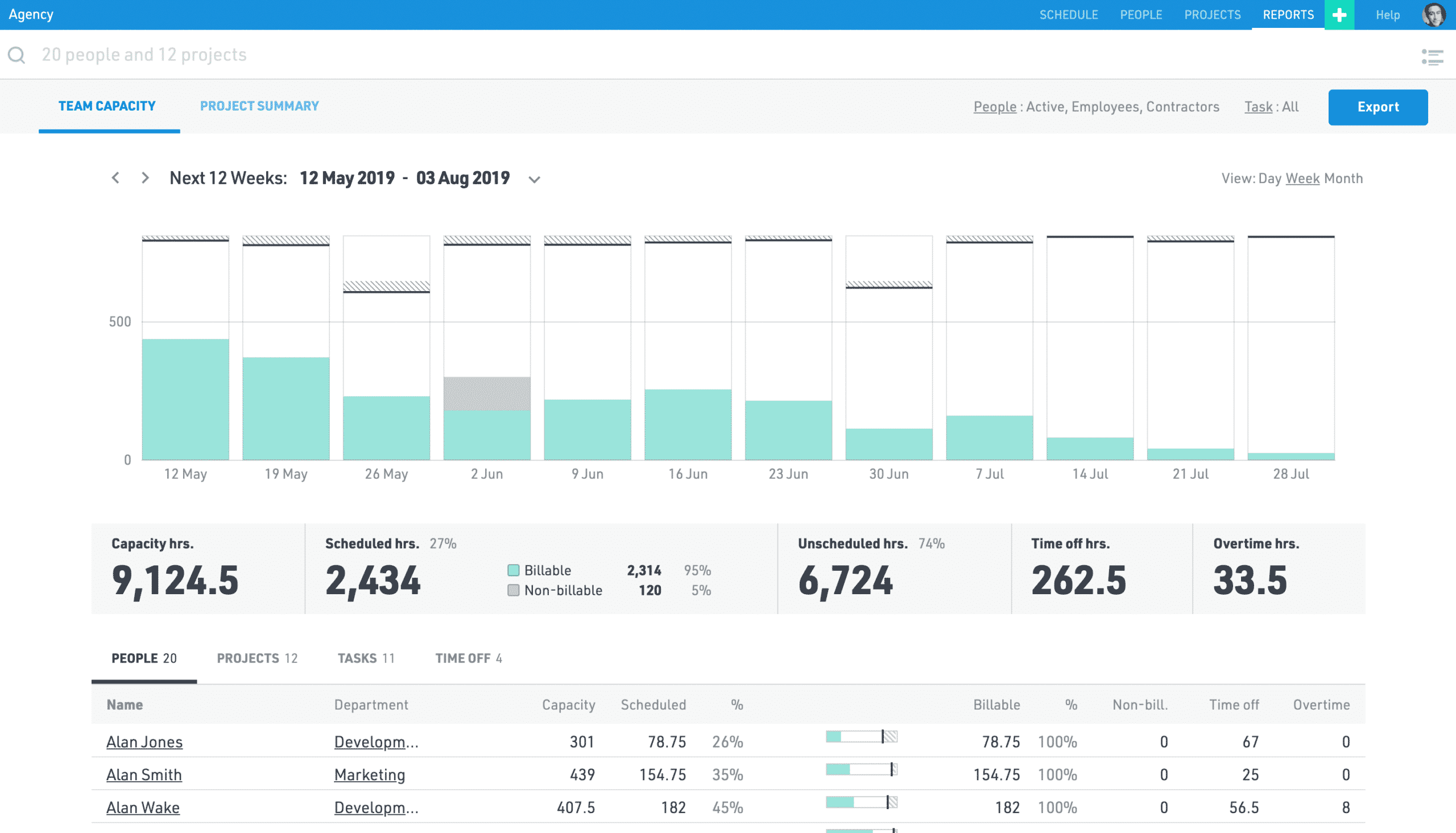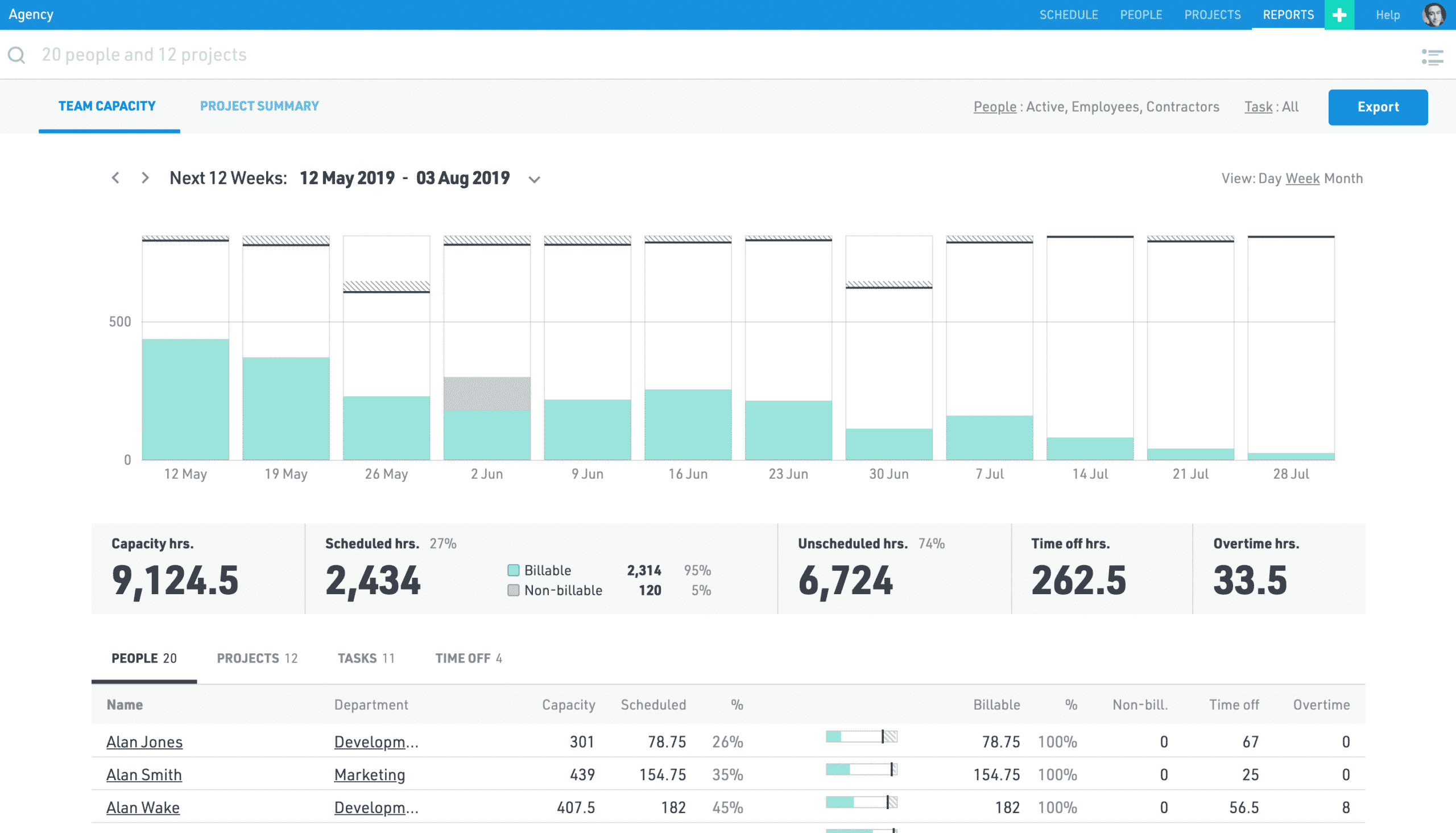 Float's ability to monitor team members progress is uncanny. Each activity is logged and summarized through the reports section. Account admins or project team leaders can also click the lightning bolt icon at the extreme top right side of the top menu.
Either way, what I like about Float's reporting section is how all activities are calculated and then presented in a readable format. The program gathers user activity feed based on their work hours, assigned tasks and other inputs.
The data is reported in a manner where project managers can see the projects broken down by work hour capacity of each member, schedule work hours percentage, budget forecast – i.e. whether a project is within the confines of the quoted budget, and actual vs. overtime work hours.
Once you have enough team members added to a project, the reports area populates with all kinds of color-coded sections for an easy breakthrough of everything relevant to understanding that specific project's activity feed.
The best part of the 'Reports' section in Float resource scheduling software is a) the ability to select a custom date range, and b) a cloud-based data backup and monitoring feature by default. Through cloud-based access, Float can reshape everything as users work relentlessly on any number of projects.
---
3rd Party App Integrations:
As mentioned earlier, Float offers by default integration options to all account holders. These integrations are for Google Calendar, Apple Calendar, and Outlook Events. If admins desire more integrations, they can do so by using the custom integration link.
As long as the 3rd party app in question supports Float resource scheduling software, integration is not a big deal. Float reportedly wanted to create a seamless user experience where project managers and team members can work the way they want. Although integrations are not super important, they are a vital part of remaining productive and getting by with the maximum amount of work in the minimum time.
---
7. User Account Settings: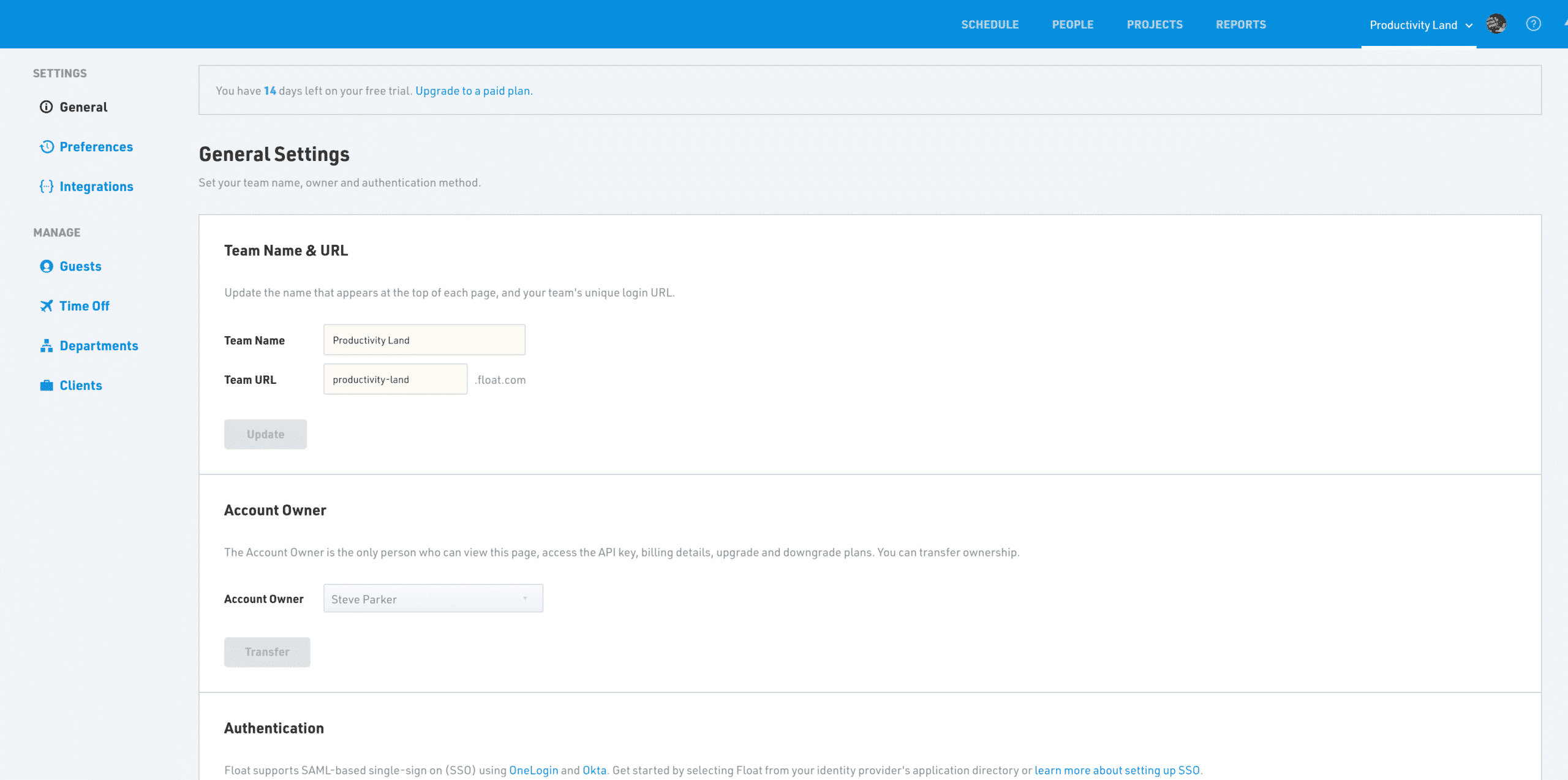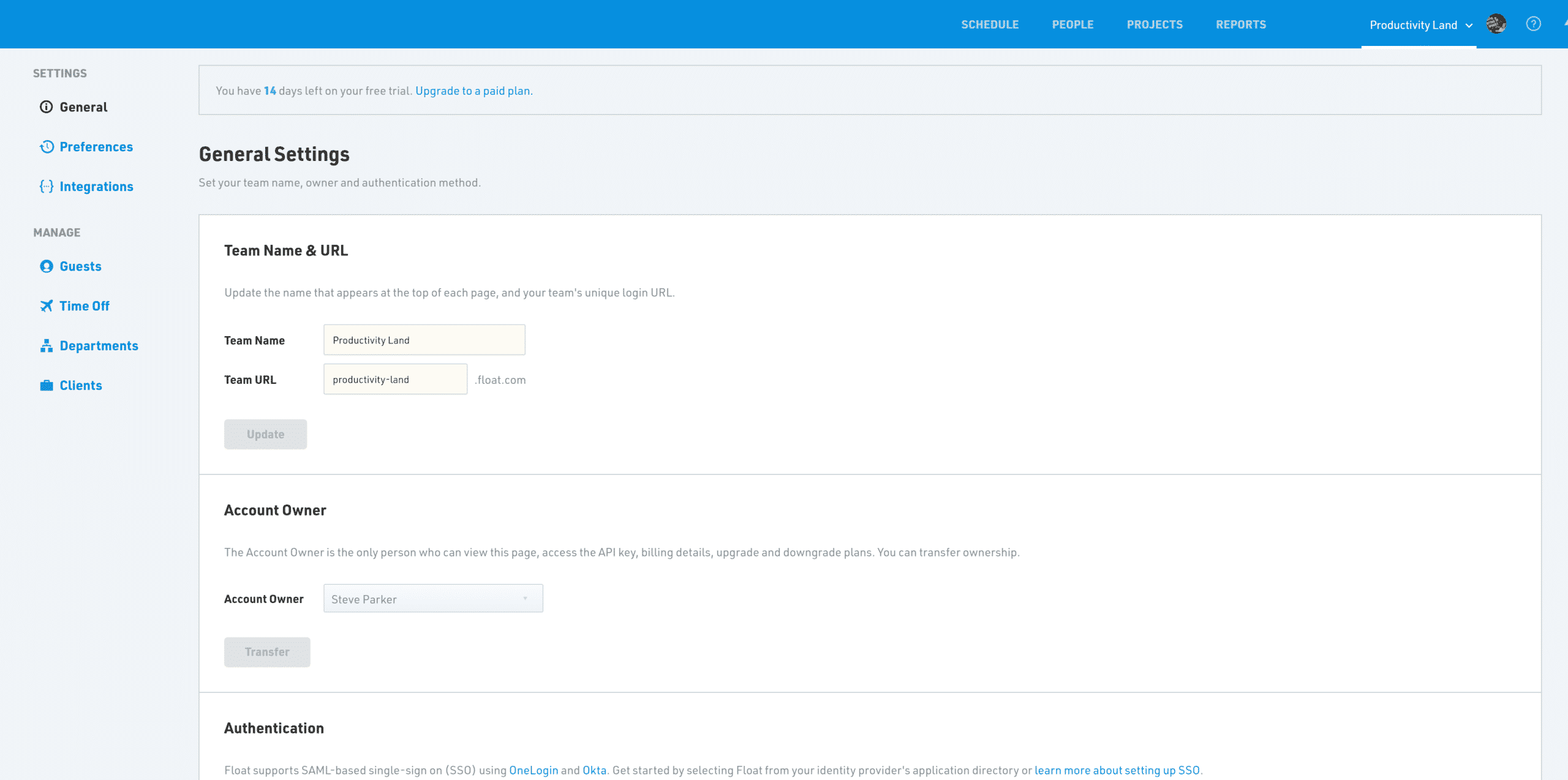 Users can view their account settings for highlight on payment plans, team information, department details, integrations, and vice versa. 
---
8. Security Options – 8.8 out of 10:
Since Float is a cloud-based resource scheduling software, data safety is a core concern for the program's development team. The company dynamically updates Float's security model for protection against threats. They also reportedly update security definitions to prevent web-based vulnerability attacks and any other unwanted intrusions.
9. Supported Platforms:
Web-based access.

Mac OSX.

Linux

Windows

Mobile Apps for Android and iPhone
Based on its popularity, Float is a go-to resource management application for major market contenders ranging from Vice, NASA, Deloitte, BuzzFeed, etc. To download and install Float mobile application, visit the following links. Please bear in mind that you need to sign up for a Free Float Trial account at their official website. Once you have created an account, you can download and install the Float mobile application, and log-in to stay up to date on the go.
Google Playstore:
https://play.google.com/store/apps/details?id=com.float.floatschedule
Apple App Store:
https://itunes.apple.com/us/app/float-schedule/id1318992940
---
10. Customer Support-9.5 out of 10:
Help Guide, How To's and Documentation:
Email Support:
Customer Support:
US & Canada: 1 (888) 930-6863

Worldwide: 1 (929) 265-8827
Social Media Support:
Float representatives maintain social media support through their Twitter handle: @float. You can alternatively click the following URL for a direct visit to their Twitter profile. www.twitter.com/float.
Alternatively, you can also visit Float's LinkedIn page at www.linkedin.com/company/float-schedule. 
---
Final Verdict:
Float resource scheduling software is a great resource for SMBs, Freelancers, and individuals. Everything that you need to get started on effective project management is all in there. They have excellent customer support that is always available to reach out to users.
Throughout the tenure of our float software review, their team was very active in responding to our queries. As far as a convenient, user-friendly and feasible resource scheduling software goes, Float is offering a lot more to its loyal community. $5 is definitely a price that is outweighed by the sheer volume of features that Float comes with.
If you haven't used Float resource scheduling software yet, go ahead and sign up for an account at www.float.com. In case you are already a Float user, please share your thoughts through the comments section below. I am also available for email replies. Just send your questions, opinions, and thoughts at steve@productivityland.com.
What project management software would you like me to review next?
---
Check out other reviews on Productivity Land