It's the 21st century and technology is everywhere. If you are a common reader, then the knowledge of IT software for you would revolve around all of the things that you use on a daily basis.
But when it comes to companies and businesses, IT software, or specifically IT management software is a big deal.
This information management software is the lifeline of tech businesses nowadays. Any and every project that is being developed in the company's arsenal goes through one or multiple IT management software interfaces.
So, without further ado, let's take a look at 7 of the best IT management software out there, that can help make sure that your software is properly planned, managed, and executed to achieve the best results possible. Let's go.
Top IT Management Software to Use in 2023
Let's take a look at all of them in detail and find out how they can be beneficial for you and your company regarding your IT projects.
We've got monday.com as one of the best IT management software.  
It offers a comprehensive suite of tools designed to help businesses of all sizes manage their IT infrastructure and optimize efficiency. This blog post will provide an overview of how monday.com can be used to effectively manage IT operations and provide the best solutions for businesses.
IT managers can create workspaces to serve as a hub for managing tasks, tracking progress, and monitoring results. Users can organize tasks into projects within each workspace, assign members to relevant tasks, and set deadlines. By utilizing monday.com's robust project management capabilities, businesses can stay on top of their IT operations without becoming overwhelmed or bogged down by daily tasks.
In addition to providing task management features, monday.com also offers tools for monitoring system performance and troubleshooting issues quickly.
Thanks to multiple dashboard creation features, admins and users can view real-time performance metrics, such as server utilization or total active connections. It's an excellent feature for IT teams to identify potential problems before they become serious issues.
The in-built notification system also helps to keep teams informed about important events or changes within the system by sending out notifications when certain thresholds are met or exceeded.
Key Features
monday.com IT management software provides an easy-to-use, powerful platform to manage workflows and collaborate with teams in real-time.
Offers a comprehensive suite of features, including task management, project timelines, Kanban boards, Gantt Charts, and more.
Intuitive drag-and-drop design simplifies setting up workflow tasks and assigning them to team members for completion.
Robust permission settings allow administrators to control user access levels and restrict access to sensitive data within the system.
Easy integration with popular applications like Slack, Google Drive, or Dropbox allows users to keep all their information in one central location.
Powerful reporting capabilities enable teams to track progress on projects quickly and accurately so they can make informed decisions moving forward.
Pricing:
Individual – Free plan with support for 2 users
Basic – Starting at $8 per user/ per month
Standard – Starting at $10 per user/ per month
Pro – Starting at $16 per user/ per month with tons of unlimited features
2. nTask
Being one of the best project management software out there, nTask is the perfect IT management software for you to make sure that your project development software is properly managed and that all of the team members and their tasks and processes are tracked and well-monitored.
The application also helps you weed out different risks and scope creeps via its risk management and issue tracking features that let you ensure that your IT management process is without any scope creeps or impending issues that will disrupt the process in the future.
The application also has Gantt charting and Kanban boards built into the interface that help you to view all of the information that you have entered into the system, differently so that you can understand your needs and requirements more clearly.
Let's take a look at all of the features that this IT management software has to offer to its clientele.
Key Features
Task Management
Project Management
Meeting Management
Risk Management
Issue Tracking
Gantt charting
Activity Management
Zoom Integration
Pricing
Basic Free plan
Premium plan at $3/month
Business plan at $8/month
Custom Enterprise plan available
3. Atera
Atera is an incredible IT management software that allows you to manage and monitor different information technology processes simultaneously from one central hub.
The application also helps you to manage many different aspects of your business like billing, help desk, reporting, etc.
One of the great things about this application is that it lets you and your team members manage, solve and maintain all of the issues that the customers have with your service or product, no matter what time it is or where you are on the globe.
The application also offers many powerful integrations that can be used from many different devices like tablets, mobile devices, or personal computers.
Let's take a look at some of the other features that the application has to offer to its clientele from all over the world.
Key Features
Chat & File Transfer
Reporting & Analytics
Mobile View
Real-Time Notifications
Professional Services Automation (PSA)
Real-Time Alerts
Service Desk
Contracts & Services Management
Scripting
Contracts & SLA
Pricing
One of the great things about the application is that you can check out the software without paying anything to the company, by using the free trial
The paid pricing for this incredible IT management software is $79/month/user
4. Agiloft
Another great IT management software on this list is Agiloft. The application uses different pre-built and custom modules that allow different customers to become self-sufficient. Meaning that you can help them so perfectly that they become more efficient.
The application offers different other services like task management, and workflows to help the trajectory of your project, and it can also become your service desk software.
Let's take a look at some of the other features that Agiloft has to offer to its customer base around the world.
Key Features
Collaboration Tools
Alerts/Notifications
Reporting/Analytics
Automatic Backup
Customizable Reports
Document Management
Activity Dashboard
Reporting & Statistics
Change Management
Customizable Templates
Drag & Drop
Pricing
There is a free trial of the software available for use if you want to make sure that this tool will fulfill your needs and requirements easily, without paying a single dime to the company
The most affordable package that you can buy is $65/per month
5. Freshservice
If you are looking for the ideal IT management system that helps you master the art of asset management, then your need Freshservice.
The application is amazing when it comes to improving your workflow and it also helps you to perform in-depth reporting, lifecycle management, and tracking.
Let's take a look at some of the other features that Freshservice has to offer.
Key Features
Custom Reports
IT & non-IT Asset-Tracking
Drag-and-Drop Interface
Issue Tracking
Gamification
Out-of-the-Box Reporting
Service Desk Automation
Interactive Visualization
Workflow Management
Project Management
Real-Time Project Dashboard
Scheduled Reports
Pricing
There is a 21-day free trial that the company offers, to make sure that you check out the software properly and that there are no doubts in your mind that this is the IT management software for you
The most affordable pricing plan for this software is priced at $19/per month
6. UpKeep
Another great IT management software that can help you and your team to monitor all of your IT tasks and processes, and helps you to stay online constantly to keep an eye on them is UpKeep.
Let's look at the features that UpKeep has to offer to its clientele.
Key Features
File & Photo Storage
Real-Time Chat
Invoice PDF Printing & Emailing
Real-Time Push Notifications
Enhanced Scheduling
Dashboard & Reporting
Video Uploading
Preventive Maintenance Scheduling
Signature Capture
User Access Controls
Pricing
There is a free trial provided by the company if you want to check out the software to make sure that it is the right choice for you or not
The most affordable paid pricing for this incredible IT management software is $29/per month
7. Jira Service Management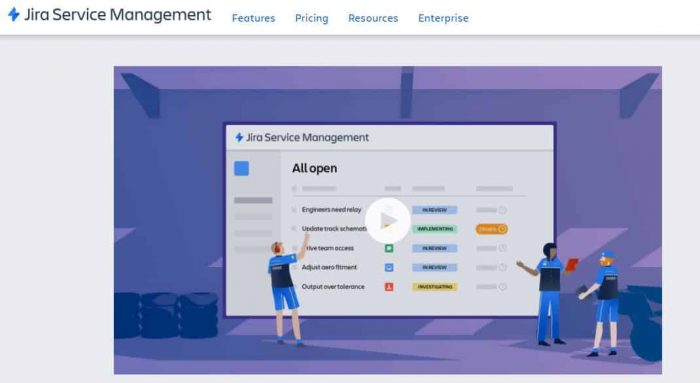 Jira is a wonderful application that helps you to easily and quickly keep track of all of the different team members that work for your company. The Jira Service Management is ideal for DevOps and IT teams to collaborate on projects.
Furthermore, the application also provides relevant information to the team members so that they can easily respond to requests, changes, and incidents.
Key Features
Powerful Search Capabilities
Intuitive Interface
Call Center Management
Activity Dashboard
Alerts/Notifications
Email Management
Easily Import Data from Other Systems
Advanced SLA
Self Service
Chat/Messaging
Knowledge Base Management
Real-Time Chat
Customizable Branding
Pricing
There is a 7-day free trial of the software for you if you want to check out the features that the application has to offer and whether or not they fulfill your requirements
The paid pricing plans for this incredible IT management tool start at $20/per month
Conclusion
These are our top picks for the best IT management software in the market right now. If you think that we missed something or if there is software that you want to be featured in the article, then share feedback at hi@productivityland.com and we will get back to you as soon as possible.
---
Further Readings: