Jira by Atlassian is one of the most popular project management tools for IT professionals in the market. Teams have been using JIRA for agile project management, planning, and issue & bug tracking for the past 15 years. If a tool has been in the market for this long you assume it must have evolved and been quite mature by now. However, not all kinds of audiences find Jira convenient and pragmatic.
To be fair, Jira is a fantastic tool but, there's a 'but', and that is but you REALLY need to know how to use it. With 'simplicity' becoming one of the most important factors when determining the overall value of the product, we've rather heard strong opinions about JIRA when it comes to its user interface and ease of use.
Here are some reasons why users are looking for an alternative to Jira.
Complex User Interface
Jira, even though tries to keep up with the modern design but it's still too outdated for newer, more effective tools available in the market. It does offer a variety of customizations but rather than improving the workflow and making life easier, users find it too cumbersome. It has a steep learning curve and you need to spend ample time initially to figure out how it works which could be somewhat frustrating.
if I was dumbledore I would've hid the philosophers stone in jira's ui

— I Am Devloper (@iamdevloper) September 21, 2017
No Multiple Assignees
This is where things start to go bad to worse for Jira and it's possibly one of the biggest reasons why people go out looking for alternatives. Despite providing customizations, Jira doesn't offer the functionality of adding multiple assignees. And, it is a no-brainer that organizations operate in ways where they require complete flexibility. It gets annoying when tools start enforcing methodologies on you.
Ineffective for Non-Development teams
Jira was built with development teams and DevOps in mind. And, it becomes quite evident with the features and interface once you log in for the first time. Organizations that do not rely on development teams e.g marketing agencies, event planners, and other non-IT teams like HR, Sales, Finance and others find Jira to be an ineffective project management software for their day-to-day operations and planning.
Organizing JIRA tickets pic.twitter.com/2YeDNc7tcf

— Mike Herchel (@mikeherchel) October 2, 2017
Highly Priced
Jira does not offer a free plan and follows a monthly/annual subscription model with $10/user/month up to 10 team members with a 7 days free trial. But this is just not it, a majority of the upgrades and add-ons in Atlassian marketplace for Jira are paid and are charged separately. For example you'll have to buy an add-on if you wish to use Gantt charts which means this could easily cost you way higher than many tools in the market. You can learn more about Jira pricing here.
Best Free Jira Alternatives
Having described the disadvantages and why people are looking for Jira alternatives, here's a list of 10 project management alternative tools in the market that competes directly with Jira.
Right off the bat, we've got monday.com as one of the most reliable free Jira alternatives to date. Although users relate to monday as a go-to resource for project management activities, monday is more of an all-in-one workspace OS where multiple things can be done all at once.
Whether it's frontline workforce management, traditional project management, or your run-of-the-mill IT and CRM activities, the tool has a plethora of features for everyone out there.
As a Jira alternative, this program offers multiple views, interactive Kanban boards, drag and drop features, a detailed calendar unlike any other out there, etc. The overall sense of customization to different aspects of monday is a liberating experience for project managers who wish to personalize their projects according to a specific business level or niche.
On top of that, you've got robust customer support that reportedly takes minutes to get you unstuck if you are swamped with any technical issues.
Pricing
Individual – $0 and free forever
Basic – Starts at * per user/ per month with limited features
Standard – Also the most popular plan, starts at $10 per user/ per month with collaboration and team optimization-related features
Pro – $16 per user/ per month
Enterprise – Contact the official sales rep for a customized price quote according to your business requirements
Also available on iOS and Android.
A very popular Jira alternative and project management software in the market. Asana is known for facilitating effective communication, collaboration, and project planning. It comes with multiple workspaces which are useful in managing various teams, projects or clients. Another exciting thing that makes Asana an ideal Jira alternative is transparency. All team members can view whatever is happening within a workspace including tasks and activities.
Check out detailed Asana review here.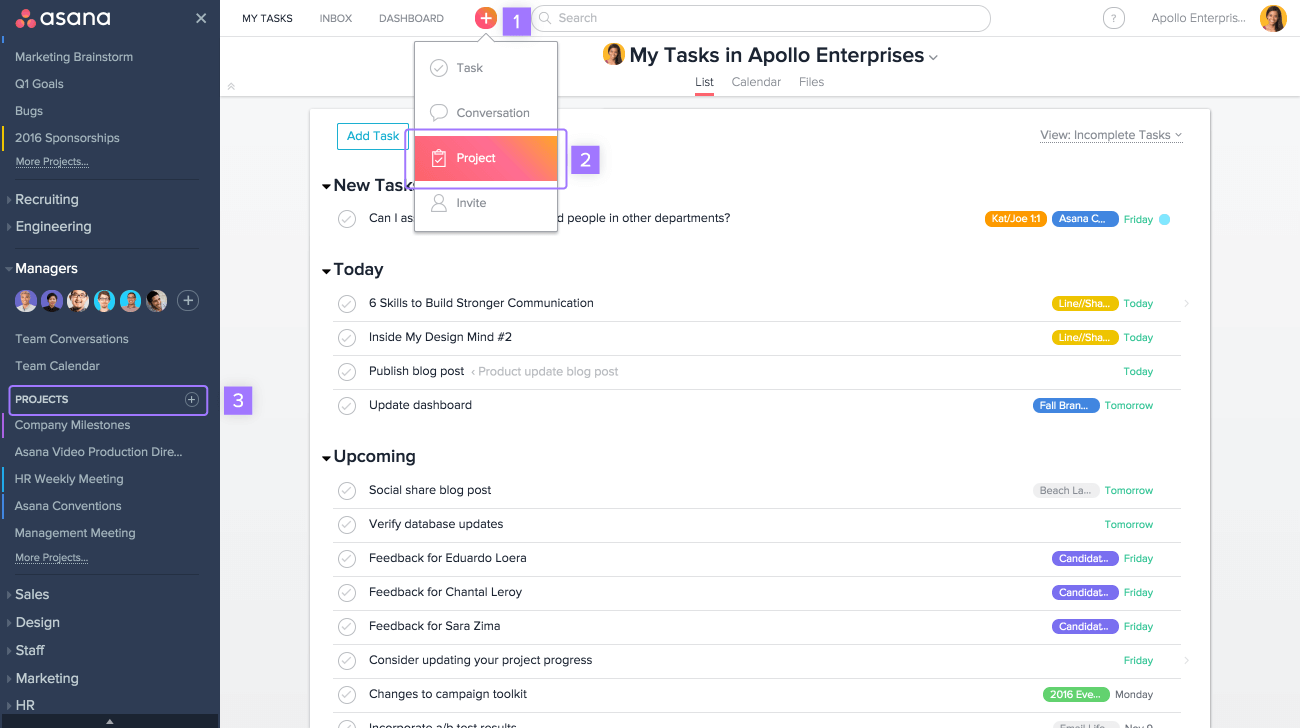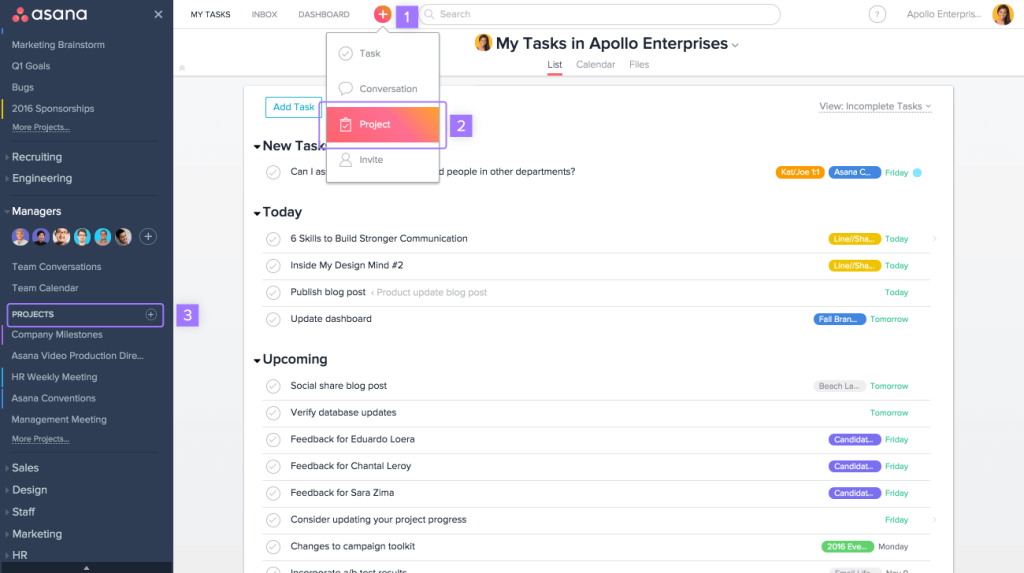 Pricing
Asana is free for up to 15 team members. However, https://productivityland.com/review/trello/Asana's premium and enterprise plans offer more flexibility and customizations.
Asana premium costs $9.99/user/month when paid annually. You can learn more about Asana pricing here.
If your organization follows the Kanban approach for managing your projects, Trello is one of the go-to products available in the market. Trello is possibly one of the simplest Jira alternatives available with a minimum learning curve. If the reason for you to switch from Jira is the complexity, you just can't go wrong with Trello. It offers the board view with drag and drops functionality to move your tasks from one status to another.
Check out detailed Trello review.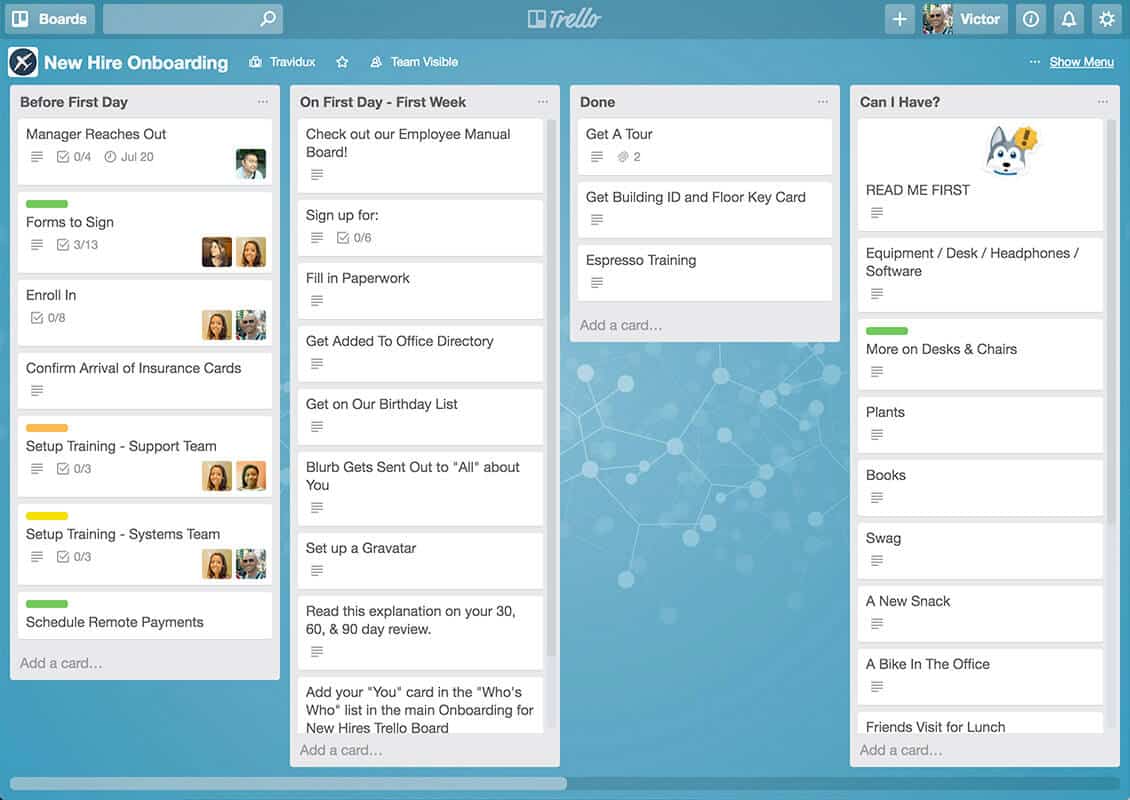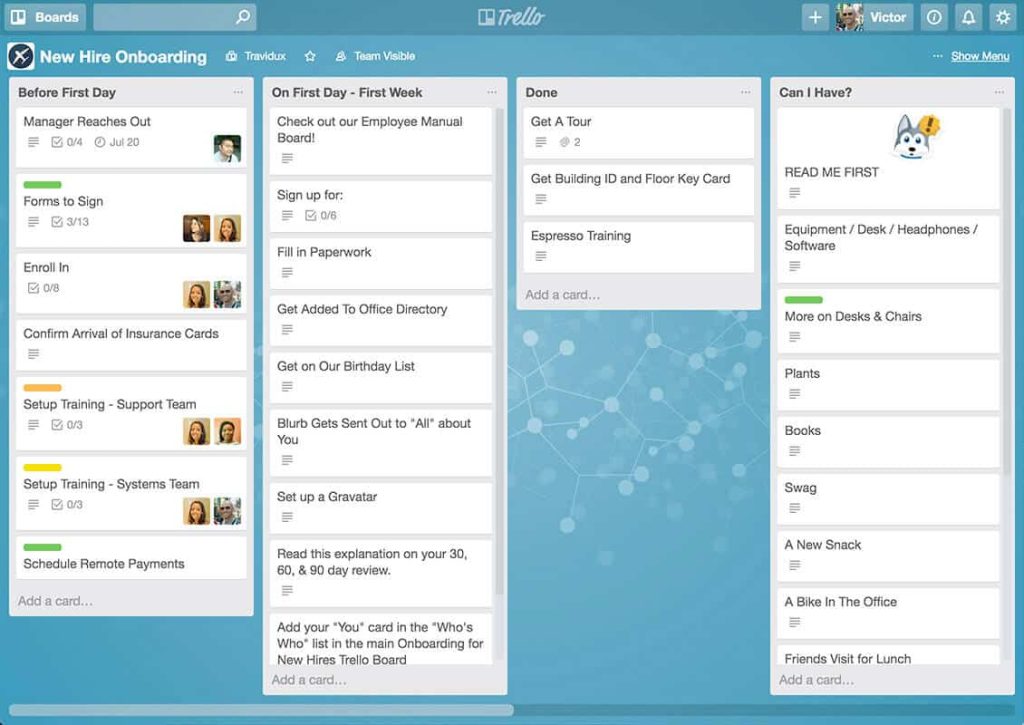 Pricing
Trello is a free-to-use project management software that offers unlimited tasks, team members, checklists, and attachments. Trello Premium comes with some really handy integrations and add-ons (known as Power-Ups) to make you more productive.
Trello Premium costs $9.99/user/month when paid annually. Learn more about Trello pricing here. Check out the comparison between Trello vs. Asana: best project management tool for agencies.
Also available for iOS, Android, Mac and Windows.
Another amazing Kanban based-tool that comes with a beautiful and intuitive user interface. With MeisterTask's incredible design and user experience, your work doesn't have to be boring anymore. MeisterTask is an excellent Jira replacement for those who do not want to compromise on good design. Built-in time tracking allows you to stay on track with your projects and be more productive. MeisterTask offers a variety of integrations including Slack, Google Calendar, Outlook, and more.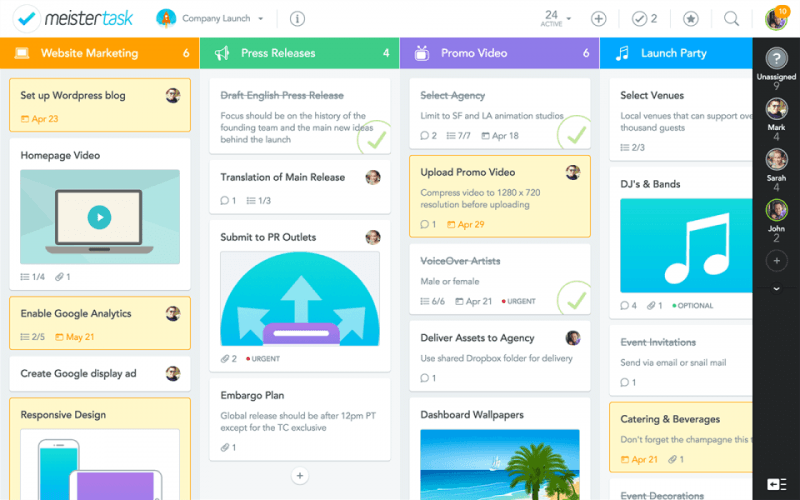 Pricing
The basic version of MeisterTask comes with unlimited tasks, projects, team members along with any of your two favorite integrations. The Pro and Business plans offer workflow automation, customized permissions and roles, and increased file attachment limits.
MeisterTask Pro and Business plans cost $8.25/user/month and $20.75/user/month respectively when paid annually. You can learn more about MeisterTask pricing here.
Also available for iOS, Android, Mac, and Windows.
If you work in agile teams and looking for a free Jira alternative, Pivotal Tracker is our recommended choice. Known for its comprehensive reporting module, it has become a top contender for users switching from Jira. Every time you log in, Pivotal Tracker welcomes you with helpful charts and reports that give you an instant bird's eye view of the progress of your projects and tasks making it a super handy tool for project managers. It comes with a bunch of third-party integrations and a powerful public API for customizations.
Pricing
Pivotal Tracker is free for up to 3 team members which includes a maximum of 2 projects and 2GB of data storage. It also offers tailored plans for startups starting from $12.50/month for up to 5 users.
Pivotal Tracker Pro plan costs $62.50/month for 15 users. You can learn more about Pivotal Tracker pricing here.
Also available for iOS and Android.
Another popular tool has been in the market for over two decades. Wrike released its free version back in 2012 as a strategy to expand its audience which definitely worked. Wrike is a top free Jira alternative for small teams however the paid plans of Wrike aren't that bad either. Laced with Gantt charts, high-end reporting, time tracking, detailed user management and tons of integrations make it a top-notch project management software. Not only this, Wrike comes with a tailored plan and solution for marketers and creative agencies which is definitely a plus.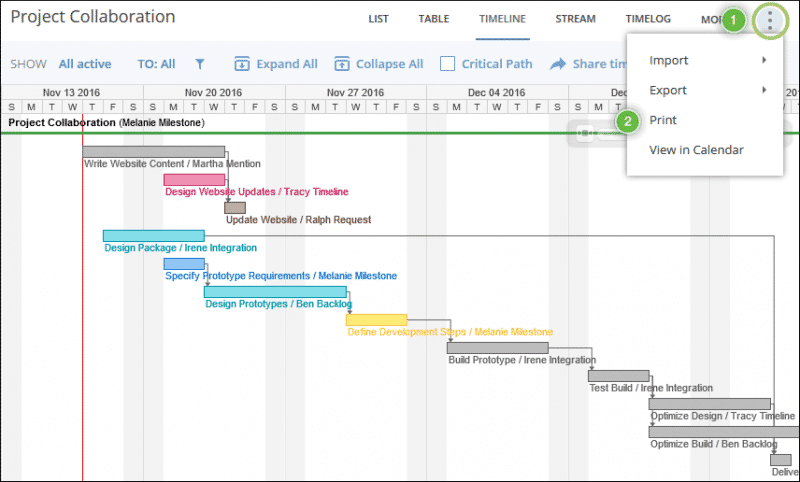 Pricing
Wrike's free plan consists of a board view, task management, basic integrations like Google Calendar, iCal, Dropbox, and others, and up to 2GB of free data storage.
Wrike's Professional plan costs $9.80/user/month when paid annually. You can learn more about Wrike pricing here.
Also available for iOS and Android.


Hygger is next up on our list and is a product management software aimed at helping IT teams. The tool is simple to use yet packed full of powerful features such as breaking your project plan into individual tasks or your goals into an actionable plan.
Therefore, the tool helps you manage your workflow and helps your team get things done. With Hygger you have the ability to access features such as time-tracking abilities, Kanban boards, roadmap planning, managing conversations, checklists, and files just to name a few.
Pricing:
Hygger offers three pricing plans which can be paid annually, saving around 20%, or choosing a monthly subscription.
Hygger's free plan comes with unlimited users, unlimited projects and boards, as well as 100 MB of storage. Hygger's Standard plan offers unlimited storage, unlimited integrations, and unlimited tasks. The Enterprise plan offers all the standard features plus additional support and functionalities.
Hygger's standard plan is for $7/user, per month and the Enterprise plan costs $14/per user, per month. You can learn more about Hygger's pricing here.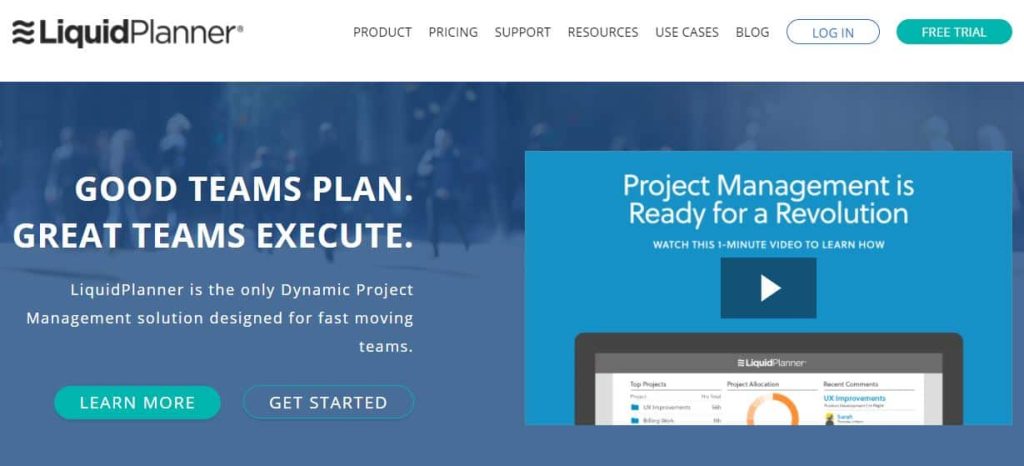 LiquidPlanner is a tool that offers smarter project management and allows teams to use intelligent scheduling technology so that they can work more efficiently to reach their goals.
LiquidPlanner offers a dynamic approach to project management that puts priorities and people at the forefront of all that you do. The features available in the software are comprehensive ranging from the ability to track billable and non-billable hours to get instant insights into progress, risks, and budgets.
Pricing:
LiquidPlanner offers a free trial where you can have unlimited access to the software for 14 days.
You can then choose between the Professional plan which is for $45/per user, per month, or contact the provider for a quote on their Enterprise plan. You can learn more about LiquidPlanner's pricing here.


One of the most comprehensive project management applications on this list is Binfire. The application is an absolute favorite of software and engineering teams from all over the world.
The application is amazing when it comes to helping virtual teams plan, coordinate and monitor all of the different projects that they are working on. And they do all of that using a common workspace.
The application also offers many amazing features by teams in a single location, so that when the stakeholders and the project development team members want to access the files related to the project, they can do so without leaving the interface.
Thus, you can say that Binfire creates an effective virtual office space that improves communication and collaboration among team members regarding any project development process that they might be working on.
Another important feature that Binfire offers is the ability to become a well-integrated and sensibly priced platform, with an effective enterprise version that fulfills the needs of different industries and businesses from all over the world, according to their needs and requirements.
The application wants prospective users to count on its experience to guide them through the whole process of using the software, and if they still have issues, they can contact the support team via phone or email.
Key Features
Collaborative project planning and scheduling
Configurable user permissions
File version and history
Interactive Gantt Chart
Interactive whiteboard
Project dashboard
Attaching files to tasks
Commenting on tasks
Dependencies and predecessors
Instant page update when anything changes
Interactive PDF markup
Mobile applications coming soon
Pricing
There is a free trial of this amazing Jira alternative, and if you want to purchase a paid subscription to this tool with more premium features then you will have to pay $6.50/month/user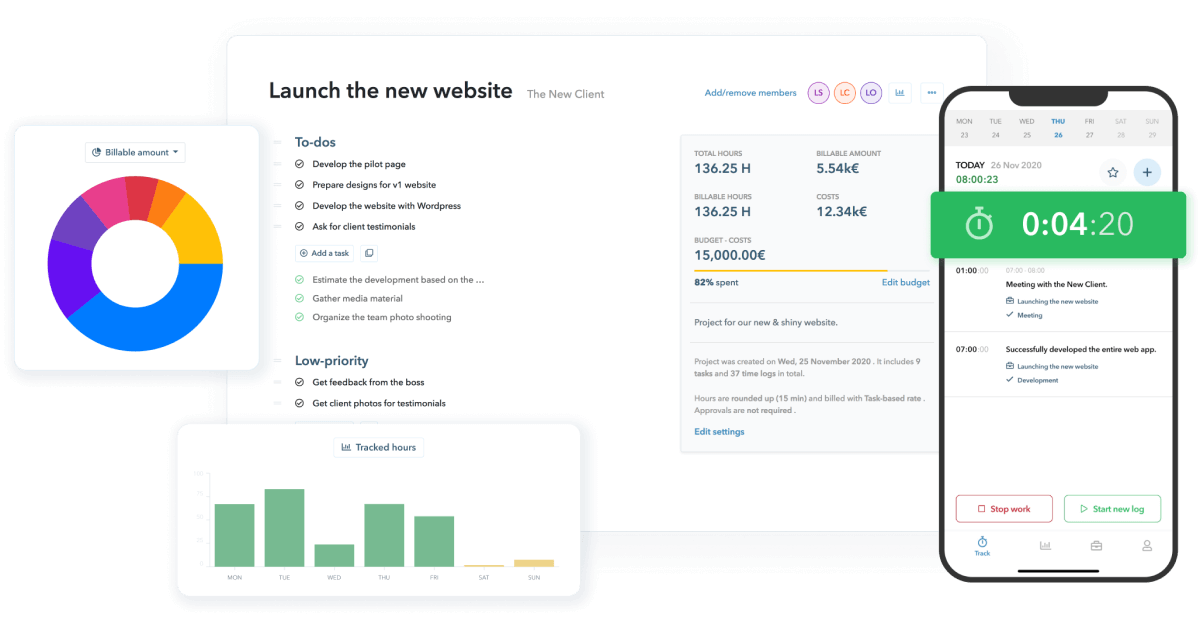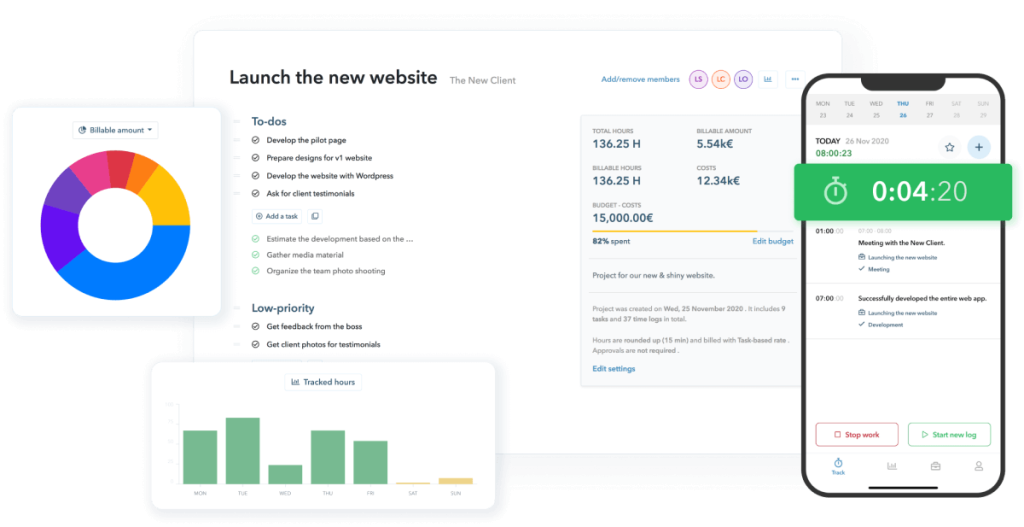 My Hours is an excellent Jira alternative for project time tracking. This tool helps coordinate all your organizational tasks while helping you achieve the best productivity results. Launched in 2002, My Hours is a one-stop shop for achieving organizational goals, holding meetings with an unlimited number of people at a go, and maximizing time.
It has many awesome features that make team collaboration and project execution seamless. Primarily, the functions of My Hours are categorized into three groups; organizing projects, tracking time, and reporting organizational work. And by extension, these functions include scheduling email reports, setting project budgets, calculating expenses, and assigning tasks to team members.
The software also helps you set up flexible hourly rates, create custom reports for customers and the time spent achieving organizational tasks, and link you up with software like Zapier that optimizes your productivity levels. One thing the software doesn't do, however, is monitor employees' work progress. But to make up for that, you can always check their work log to see how far they have gone with their tasks.
Pricing
My Hours is free to use. However, if you need more advanced options and integrations, you should opt for the pro plan, which costs $7/user/month or $6/user/month if billed annually.
Also available for Android, iOS, and Mac.
Learn more about My Hours pricing here.
Here was our list of best free Jira alternatives to using in 2023. Are there any other tools you'd like us to include in the list? Let us know in the comments below.
---
Check out these other useful articles