Monotony can make anyone dull and lethargic. And to be honest, staying productive round the clock sounds pretty hard. We've gathered up some of the best productivity tools for you to stay at the top of your game.
But don't worry because the best productivity tools can help you stay productive and be proactive to get things done.
According to research, there were 7.1 billion downloads of productivity tools in 2020. This was, of course, due to the onset of the pandemic. However, more and more businesses have adopted productivity platforms even after the pandemic.
Thus, productivity tools have helped teams achieve bigger goals and collaborate better from anywhere worldwide.
Benefits of having the best productivity tools
Some of the significant benefits of using the best productivity tools are:
It increases efficiency
It helps to achieve the set goals better
Keeps the team motivated with high morale
Maintains effective records and reports
Streamlines and automates the workflows
15 Best productivity tools in 2023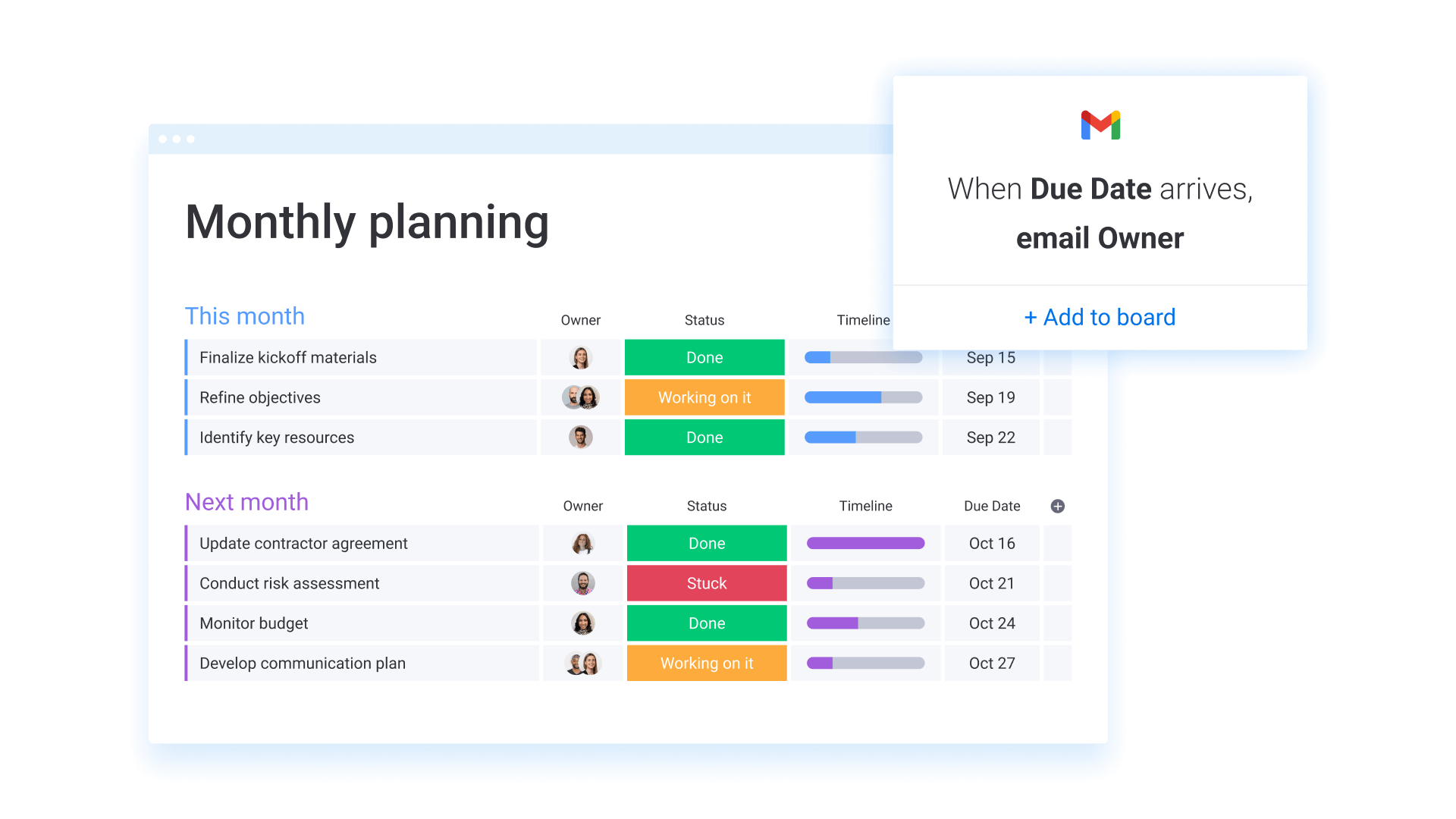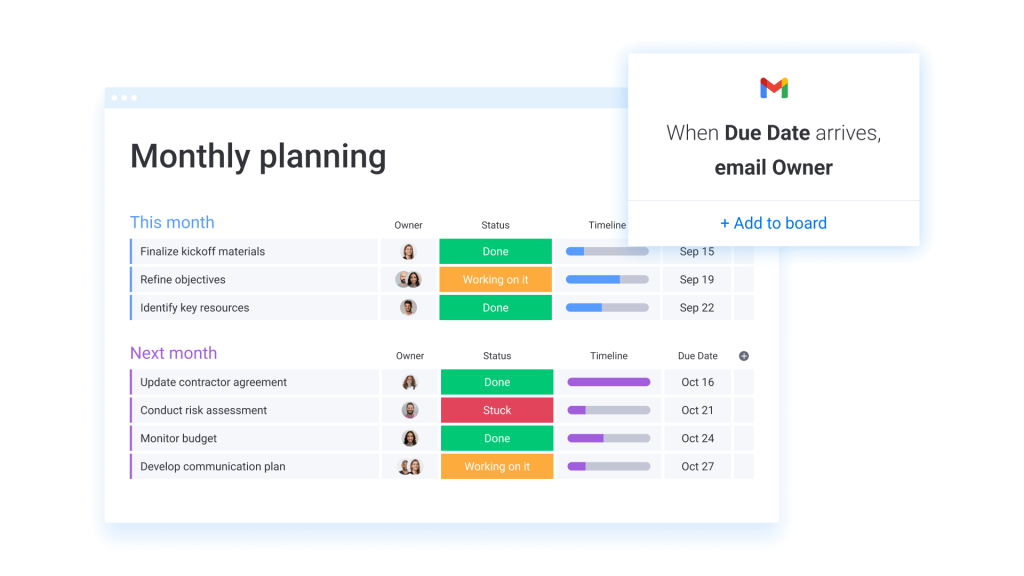 The next on our list of the best productivity tools is monday.com. While it's true that this particular tool has been part of our tools list for a long time now, we'd say that those mentions are owed to Monday's immense success over the last couple of years.
Since launch, Monday, formerly known as 'Da Pulse,' has acquired a ton of worldwide users sprawled over 90,000+ teams. That's diversity right there, especially when you consider that most of these users are bilingual and love to use the tool regardless.
As a productivity-enhancing tool, monday.com is used for active collaboration, multi-task management, project management, agile workflow, and much more. All of this is made possible with the help of inbuilt automation, 3rd party app integrations to reduce task switching, timesheets, Gantt charts, Kanban boards, and much more.
Features
Designed with a grounds-up approach towards aggressive project management. Monday supports multiple users across different teams – and that too, with the help of 24/7 iron-clad data security.
Actively track multiple tasks on one dashboard or set up multiple dashboards for dedicated project/ task management.
Offers time management modules, budget management, customizable dashboards, Kanban boards, and much more.
Reliable project organization through project information, tasks, communication, scheduled messages, and vice versa.
Pricing
Individual Plan – Starts at $0 alongside free forever access and support for 2 users
Basic Plan – Starts at $8 per user/ per month and offers unlimited free viewers, unlimited boards, tons of templates, and vice versa
Standard Plan – Starting at $10 per user/ month, this plan is perfect for mid to large-sized teams. Use Timeline & Gantt views for seamless task management, access calendars, and everything mentioned in previous plans.
Pro Plan & Enterprise solution – is aimed at large-scale teams and MNCs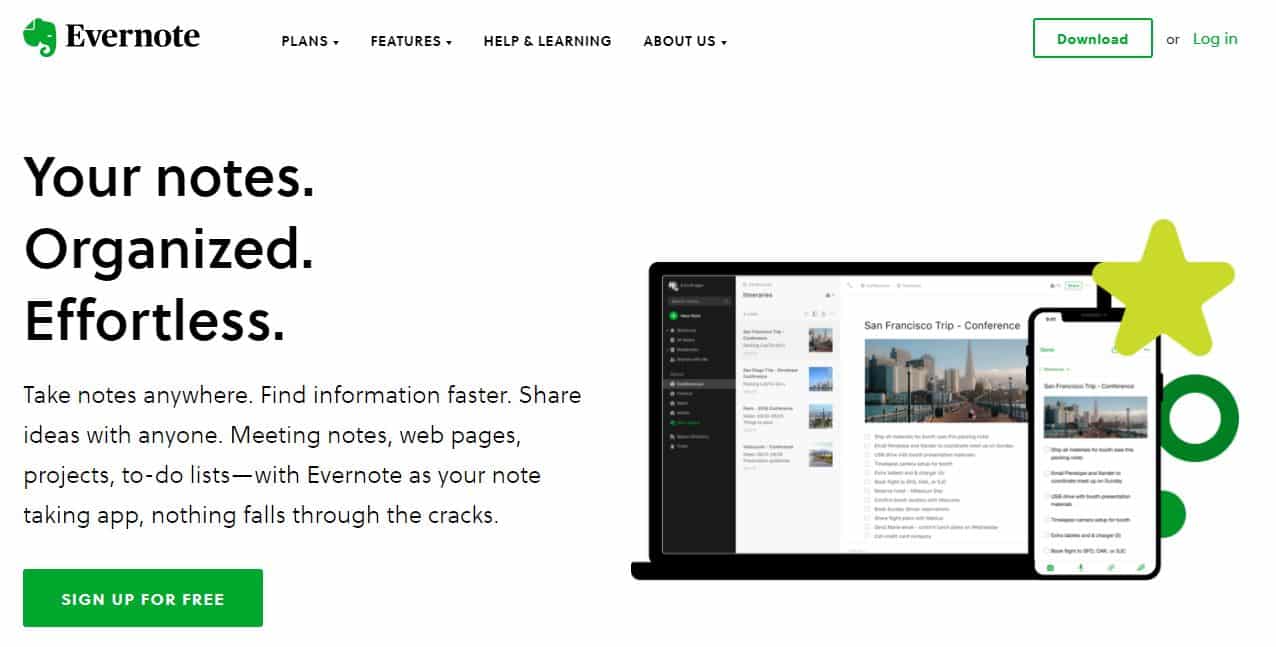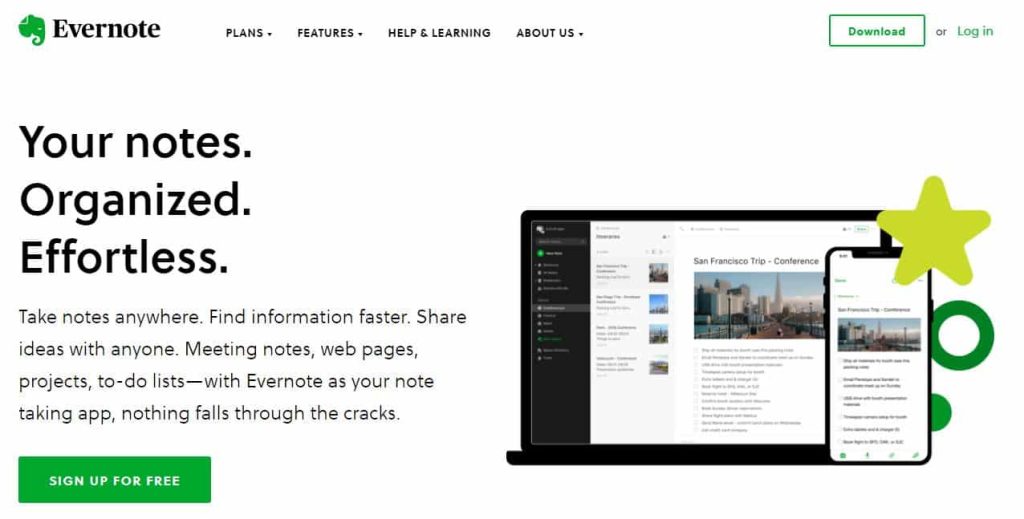 As the name suggests, Evernote is an ultimate note-taking app to help you maintain effective records. It provides effective note-taking features which help you to organize your thoughts most flexibly. However, it is not just any note-taking app but the best productivity tools in 2023. 
Whether it is jotting down the minutes of the meeting or random ideas, with Evernote, you can create separate folders for each. Moreover, it also has automatic email and notification features, which are great for staying updated and taking prompt action.
Hold on! The fun of using Evernote doesn't end here. There is more to it.
It is not just for personal note-taking but also allows you to do collaborative note-taking. Thus, multiple people can write notes, make changes and streamline workflows in one place.
In addition to that, the syncing of all your documents, videos, memos, images, and voice notes helps in easy sharing and increased transparency.
Therefore, take notes, create folders, share files and organize your workflows to increase productivity with the best there is.
Don't worry! Evernote is available for multiple platforms, including Android, macOS, Windows, and iOS. So, while catering to the needs of all users, Evernote allows its users to stay organized anywhere at any time.
Features
Sync and Organize: The synchronization of data available on all your devices helps access anytime. It also automatically saves the notes and syncs them to all your devices.
Web clipper: It is best to save web pages, articles, or screen captures whenever you find something useful. You can choose to save total pages or parts of it to read without distracting ads and sidebars.
Tasks: Create to-do tasks and stay on schedule by setting due dates, reminders, and flags.
Calendar: Sync your Google Calendar with your notes to stay ahead of time and prepare faster.
Template: Use the pre-build templates and saves your time.
Document Scanning: Scan all your important documents and keep them handy.
Search: Experience precise searching by using the search tab. Whether it is text in pdf or office docs, images, etc., search it without hassle.
Integrations: Multiple integrations allow you to organize your workflows.
Pricing
Basic- $0 Free
Personal- $7.99 per month
Professional- $9.99 per month
Teams- $14.99 per user per month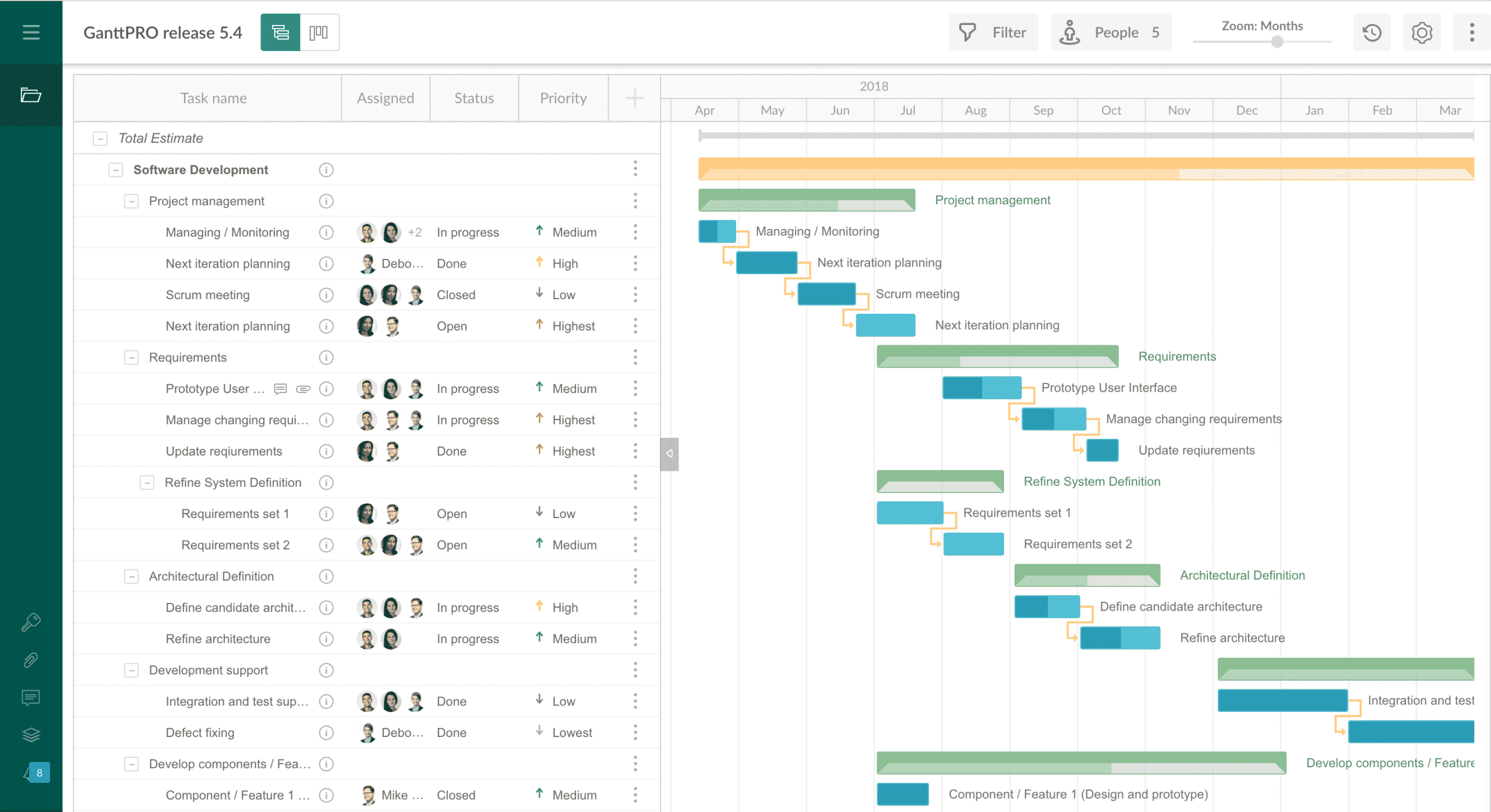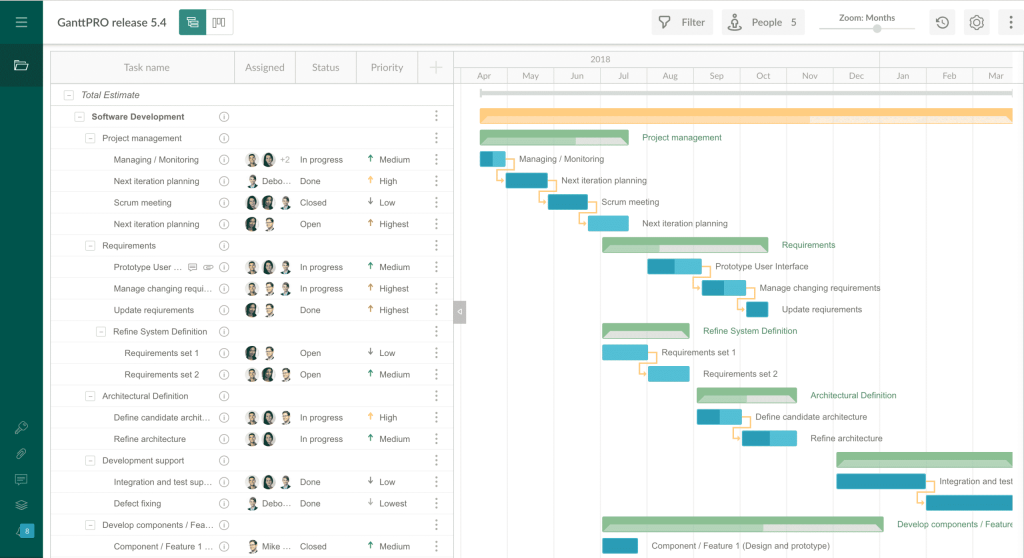 GanttPro is another best productivity app to use in 2023. It is an online tool with Gantt charts. It provides an effective visualization of project progress and individual performance. Gantt charts are a great way to keep your team organized and productive. 
It offers an intuitive interface with UI/UX design. Moreover, it also helps to foresee any risks and bottlenecks and take timely actions. Thus, with GanttPro you can do all that easily.
It also offers a board view similar to the Kanban board to view your projects and their progress. Thus, over 700,000 customers use GanttPro to create Gantt Charts and effectively streamline their workflows.
It is supported by all major platforms such as Linux, Windows, and macOS.
Features
Task Management: Manage your tasks effectively using multiple features like a custom color, bulk change, custom columns, setting priorities, managing statuses, and tracking progress.
Import and Export: It helps you import and export essential files, docs, images, etc., and share URLs with stakeholders and other team members.
Resource Management: Effectively manage your resources by calculating the project time/cost and workload schedules.
Budget Tracking: Calculate the total project cost, actual cost, and cost of all the resources.
Templates: Use various templates to automate your workflows and save time.
Plan views: You can view your project using the Gantt view, Grid view, Board view, or Portfolio view.
Integrations: Multiple integrations to move quickly across different applications.
Reports: Keep your team and projects on track by getting reports on budget analysis and time logs from people.
Pricing
Individual – $15 per user per month
Team – $8.90 per user per month
Enterprise- a customized plan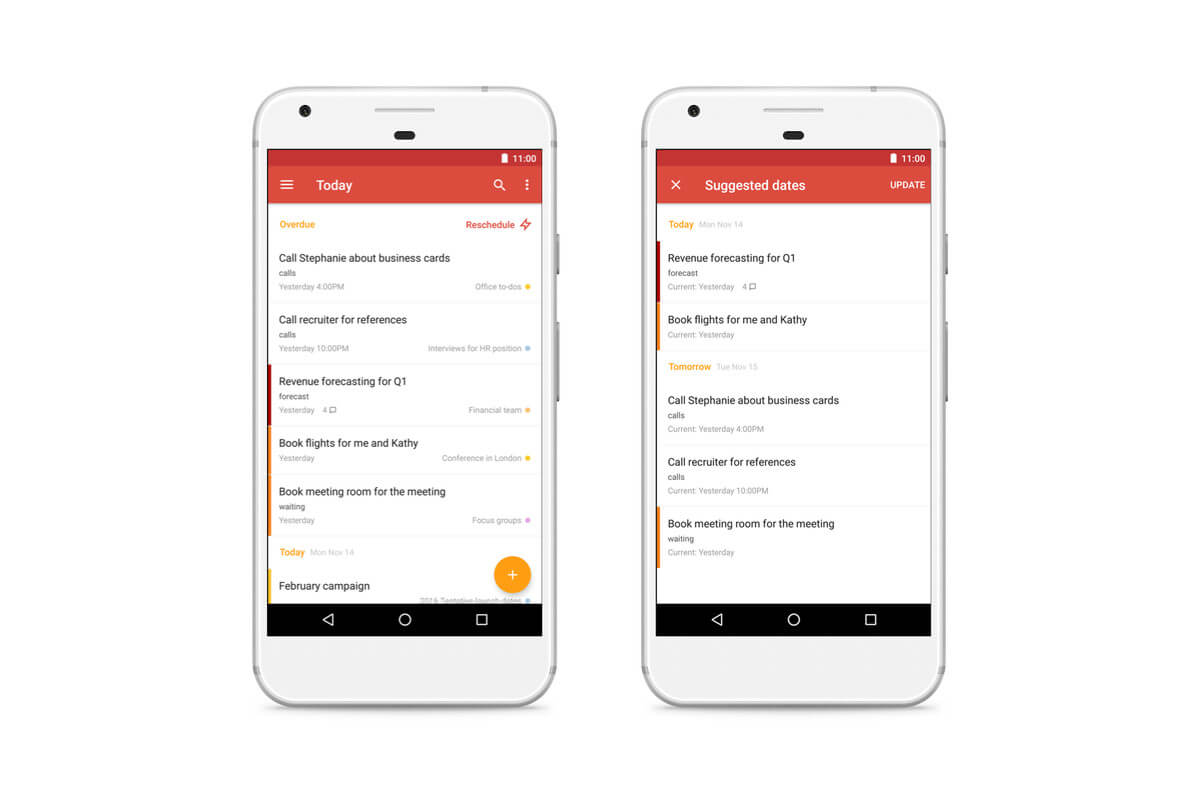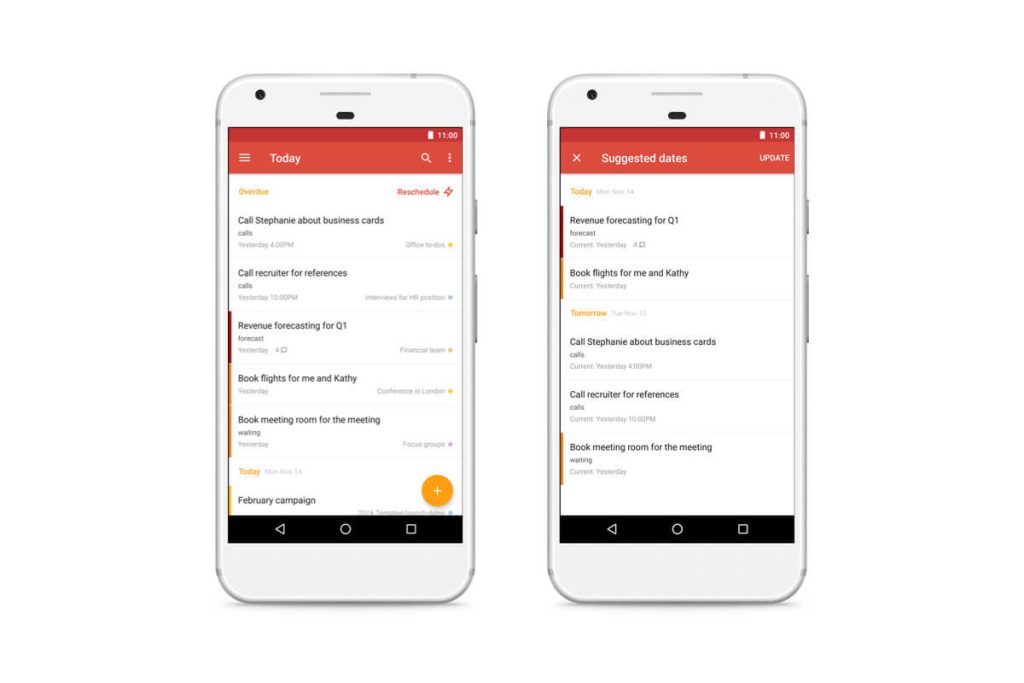 The next one on our list of best productivity tools for 2023 is Todoist. It is a task management app that helps you stay organized and effectively track your to-do tasks.
Moreover, it also helps sync all your devices' data to stay updated on all platforms. Whether creating new tasks or checking them off, Todoist offers the easiest way to do it all.
In addition to that, Todoist also has a visual tracking system with the name "Karma System." It helps to increase the team's productivity by rewarding points for the tasks which are done and scoring zero for the undone ones.
Wait up! There are more surprises to it!
Todoist also allows you to create location-based reminders to set area-wise reminders. For example, on 8th March we have a meeting at Grand Hotel. You can also share your To-do list with your team to collaborate and coordinate better.
Thus, increase productivity and organize your tasks better with Todoist. Lastly, you can use it on all Web, Windows10, macOS, iOS, and Android platforms.
Features
Task Management: Manage your projects effectively by creating tasks and sub-tasks. Also, prioritize important tasks that need to get done first.
Share: Share your to-do lists with the whole team and stay updated on essential comments and task completion stages.
Task Views: Use various ways to build your task view according to your unique style and workflow.
Centralized Workflow: Connect your email, calendar, and files to create a centralized workflow and manage all your processes in one place.
Track Progress: Set weekly, daily or monthly goals and track the progress of each effectively.
Integrations: It has multiple integrations to manage and organize all your projects.
Plugins: It offers 10+ apps and plugins to review your upcoming tasks and add new ones anywhere.
Pricing
Free -$0
Pro -$4 per month
Business-$6 per month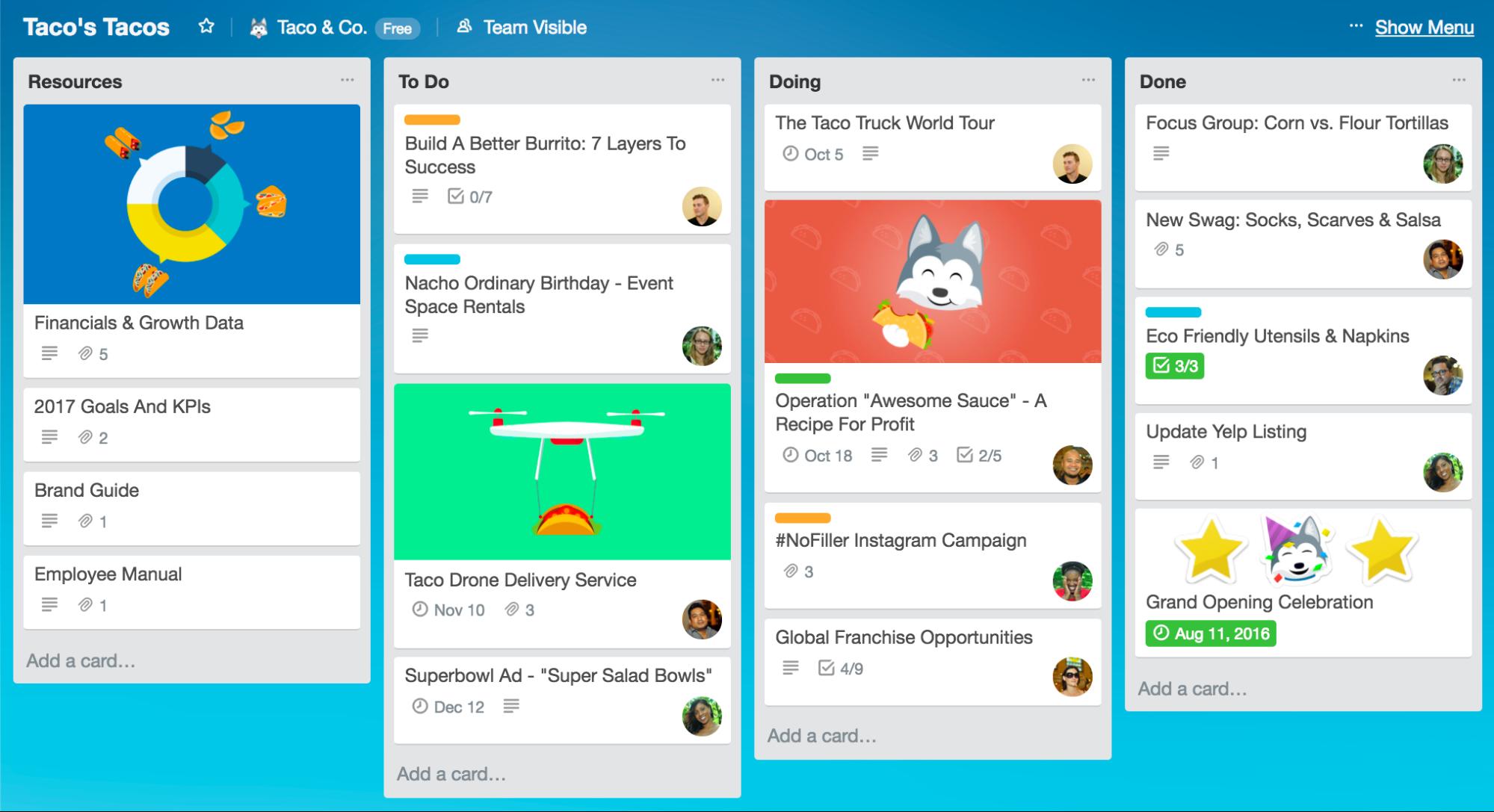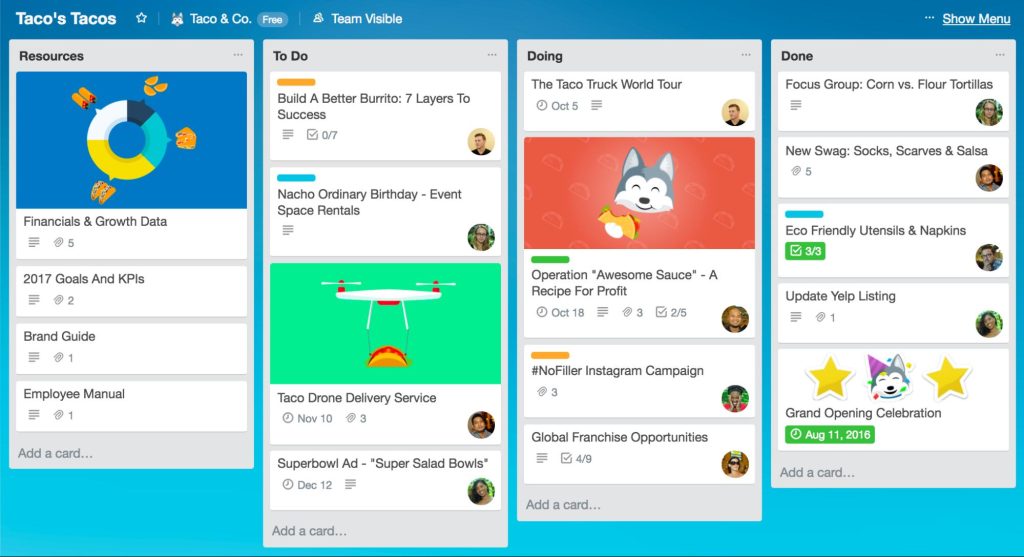 It is another best productivity app to use in 2023 and one of the leading software. Moreover, it is easy to use and manage to help teams reach new productivity peaks. 
Trello uses an interactive Kanban Board where you can use the drag and drop approach to easily add or remove columns. It also allows you to use cards with content, files, attachments, or interactive checklists.
You can effectively edit and share these cards to increase collaboration and meet stakeholders' demands effectively.
Moreover, the multiple integrations in Trello allow the team members to collaborate and coordinate better. Whether tracking progress, creating to-do lists, or generating reports, Trello is the best productivity app to manage it all.
Features
Task Management: Manage your projects by effectively organizing your tasks, creating deadlines, and setting productivity metrics.
Synchronization: Sync Trello with all your devices to access data anywhere.
No-code automation: Use the built-in automation to reduce the number of tedious tasks and get more done in less time.
Integrations: Use multiple integrations to create the best workflow for your team.
Reports: Maintain effective reports on ongoing tasks, due dates, or important instructions using Trello cards.
Pricing
Basic- $0 Free
Business-$9.99 per user per month
Enterprise-$20.83 per user per month
Also, see:
Trello vs. Asana – Which Project Management Tool to Use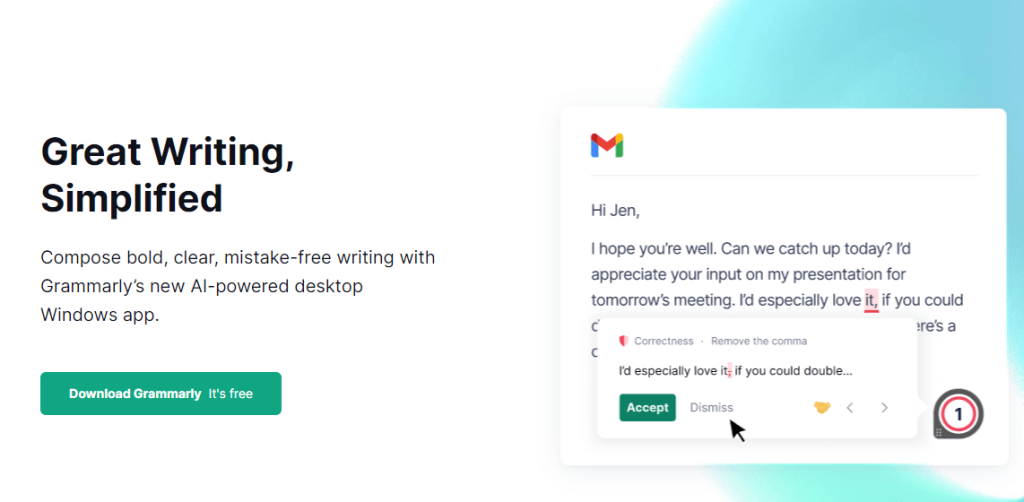 Having the perfect piece of writing is what content writing is all about. Thus, if you wish to remove technical errors and create a fluent bit, Grammarly is your way. It is one of the most used and best productivity tools for creating effective content.
You can simply upload or copy-paste your entire document on Grammarly. It will then scan your whole document and detect it for errors, typos, sentence structures, and plagiarism. Thus, create a document free of human errors with Grammarly.
Moreover, you can use it on all platforms, including iOS, Android, Website, or Browser Extension. Therefore, create a masterpiece with Grammarly in just a few clicks.
Features
Readability checker: Checks for the readability of your project, effectively suggesting if it's wordy, overcomplicated, or readable.
Tone Detector: Analyses the tone and mood of your work by detecting your word choice, punctuation, and phrasing.
Grammar Check: Automatically checks for grammar and spelling errors.
Plagiarism Detector: Highlights the plagiarized text and allows you to make relevant changes.
Real-time feedback: Provides you with effective feedback on improving your text and making it more fluent and readable.
Pricing
Free: always free
Premium: $12 per month
Business: $12.50 per user per month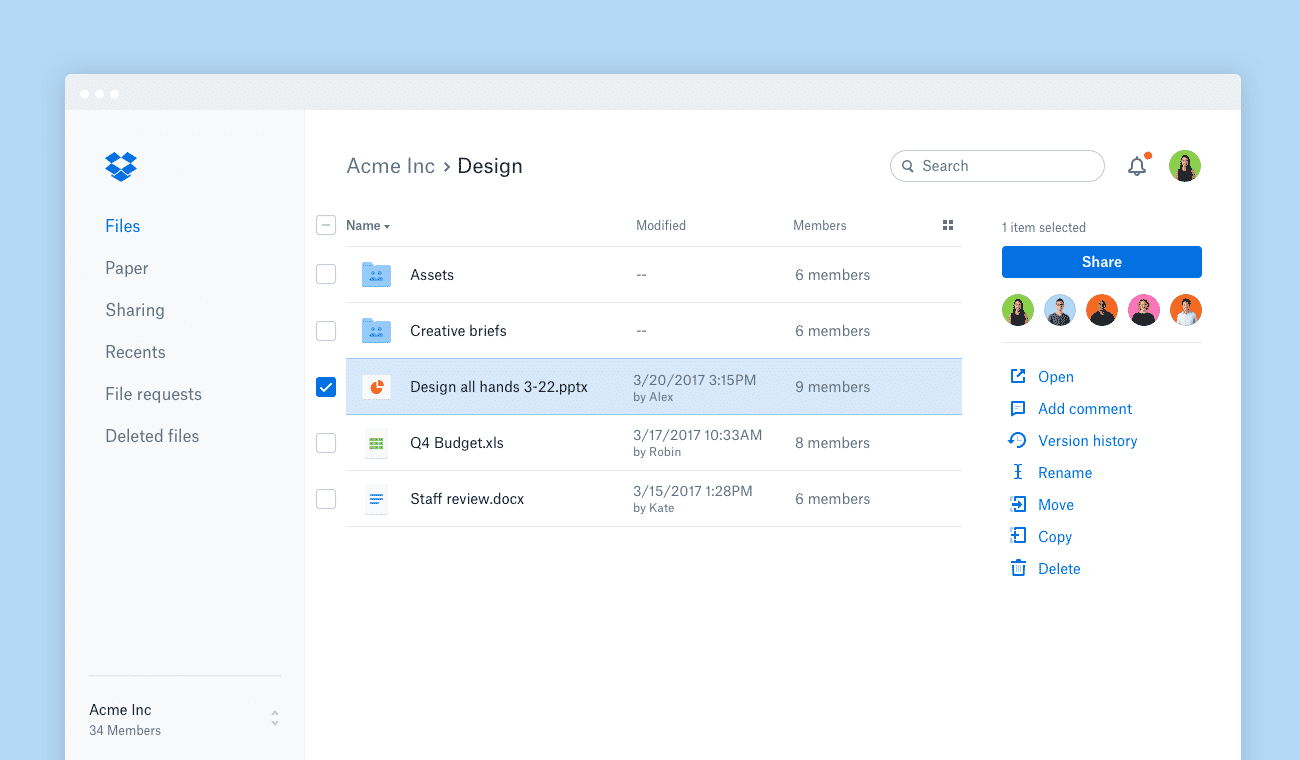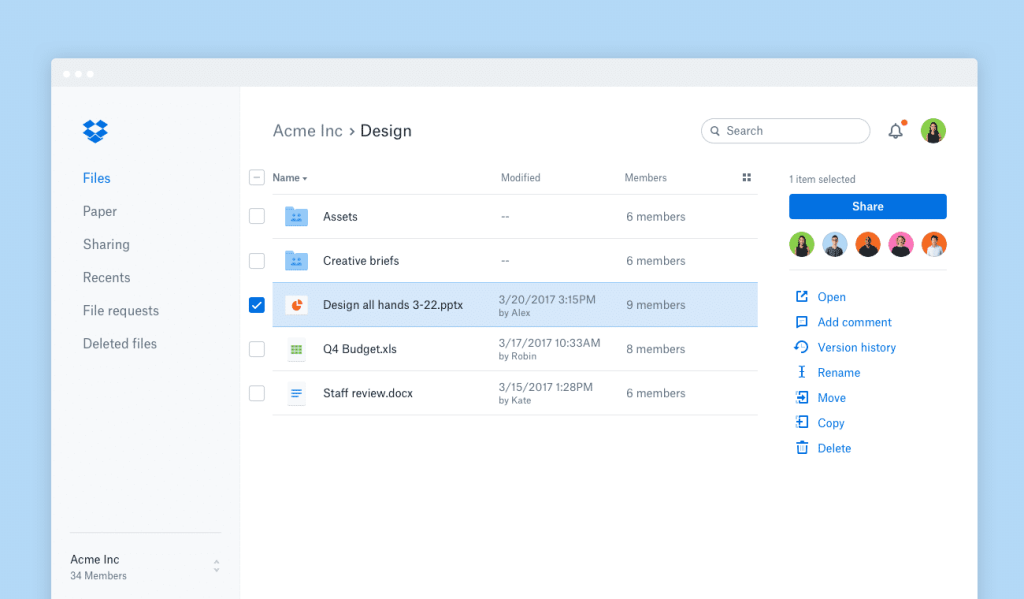 Dropbox is an online cloud storage platform that allows secure access to all your files and documents. You can easily store, retrieve, delete and access files with Dropbox. Moreover, it syncs with all your devices to increase streamlining and effectiveness.
Dropbox Showcase can display your work with visual previews, layouts, and captions. Moreover, you can also use Dropbox Paper for note-taking and collaborating. File versioning helps save the previous versions of the files and retrieve them whenever needed.
Thus, it is one of the best productivity tools to use in 2023 and smoothly organize your workflows. Whether backing up images, sharing files, or having two-factor authentication, Dropbox is an excellent choice for all. 
Lastly, you can use it on all platforms, including Android, Windows, Linux, and macOS.
Features
Sharing: Dropbox allows you to have an easy file, image, or doc sharing by simply sharing the link even with the people not using Dropbox.
Store and organize: Back up any files and access the files on all devices by easy storing and organizing with Dropbox.
Sync devices: It also allows you to sync files across all devices and platforms and get offline access.
Organizing: Create multiple folders and share them with the team members to stay organized.
Protect and Secure: Use two-factor authentication to protect and secure your data and files.
Automatic Backups: It provides real-time backup to all your files, and any changes made are automatically updated.
Pricing
Personal
Plus- $9.99 per month for individuals
Family-$16.99 per month for families
Business
Professional-$16.58 per month for individuals
Standard-$12.50 per user per month for small teams
Advanced-$20 per user per month for large teams
Related:
The 23 Best Free Cloud Storage Services of 2023


Zoom is the last one on our list of the best productivity tools in 2023. It is a great place to hold online meetings and collaborate with your team much more effectively. 
Moreover, it has numerous features that allow you to mute, share screens or enable particular people to enter your Zoom meeting. Thus, ensuring your privacy and security. It can cater to up to 10,000 attendees with 100 participants.
Thus, it is an excellent platform for increasing collaboration and holding interactive meetings.
Features
Screensharing: You can share a single screen or multiple screens on your devices by using this feature.
Whiteboards: You can easily explain your ideas using different colors, fonts, and pens.
Remote Control: It allows one or more people to remotely control the whole screen during a meeting. Usually, the hosts of the meeting.
Recording: The best feature is to recall your meetings by simply recording them.
Messages: You can send messages on private and group chats using this feature.
Waiting Room: You can let the participants wait in the waiting room and allow the relevant participants to enter the meeting only.
Recurring Meetings: It allows the host to create a recurring meeting link that can be used by the participants again and again.
Pricing
Free-$0
Pro-$14.99 per host per month
Business-$19.99 per host per month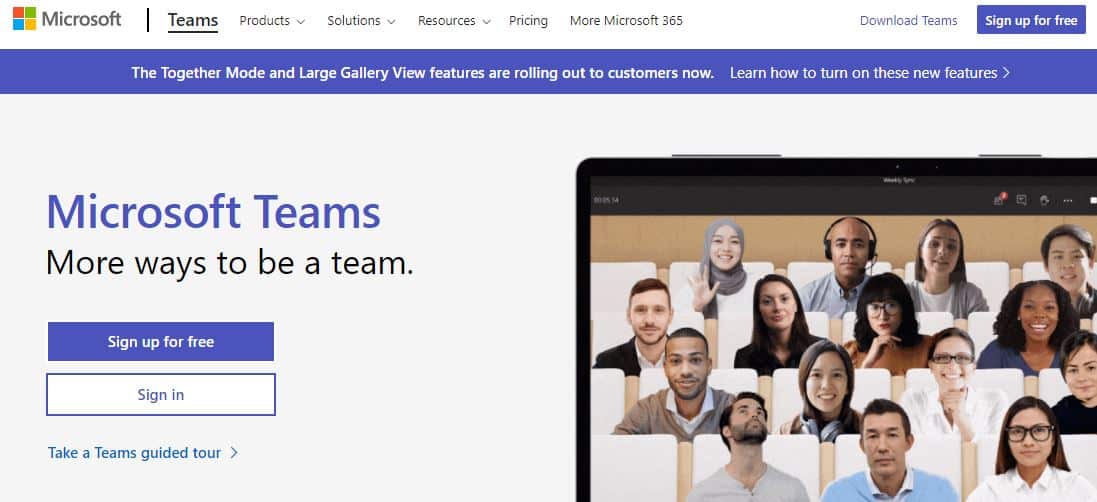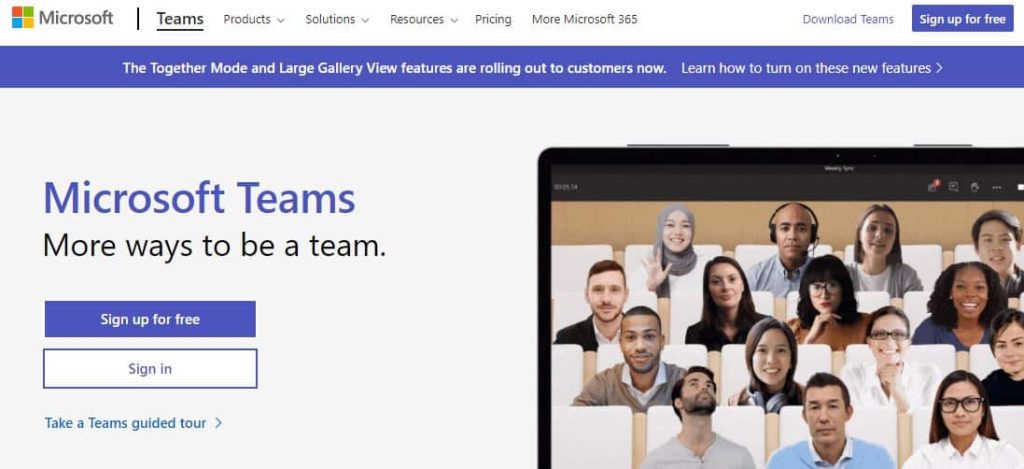 It can be used for team meetings and team communication. Microsoft Teams is a proprietary commercial communication tool created by Microsoft as part of the Microsoft 365 product line.
In a nutshell, MS Teams combines audio and video conferencing (like Skype) with workplace communications (think Slack). It acts as a hub for collaboration and communication, which is crucial for business productivity as we increasingly work from home. Teams also provide workplace chat, videoconferencing, file storage, and application integration.
Features
Send gifs, stickers, and emoticons in a group conversation or individually.
You may transition from group chat to video conferencing with a tone touch.
You can make and receive calls with internal and external groups using Microsoft Teams. Calling, Phone System, Calling Plan, or Direct Routing are all options.
Pricing
Basic: $5/person/month
Pro: $12.50 per person/month
Office 365 E3 costs $20 per user per month.)
10. Chanty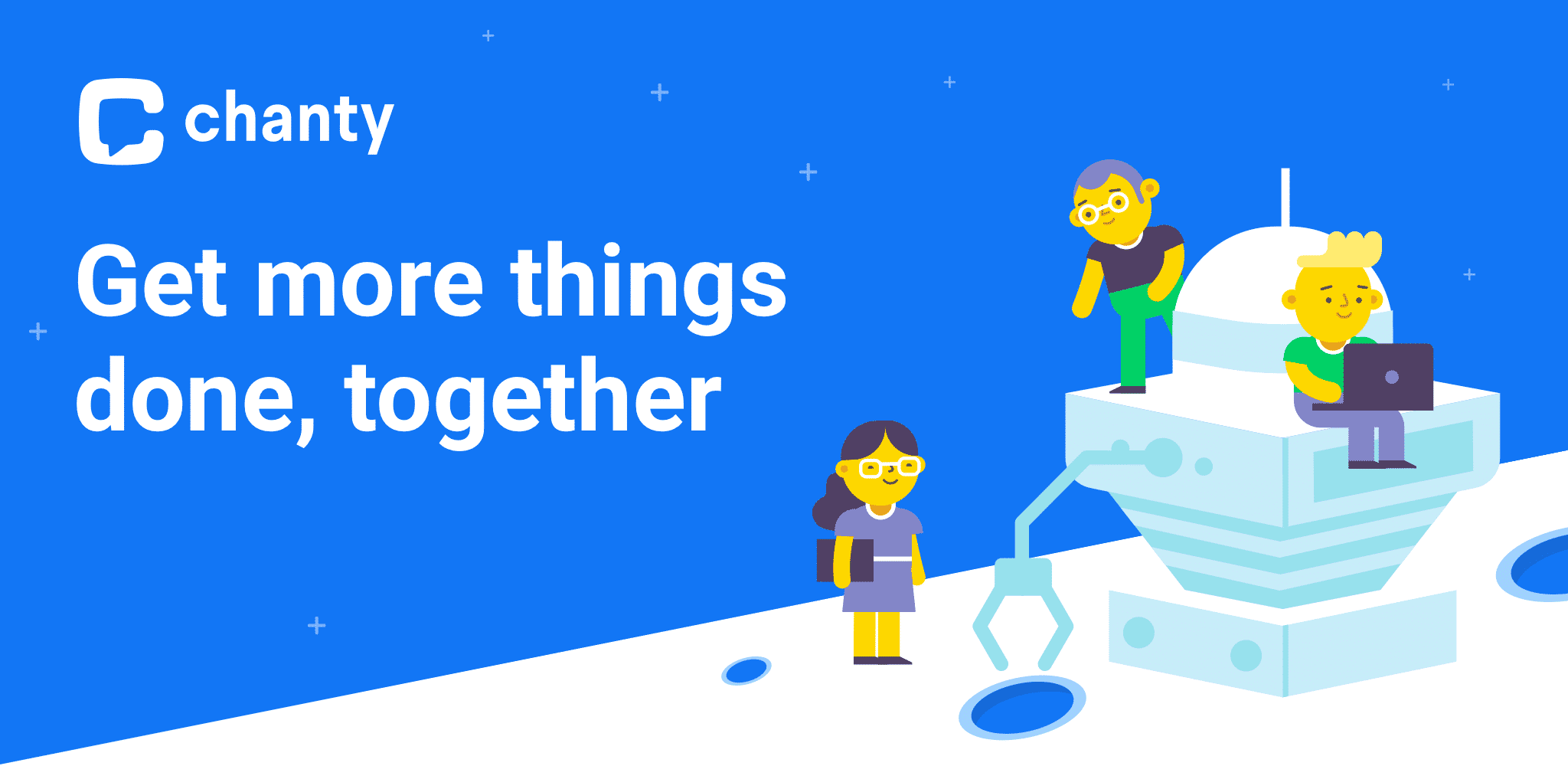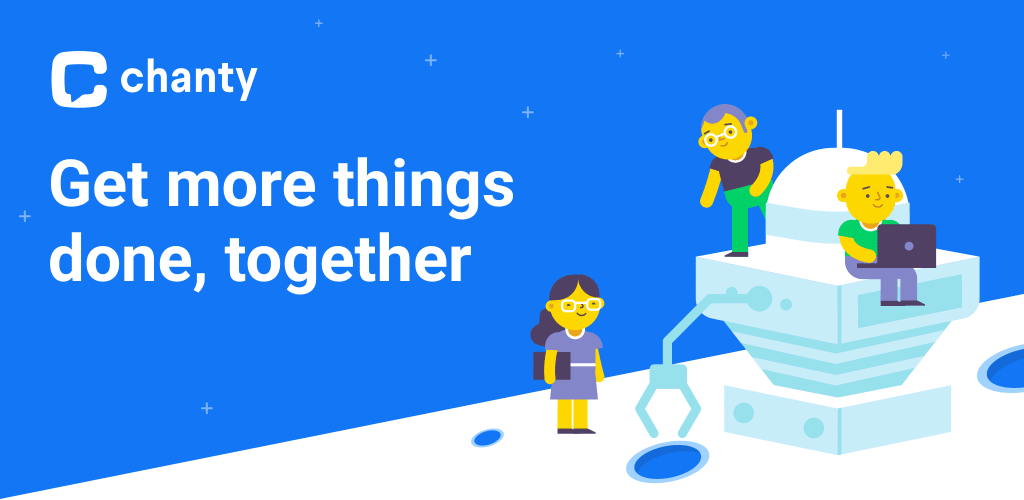 Chanty is a simple and quick team chat application developed to promote team cooperation in various industries. You can easily interact with your employees in private, public, group, and one-on-one situations with Chanty. The team book feature keeps track of all your communications, files, links, and tasks. Third-party Apps in Chanty may also assist you in increasing your productivity.
Integrations turn team meetings into command centers, giving you control over the data from the apps you use. Furthermore, you may quickly engage with your team and provide crucial information using Chanty voice messaging and calls.
Features
Unlimited free message history
Task management is included.
Integrations for audio/video calls and voice messaging
Sharing of files
Kanban board with rows and columns
Team book for all talks, bookmarked messages, and other critical facts with an unlimited searchable message history
Pricing
Free Basic
Business: $3/person/month
11. Nifty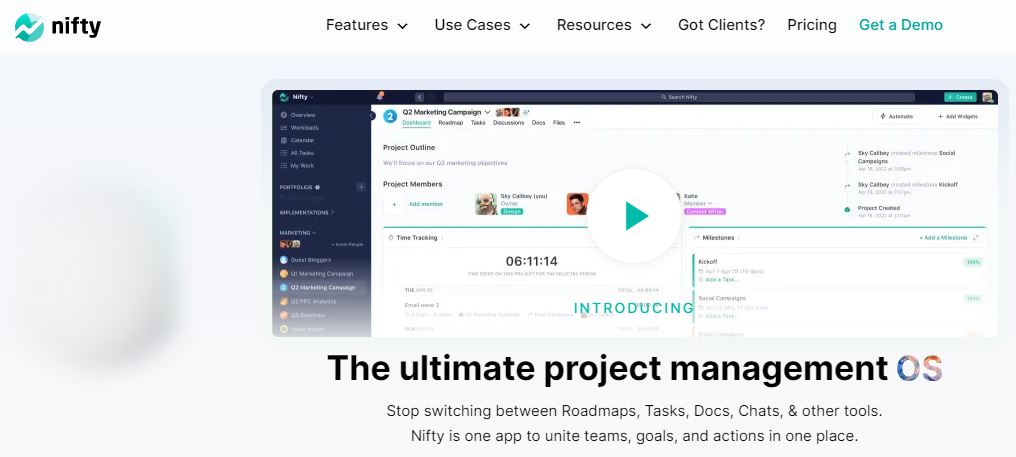 It may be used to manage team projects. Nifty is the ideal all-in-one productivity and communication software for staying on track with teams, tasks, and deadlines.
Nifty's extensive collaboration solutions bridge the communication and action gap across departments or with consumers.
Nifty may be the foundation or single tool in your company's IT stack, with connections such as integrated Google Docs, one-tap Zoom discussions, and Harvest time monitoring.
Features
Milestones in a project's roadmap automate reporting when activities are completed, allowing for proactive changes.
As your projects evolve, built-in team chat and project discussions keep your communication up to date.
Because of extensive integrations with Zoom, Google, Harvest, Webex, and others, Nifty provides a single collaboration site for your whole tech stack.
Pricing
Free
For paid plans, contact customer support
12. Toggl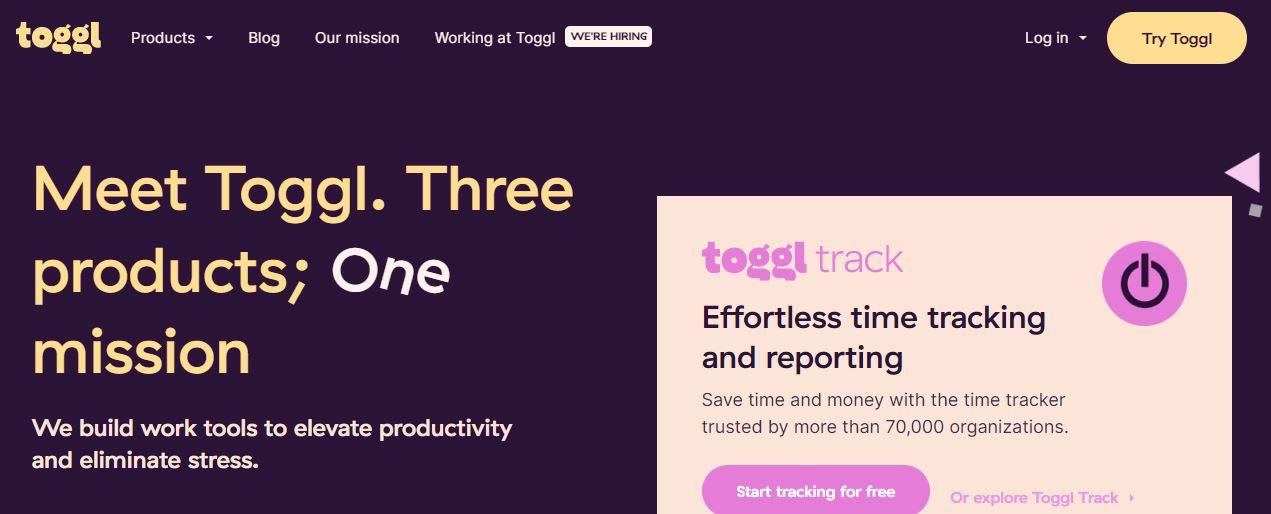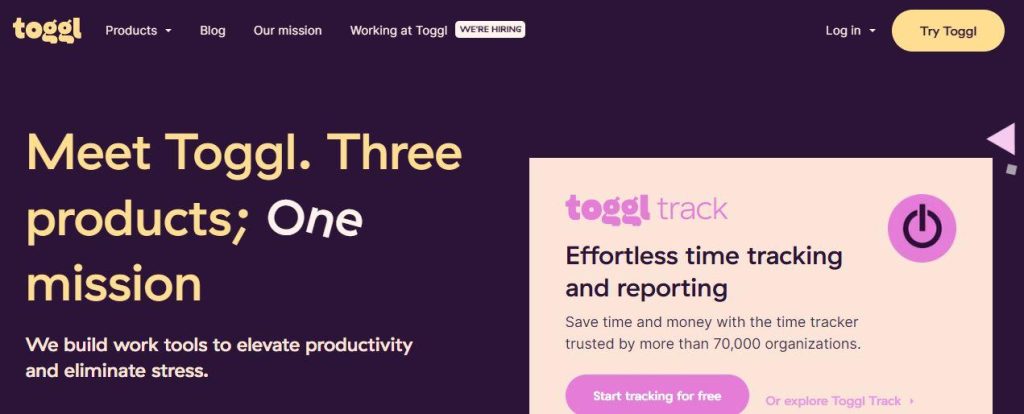 Toggl is a well-known online time tracking and productivity tool for freelancers, consultants, and small enterprises. This app allows users to track and evaluate their productivity while working on various tasks. It is web-based and can be up and running in less than a minute. Toggl can synchronize real-time with web trackers, desktop widgets, and mobile apps. It can be used for: Time Management.
Toggl's developers describe it as "insanely easy time tracking," which is an excellent depiction of what the tool is capable of. The commercial versions of the service are promoted on the website. However, a free version is appropriate for teams of up to five people.
Features
There is a lot to discover here, such as manual and automated activity tracking, a Pomodoro timer, automatic detection of idle time, reminders, connectors with other applications and services, and so much more.
Project and income tracking in real time
Team management and scheduling
Reports can be scheduled and sent directly to the email
Toggl is accessible for a variety of platforms, and synchronization allows you to travel between devices while keeping track of your work
Pricing
Basic-Free
Starter: $10/month per person
Premium: $20/month per individual
13. Time Doctor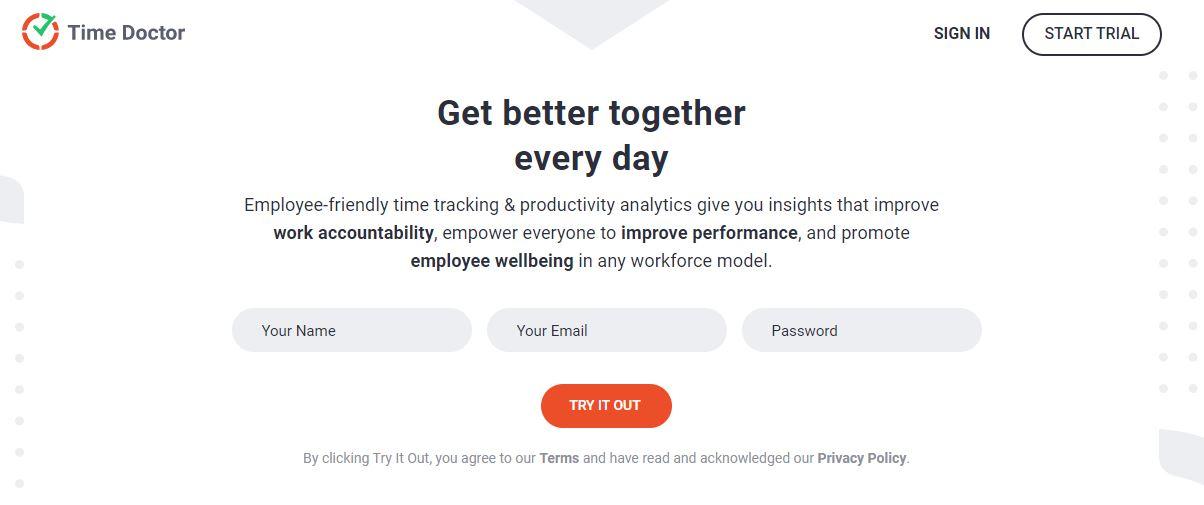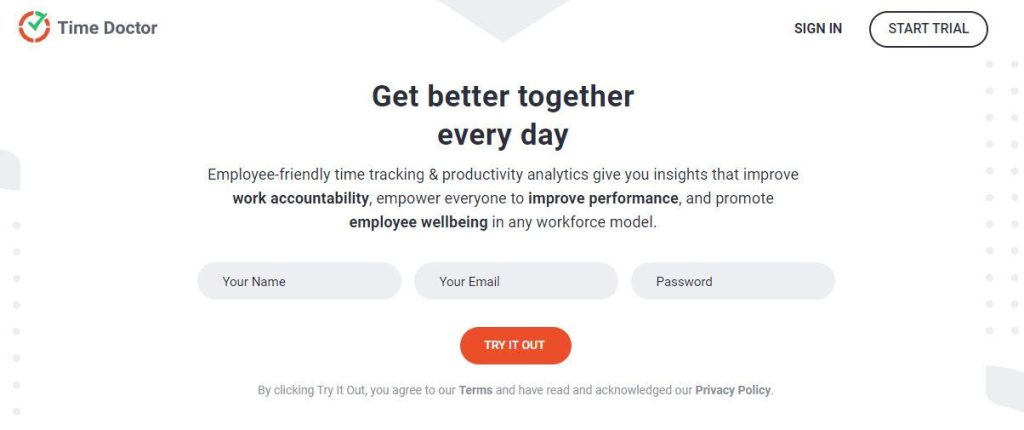 Time Doctor is a market-leading productivity software solution that can be used to measure the amount of time people spend on various tasks and projects. It records everyone on your team's time and breaks it down by customer, project, and tasks.
Time Doctor can sync with all popular project management and accounting systems, including JIRA, Asana, Trello, GitHub, Basecamp, Slack, Salesforce, Teamwork.com, Todoist, Podio, QuickBooks, Freshdesk, Redmine, Google Apps, Zoho, Yammer, and more, thanks to its extensive connection.
Features
Time Doctor is a comprehensive time monitoring and productivity solution developed for remote teams.
Screenshot recording
app usage tracking
Distraction avoidance alerts
Pricing
Basic-$70
Standard-$100
Premium-$200
14. Clickup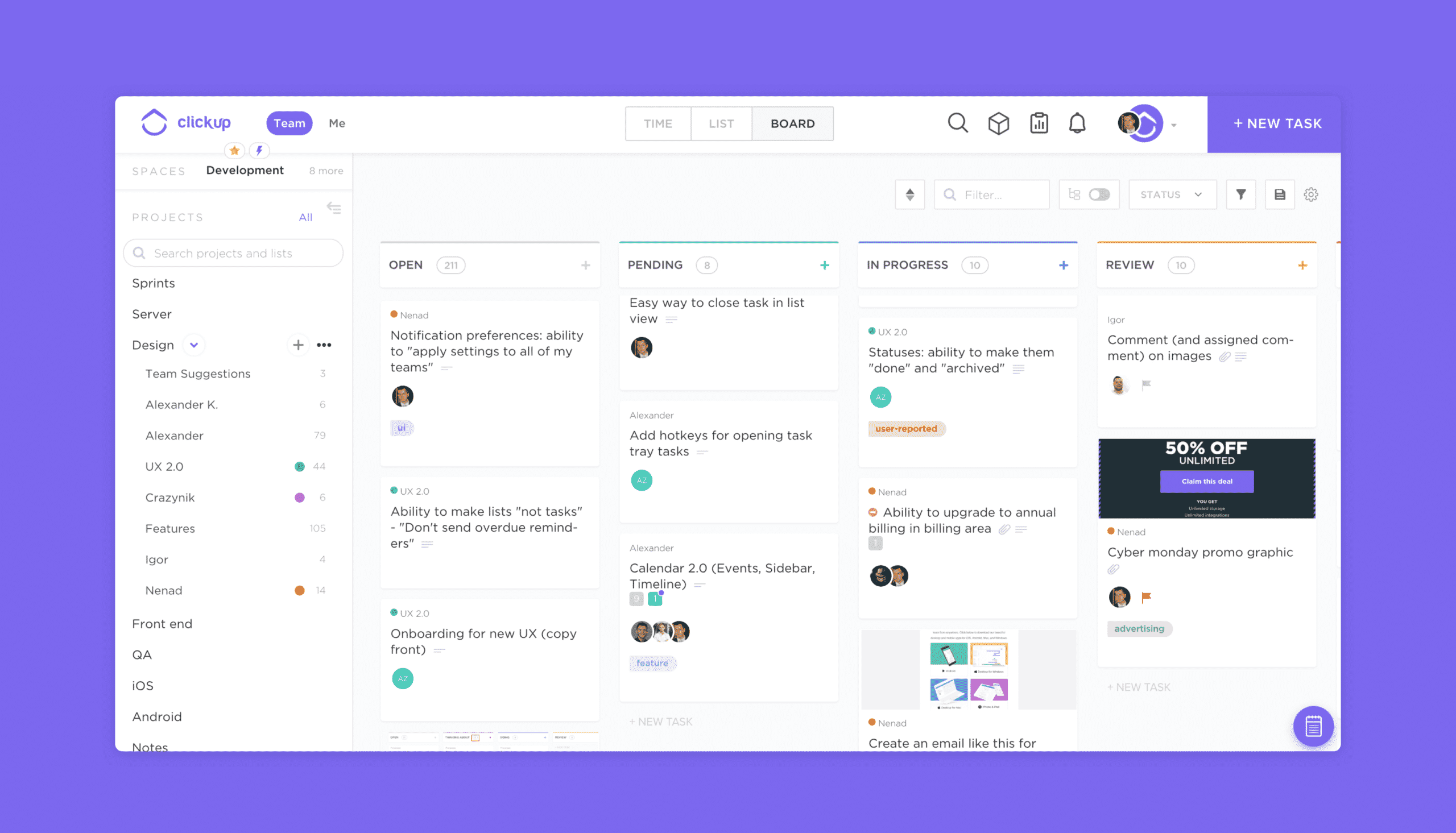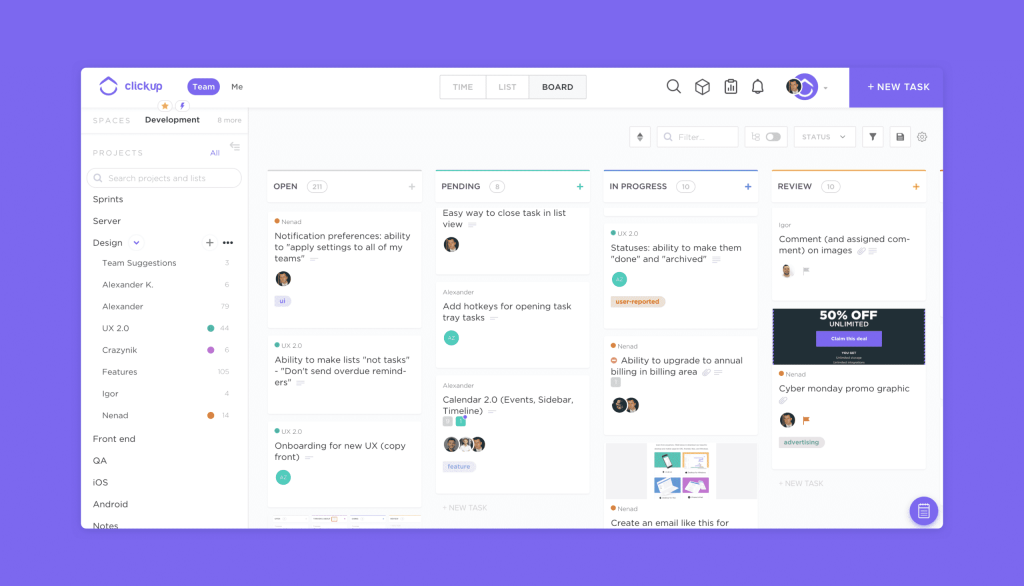 It can be used for a wide range of tasks, including team project management, communication, goal planning, task management, personal planner, and more.
ClickUp is a robust all-in-one solution that enables you to consolidate all of your work for maximum productivity. You may establish tasks and projects, build documents right away, and set objectives to measure your progress. Because it allows you to regulate workflow, ClickUp is ideal for teams.
Features
Make tasks that can be split down into smaller bits
This robust platform provides tools like a whiteboard, mind mapping, and screen recording
ClickUp Trackable Goals may import projects
Pricing
Pricing is:
$5 per person /month for Free Forever Unlimited
$12/month per person for business
Business Plus costs $19 /month/ person
Make contact with Sales for more information.
15. ProofHub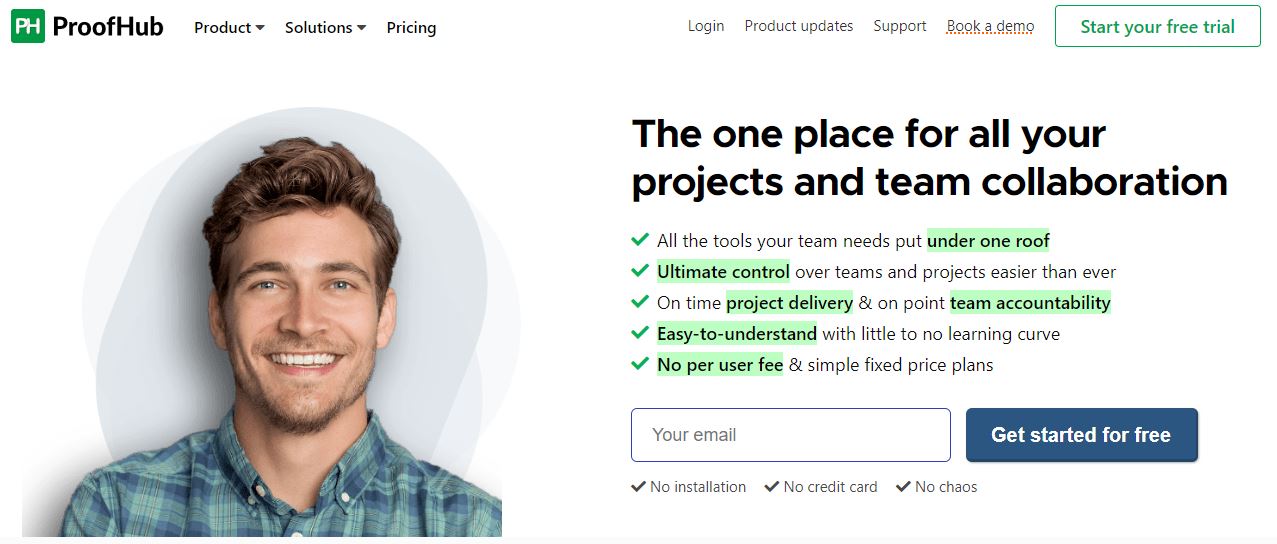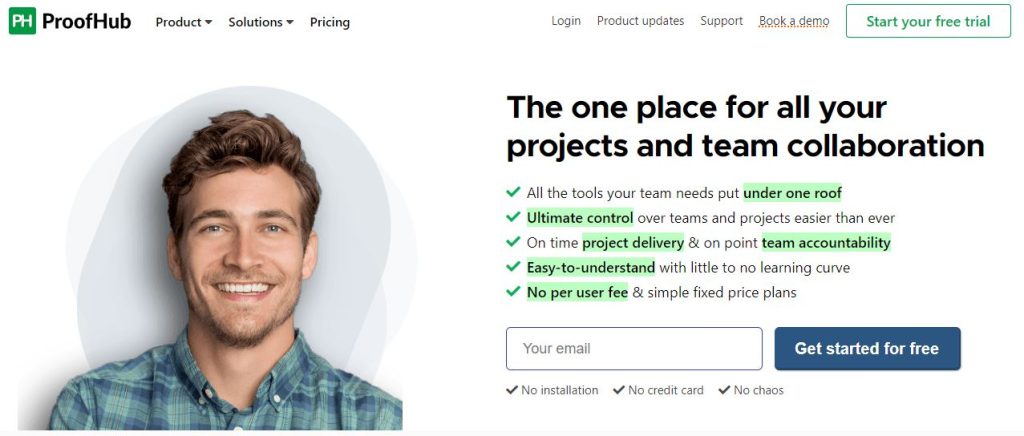 ProofHub is a fully-featured- featured project management tool. The software includes all the fundamental and advanced features that a business or team needs to stay on top.
ProofHub serves as a centralized workspace for managers, teams, and clients to plan and communicate to organize, track, and deliver projects more effectively. It is extremely adaptable and built to meet the demands of any developing business, large or small.
Features
Assign tasks, prioritize data, and keep essential details
It allows you to divide a single assignment into smaller components to help your team members comprehend it better
Keep accurate time records for your team. All in one spot, you can upload timesheets, make time estimates, track time manually or with timers, and produce timely reports
Make it possible for teams and clients to utilize request forms to simply request work, support concerns, or even issues
Use milestones to identify checkpoints, adjustments, or phases of development in your projects to track and discuss progress with your team
Pricing
Free
ProofHub Essential – $540 per year
ProofHub Ultimate Control costs $150 monthly
Wrap it up!
There you've got it! The best productivity tools list for you to choose from. Choose the one that best suits the needs and requirements of your business. The best productivity tools would surely help your team energize, boost up and meet the company's goals better.
So, what's the wait for?
Get the best productivity tools and gear up your team now!